The Vanswe RB-3 Recumbent Bike allows you to customize your ride and challenge yourself over time with its eight smooth magnetic resistance levels. In addition, it offers a soft pedal feeling for a flawless biking experience. Furthermore, the RB-3 features a double belt-driven, more stable, smooth, and quiet system.
The RB-3 has a LED fitness monitor that tracks time, distance, total distance, speed, RPM, calories burned, and pulse. It also features Bluetooth Smart Technology, compatible with iOS and Android systems. As well as a free fitness data app available to help track your workouts.
The Vanswe RB-3 Recumbent Bike features a fully adjustable thick and soft seat cushion and backrests that can fit a wide range of individual users. However, the backrest does not recline nor adjust independently from the rest of the seat assembly. In addition, the step-through frame design is perfect for older adults or the disabled.
Learn more in my complete review below!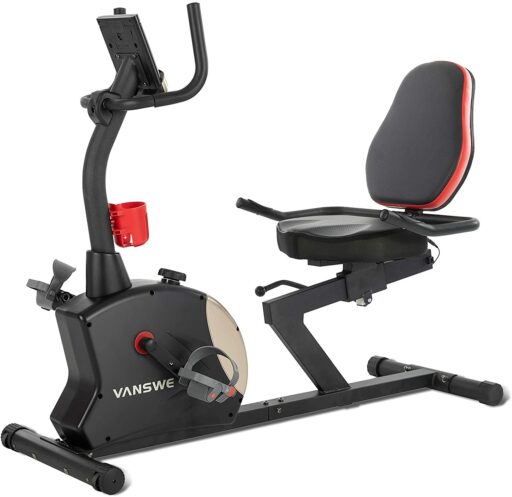 Product: Vanswe RB-3 Recumbent Bike
Price: For a great deal on this bike, merely go here on Amazon
Warranty: Frame 10 years / Parts one year
My rating: is 9/10
Affiliate Disclosure: As an Amazon Affiliate Program participant, I earn commissions on purchases made through links in this post. Full disclosure
Details and Specifications
Assembled dimensions: 51L x 20W x 43H inches (130L x 51W x 109.2H cm)
Assembled weight: 70 lbs (31.8 kg)
Flywheel weight: 4.4 lbs (2 kg)
Weight limit: 400 lbs (181.4 kg)
Seat: Adjustable
Pedals: Weighted, with straps
Resistance: Magnetic, eight levels
Fitness Monitor: Time, distance, speed, calories, pulse, goals, SCAN
Warranty: Frame 10 years / Parts one year
RB-3 Frame Construction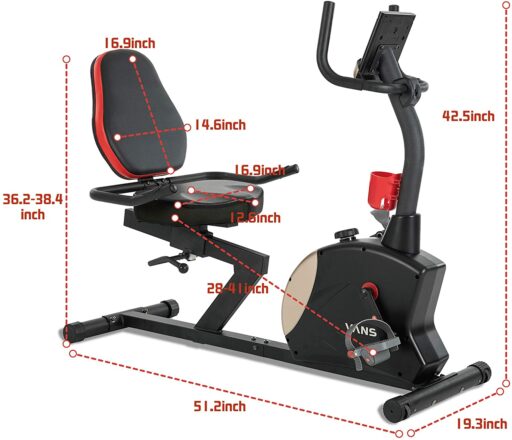 The Vanswe RB-3 recumbent bike features a steel frame construction. Its main chassis is a one-piece element, and this one-piece construction provides extra sturdiness to the structure of the cycle. Its specified maximum user weight limit is 400 lbs (181.4 kg).
All the steel bars in the bike's construction come with a rust-resistant black powder finish. Compared to other recumbent bikes, this Vanswe bike isn't too large. With the frame fully set up, it only measures 51″L x 20″W (130 x 51 cm). However, it is advisable to leave a usage area for it of at least 70″ x 60″ (177 x 152 cm) for safe usage and ease of access.
The bike features a step-through frame design for ease of access. Therefore, taking a position on the seat is considerably more manageable, as you don't have to step over the bike's front. Consequently, it is quite a plus for users with disabilities.
The bike isn't heavy, weighing approximately 70 lbs (31.8 kg). Therefore, two people should carry and assemble the bike. Furthermore, its front base has small wheels, facilitating its relocation once fully assembled.
Seat and handlebars
The Vanswe RB-3 comes equipped with a relatively large and comfortable seat. The seat pad dimensions are 13″D x 16.5″W (33 x 41 cm), while the backrest pad is 12″ (30 cm) at its widest point and 16″ (40 cm) long.
The seat and the backrest pads integrate 2″+ of foam cushioning to provide optimal comfort. In addition, the covers of both cushions are made of the durable vinyl material that is also sweatproof.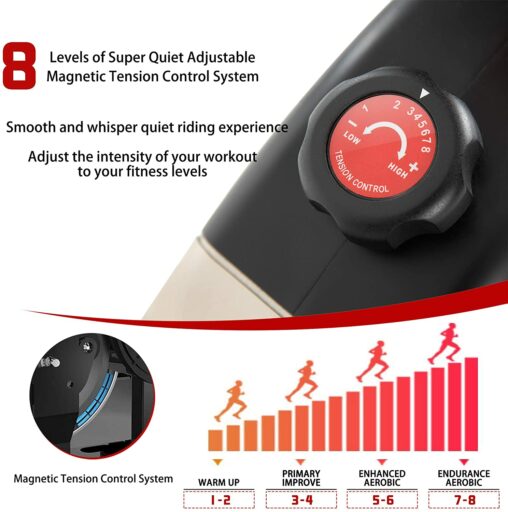 Unfortunately, the backrest does not recline nor adjust independently from the rest of the seat, such as the Tunturi Endurance E80-R bike. Instead, it is attached directly to the seat frame's back, thus designed to provide superior lumbar support.
On the other hand, the whole seat is adjustable. It moves along a rail and can lock in a position either closer or farther from the pedals. Therefore, the bike can accommodate users between 5'2″ and 6'3″ (157 – 190.5 cm).
The seat adjustment system is lever-based. Therefore, you can easily adjust its position while seated simply by pulling the lever under it on the right side.
This Vanswe recumbent bike has two handlebars; one connects to the seat assembly and the other to the front mast. Both handlebar sets are non-adjustable and have rubberized grips.
The seat handlebars integrate HR pulse sensors, and the bike's fitness monitor has a pulse reading function. If you're wondering, the distance between the seat handlebar assembly's grips is 24.8″ (63 cm).
RB-3 Resistance and drive
The Vanswe RB-3 recumbent bike features a mechanical, magnetic resistance system. Therefore, it does not have an internal servo motor and does not require an external power source. Unfortunately, adjusting its resistance is manual; the bike cannot automatically adjust and has no preset programs.
The bike's resistance system consists of an internal magnetic brake attached to the dial on the front bar. The magnetic brake moves closer to the flywheel by turning this dial clockwise, increasing pedaling difficulty.
As I've mentioned earlier, this exercise bike offers eight resistance levels. The bike's internal flywheel is light; it only weighs 4.4 lbs (2 kg). It's the main reason the first few resistance levels are very light.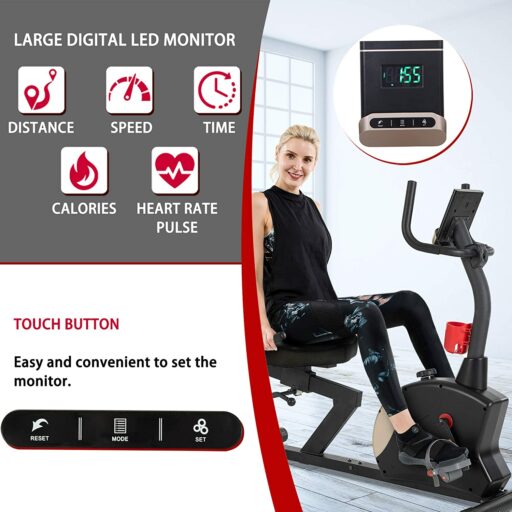 Accordingly, this is perfect for anyone needing recovery training or warming up. Conversely, the 8th tension level provides quite a bit of extra difficulty, allowing for a more intense cardio workout.
The bike's internal drivetrain uses a durable v-belt resistant to stretching. This type of drive system has a few advantages over a chain drive. For example, you will never have to lubricate the belt, there is considerably less vibration, and the pedaling motion is almost entirely silent.
If you're wondering, pedaling in reverse on this bike is possible. However, you cannot coast on it. The pedals continue to spin for as long as the internal flywheel turns.
The included pedals are made of durable ABS material. They feature a textured surface and have adjustable straps so you can secure your feet on them during pedaling. In addition, it can be a plus for users with disabilities who may not correctly keep their feet on the pedals. In addition, the pedals are also weighted; they always turn face-up if you remove your feet from them.
Last but not least, the bike has a pretty narrow Q-Factor (spacing between the pedals); it is 170 mm (6.69″), which means your foot positioning on the pedals is not too far apart. Therefore, there is no lateral impact on the knees and ankles.
Fitness monitor
The Vanswe recumbent bike includes an LED fitness monitor that tracks time, distance, total distance, speed, RPM, calories, and pulse.
The monitor is not telemetric. Thus, it has no internal HR receiver and cannot communicate with wireless HR transmitters. Therefore, holding on to the sensors integrated into the seat handlebars tracks your pulse.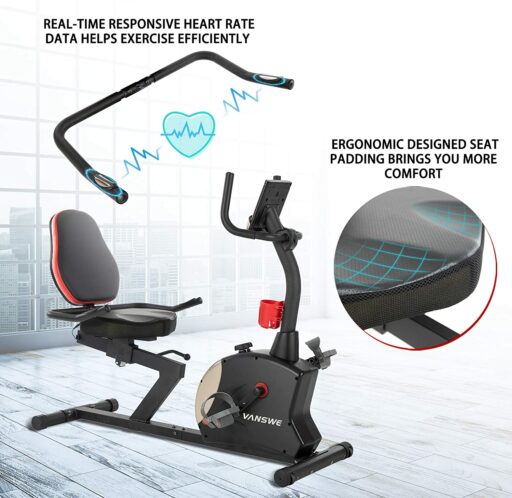 Unfortunately, no preset programs exist, but you can select time, distance, calories, and pulse goals. Once a goal is assigned, it will count down until it reaches zero.
A scan function is also available. If the Scan Mode is selected, the monitor will show all the workout metrics in a sequence; each metric will remain on-screen for several seconds.
The fitness monitor is straightforward to use. It has three touch controls on the right side. These are Mode, Set, and Reset. The Mode button allows you to select one of the workout metrics to view on display at all times or to choose the Scan Mode.
The Set button covers the goal-setting function for time, distance, and calories. And finally, the Reset button allows you to clear all the monitor values to zero, except the odometer function, which can only reset to zero if you remove the batteries.
The bike's battery-operated LED fitness monitor requires two AAA batteries as its power source; the batteries come with the bike. In addition, it starts when you pedal and automatically turns off after a few minutes of inactivity on the bike.
RB-3 Assembly and Maintenance
The drive and resistance elements of the bike are pre-assembled and attached to the mainframe. Therefore, you only need to assemble the seat, attach it to its sliding rail, and connect the two base bars, the monitor mast, the handlebars, the fitness monitor, and the pedals.
Consequently, it may take more than an hour. However, the manual provides clear assembly instructions, and a set of essential assembly tools also comes with the bike.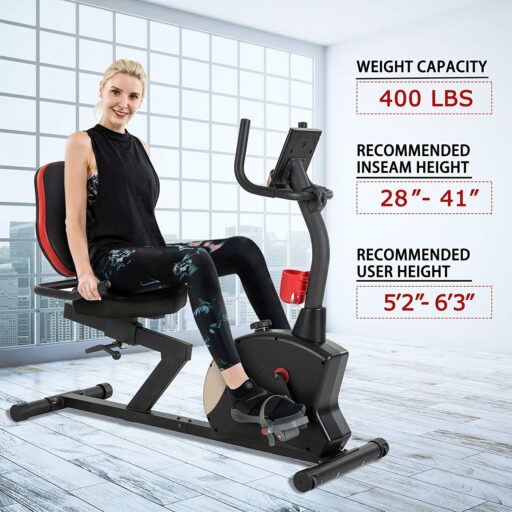 All the internal parts are pre-lubricated from the factory and shouldn't need maintenance for a long time. Therefore, once completed, you only need to occasionally check for loose bolts and parts and retighten them if necessary.
Pros
Sturdy steel frame with a weight capacity of 400 lbs;
Transport wheels on the front base;
Adjustable stabilizers on the rear ground;
Step-through frame design;
Seat handlebars with integrated HR pulse sensors;
Front handlebars (other bikes don't have this feature);
Padded seat and backrest for optimal comfort;
Lever-based seat adjustment system;
Quiet magnetic resistance system;
Eight distinct manual tension levels;
Weighted pedals with adjustable straps;
LED fitness monitor that can track time, distance, total distance, speed, RPM, calories, and pulse;
Goal setting functions for time, distance, and calories;
Tablet holder included;
Lightweight, easy to handle;
Reasonably easy to assemble;
Little to no maintenance is required.
Cons
It does not have motorized resistance; it provides only manual adjustments.
Vanswe RB-3 Recumbent Bike Summary
The Vanswe RB-3 is a recumbent bike made for home use, featuring a manual magnetic resistance system with eight magnetic resistance levels, a comfortable seat with a lever adjustment system, and an LED fitness monitor that makes the numbers extra large and clear for excellent readability. In addition, the step-through frame design is perfect for older adults or the disabled.
Moreover, it's a bike for light cardio exercising, recovery training, stamina development, muscle toning, and weight loss. In addition, it's also an affordable trainer, offering excellent value for the price.
I hope you found this article helpful and informative. Would you please speak up if you have anything you'd like to share on the topic or any opinions about my website? I look forward to your comments, questions, and the sharing of ideas.
Please remember to consult your physician to determine if you have any medical or physical conditions that could risk your health and safety or prevent you from using the equipment properly. In addition, your physician's advice is essential if you are taking medication that affects your heart rate, blood pressure, or cholesterol level.