The Bowflex Xceed is a compact home gym that fully complements exercises to work every part of your body. It gives you a total of 65+ exercises, which puts the Xceed at the mid-point level when it comes to the Bowflex range.
The Xceed provides a maximum resistance of 210 pounds through the unique Bowflex power rod system. The system is upgradeable to 310 and 410 pounds. However, the resistance provided by the power rod system is not quite the same as that using free weights.
The sixty-five exercises you can do on this machine include all the standard moves you'd expect to see in a commercial gym, including squats, bench presses (vertical), and deadlifts. In addition, the cable system provides you with a high and low cable attachment to work your muscles from various angles.
The Bowflex Xceed provides a full complement of workout options in a compact space and utilizes a proven, safe, and reliable resistance system. In addition, it is a very stylish, well-constructed machine that is robust yet flexible. Of all the Bowflex home gyms, this is my #1 recommendation.
Learn more in my complete review below!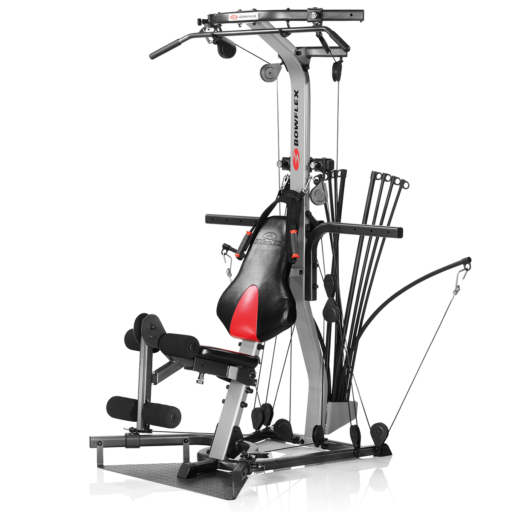 Product: Bowflex Xceed Home Gym
Price: For a great deal on this gym, merely go here on Amazon
Warranty: Frame 7 years / Power rods lifetime
My rating: 9.25/10
Affiliate Disclosure: As an Amazon Affiliate Program participant, I earn commissions on purchases made through links in this post. Full disclosure
Details and Specifications
Assembled dimensions: 53″L x 49″W x 82″H (135L x 124W x 208H cm)
Assembled weight: 157 lbs (71 kg)
Max. user weight: 300 lbs (136 kg)
Resistance system: Power rods
Standard weight resistance: 210 lbs (95 kg)
Possible exercises: 65+
Warranty: Frame 7 years / Power rods lifetime
Xceed Frame
The Bowflex Xceed has a similar frame construction to the Xtreme 2SE model. However, it lacks the rear top pulley bar. Instead, it's a machine built from durable steel bars, featuring a rust-resistant and chip-resistant paint finish, combining black, gray, and red.
Compared to other home gyms, the Bowflex Xceed isn't huge. It takes approx. 53″L x 49″W (135 x 124 cm) of floor space with the frame fully assembled. However, Bowflex recommends assigning a usage surface of at least 96″L x 78″W (244 x 198 cm) for safe and unhindered operation.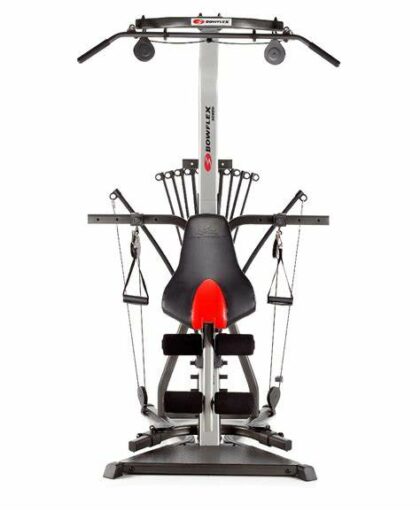 The unit's highest point reaches approx. 82″ (208 cm) above floor level. Thus, it can fit in a room with a seven-foot ceiling.
This Bowflex home gym doesn't have adjustable stabilizers. Instead, its bases rest on rubberized pads for an improved floor grip and extra stability. It's also pretty heavy, weighing approx. 157 lbs (71 kg), and this weight considerably improves its stability.
Its bases don't have any holes or anchor points, and it usually shouldn't need to be anchored to the floor, so if you want to connect it to the floor, you will have to improvise.
The front part of the frame integrates a standing plate for squats and other exercises that require standing up. The parallel bars that support the adjustable pulleys feature four connection points each.
Also, another small bar is attached to the backbone of the frame above the backrest, to which you can attach the pulleys for ab crunches, trunk rotations, or other mid-pulley exercises.
Pulleys and cables
Speaking of pulleys, the ones included with the Bowflex Xceed home gym are 8. They're all fiberglass-reinforced material and integrated stainless steel ball bearings for smooth operation. In addition, they swivel in all directions allowing the execution of various exercises.
Two pulleys are adjustable; you can attach them to the parallel bars for workouts or attach them to the smaller bar above the seat for ab crunches or other related exercises.
The unit includes several cables, which are highly durable, and tested for over 1,000 lbs of resistance. A thin sheet of PVC material covers them for a smoother glide over the pulleys.
Some cables require relocation from one exercise to another; this also stands for adjustable pulleys. But as a general idea, the front base and top pulleys typically don't need to be moved. So, you can set up the machine for 4-5 exercises, which should be enough for one workout.
Xceed Seat and backrest
The Bowflex Xceed features an adjustable seat. It offers several height positions to accommodate users up to 6'5″ (196 cm) with no problem for most exercises. The backrest, however, is non-adjustable. Both the seat and backrest integrate 2″ of foam padding for optimal comfort. The upholstery on them is made of durable vinyl material.
The Xceed features a broader backrest, which delivers improved lumbar support. Also, an essential aspect of the unit's seat is its weight capacity. It can support users up to 300 lbs (136 kg).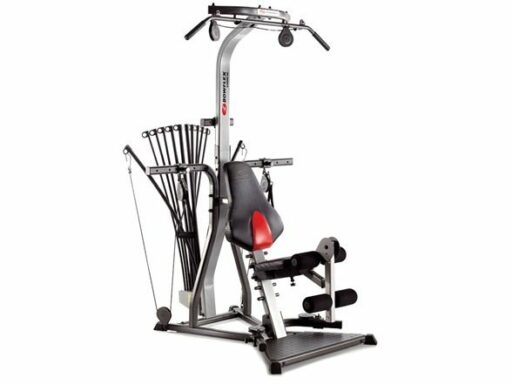 Accessories
In terms of accessories and attachments, there are several included with the machine. The first to mention is the two D-handles, which cover most exercises. In addition, they have rubberized grips for optimal comfort. The straight, squat bar and a 50″ bent lat bar are two more accessories.
Plus, the leg developer is also (included) with the gym. It features 4″ foam rollers for maximum comfort and allows for leg extensions or standing leg curls.
Xceed Weight Resistance
The Bowflex Xceed home gym comes equipped with a Power Rod resistance system. However, it doesn't have weight stacks like other cable home gyms. Also, you can't use dumbbell weight plates to add resistance to it.
The power rods that generate the weight resistance for this home gym system are a particular elastomer coated with a thin rubber material sheet.
They come equipped with precision-machined rings to which the cable hooks attach; these rings are highly durable and almost impossible to remove from the rods. Therefore, it is one of the reasons the Bowflex power rods come with a lifetime warranty.
The power rod set included with this Bowflex trainer offers a total weight resistance of 210 lbs (95 kg) and 105 lbs (47.6 kg) for each side. The rod set includes the following power rods:
2 x 5 lbs (2.26 kg)
4 x 10 lbs (4.5 kg)
2 x 30 lbs (13.6 kg)
2 x 50 lbs (22.6 kg)
However, the machine's overall weight resistance is upgradeable. You can add four additional 50 lbs (22.6 kg) rods (2 on each side) to benefit from a total weight resistance of 310 lbs (140 kg) or 410 lbs (186 kg).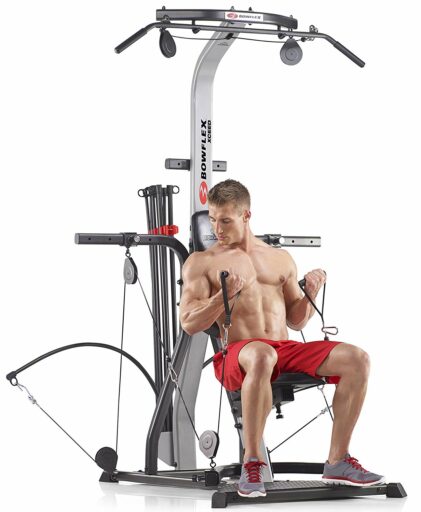 Possible Exercises
The Bowflex Xceed offers the possibility to execute more than 65 exercises. An exercise guide is (included) with the machine. Among the exercises that are performable in this unit, I count the following:
Abdominal Exercises
Seated Abdominal Crunch
Seated Oblique Abdominal Crunch
Trunk Rotation
Arm Exercises
Triceps Hammer Pushdown
Triceps Pushdown w/ Lat Pulldown Bar
Single Arm Pushdown
Triceps Extension
Cross Triceps Extension
Hammer Triceps Extension
"Rope" Pushdowns
Seated Biceps Curl
Standing Biceps Curl
Concentration Biceps Curl
Hammer Biceps Curl
Barbell Biceps Curl
Reverse Barbell Biceps Curl
Seated Hammer Biceps Curl
Reverse Curl
Triceps Kickback
Hammer Triceps Kickback
Arm Opposition Push-pull
Upper Body Opposition Push-pull
Wrist Extension
Wrist Curl
Resisted Dip
Back Exercises
Standing Low Back Extension
Bent Rear Delt Row
Crossover Bent Rear Delt Row
Seated Wide Lat Pulldowns
Narrow Pulldowns w/ Lat Pulldown Bar
Narrow Pulldowns w/ Hand Grips
Reverse Grip Pulldowns
Crossover Wide Pulldowns
Crossover Narrow Pulldowns
Pulldowns
Stiff Arm Pulldowns
Standing Shoulder Pullover w/ Hand Grips.
Crossover Seated Lat Rows
Seated Lat Rows
Reverse Grip Pulldown with Lat Bar
Chest Exercises
Bench Press
Chest Fly
Incline Chest Fly
Leg Exercises
Leg Extension
Squat
Calf Raise
Single-Leg Calf Raise
Standing Hip Extension (knee bent) / Standing Hip Extension (knee extended)
Standing Hip Abduction / Standing Hip Adduction
Leg Kickback
Hip Flexion
Shoulder Exercises
Crossover Rear Delt Rows
Crossover High Rear Delt Rows
Reverse Fly
Crossover Reverse Fly
Seated Shoulder Press
Front Shoulder Raise
Shoulder Extension
Shoulder Shrug
Scapular Protraction
Scapular Depression
Lateral Shoulder Raise
Seated Forearm Lateral Shoulder Raise
Shoulder Rotator Cuff (internal)
Shoulder Rotator Cuff (external)
Crossover Seated Rear Delt Rows
Scapular Retraction
Of course, some of these exercises require extra accessories. For example, the ab crunch exercises require an ab harness. Also, leg kickbacks or adductions call for an ankle cuff.
Xceed Assembly and Maintenance
The Bowflex Xceed requires complete assembly. It comes in several boxes, and its construction will take at least a few hours due to the many parts.
However, the assembly process is not complicated, and the manual provides clear, step-by-step assembly instructions with attached schematics.
Two Allen wrenches come with the machine, but you will also need an adjustable wrench, a Phillips screwdriver, and a flat-blade screwdriver.
It is advisable to unhook the Power Rods from the cables to remain straight upright for maintenance. Other than this, you'll have to ensure that all the bolts and joints hold well together and re-tighten them if possible.
Pros
Sturdy steel frame construction;
Heavy-duty pulleys integrating stainless steel ball bearings for smooth operation;
Foam cushioning, with durable faux leather upholstery, for optimal comfort;
Height-adjustable seat;
Leg attachment included;
Lat bar included;
Squat bar included;
Multi-grip handles included;
Multiple positions for the mid pulleys;
Innovative Power Rod weight resistance system, no weight stacks required;
Up to 105 lbs of resistance per arm, 210 lbs in total;
Upgrade possibilities up to 310 lbs and 410 lbs of total weight;
Exercise guide, covering all the exercises possible on this machine, included;
Over 65 possible exercises;
Reasonably easy to assemble;
Quiet operation;
Excellent warranty.
Cons
Not all the tools required for the assembly come with the gym;
Ab harness and ankle cuffs are not included.
Bowflex Xceed Summary
The Bowflex Xceed is a home gym equipped with a power rod resistance system that offers a weight resistance of up to 210 lbs (95 kg). It has four main workout stations, an adjustable seat, and the possibility to execute more than 65 gym-quality exercises. Due to its reduced pulleys, it costs considerably less than other Bowflex home gyms. However, it's still a fantastic fitness machine with an outstanding price/quality ratio.
I hope you found this article helpful and informative. Would you please speak up if you have anything you'd like to share on the topic or any opinions about my website? I look forward to your comments, questions, and the sharing of ideas.
Please remember that you should consult your physician to determine if you have any medical or physical conditions that could risk your health and safety or prevent you from using the equipment properly. In addition, your physician's advice is essential if you are taking medication that affects your heart rate, blood pressure, or cholesterol level.