The Circuit Fitness AMZ-150BK Upright Bike features a premium steel frame that combines design and performance. Its high-grade construction is steel tubing reinforced with a powder finish to ensure durability, and the bike has a maximum user weight capacity of 250 lbs (113 kg).
Designed for fitness enthusiasts of all skill levels, the Circuit Fitness AMZ-150BK comes with a manual magnetic resistance mechanism with eight preset levels that simulate the effect of biking in different terrains.
The large LCD fitness monitor keeps track of speed, distance, calories, and pulse. Also, use the scan to see each mode periodically. You won't make progress if you can't track it! In addition, the AMZ-150BK computer works together with the pulse sensor (located on the handlebars) to follow your heart rate. Monitoring your heart rate zone allows you to maximize the efficiency of your workout.
The Circuit Fitness AMZ-150BK foldable bike comes equipped with durable soft padding for your long bike workouts. In addition, the knob under the seat adjusts the seat's height, so you're comfortable while you work out on the AMZ-150BK Foldable Bike.
Learn more in my complete review below!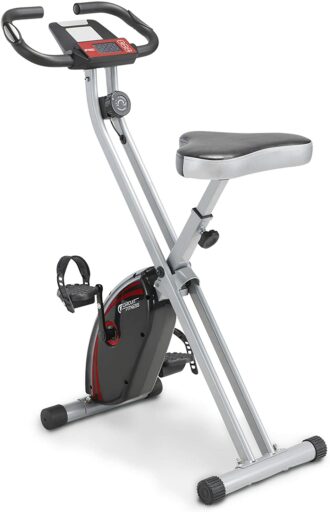 Product: Circuit Fitness AMZ-150BK Upright Bike
Price: For a great deal on this bike, merely go here on Amazon
Warranty: 2 years limited
My rating: 8.5/10
Affiliate Disclosure: As an Amazon Affiliate Program participant, I earn commissions on purchases made through links in this post. Full disclosure
Details and Specifications
Assembled dimensions: 33L x 16W x 45.5H inches (84L x 41W x 116H cm)
Assembled weight: 34 lbs (15.4 kg)
Supported weight: 250 lbs (113 kg)
Seat: 2-way adjustable
Pedals: With straps
Resistance: Magnetic, eight levels
Fitness Monitor: Time, distance, total distance, speed, calories, pulse, goals
Warranty: 2 years limited
AMZ-150BK Frame Construction
The Circuit Fitness AMZ-150BK upright bike features a folding X-type frame. It consists of two main pieces that connect in the middle. The frame piece with the handlebar and console consists of two long parallel bars, while the frame piece with the seat and the drive system is shorter and goes through the two parallel bars.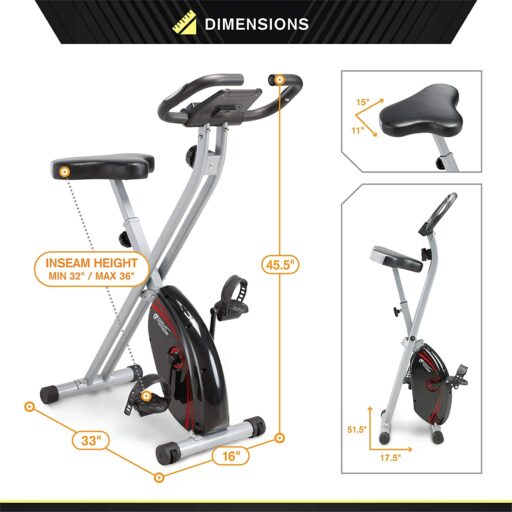 The bike's frame is steel-made, except for the drive system casing, which is durable ABS plastic. Also, the cycle doesn't have an upright stopper bar like some other bikes. Therefore, it only has 250 lbs (113 kg) weight capacity.
All the steel parts in the bike's construction come with a rust-resistant paint finish. The color used is gray, the only color available for this bike.
Like most similar exercise bikes, the Circuit Fitness AMZ-150BK is a reasonably small fitness machine. With all the parts assembled and the frame fully set up, its footprint is only 33″ (84 cm) long and 16″ (41 cm) wide. Also, its highest point is 45.5″ (116 cm).
As I've mentioned earlier, the bike's frame is foldable. Its two main pieces fold from the middle, which reduces the bike's footprint to 17.5″L x 16″W (44 x 41 cm), while its height becomes approx 51.5″ (131 cm).
The bike is relatively light. It weighs approximately 34 lbs (15.4 kg) with all the parts assembled. Thus, it can be carried and built by only one person. In addition, it has two small transport wheels integrated into its front base bar for easy storage.
Seat and handlebars
The Circuit Fitness AMZ-150BK comes equipped with a large seat for extra comfort. The saddle itself is approx. 15″ (38 cm) wide and 11″ (28 cm) long, so it provides plenty of contact surface. In addition, it integrates a thick (~2″) layer of foam padding and features a durable vinyl top cover.
The seat is two-way adjustable (up, down). Its vertical post has seven adjustment holes. The bike is for users with an inseam height between 32″ and 36″ (81 – 92 cm). Therefore, it should accommodate users between 5'2 ″ and 6'4 ″ (157 – 193 cm) with no problem.
It's important to mention that the seat post features a triangular metallic plate at the top to which the saddle attaches via three bolts. Therefore, finding a saddle with the exact specs may not be easy if you ever need/want to replace the original one.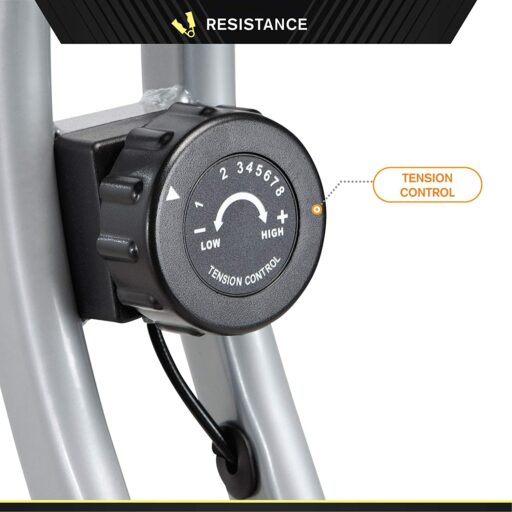 The bike's handlebar offers three grip possibilities: climbing, standard, and close grip. The handlebar doesn't adjust; it attaches to the mainframe via bolts. A layer of rubber foam material fully covers its grips for extra comfort.
The side grips of the handlebar integrate pulse sensors. Not all upright bikes have this feature, so it's a plus. The included console has a pulse-tracking function as well.
AMZ-150BK Resistance system
The Circuit Fitness AMZ-150BK comes equipped with a manual magnetic resistance system. Therefore, there's no friction between the resistance elements, and the pedaling motion is smooth and quiet.
It also means you won't need a power adapter or an external power source. But on the other hand, the bike cannot automatically adjust the resistance.
The bike's resistance system consists of a magnetic brake that connects to the bike's tension knob through a PVC-sheathed steel cable. When turning the knob clockwise, the brake moves closer to the internal flywheel, increasing the resistance.
The bike makes available eight distinct levels of resistance. The first levels deliver a light tension, while the top, 7-8 levels allow you to undergo more intense cardio training. But as a general idea, this exercise bike is not meant for highly tough cardio workouts.
Drive system
Since it's a light exercise bike, its internal flywheel is not extremely heavy, as is the case for spin bikes. Its exact weight is not specified, but similar other models have wheels between 3 – 5 lbs (1.3 – 2.2 kg), so this should give you an idea of the bike's flywheel weight.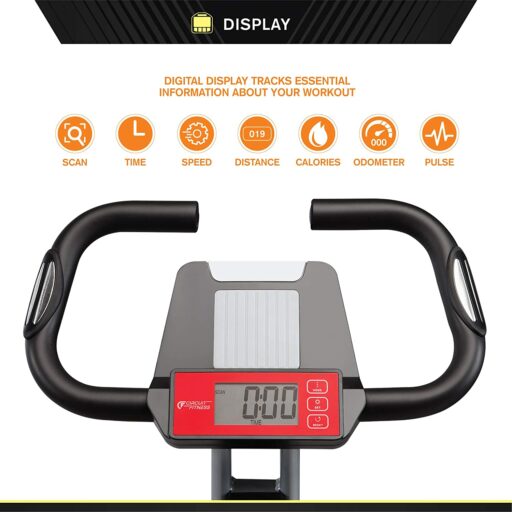 The flywheel is balanced and designed to provide a steady, low-impact motion. It is also bi-directional; in other words, you can pedal backward, but you cannot free-wheel (or coast) on this exercise bike as possible for a road bike.
The bike comes with a belt drive system. This type of drivetrain comes with several advantages. First, you don't have to take the drive unit apart to lubricate the belt. Second, the belt generates less vibration than a chain, and third of all, the pedaling motion is very smooth and quiet.
The bike has a sturdy crankset, but it stands on pedals or spin workouts like any other upright bike. The included pedals are weighted and have a non-slip surface. They also come equipped with adjustable straps.
AMZ-150BK Fitness monitor
The fitness monitor included with the Circuit Fitness AMZ-150BK upright bike is a basic one. It doesn't have preset programs or online connectivity.
It only tracks the most crucial workout metrics, including time, distance, total distance, speed, calories, and pulse, and the speed and distance are in English units (mph, miles) only. There is no option for metric units.
Unfortunately, the monitor is not telemetric, which means it can only read your pulse if you hold on to the integrated sensors. In addition, it cannot communicate with a wireless HR chest strap.
Although the fitness monitor does not have workout programs, it does have target settings for time, distance, calories, and pulse.
If you choose a time, distance, or calorie target, the monitor will countdown from the selected value to zero and notify you when you complete your goal. If you choose a pulsing target, the monitor will notify you when you reach the desired pulse value.
The fitness monitor is straightforward to use. Its buttons are Mode, Set, and Reset. For example, the Mode button allows you to scroll through the workout metrics and select the one you want to view on display.
It also allows you to choose the Scan Mode, which rotates all the metrics, showing each one for 6 seconds. The Set button enables the selection of targets for time, distance, calories, and pulse. And finally, the Reset button clears all the values on the monitor to zero, except the odometer (total distance traveled).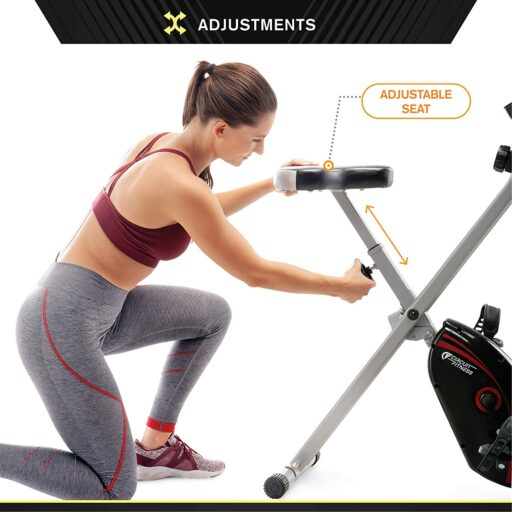 The monitor is battery-powered. It requires two AAA-type batteries, which do not come with the bike. It starts when you pedal, but it automatically turns off after a few minutes of inactivity on the bike.
One last notable monitor feature is the integrated tablet holder. It consists of plastic support at the back of the unit, with a non-slip portion in the middle, supporting any tablet. However, the monitor does not have a USB or AUX port to connect your tablet or smartphone.
AMZ-150BK Assembly and Maintenance
The two main bike pieces come pre-assembled, with all the drive and resistance elements assembled. Therefore, you only need to connect the monitor's two-base bars, the seat post, the saddle, the pedals, and the handlebar.
Therefore, it shouldn't take more than 30-40 minutes of your time. The task is straightforward, and the manual provides precise assembly instructions. Also, all the necessary tools for assembly come with the bike.
Maintenance doesn't require much. All the internal components are pre-lubricated from the factory, and since the bike has a belt drive system, it doesn't require any lubrication. Thus, all you have to do for maintenance is wipe the dust from the frame and periodically check for loose parts and bolts.
Pros
Fairly sturdy frame – can support users up to 250 lbs;
Transport wheels included;
Small footprint when fully assembled;
Foldable, great for a small apartment;
Large, padded seat for extra comfort;
Multi-grip handlebar with pulse sensors;
Weighted pedals with straps;
Narrow Q-Factor for zero lateral stress on the knees and ankles;
Smooth and quiet operation;
Fitness monitor included – it tracks time, distance, odometer, speed, calories, and pulse;
Goal selection function for a time, distance, calories, and pulse;
Tablet holder included;
Easy to assemble;
Little maintenance is required.
Cons
No backlight on the fitness monitor LCD;
The batteries for the monitor do not come with the bike.
Circuit Fitness AMZ-150BK Summary
The Circuit Fitness AMZ-150BK is a foldable magnetic upright bike designed for home use. It features a quiet belt drive system, eight manual magnetic resistance levels, and a fitness monitor to track time, distance, speed, calories, and pulse.
It's a bike for light to medium-intensity cardio training, muscle toning, stamina development, and weight loss. Overall, it's a reasonably decent exercise bike and affordable.
I hope you found this article helpful and informative. Would you please speak up if you have anything you'd like to share or any opinions about my website? I look forward to your comments, questions, and the sharing of ideas.
Please remember that you should consult your physician to determine if you have any medical or physical conditions that could risk your health and safety or prevent you from using the equipment properly. In addition, your physician's advice is essential if you are taking medication that affects your heart rate, blood pressure, or cholesterol level.