The Spirit Fitness XBR25 Recumbent Bike is one of 3 impressive recumbent bikes in Spirit Fitness' current residential lineup. And even though it's the lowest-end model of the bunch, it's got the specs to outperform most brands' highest-end machines. As a result, the XBR25 is suitable for a wide range of users and provides a safe and comfortable workout.
One crucial difference in the Spirit XBR25 Recumbent Bike is the number of resistance levels. The XBR25 allows you to choose from 20 different resistance levels that divide into distinctive sets of five. People who haven't engaged in physical activity for a while or need a very low workload will benefit from the first five levels.
The resistance levels 6-10 offer more challenge than the first five. Resistance levels 11-15 are more suitable for regular exercising and can sustain a strenuous workout. Finally, resistance levels 16-20 are the toughest and are ideal for individuals who are training for a particular sport or want short-term, highly physical exercise.
The Spirit XBR25 fitness monitor tracks time, distance, calories burned, pace, pulse, watts workload, the laps completed, segment time, and resistance level. The machine has a manual program and five preset programs (Hill, Fat Burn, Cardio, Strength, and Interval). The XBR25 also has two user programs that you can customize with your workout settings.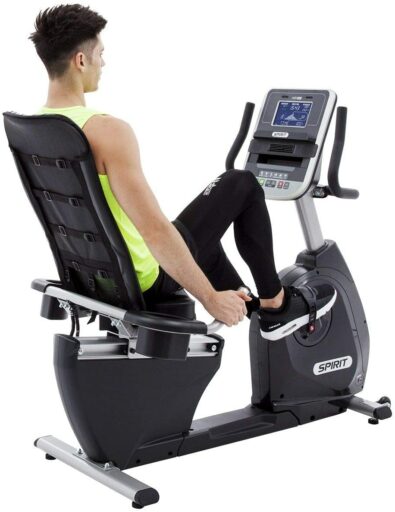 Learn more in my complete review below!
Product: Spirit Fitness XBR25 Recumbent Bike
Price: For a great deal on this bike, merely go here on Amazon
Warranty: Frame lifetime / Parts 5 years / Labor 1 year
My rating: 9.25/10
Affiliate Disclosure: As an Amazon Affiliate Program participant, I earn commissions on purchases made through links in this post. Full disclosure
Details and Specifications
Assembled dimensions: 57L x 30W x 50H inches (145L x 76W x 127H cm)
Assembled weight: 132 lbs (60 kg)
Weight capacity: 350 lbs (159 kg)
Seat: Adjustable
Resistance: Eddy current, 20 levels
Fitness Monitor: 6 programs
Extras: Bottle holder, device holder, sound system, cooling fan
Warranty: Frame lifetime / Parts 5 years / Labor 1 year
XBR25 Frame Construction
The Spirit XBR25 Recumbent Bike combines steel, aluminum, and ABS plastic parts in its construction. The bike's main chassis is thick steel tubing for superior sturdiness, while the seat adjustment rail is aluminum alloy. In addition, all the steel parts come coated with a corrosion-resistant paint finish gray.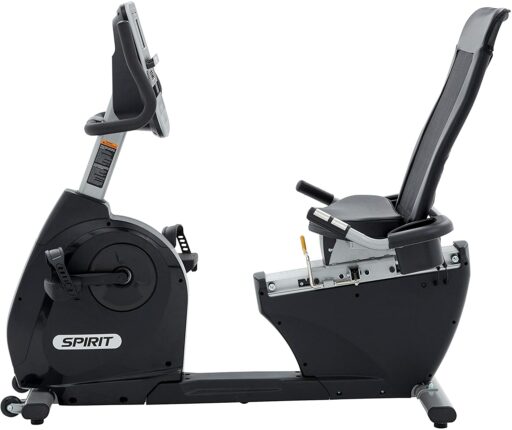 Plus, most of the base frame and the drive mechanism have ABS covers, which provide extra protection and considerably improve the bike's aesthetics.
The fully assembled bike is relatively large compared to a spin bike or an upright bike. It is approx. 57″ (145 cm) long, 30″ (76 cm) wide, and its highest point (the top of the console) reaches 50″ (127 cm) above floor level. It is also advisable to assign a clearance of at least 24″ (61 cm) on each side of the unit for easy access and unhindered usage.
The bike's net weight is 132 lbs (60 kg) which is quite a plus as it considerably improves its overall stability. But due to this fact, transporting the boxed unit and its assembly requires two people.
However, once assembled, one person can quickly relocate the bike. Its front base comes with large transport wheels—the four adjustable levelers (two on each base bar) add to the overall stability.
One last important aspect to mention here regards the bike's step-through design. Although this may seem like an insignificant feature, it can be quite a plus for users who have to deal with specific disabilities. For example, other recumbent bikes require users to step over the frame when they position themselves on the seat.
Seat
The Spirit XBR25 recumbent bike features a seat designed for superior comfort. The seat pad integrates a generous layer of foam cushioning. It's also contoured for better positioning and features a durable vinyl cover that is sweatproof and easy to maintain.
The backrest has a pretty unique design. Its frame is metallic, while its cover combines vinyl, synthetic mesh, and adjustable buckle straps. The vinyl sections improve the backrest cover positioning on its structure; the mesh center area promotes superior breathability and allows it to flex. The buckle straps on the back improve its structural sturdiness. It's pretty impressive backrest construction.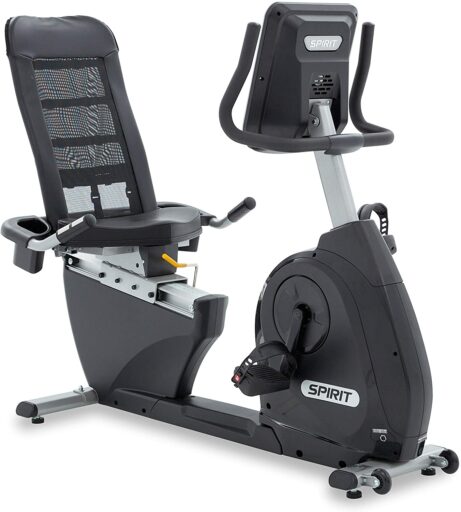 The seat is adjustable. It connects to a sturdy aluminum rail that offers 14 distinct adjustment positions. Thus, the bike should be able to accommodate users between 5'0 ″ and 6'5 ″ (153 – 196 cm), allowing a complete leg extension. It is also durable enough to support 350 lbs (159 kg) users.
The seat adjustment system uses a lever mechanism. Therefore, the seat is adjustable while seated; you don't have to stand up to change its position. However, it is essential to mention that the backrest does not have a recline. Only the XBR55 and XBR95 models have the reclining backrest feature.
XBR25 Handlebars
The Spirit XBR25 exercise bike comes equipped with two sets of handlebars. One is attached to the seat assembly, and the other to the front mast. The seat handlebars feature curved-up grips for a more comfortable hand positioning. They're pretty far apart (approx. 28″). They are equipped with pulse sensors and have bottle holders at the rear.
The front handlebars attach directly to the monitor mast. They are non-adjustable, and they also don't have pulse sensors. Their grips are relatively long, and the front mast of the bike is slightly inclined towards the user, resulting in a less awkward position if holding on to them.
Resistance system
The Spirit XBR25 recumbent exercise bike comes equipped with an eddy current resistance system. Thus, the bike requires an external power source, and a power cord comes with the cycle. It also means that the fitness monitor can automatically adjust the resistance.
The bike's resistance system consists of an internal magnetic brake and a servo motor. As you adjust the console's resistance, or as the console automatically adjusts the resistance, the motor changes the magnets' pull on the flywheel, which leads to more or less pedaling difficulty.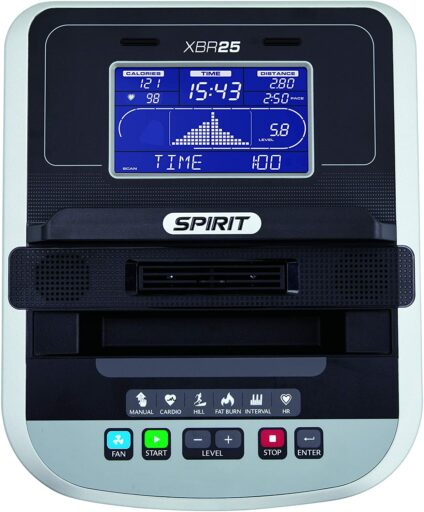 The bike offers 20 distinct levels of resistance. The first ones are reasonably light and great for entry-level cardio or injury recovery training. Conversely, the 20th tension level provides impressive pedal tension, simulating a steep climb.
The bike comes equipped with a reasonably heavy flywheel; it weighs 20 lbs (9 kg), which is not bad for a recumbent bike. However, most of its weight is in its perimeter, leading to extra inertia, a more consistent pedaling feel, and improved stability.
The flywheel is bi-directional. In other words, the bike permits pedaling in reverse. However, coasting is not possible. So, when pedaling in reverse, you will benefit from the same difficulty (given by the selected tension level) as when pedaling forward.
The bike's internal transmission uses a poly-v belt. Therefore, it does not require periodic lubrication. It also provides a vibration-free and silent pedaling motion.
The Spirit XBR25 Recumbent bike comes equipped with a heavy-duty crankset. Its arms are steel-made, similar in shape and length to a road bike. The pedals have a metallic core, but a layer of heavy-duty ABS plastic covers them. They're also weighted (self-leveling) and feature adjustable straps.
Fitness monitor
The Spirit XBR25 recumbent exercise bike includes a mid-range fitness monitor. Moreover, it features a 7.5″ LCD with an LED backlight and significant digits for improved readability. It tracks time, distance, calories burned, pace, and pulse, and these metrics are shown on the top windows simultaneously.
The center larger window shows the segments of the program in use. Simultaneously, the lower section of the display is a "message center" for the program and indicates the Watts workload, the laps completed, segment time, and resistance level.
The monitor is telemetric and can read your pulse through a wireless HR chest strap. Unfortunately, this accessory does not come with the bike. However, you can still benefit from a pulse reading by holding the integrated sensors into the handlebars.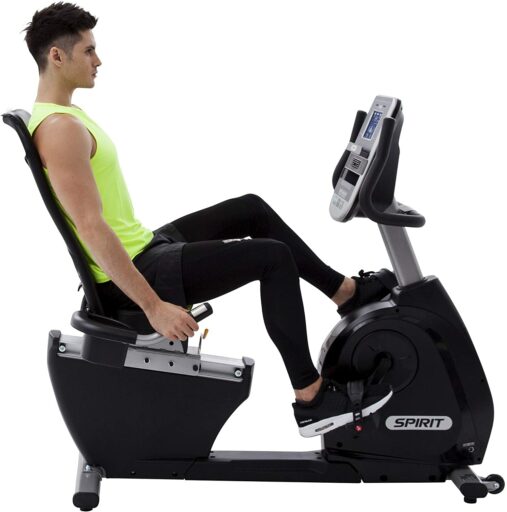 The fitness monitor does not have online connectivity but has six workout programs. Each program has its separate key. The programs are Manual, Hill, Fat Burn, Cardio, Interval, and Heart Rate, and each program covers a specific type of workout.
For example, the Hill program gradually increases the resistance, and after reaching the peak level, it will gradually decrease it. The Cardio program offers resistance fluctuations that allow your heart rate to elevate and recover repeatedly, while the Heart Rate program is a 60% default projected heart rate.
XBR25 Amenities
The monitor offers several other features as well. For example, it has built-in speakers, a cooling fan, and a device holder.
The speakers allow you to play music through the monitor; you can connect your smartphone or tablet to the AUX cable console.
The cooling fan is not too overpowering but does offer some cooling during a more intense workout. The tablet holder comprises a small shelf above the speakers and under the monitor's LCD.
XBR25 Assembly and Maintenance
The main body of the bike comes pre-assembled with all the resistance parts and covers in place. However, you still need to attach the base bars, the seat, the backrest, the front upright bar (or the mast), the handlebars, the fitness monitor, and the pedals.
Consequently, it may take more than an hour of your time. However, the task isn't too complicated. The manual provides all the necessary instructions and all the essential tools that come with the bike.
You only need to periodically inspect the bike for loose parts for maintenance and re-tighten them if necessary. The internal components should not need any care for an extended time.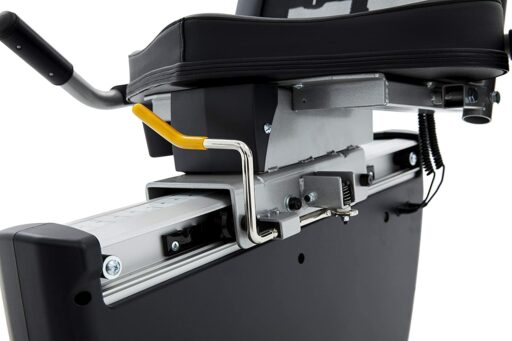 Pros
Heavy-duty construction – can support users up to 350 lbs;
Aesthetic design and multiple covers for the frame;
Transport wheels on the front base bar;
Adjustable stabilizers on both bases;
Step-through frame design for easy access to the seat;
Seat handlebars with pulse sensors;
Front handlebars included;
High-comfort seat with a thick layer of cushioning;
Large, flexible, and sturdy mesh backrest;
Quick and easy lever-based seat adjustment system;
Quiet eddy current resistance system with 20 difficulty levels;
Weighted pedals with adjustable straps;
Mid-range fitness monitor with a large LCD (7.5″);
Six programs on the monitor;
Sound system included;
Cooling fan included;
Tablet holder included;
Bottle holders included;
Reasonably easy to assemble;
Little maintenance is required;
Excellent warranty.
Cons
The fitness monitor does not have online connectivity;
No reclining feature for the backrest;
An HR chest strap does not come with the bike;
A tablet placed on the device holder will cover the fitness monitor LCD.
Spirit Fitness XBR25 Recumbent Bike Summary
The Spirit Fitness XBR25 is a heavy-duty recumbent bike made for home use. It has a 20-level eddy current resistance system, a high-comfort seat, and a console with six preset workout programs.
It's an excellent exercise bike for recovery, light to mid-range cardio training, intervals, stamina development, and weight loss. It's not an affordable bike but offers light commercial quality and an impressive 350 lbs weight capacity.
I hope you found this article helpful and informative. Would you please speak up if you have anything you'd like to share or any opinions about my website? I look forward to your comments, questions, and the sharing of ideas.
Please remember that you should consult your physician to determine if you have any medical or physical conditions that could risk your health and safety or prevent you from using the equipment properly. In addition, your physician's advice is essential if you are taking medication that affects your heart rate, blood pressure, or cholesterol level.