This updated Cubii JR2 UnderDesk Elliptical includes eight resistance levels letting you burn calories, improve mobility, and increase strength while you sit. Furthermore, the newly designed ZeroGravitii Flywheel offers a smoother rotation while you pedal. The Cubii JR2 increases energy expenditure by over 5x compared to standing.
The JR2 trainer's fitness monitor tracks calories burned, time, strides per minute, and distance pedaled. Cubii Studio+ is their new wellness platform that includes live and on-demand exercise classes. In addition, expert trainers teach all of the various workout classes. Try Cubii Studio+ for a 30-day free trial; a subscription is required after the trial period.
The Cubii JR2 UnderDesk Elliptical lets you get fit while you sit. Using the Cubii JR2 burns calories and activates more than 50% of your body's muscle groups. In addition, unlike any other Cubii elliptical models, the Cubii JR2 includes built-in adjustable foot straps. This exclusive feature provides a more steady stride and is perfect for users who want to feel more connected to every stride.
Learn more in my complete review below!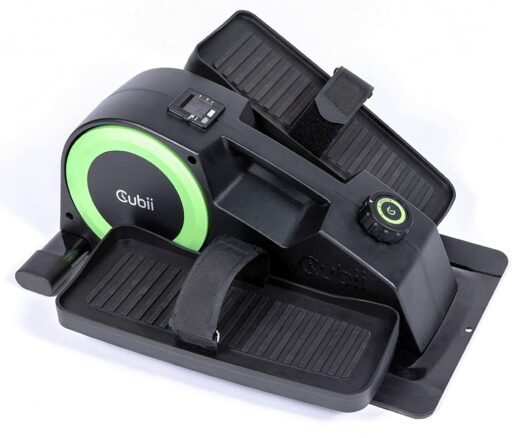 Product: Cubii JR2 UnderDesk Elliptical
Price: For a great deal on this underdesk elliptical, merely go here to Amazon.com
Warranty: 1 year limited
My rating: is 9/10
Affiliate Disclosure: As an Amazon Affiliate Program participant, I earn commissions on purchases made through links in this post. Full disclosure
Details and Specifications
Assembled dimensions: 22.24L x 11.8W x 11.6H inches (56L x 30W x 29H cm)
Assembled weight: 18.9 lbs (8.5 kg)
Pedals: Ribbed, non-slip
Resistance: Manual-magnetic, eight levels
Fitness Monitor: Time, strides per min, count, calories
Warranty: 1 year limited
JR2 Frame Construction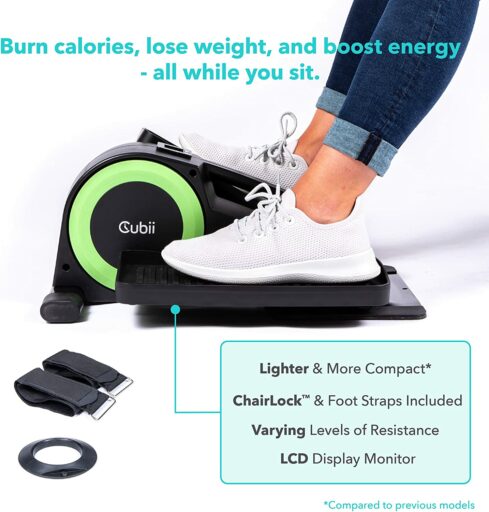 The Cubii JR2 underdesk elliptical frame is steel-made. However, a set of plastic covers conceals most of it. The steel parts come coated with a rust-resistant black paint finish. The plastic guards are also primarily black, with the pulley covers in neon green or turquoise.
The elliptical trainer rests on a stabilizing bar at the front and a metallic plate at the rear on which the pedal wheels roll. Neither of the stabilizers has any levelers, and the machine does not come with a mat. In addition, it features a unique Attachable ChairLock that prevents a desk chair from rolling away.
This Cubii underdesk elliptical is pretty tiny. However, its footprint is 22.2″L x 11.8″W (56 x 30 cm), so it fits under most regular desks. Also, the pedals reach approximately—10″ (25 cm) above the floor at their highest point. Thus, the desktop should be at least 10″ inches above your knees.
The unit is not too heavy either, weighing approx—18.9 lbs (8.5 kg). Thus, one person can easily carry and assemble the machine. Plus, it has a carrying handle at the top for easy transport.
Resistance system
The Cubii JR2 underdesk elliptical trainer has a mechanical, magnetic resistance system. Therefore, you don't need to connect it to a power source, and you don't need a power adapter for it. Unfortunately, on the other hand, it does not adjust the speed or the resistance automatically.
The trainer's resistance system consists of a magnetic brake integrated into the unit, close to the flywheel, and connected to the tension knob. When you turn the knob clockwise, the magnets move closer to the flywheel and increase the resistance.
Conversely, when you turn the knob to the left, the brake moves away from the internal flywheel, which reduces the pedaling difficulty.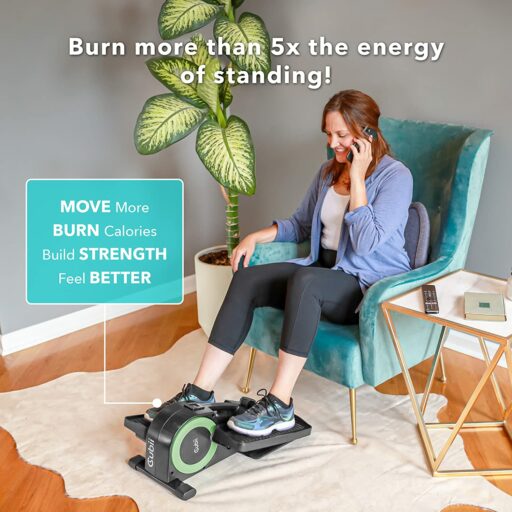 The main advantage of this magnetic brake is that the brake pad does not touch the flywheel. Thus, there is no friction, so the pedaling motion is smooth and quiet. In addition, the brake has virtually no wear-and-tear; you won't have to bother changing pads like machines with a friction resistance system.
The trainer offers eight levels of resistance. The lowest level generates little resistance, which is excellent for conditioning and recovery training. Although the 8th level provides considerably more resistance, it doesn't offer extreme difficulty. So, this machine is ideal for light workouts.
JR2 Drive system
The Cubii JR2 underdesk elliptical trainer features durable thermoplastic pedals and a textured surface for improved foot stability. They are pretty significant, approx—14″ (35.5 cm) long and 5.5″ (14 cm) wide. In addition, a set of foot straps for the pedals also comes with the machine.
The pedals connect to the machine's crankset, with a small set of wheels on their rear section. These are rubberized and have miniature internal ball bearings for smooth motion.
A user weight limit is not specified for this machine because as long as you are seated, it should comfortably support the weight of your legs. The stride length is also not fixed. However, most underdesk ellipticals have a relatively short stride length, approx. 5″ – 6″ (13 – 15 cm), which applies to the JR2 as well.
Like most other fitness machines with a magnetic resistance system, the Cubii JR2 features a belt drivetrain. Therefore, you don't have to take the unit apart to lubricate its drivetrain. Also, the pedaling motion is smoother and quieter than a chain drivetrain.
Last but not least, this elliptical integrates a small flywheel. Its exact weight is not specified either, but since the machine weighs only 19 lbs, the flywheel probably weighs around 6-8 lbs (2.7 – 3.6 kg).
Fitness monitor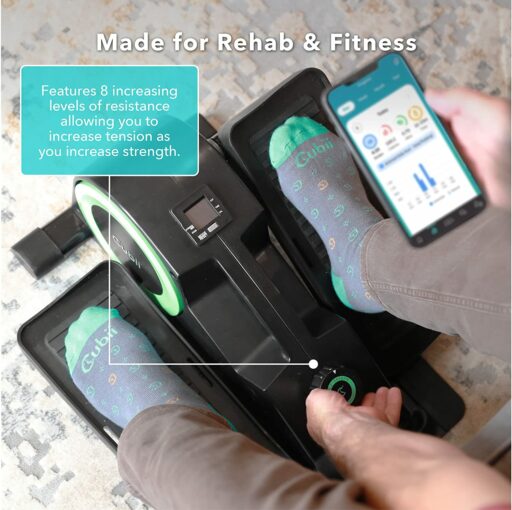 The Cubii JR2 UnderDesk Elliptical comes equipped with a simple fitness monitor. It has an LCD (without a backlight) that divides into two sub-sections. It shows time, calories, strides per minute, and total strides. Unfortunately, it does not have a distance, pulse, or speed reading function.
The monitor only has one button. By repeatedly pressing this button, you can select the workout metric you want to view on display. It also has a scan function; when the scan mode is activated, the display puts the workout metrics in a sequence, showing each for 4 seconds. The button also covers the unit's reset function. You can press it and hold it to clear all the values to zero.
The fitness monitor is battery-powered, requiring an LR44 battery. In addition, it turns on and begins monitoring your data when pedaling, and it also automatically turns off after a few minutes of inactivity.
Unlike the other Cubii underdesk ellipticals, the JR2 does not have Bluetooth and will not sync automatically with the Cubii mobile app. However, you can manually add your workout data to the app to track your progress.
Online Wellness Platform
Try Cubii Studio+, their new wellness platform that includes live and on-demand exercise classes. Expert trainers teach all of the various workout classes. With courses that range from five to 30 minutes long, finding the perfect workout to fit seamlessly into your schedule is manageable.
Try Cubii Studio+ for a 30-day free trial; a subscription is required after the trial period. Then, save when you purchase an annual subscription and meet the new you who loves to get fit while you sit.
JR2 Assembly and Maintenance
The main body of the trainer comes pre-assembled. So, all you need to do is connect the pedals, and it's ready to use. The manual provides all the necessary assembly instructions, and the assembly tools come with the machine.
Maintenance also doesn't require much. The internal parts do not need any lubrication. So, in terms of care, you only have to keep the unit clean, inspect it for loose or damaged parts, and retighten or replace them as needed.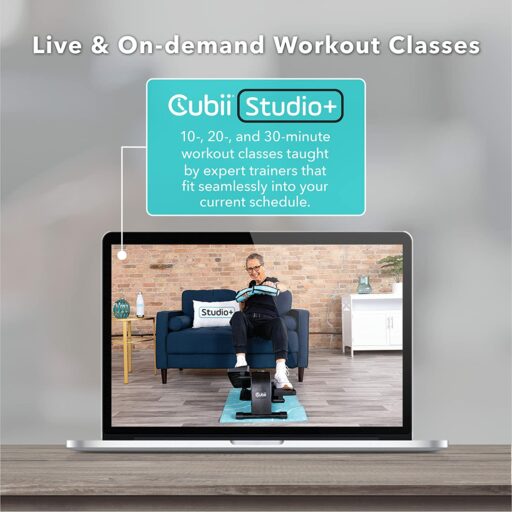 Pros
Small footprint;
25% lighter and 10% more compact than the previous version;
Lifting handle included;
Oversized pedals with a textured surface;
Pedal straps included;
Features an Attachable ChairLock – to prevent a desk chair from rolling away;
Silicone pedal wheels for reduced noise;
Zero-friction, magnetic resistance system (8 levels);
Belt drive system for a smooth and quiet pedaling motion;
Features the new ZeroGravitii Flywheel;
Fitness monitor integrated into the trainer – it tracks time, strides, strides per minute, and calories burned;
Try Cubii Studio+ for a 30-day free trial; a subscription is required after the trial period;
Easy to assemble;
All the tools necessary for the assembly come with the machine;
Battery for the monitor included;
Little maintenance is required.
Cons
The fitness monitor does not have a pulse reading function;
The fitness monitor LCD does not have a backlight.
Cubii JR2 UnderDesk Elliptical Summary
The Cubii JR2 is an under-desk elliptical trainer for home or office use. It features a set of oversized pedals, an 8-level manual magnetic resistance system, and a fitness monitor that tracks time, count, count/min, and calories burned.
Moreover, it's an excellent machine for recovery training, muscle toning, stamina development, and weight loss.
I hope you found this article helpful and informative. Would you please speak up if you have anything you'd like to share on the topic or any opinions about my website? I look forward to your comments, questions, and the sharing of ideas.
Please remember to consult your physician to determine if you have any medical or physical conditions that could risk your health and safety or prevent you from using the equipment properly. In addition, your physician's advice is essential if you are taking medication that affects your heart rate, blood pressure, or cholesterol level.