Push it to your limit on the XTERRA SB4500 Recumbent Bike, thanks to the 24 levels of smooth and quiet electronically controlled magnetic resistance. A 22-pound heavy-duty flywheel system offers premium fluid motion, while a 3-piece pedal crank provides unmatched durability.
The SB4500 packs the latest technology into an affordable recumbent bike. The fitness monitor features an easy-to-read 7″ touchscreen display that tracks time, speed, distance, RPM, calories, and pulse. In addition, it features built-in Bluetooth FTMS to connect to third-party apps, such as Zwift and Kinomaps. Furthermore, there are eight preset programs, three target programs, and one manual program.
A large adjustable cushioned seat with a fully padded seat back provides extra support during workouts on the XTERRA SB4500 recumbent bike. The recumbent sitting position provides a low-impact, easy exercise on the joints. In addition, the oversized adjustable foot pedals accommodate various users, so you can comfortably go the distance.
The SB4500 has an easily accessible step-through frame design with a compact footprint that goes wherever you need it most in your home. In addition, the sizeable adjustable seat comfortably fits most users between 4'10" – and 6'2″ and weighs under 265 lbs.
Learn more in my complete review below!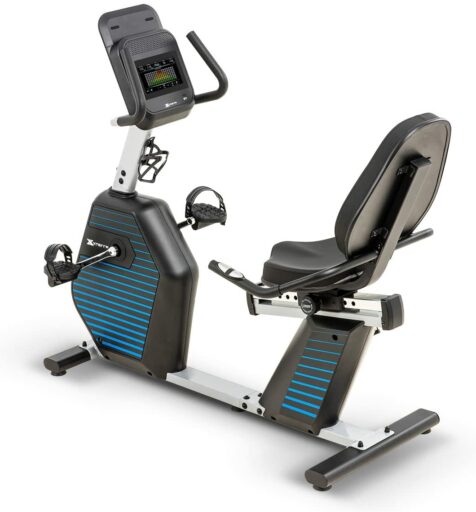 Product: XTERRA SB4500 Recumbent Bike
Price: For a great deal on this bike, merely go here to XTERRA Fitness.com
Warranty: Frame & Brake lifetime / Parts 3 years / Labor 1 year
My rating: is 8/10
Affiliate Disclosure: As an XTERRA Fitness Affiliate Program participant, I earn commissions on purchases made through links in this post. Full disclosure
Details and Specifications
Assembled dimensions: 58.5L x 25.6W x 45.9H inches (149L x 65W x 117H cm)
Assembled weight: 107.1 lbs (48.5 kg)
Flywheel weight: 22 lbs (10 kg)
Weight capacity: 265 lbs (120 kg)
Seat: Adjustable, ten levels
Resistance: Motorized magnetic, 24 levels
Fitness Monitor: 8 programs, goal settings, Bluetooth connectivity, compatible with FTMS apps
Extras: Device holder, bottle holder
Warranty: Frame & brake lifetime / Parts 3 years / Labor 1 year
SB4500 Frame Construction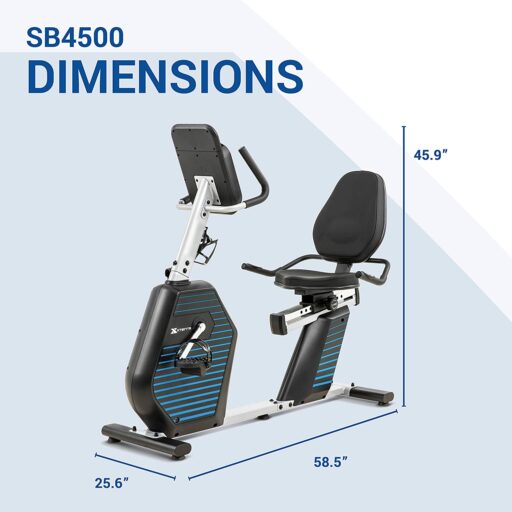 The XTERRA Fitness SB4500 Recumbent Bike features a steel tubing frame. It combines rectangular and oval tubes to improve sturdiness, stability, and aesthetics. In addition, all the steel parts come coated with a corrosion-resistant paint finish.
The primary frame tubes are light metallic gray, while the base bars and the backbone of the seat are black. The adjustment rail of the seat is stainless steel.
Of course, the bike also integrates several plastic parts. The most notable are the drive system guards, the base seat guards, and the monitor casing. These are a durable ABS polymer featuring a blue & black color theme for a great aesthetic touch.
The XTERRA SB4500 is a medium-sized recumbent bike. It is approximately 58.5″ (149 cm) long and 25.6″ (65 cm) wide, while its highest point is the top of the fitness monitor, which reaches approximately 45.9″ (117 cm) above the floor level. It is also advisable to leave at least two feet of clearance around the bike for easy access and correct safe usage.
The bike is also pretty heavy, weighing 107.1 lbs (48.5 kg). Therefore, two people should carry and assemble the packaged bike. Also, unlike many other exercise bikes, this one does not have transport wheels and might be challenging to lift and relocate once completed.
The bike has a step-through design. Thus, it can be quite a plus for users with disabilities, making entry and exit considerably easier. Also, both its base bars come equipped with adjustable levelers.
Seat and handlebars
The XTERRA Fitness SB4500 recumbent bike comes with a seat for superior comfort. The backrest pad and the bottom pad integrate a generous foam cushioning layer. In addition, they're both contoured for improved positioning. Also, they have durable double-stitched vinyl material covers, which are also moisture-proof.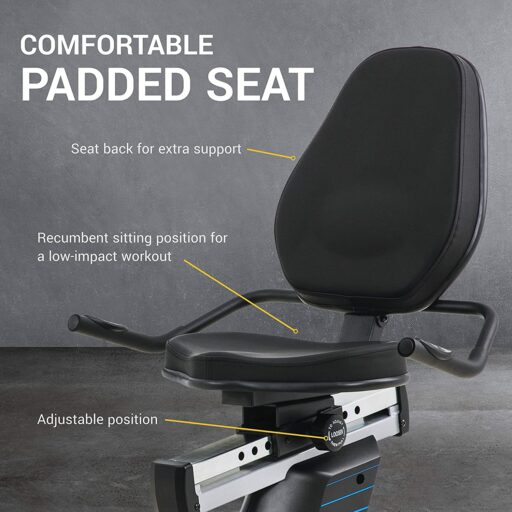 The whole seat assembly is adjustable. Its rail offers ten adjustment positions. Therefore, the applicable inseam range for this recumbent bike is 25.6″ – 36.4″ (65 – 92 cm). For example, the cycle comfortably accommodates users between 5'0″ and 6'4″ (153 – 193 cm) with no problem. In addition, it also has a maximum user weight limit of 265 lbs (120 kg).
It's important to note that the backrest does not have a reclining function like other recumbent bikes, such as the Teeter FreeStep model. Instead, it attaches directly to the backbone of the seat, and you cannot adjust it independently from the rest of the seat.
The bike comes equipped with two sets of handlebars, one attaching to the seat assembly and the other to the front mast of the bike. The seat handlebars come equipped with integrated HR pulse sensors. In addition, both handlebars feature PVC foam sleeves for improved and comfortable contact. Unfortunately, neither of the handlebars is adjustable.
SB4500 Resistance system
The XTERRA SB4500 recumbent bike comes equipped with a motorized magnetic resistance system. Therefore, you must connect it to a power source to start the fitness monitor and adjust the resistance.
It also means the monitor can adjust the resistance automatically, depending on the selected program. An adapter with a power cord comes with the bike.
The bike's resistance system includes a magnetic brake integrated into the flywheel and a servo motor. The motor mediates the fitness monitor and the brake. Thus, when you adjust the resistance or the console automatically makes adjustments, the magnets' pull on the flywheel changes, increasing or decreasing the pedaling difficulty.
The resistance system makes 24 settings available. The lowest setting delivers a relatively light pedaling difficulty, great for muscle toning, recovery training, or a workout warm-up. Conversely, the 24th resistance setting provides a challenge even for the most seasoned cyclist.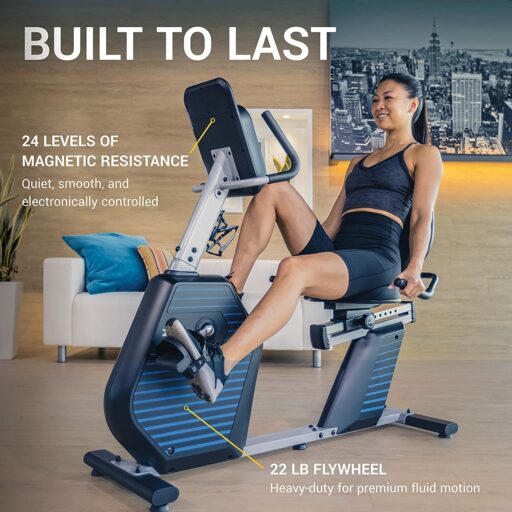 The bike's magnetic resistance system comes with two main advantages. First, the magnets do not touch the flywheel, and there is no friction. Thus, the pedaling motion is very smooth and quiet. You don't have to worry about brake lubrication or brake pad replacement, such as for a friction-type brake.
Drive system
The XTERRA SB4500 recumbent bike has a 22 lbs (10 kg) peri-weighted flywheel. For instance, this type of construction provides superior inertia and consistent momentum. Thus, the pedaling motion is smooth, with a low impact on your joints.
The flywheel is bi-directional. Therefore, you can pedal in reverse on this bike. In particular, you can alternate forward and reverse pedaling sessions to involve more muscle groups. However, coasting on the bike is not possible. The pedals continue to spin for as long as the internal flywheel is spinning.
The bike comes equipped with a belt drive system. It uses a poly-v belt designed for superior traction. Instead of a chain drive, you won't have to lubricate the belt. Furthermore, it also delivers slightly less vibration than a chain.
The bike comes with a durable crankset. It features long and flat crank arms similar to road bikes. They're steel-made and have a chrome finish. The included pedals are made of a durable thermoplastic material and have a metallic core.
They feature a textured surface and adjustable straps for maximum foot stability. In addition, they also have a weighted design and will always self-level when you remove your feet from them.
SB4500 Fitness monitor
The XTERRA Fitness SB4500 recumbent bike comes equipped with a fitness monitor similar up to a point to the one included with the Bowflex C7 bike.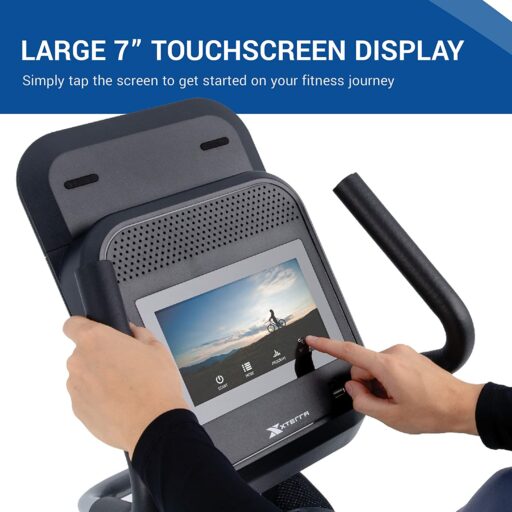 In addition, it features a 7-inch LCD with an LED backlight and touchscreen technology. It tracks time, speed, distance, RPM, calories, and pulse. It also indicates the selected resistance level.
The speed and distance can either be Imperial or metric units. You can either hold on to the HR pulse sensors integrated into the seat handlebars for the pulse reading or wear a Bluetooth heart rate chest strap. Unfortunately, this accessory does not come with the bike.
The monitor has eight preset programs, three target programs, and the manual mode. In particular, the preset programs have different segment layouts to target other workouts. They are P1-WeightLoss, P2-Climb, P3-Intervals, P4-RollingHills, P5-WarmUp, P6-BeachSport, P7-FatBurn, and P8-HorseRace.
The target programs allow you to set workout goals for time, distance, and calories. After choosing a target for any of these metrics, the monitor will count down from the selected target until it reaches zero. And finally, the Manual Mode allows you to pedal, adjusting the resistance as you like throughout the workout.
The fitness monitor also has Bluetooth connectivity and is compatible with various FTMS-enabled apps. Some of the most popular apps are Zwift and Kinomap. These offer extra features like virtual cycling classes, riding on virtual trails, games, and online progress tracking. The monitor has its workout summary function as well.
Last but not least, the monitor also integrates a device holder and has a USB charging port. The device holder is at the top of the monitor. It offers the possibility to put your tablet or phone on it. The USB port is on the bottom right corner of the monitor; it's only for charging your unit. It does not allow data transfer.
SB4500 Assembly and Maintenance
The bike's drive and resistance unit comes pre-assembled and attached to the front section of the frame. The rest of the parts require user assembly.
First, you must connect the front base stabilizer to the rear base stabilizer, combine the two main frame pieces, and add the fitness monitor mast, the monitor, the seat, the handlebars, and the pedals.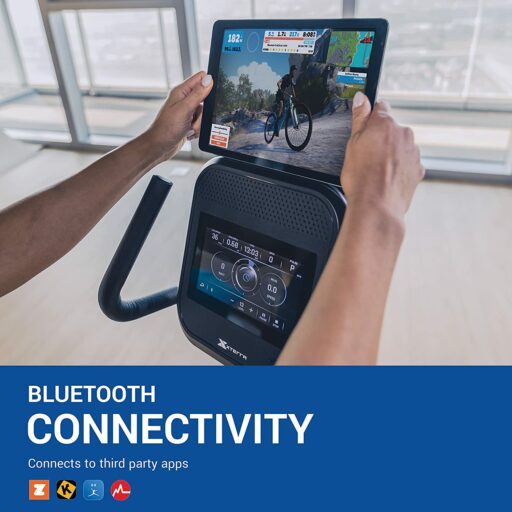 Therefore, it may take more than an hour of your time, but the process is not too complicated. Plus, the manual provides step-by-step assembly instructions with attached schematics and all the necessary tools for the bike.
Once assembled, you don't have to worry too much about maintenance. The internal parts do not require lubrication. You only have to clean the bike, periodically check for loose bolts, and retighten them.
Pros
Sturdy construction – can support users up to 265 lbs;
Aesthetic design;
Large, cushioned, and contoured seat with ten levels of adjustment;
HR pulse sensors integrated into the seat handlebars;
Weighted pedals with adjustable straps for extra stability;
Motorized magnetic resistance – 24 levels;
Multi-function fitness monitor with a 7-inch touchscreen display;
Eight preset programs;
Three target programs for time, distance, and calories burned;
Bluetooth connectivity – compatible with FTMS-enabled apps such as Zwift, Kinomap, and more;
Workout summary function;
Bluetooth pulse reading function;
USB charging port;
Device holder included;
Bottle holder included;
Little maintenance is required;
Easy to assemble;
All the necessary assembly tools come included;
Excellent warranty.
Cons
No transport wheels;
An HR chest strap does not come included.
XTERRA SB4500 Recumbent Bike Summary
The XTERRA Fitness SB4500 is a recumbent bike made for home use. It features a 24-level motorized magnetic resistance system, a 22-lb. internal flywheel, and a comfortable seat with ten adjustment positions.
Furthermore, it also has a 7-inch touchscreen fitness monitor with Bluetooth connectivity, compatible with apps like Zwift and Kinomap. Moreover, it's a great exercise bike for light to medium-intensity workouts, muscle toning, weight loss, recovery training, and stamina development.
I hope you found this article helpful and informative. Would you please speak up if you have anything you'd like to share on the topic or any opinions about my website? I look forward to your comments, questions, and the sharing of ideas.
Please remember to consult your physician to determine if you have any medical or physical conditions that could risk your health and safety or prevent you from using the equipment properly. In addition, your physician's advice is essential if you are taking medication that affects your heart rate, blood pressure, or cholesterol level.