The Body-Solid Endurance T25 Treadmill combines quality, convenience, and state-of-the-art design to create one of the top home-focused treadmills on the market today. Built with a two-hp continuous duty and four-hp peak motor, the T25 treadmill has a speed range of 1 – 10 mph while featuring 0 – 12% incline settings for intense, calorie-burning workouts.
Designed for users with space restrictions, the T25 quickly and easily folds while also offering transport wheels to allow expedient movement. In addition, the T25 comes equipped with large 2″ diameter sealed-bearing rollers, a broad 20.5 W" x 57″ L (52 W cm x 145 L cm) running space, and a maximum user weight limit of 275 lbs (125 kg).
User-friendly features like easily-adjustable quick keys for speed and elevation and an LED console displaying incline, speed, level, times, calories burned/pulse rate, program, and distance make the Body-Solid Endurance T25 treadmill stand out from the competition.
Integrated heart rate controls and monitors ensure users have all the information for an optimal calorie-burning workout. The T25 also features built-in speakers and 3.5mm audio input. Finally, a significant stop button with an emergency stop safety key adds safety and peace of mind to any workout.
Learn more in my complete review below!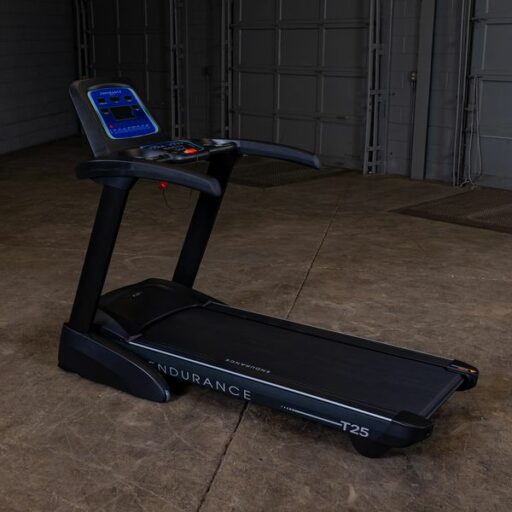 Product: Body-Solid Endurance T25 Treadmill
Price: For a great deal on this treadmill, merely go here to Amazon.com
Warranty: Frame lifetime / Parts 5 years / Electronics 2 years / Labor 1 year / Wear Parts 6 months
My rating: is 9/10
Affiliate Disclosure: As an Amazon Affiliate Program participant, I earn commissions on purchases made through links in this post. Full disclosure
Details and Specifications
Assembled dimensions: 76L x 36W x 57H inches (193L x 91W x 145H cm)
Running surface: 57L x 20.5W inches (145L x 52W cm)
Assembled weight: 260 lbs (118 kg)
Supported weight: 275 lbs (125 kg)
Motor: 2 CHP, 1-10 MPH
Incline: Motorized, 0% – 12%
Console: 19 programs
Extras: Speakers, bottle holders, tablet holder
Warranty: Frame lifetime / Parts 5 years / Electronics 2 years / Labor 1 year / Wear Parts 6 months
T25 Frame Construction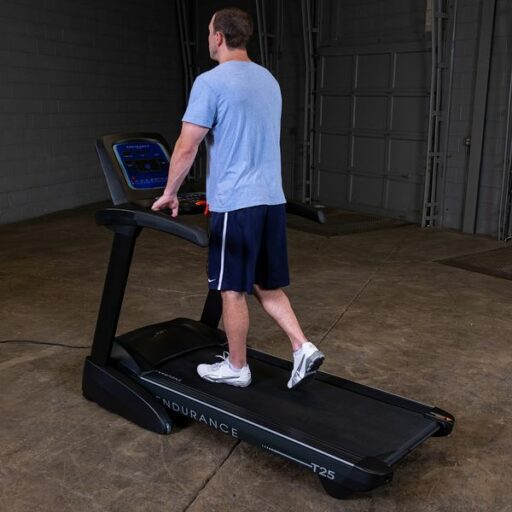 The Body-Solid Endurance T25 treadmill features heavy-duty construction with a steel tubing frame. Furthermore, all the steel tubes come double-coated with an abrasion-resistant and rust-resistant black paint finish.
Of course, the machine does integrate several ABS plastic parts as well. The most notable ones are the motors cover, the front base covers, and the casing. In addition, these are sturdy ABS polymers.
The treadmill is quite heavy, weighing 260 lbs (118 kg). Therefore, two people should transport and assemble the packaged machine. However, once completed, one person can relocate the machine as its front base integrates transport wheels.
Therefore, this weight is quite a plus as it provides superior stability to the machine. You can be sure it won't move or wobble, even running at full speed.
The Endurance T25 treadmill is relatively large as well. With all the parts assembled, it is approximate—76″ (193 cm) long and 36″ (91 cm) wide. You also should allow at least three feet (91 cm) of clearance at the back of the machine and at least two feet (61 cm) of clearance on each side of the deck for easy access and safe usage.
Deck Construction
The Body-Solid Endurance T25 treadmill has a very sturdy deck. It has a maximum user weight limit of 275 lbs (125 kg) which is not bad for a home-use fitness machine. In addition, the deck is foldable; it folds up so you can save some space when not in use or clean with ease under it if necessary.
The folding mechanism uses a hydraulic cylinder that lowers the deck slowly when unfolded to prevent damage. With the deck folded up, each machine's footprint becomes 50″L x 36″W (127 x 32 cm) while its height reaches approximately—64″ (163 cm).
The T25 treadmill offers a running area of 57″ L x 20.5″ W (145 x 52 cm). Therefore, it comfortably accommodates users up to 6'3″ (190 cm) with no problem, allowing a complete range of motion. Taller persons can still use this machine but may not benefit from an entire stride when running at full speed.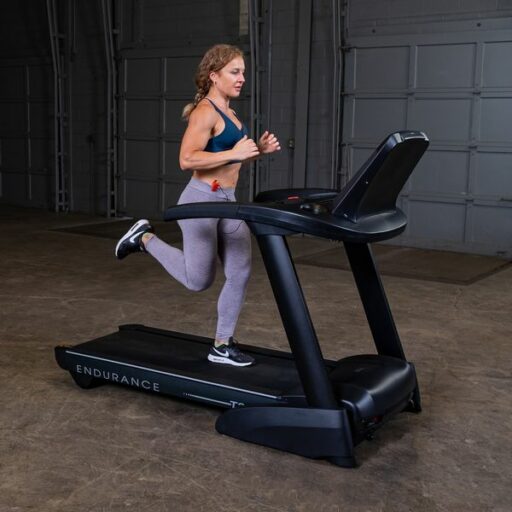 The unit's deck integrates six cushions (three on each side), considerably reducing the shock generated by each foot strike. However, they have a simple design and are not adjustable, such as the NordicTrack T 7.5 S treadmill. They're all concealed by the side rail covers.
The rollers integrated into the machine's deck are 2″ (5 cm) in diameter, which is pretty decent for a deck of this size. They provide superior traction. In addition, they integrate high-grade sealed ball bearings to deliver a smooth motion and a lifetime duty.
T25 Incline system
The Endurance T25 treadmill comes equipped with a motorized incline system. Therefore, you can adjust the incline while running on it. In addition, the console also has multiple programs that change the incline automatically.
The machine's incline system consists of a small lift connected to the front section of the deck and a motor (different from the one that powers the belt). As you adjust the incline from the controls on the console, or as the console adjusts the pitch automatically, the incline motor controls the lift, which elevates or lowers the front part of the deck.
The machine offers an incline range between 0% and 12%. It's not an exceptional incline range compared to commercial treadmills, which can have up to 50% incline. However, even the slightest incline can add a pretty decent difficulty to the workout. Plus, it focuses more on the glutes, thighs, and extensor muscles.
The treadmill's console offers gradual incline adjustment and quick incline adjustment controls. They're on the left side of the control pad. The quick incline keys will allow the deck to set at 2%, 4%, 6%, or 8% incline without pressing a button. The gradual incline adjustment increments are 1%.
The step-up deck height is approximate—8″ (20 cm). The incline adds a few extra inches at the front. Thus, placing and using this treadmill in a room with a ceiling at least 15″ (38 cm) higher than the tallest user is advisable.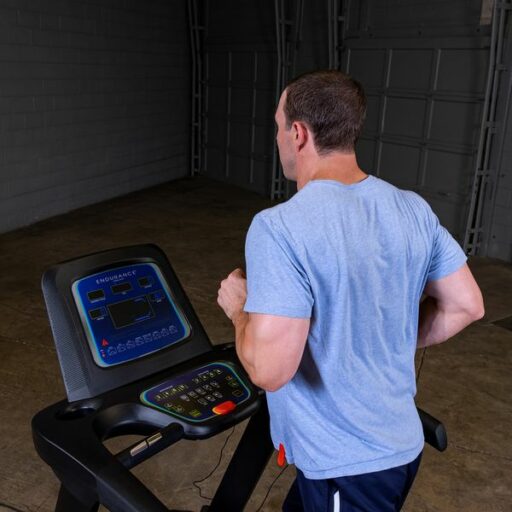 Drive motor
The Body-Solid Endurance T25 treadmill is an electric treadmill. Thus, it requires an external power source. It comes with a power cord featuring a standard U.S. plug. The connector for the cable is at the front part of the deck.
The machine comes equipped with a 2.0 CHP motor with a 4 HP peak power which is pretty decent for a home-use machine. Therefore, it will withstand prolonged workouts without overheating or losing performance. In addition, it has a Marathon Mode, which means that you can run on this treadmill for at least 26.3 miles without interruption.
The motor offers a speed range between 1 and 10 MPH, and the speed adjustment increments are 0.1 MPH. In addition, the console comes equipped with controls for gradual and quick speed adjustment, just like the incline.
In addition, the gradual speed adjustment controls allow you to change speed in increments of 0.1 MPH, while the quick speed controls offer an easy selection for 2 MPH, 4 MPH, 6 MPH, and 8 MPH.
When you change the speed from one of the preset controls, the movement of the belt will still adjust gradually. Furthermore, you won't have to keep the button pressed.
The motor is not too loud even when the treadmill is at maximum speed. However, depending on your running technique, weight, fitness equipment, and other factors, the overall usage of the machine may generate more or less noise.
T25 Console
The Body-Solid Endurance T25 treadmill comes equipped with a mid-range console. In addition, it features a LED monitor with six separate windows. The smaller windows indicate calories/pulse, time, distance, incline, and speed, while the larger window in the middle shows the program and other data segments.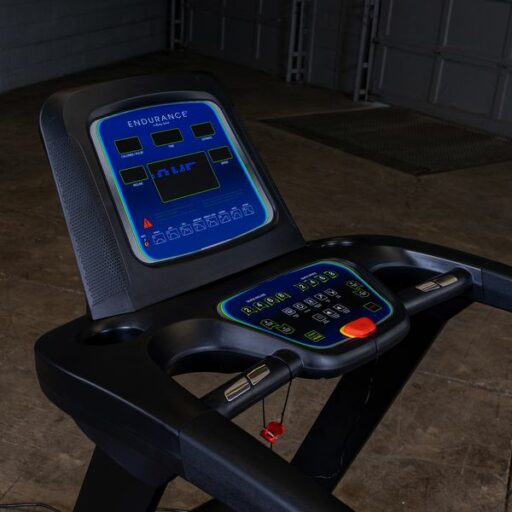 The speed and distance are in imperial units but can be changed to metric units. The pulse reading function is handgrip only; the console can track your pulse if you hold on to the sensors integrated into the front handgrips.
Unfortunately, the console does not have Bluetooth or other types of online connectivity. In addition, it is also not compatible with any fitness apps. However, it offers 19 programs to keep you motivated.
First, it has the Manual Mode, which allows you to adjust the speed and the incline as you run manually. There are eight preset programs that you can select from the Program button; each preset program has its diagram under the LED monitor to give an idea of its difficulty.
The console also has a Weight Loss program, a Marathon Program, a Warm-Up program, and a Cooldown program. Each one of these has its quick key on the console.
The list of programs doesn't end here. The console also makes available three Countdown Modes. These allow selecting a workout goal for time, distance, or calories.
There are also three Heart Rate programs. These have a preset maximum speed, and depending on your BPM; they will increase or decrease the speed to keep you on a given BPM range based on your age.
The console integrates a set of speakers and has an AUX port on the left side under the displays. Thus, you can connect your phone or tablet and play your favorite music through the machine's speakers for better sound quality. In addition, the console has a tablet/phone holder integrated into its top section.
T25 Assembly and Maintenance
The machine's deck comes pre-assembled with two motors, belts, rollers, and other parts. Then, you only have to attach the two upright bars, the handrails, the console, and several ABS guards.
Therefore, it shouldn't take more than an hour of your time. All the necessary tools come with the machine, and the manual provides precise assembly instructions.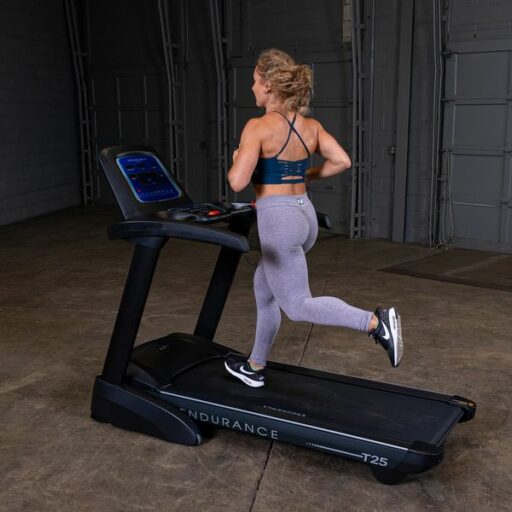 Keeping the machine clean, especially the belt, is advisable to prevent any dirt or debris from being caught in the motor or the rollers for maintenance. In addition, the belt requires periodic lubrication with silicone treadmill oil. Also, you should check for loose bolts and parts occasionally and retighten them as needed.
Pros
Sturdy construction – can support users up to 275 lbs;
Folding frame with a soft-drop mechanism;
Aesthetic design;
Shock absorption elements on each side of the deck;
Motorized incline – 0% – 12%;
2.0 CHP motor, with a speed range between 1 – 10 MPH;
The speed adjust in increments of 0.1 MPH, allowing you to find the perfect pace for your workout;
EGK pulse sensors integrated into the front handlebar;
Multi-function console with a classic LED monitor;
Countdown modes for time, distance, and calories;
Eight preset programs;
Three heart rate programs;
Marathon mode;
Weight loss program;
Sound system (2 prominent speakers) integrated into the console;
Device holder included;
Bottle holders included;
Reasonably easy to assemble;
Little maintenance is required;
Excellent warranty.
Cons
The console does not have Bluetooth connectivity;
The console is not telemetrically enabled;
The console does not have online connectivity.
Body-Solid Endurance T25 Treadmill Summary
The Body-Solid Endurance T25 is a treadmill made for home use. It has a 2.0 CHP motor offering a 1-10 MPH speed range, a 12-level power incline system, and a console with 19 workout programs.
In addition, it has a solid construction with a maximum weight limit of 275 lbs. It also has a folding frame design. Moreover, even though it's not the most affordable model for this feature range, it offers excellent value and a great warranty.
I hope you found this article helpful and informative. Would you please speak up if you have anything you'd like to share on the topic or any opinions about my website? I look forward to your comments, questions, and the sharing of ideas.
Please remember to consult your physician to determine if you have any medical or physical conditions that could risk your health and safety or prevent you from using the equipment properly. In addition, your physician's advice is essential if you are taking medication that affects your heart rate, blood pressure, or cholesterol level.