The HCI Fitness MDX Recumbent Elliptical cross-trainer gives you an easy, effective, low-impact total body cardio workout. It combines a stable, stress-free, recumbent sitting position with a smooth and natural feeling. In addition, the innovative elliptical stride is incredibly smooth and easy on your joints.
The oversized 4-inch thick memory foam, 20-inch wide swivel seat has three recline angles to change the ergonomics of the cross-training motion. It's ideal for hip and knee rehabilitation, as the reclined angle reduces hip flexion with a low impact on your joints. The PhysioStep MDX has a maximum weight limit of 500 lbs (226.7 kg) and comfortably fits users from 4'8″ to 6'4″.
The HCI Fitness MDX Recumbent Elliptical has plenty of room for your feet, with oversized foot pedals, heel cups, and foot straps for added comfort. In addition, the PhysioStep MDX features a transition handle for stability while entering and exiting the machine. For storage, the PhysioStep MDX has transport wheels to move it into a different room or store it in a corner.
Whether for weight loss, general health improvement, cardiac rehabilitation, corporate wellness, or transitioning from Physical Therapy to Home Exercise, the PhysioStep MDX Recumbent Elliptical cross-trainer is the ideal equipment to get you moving!
Learn more in my complete review below!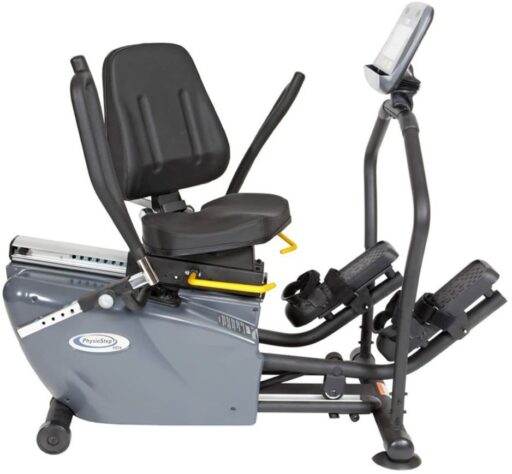 Product: HCI Fitness MDX Recumbent Elliptical
Price: For a great deal on this hybrid, merely go here to Amazon.com
Warranty: Frame lifetime / Parts 3 years / Electronics 3 years / Labor 1 year
My rating: 8.5/10
Affiliate Disclosure: As an Amazon Affiliate Program participant, I earn commissions on purchases made through links in this post. Full disclosure
Details and Specifications
Assembled dimensions: 60L x 32W x 44H inches (152L x 81W x 112H cm)
Assembled weight: 210 lbs (95 kg)
Weight capacity: 500 lbs (226.7 kg)
Stride: 12 inches (30.5 cm)
Seat: Adjustable, 14 positions
Resistance: Eddy current, 32 levels
Console: 20 programs, recovery function, workout summary function
Extras: USB port, accessory tray
Warranty: Frame lifetime / Parts 3 years / Electronics 3 years / Labor 1 year
MDX Frame Construction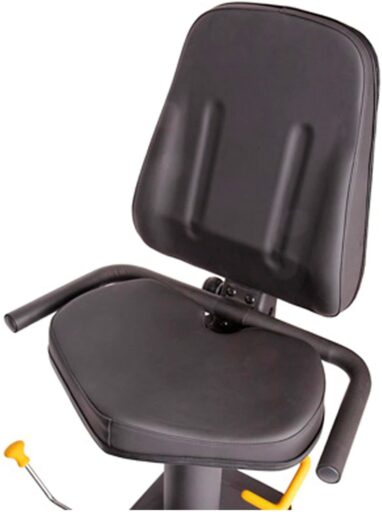 Although HCI Fitness doesn't advertise the MDX PhysioStep recumbent elliptical as a commercial-grade machine, it has sturdiness and many features. Its construction features a steel frame combining oval, rectangular, and cylindrical tubes.
All the steel parts come double-coated with a black paint finish. The only exceptions are the seat adjustment rail and the pedal wheel trays, which are extruded aluminum, and the posts of the handlebars, which are chrome-plated.
The trainer also integrates several plastic parts. The most notable ones are the covers of the drive system and the pedals. These are durable plastic polymers.
The fully assembled trainer is relatively large. It is approximately 60″ (152 cm) long and 32″ (81 cm) wide, while its highest point is the top of the console reaching approximately—44″ (112 cm) above the floor level. In addition, it is also advisable to allow at least two feet of clearance all around the unit for easy access and safe usage.
The machine is also weighty, weighing approx—210 lbs (95 kg). Thus, two people should transport and assemble the machine. However, once completed, one person can move the machine as its rear base bar has transport wheels.
Seat and handlebars
The HCI Fitness MDX recumbent elliptical trainer comes equipped with a seat that delivers superior comfort. The backrest and the bottom pad integrate a thick layer of foam cushioning. They have contours to cradle the user appropriately. Their covers are durable faux leather, sweatproof, and easy to maintain.
The seat also offers superior adjustability. First, it is attached to an extruded aluminum rail with 14 adjustment positions. Thus, the bike comfortably accommodates users between 5'0″ and 6'5″ (153 – 196 cm). Furthermore, it has a maximum user weight limit of 500 lbs (226.7 kg), which makes this elliptical bike a great piece of fitness equipment for anyone who wants to begin their weight loss journey.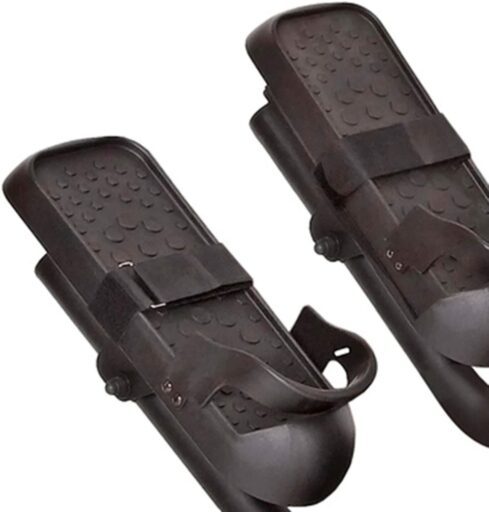 The backrest is also adjustable. It has a knob at the base, which allows you to adjust its angle. Plus, the seat can swivel 360°, offering superior entry and exit possibilities. The front-to-back adjustment and the swivel functions are lever-based. The levers are right under the seat, so you can easily pull them and adjust or turn the seat while seated.
The trainer only has one set of handlebars. They are mobile and attach to the pedal bars. Thus, they will move for as long as you pedal. They are adjustable, having multiple adjustment holes to secure them closer or farther from your body for more or less motion range. They also have a multi-grip design.
Unfortunately, they do not integrate HR pulse sensors, and the trainer does not include fixed handlebars for the seat, similar to most other recumbent bikes.
MDX Drive system
The HCI Fitness MDX recumbent elliptical is equipped with durable ABS material oversized pedals. They are not size-adjustable but are large enough to accommodate athletic shoes of all sizes. In addition, they have a textured surface and straps for improved foot stability.
The pedal bars come equipped with large wheels. These integrate sealed bearings and have a rubber layer outside for a smooth and quiet motion. Unlike the pedals of a recumbent bike, they generate an elliptical motion with a stride of approx—12″ (30.4 cm). The elliptical path inclines slightly backward, so the pedaling movement causes a shallow impact on your joints.
The weight of the machine's internal flywheel is not specified. However, it probably doesn't weigh more than 30 lbs (13 kg). It has a balanced design for a steady pedaling motion. It is also bi-directional so that you can pedal in reverse.
The machine comes with a belt drive system. This type of transmission comes with two main advantages. First of all, the belt does not require lubrication. And second of all, it generates slightly less vibration than a chain.
Resistance system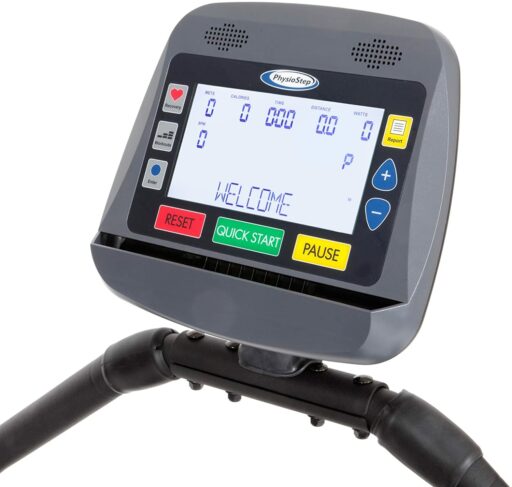 The HCI Fitness MDX recumbent elliptical trainer has a motorized magnetic (eddy current) resistance system. Therefore, you must connect it to a power source to start the console and control the resistance. A power adapter comes included.
The machine's resistance system consists of a servo motor and a magnetic brake. The servo motor connects the brake to the console. Thus, when you adjust the resistance or when a program is in use, the motor changes the magnets' pull on the flywheel, increasing or decreasing the pedaling difficulty.
The magnetic resistance system has many advantages over a standard friction resistance system. Most importantly, there is no friction between the brake and the flywheel, so the pedaling motion is smooth and quiet. You also don't need to worry about brake pad lubrication or replacements.
The MDX PhysioStep trainer offers quite an impressive micro-adjustability regarding resistance. It makes available 32 resistance settings.
The lowest ones deliver a very light difficulty level, which is excellent for beginners or users requiring recovery training. Conversely, the highest resistance levels are a challenge, significant for stamina and strength development.
MDX Console
The HCI Fitness MDX recumbent elliptical trainer comes equipped with a multi-function console. It features a 9-inch LCD with an LED backlight for improved readability. It tracks time, speed, distance, heart rate, steps per minute (SPM), calories, watts, METs, and the selected resistance level.
The speed and distance can be Imperial units (MPH and miles) or metric units (kmh and kilometers). The pulse reading function is telemetric only. Thus, the machine does not have integrated HR pulse sensors, So for the console to read your pulse, you will have to wear an optional HR chest strap.
Workout programs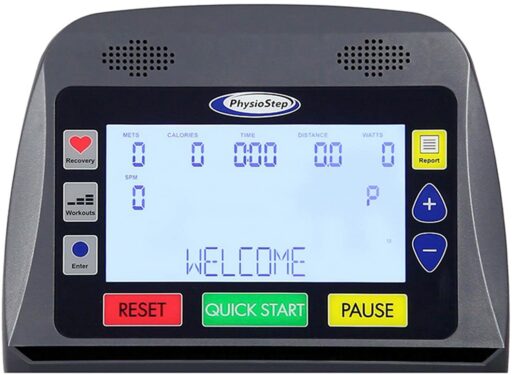 The console offers multiple workout programs. To begin with, it has the Quick Start mode, which allows you to pedal while adjusting the speed from the console controls as you like. In addition, there is a Manual program similar to QuickStart, but it will enable you to set a duration for it.
Next, 12 preset programs adjust the resistance depending on their segment layout. For example, these are Warm-Up, Interval, Ramps, Mountain, Rolling, Climb, Random, Hill, Fat Burn, Cardio, and Strength.
The console also offers two heart rate programs, an SPM program and a Watts program, and Goal programs for calories and distance.
The heart rate programs are 65% and 85% of your full HR. If one HR program is selected, the machine will auto-adjust the resistance to keep you within the chosen HR range. Of course, the HR programs require you to wear an optional HR chest strap.
The Watts and SPM programs are similar to the HR programs, but the machine will auto-adjust the resistance to keep you within the selected Watts or SPM range. In addition, the console will count down from the desired value for the calorie or distance goal. And finally, there is also a pulse recovery function.
Unfortunately, the trainer does not have online connectivity (no Bluetooth, no WiFi), and is incompatible with fitness apps. However, it has a workout summary function, and you can export your workout data onto a USB stick. The workout report saves as a .csv file, so you can keep track of your progress using an Excel spreadsheet.
MDX Assembly and Maintenance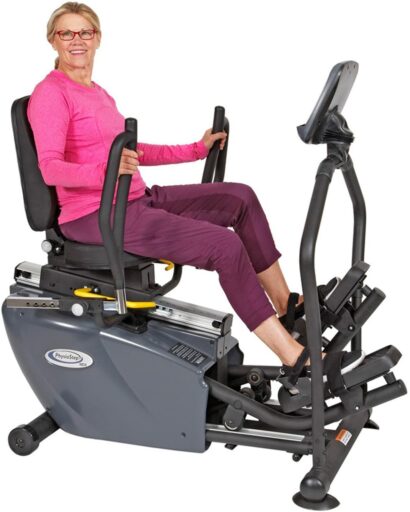 The base frame of the HCI Fitness MDX recumbent elliptical comes pre-assembled. However, the rest of the parts require user assembly. You must attach the front support bars of the console, the console, the handlebars, and the backrest. Consequently, the whole task isn't too difficult, the manual provides step-by-step assembly instructions, and an essential toolkit comes included.
For maintenance, it is advisable to keep the machine clean, especially the tracks of the pedal wheels, to prevent any damage to the wheels. The internal parts don't require any lubrication. You should also periodically inspect the trainer to ensure all the parts function correctly and all the bolts hold tight in their places.
Pros
Heavy-duty construction – can support users up to 500 lbs;
Aesthetic design;
Superior stability;
Transport wheels integrated into the rear base stabilizer;
Large padded seat base and backrest;
Reclining function for the backrest;
Swivel function for the whole seat assembly for easy entry and exit;
Lever pull system for the front-to-back seat adjustment and the swivel function;
14 levels of adjustment for the seat (user range 4'8″ – 6'5″);
Adjustable moving arms;
Oversized pedals with straps and heel guards;
32 levels of eddy current resistance;
Multi-function console featuring a large LCD with an LED backlight;
20 programs on the console;
Recovery function;
Workout summary function;
USB port for the workout summary data export;
The workout summary files can be opened and worked within Excel;
Phone/accessory tray integrated into the console;
Reasonably easy to assemble;
Little maintenance is required;
Excellent warranty.
Cons
The console does not have online connectivity;
The console is not compatible with any fitness apps;
An HR chest strap does not come with the machine.
HCI Fitness MDX Recumbent Elliptical Summary
The HCI Fitness MDX PhysioStep is a heavy-duty recumbent elliptical machine. It has a 32-level eddy current resistance system, a console with multiple workout programs, a summary function, and a high-comfort seat with superior micro-adjustability.
Furthermore, it offers an impressive maximum user weight limit of 500 lbs. Moreover, it's an excellent machine for recovery and high-intensity training, stamina, and strength development for users of all levels. It's not exactly an affordable machine, but it offers superb value.
I hope you found this article helpful and informative. Would you please speak up if you have anything you'd like to share on the topic or any opinions about my website? I look forward to your comments, questions, and the sharing of ideas.
Please remember to consult your physician to determine if you have any medical or physical conditions that could risk your health and safety or prevent you from using the equipment properly. In addition, your physician's advice is essential if you are taking medication that affects your heart rate, blood pressure, or cholesterol level.