The 2019 Cyclace Indoor Cycling Bike is an imported new stationary indoor exercise spinning bike with a sturdy frame, different levels of resistance, adjustable seat, and handles, and a smart LCD panel for a great low-impact cardiovascular workout.
This affordable indoor exercise bike has all the essentials for a satisfying home workout. This is a great spinning bike with a 36 lb (16.3 kg) flywheel and a silent belt drive for a smoother, quieter, and dynamic feeling cycling experience. The pure wool brake pad friction makes almost zero noise. Furthermore, there is an additional brake pad included free of charge that you can replace when needed.
The maximum supported user weight is 330 lbs (150 kg) on the sturdy and stable, comprehensive, and thick frame with a multi-layer design to protect against rust.  And the handlebars can be adjusted in two ways, while the seat is adjustable in four directions to fit riders of various sizes.
The small LCD is multi-functional with the indicators of distance traveled, calories burned, time exercised, current speed, and ODOmeter. You can reset the display by pressing the button on the display panel for a few seconds. And there is a phone holder just at the front where you can put your smartphone for entertainment- watching videos or listening to music.
Learn more in my complete review below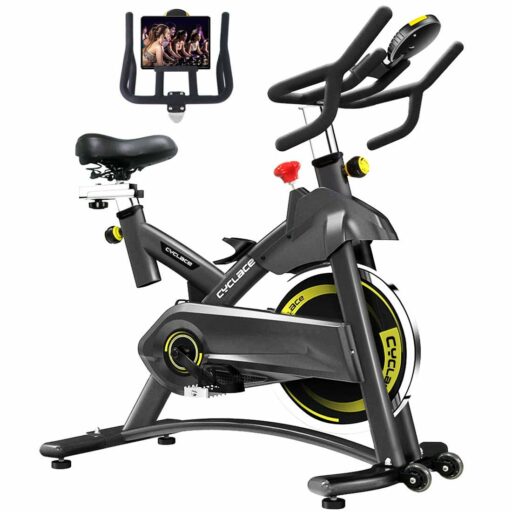 Product: Cyclace Indoor Cycling Bike
Price: For a great deal on this bike, merely go here on Amazon
Warranty: 1 year limited
My rating: 9/10
Amazon Affiliate Disclosure: I may earn commissions on purchases made through links in this post.
Cyclace Frame construction
The Cyclace indoor cycling bike features a heavy-duty steel frame with an impressive weight capacity of 330 lbs (150 kg). The frame has a triangular design with the main oblique tube and the longitudinal base tube slightly curved for extra sturdiness and superior aesthetics.
The fully assembled bike is not extremely large. Its footprint is approx. 41″L x 24″W (104 x 62 cm). However, it is recommended to leave at least two feet of clearance all around it for ease of access and unhindered usage.
The bike isn't hefty but does weigh approx. 86 lbs (39 kg). Therefore, the transport of the boxed unit may require two people. However, once assembled, it is easily relocated as it's front base integrates two large silicone wheels. Also, the 86 lbs of weight are considerably more than the weight of the average mountain bike.
Therefore, the Cyclace trainer provides excellent stability. Plus, both it's base bars come with adjustable stabilizers with rubber pads.
The bike's frame has a corrosion-resistant and chip-resistant paint finish. The color used is gray, except for the seat post, handlebar post, and flywheel, which have a chrome finish.
Also, it is essential to mention that the bike integrates several ABS parts, as well. The cover of the brake pad and the cover of the belt are non-metallic, ABS-made. However, they only have a protective role and don't reduce the bike's overall sturdiness and weight capacity.
Seat and handlebars
The Cyclace indoor cycling trainer includes a large, consistently padded saddle. It is approx. 10.4″ (26.4 cm) long, and 8″ (20.3 cm) wide, and integrates 2″ (5 cm) of cushioning. It has a durable, double-stitched faux leather upholstery and a central cutout, which considerably improves breathability.
It also has two suspension springs at the rear, which enable it to adapt better to the movement of the user during seated workouts.
The bike's seat is 4-way adjustable (up, down, front, back). Its upright post has eight adjustment positions, while its horizontal slider offers a few extra inches of front-to-back adjustment.
In terms of height, the seat adjusts between 35″ and 42.9″ (88.9 – 108.9 cm) from the floor. So, the bike can accommodate users between 5'1″ and 6'4″ (155 – 193 cm) with no problem, allowing a complete leg extension.
The saddle has a standard, collar-based connection system to its post. Therefore, you can also tilt it slightly forward or backward. This requires two wrenches, though. Plus, since it's a standard seat, replacement options for it are widely available.
The bike comes with a multi-grip handlebar. It's quite a plus that it has drop-down grips; many other spin bikes only have the front grips. It also has two small aero bars which integrate a tablet holder.
The whole handlebar assembly has a layer of PVC material to provide a secure grip. As opposed to the seat, it is only 2-way adjustable (up, down).
It offers an upright adjustment span of approximately 5″ (12.7 cm), between 42.9″ and 47.9″ (88.9 – 122 cm) from the floor. It's important to mention, though, that the bike's handlebar does not include pulse sensors.
Cyclace Drive and resistance
The Cyclace indoor cycling bike comes with a 36-lb (16.3 kg) flywheel, chrome-plated, and with ABS-covers. The wheel has a perimeter-weighted design to provide higher inertia and a consistent momentum during pedaling. It is also bi-directional. Therefore, you can pedal in reverse if you want.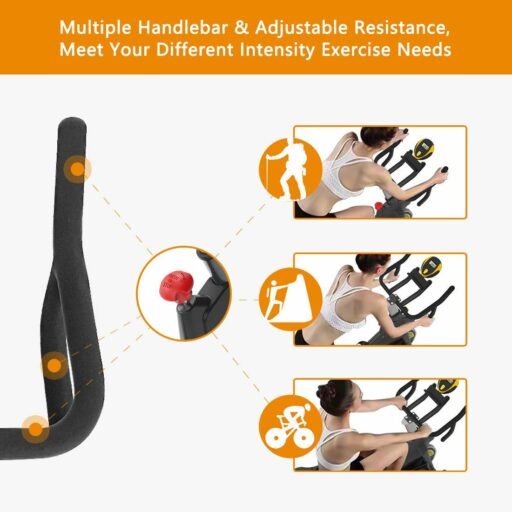 The bike uses a belt transmission system. This has several advantages over a chain drive. For example, you don't have to lubricate the belt, while the pedaling motion is very smooth, vibration-free, and very quiet as well.
Since it's a bike for spin workouts, the Cyclace 2019 trainer comes with a heavy-duty crankset featuring solid steel arms and aluminum pedals. The crankset is sturdy enough to support users up to 330 lbs (150 kg).
The pedals have a non-slip design and PVC toe cages for extra foot stability. They do not have SPD clips for spin shoes, but their threads are 9/16, so you can find replacements for them in any bike shop.
The bike has a standard friction resistance system. The brake is high-density wool felt pad, which attaches to the tension knob on top of the main tube of the frame. By turning the knob clockwise, the brake pad applies more friction to the flywheel, which results in greater pedaling difficulty.
It's important to mention that the brake system does not have pre-determined tension levels like it is the case for bikes with a magnetic resistance system. You can tighten the brake up to the point when you can barely pedal.
It's also important to mention that you cannot coast on this exercise bike, as it is possible on most road bikes. The pedals continue to spin for as long as the flywheel is spinning.
However, the resistance knob also fulfills the role of an emergency brake. By pressing it down to stop the wheel if you want to change the direction of pedaling or pause your workout.
Console
The Cyclace indoor cycling bike comes with a fitness console. It features an LCD (without backlight) that tracks time, distance, total distance (odometer), speed, and calories burned. It cannot read pulse, and the bike does not integrate pulse sensors.
Therefore, if you need to keep an eye on your heart rate during your workouts, you will have to use a separate device.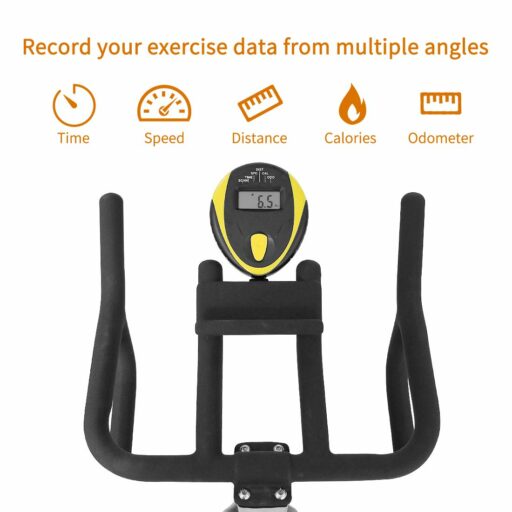 The console requires two AA batteries as its power source. It only has one button, which covers all its functions. To start it up, you can press the button or begin pedaling. As for shutdown, it will automatically enter its sleep mode if there is no activity on the bike for several minutes.
The console is straightforward to use. You can select any of the workout metrics to display by pressing the button repeatedly. The Scan Mode rotates all the metrics showing each one for a few seconds.
Also, you can clear the values to zero, except for the odometer, by pressing and holding the button for a few seconds. It will only reset if you remove the batteries from it.
Cyclace Assembly and Maintenance
The bike requires some assembly, but the task is pretty straightforward. All the drive and resistance parts are already in their place, so you only need to attach the two base bars, the seat, the handlebars, the pedals, and the fitness console.
This shouldn't take more than 20-30 minutes. An essential toolkit for the assembly is (included), and the manual provides pretty clear assembly instructions.
As I've mentioned above, the bike has a belt drive system, so its transmission doesn't need lubrication. Therefore, in terms of maintenance, you only need to keep the unit clean and periodically check for loose bolts and parts.
Details and Specifications
Assembled dimensions: 40.9L x 24.2W x 47.9H inches (104L x 62W x 122H cm)
Assembled weight: 86 lbs (39 kg)
Flywheel weight: 36 lbs (16.3 kg)
Supported weight: 330 lbs (150 kg)
Seat: 4-way adjustable
Handlebars: 2-way adjustable
Pedals: With toe cages
Drive: Belt
Resistance: Friction, felt-pad
Fitness console: Time, distance, odometer, speed, calories, scan
Warranty: 1 year limited
Pros
Durable frame, sturdy construction for a home use bike;
Can support users up to 330 lbs;
Aesthetic design;
Adjustable stabilizers on both bases;
Transport wheels on the front base;
4-way adjustable seat;
Thick cushioning, center cutout for breathability, and spring suspension on the seat;
Multi-grip handlebar with drop-down grips short aero grips;
Silent belt drive;
Bi-directional, perimeter-weighted flywheel;
Limitless friction resistance;
Fitness console included – it can track time, distance, total distance, speed, and calories burned;
Tablet holder included;
Bottle holder included;
Easy to assemble;
Little maintenance required.
Cons
No pulse reading function;
The console doesn't have a backlight.
Cyclace Indoor Cycling Bike Summary
The 2019 Cyclace Indoor Cycling Bike provides a satisfying home workout. It comes with a friction resistance system, a large, cushioned seat, and a multi-grip handlebar with drop-down grips. Additionally, it has heavy-duty construction and can hold users up to 330 lbs.
It also includes a fitness console with goal settings for time, distance, and calories burned. It's an excellent trainer for all kinds of spin workouts, muscle toning, stamina development, and weight loss.
I hope you found this article helpful and informative. If you have anything that you'd like to share or any opinions about my website, please do speak up. I look forward to your comments, questions, and the sharing of ideas.
Recommended articles:
Please follow and like us: