The Powerline PSM1442XS Smith Machine by Body-Solid is ideal for upper and lower-body workouts. It has various accessories such as a workout bench, pec station, leg developer station, lat row station, and preacher curl station. Moreover, it enables you to work out your different muscle groups.
The Body-Solid Powerline Smith Machine uses four 2″ x 2″ 12 gauge steel pillars to support and guide the patented Super-Glide carriage during your most vigorous sets. In addition, it comes with 14 lockout positions, and adjustable safeties assure the ultimate lifter safety while striving for more significant muscle gains.
The Powerline PSM1442XS Smith Machine Package combines freeweight power with safety and control. Push your limits and make faster gains than you can imagine without needing a spotter. The Powerline PSM1442XS Smith Machine has been building better bodies for decades and can get you where you want to be… More significant, Faster, and Stronger.
The PSM1442XS is an absolute powerhouse that is often imitated but never duplicated. It's a sophisticated combination of free-weight power, resistance, safety, and control. So no matter which muscles you're working on, the Powerline PSM1442XS Smith machine has an answer.
Learn more in my complete review below!
Product: Powerline PSM1442XS Smith Machine by Body-Solid
Price: For a great deal on this gym, merely go here on Amazon
Warranty: Frame 10 years / Parts 1 year
My rating: 8/10
Affiliate Disclosure: As an Amazon Affiliate Program participant, I earn commissions on purchases made through links in this post. Full disclosure
Please note that the weight plates and bar pictured in the images do not come with the gym except for the lat attachment weights.
Details & Specifications
Assembled dimensions (Smith machine): 45L x 76W x 85H inches (114L x 193W x 216H cm)
Assembled dimensions (bench): 55L x 25W x 20H (139L x 63.5W x 51H cm)
Total weight: 400+ lbs (181+ kg)
Included elements:
PSM144X Smith Machine
PFID130X Adjustable Bench
PLA144X Lat / Row Attachment
PPA13X Pec Fly Station
SP150 Weight Stack
GLDA1 Leg Developer
GPCA1 Preacher Curl Pad
Weight stack: Cast iron plates, 150 lbs (68 kg)
Possible exercises: 50+
Warranty: Frame 10 years / Parts 1 year
PSM1442XS Smith Machine
The main element of this home gym is the PSM144X Smith machine. It has a sturdy steel construction featuring two 2″ x 2″ 12-gauge pillars, which offer superior stability for the barbell. The fully assembled unit weighs approx—158 lbs (71.6 kg) (without the weight stack and the other attachments).
Also, its footprint is approx. 45″L x 76″W (114 x 193 cm) – the 76″ width includes the barbell too.The whole unit will gain approximately—20″ (51 cm) in length by adding the bench. Therefore, you should have a usage area of at least 7′ x 8′ (213 x 244 cm). The height of the Smith cage is approx. 85″ (216 cm) and won't fit in a room with a 7′ (213 cm) ceiling.
The pillars of the Smith machine are vertical (without any incline). The rear posts feature 14 lockout points with a spacing of 4 1/2″ (11.4 cm).
The unit has a dual-lock safety spotter catch system that prevents the bar from pinning the user in a max-out situation by merely turning the pivot sleeve by 15°. The maximum advisable weight capacity for the spotter catch elements is 300 lbs (136 kg).
The carriage elements of the bar integrate Super-Glide nylon bushings. Therefore, the cage offers a smooth bar that moves up and down the guide bars.
Other included parts
The PSM144X Smith cage includes a Standard, 1″iiin-diameter bar with sleeves of the same diameter. Thus, if you want to use Olympic (2″) weight plates, you will have to opt for a set of Olympic adapter sleeves that do not come with the machine. The compatible options would be OA8 or OAS14. The bar weighs 32 lbs (14.5 kg) unloaded.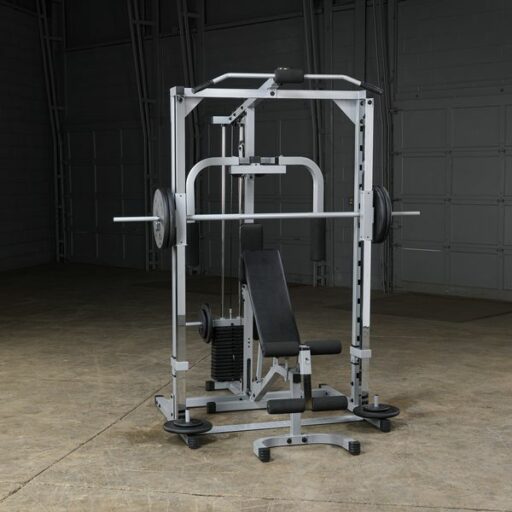 The base bars of the unit comes with two weight plate storage pegs. They're placed at the front and have the same 1″ diameter as the bar.
The front section of the Smith cage features a diamond-pattern footplate to improve stability during squats. Also, the base bars of the unit comes with rubberized pads to prevent floor damage. Nonetheless, placing and using a rubber ma is advisable.
The top bar, advisable is advisable base bars, rear pillars, and several other steel parts in the Smith machine's composition have a corrosion-resistant paint finish. In addition, the front posts and the guide rods of the lat machine feature a chrome finish.
Please note that the weight plates and bar do not come with the machine, except for the weight stack with the lat attachment.
Pec Fly Station
This Powerline Smith cage includes the PPA13X Pec Fly Station. It is a standard attachment featuring 6″ (15 cm) foam pads for forearm comfort. It connects to the lat machine's weight stack and can execute traditional front fly presses.
PSM1442XS Lat attachment & weight stack
The Powerline PSM1442XS Smith Machine includes the PLA144X lat station, which features a high pulley for lat pulldowns, tricep pressdowns, etc. It also has a low pulley for seated rows, stand-up rows, bicep curls, and other exercises. The lat attachment comes with 15 heavy-duty cast iron weight plates. They weigh 10 lbs (4.5 kg) each, so the stack weighs 150 lbs (68 kg).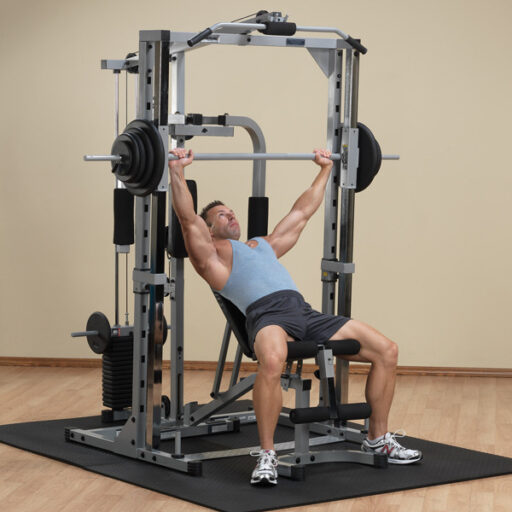 The PLA144X also features two 1″ diameter side pegs using a Standard weight plate. However, if you opt for Olympic plate adapters, you can also safely use Olympic plates on them.
The lat station integrates several heavy-duty fiberglass-reinforced nylon pulleys. They come with sealed ball bearings to smooth cable movement during lat pulls, low rows, or pec flies.
Also, even though the stack only weighs 150 lbs (68 kg), the cables can support over 2000lbsb. They're all coated with a nylon layer to prevent the scratching of the pulleys.
The lat station includes a standard lat bar with curved and rubber grips for the high pulley and a short bar with rubber grips for the low pulley. D-handles and ankle cuffs do not come with the machine.
Bench
This Body-Solid Powerline Smith machine includes the PFID130X adjustable bench. It is an incline/decline/flat bench featuring three adjustment positions for the seat pad and four adjustment positions for the backrest. In addition, it features 2″ of foam padding on the backrest and the seat pad with durable vinyl upholstery.
When set to its flat position, its dimensions are 55″L x 25″W x 20″H (139L x 63.5W x 51H cm). Its net weight is 40 lbs (18.1 kg), while its weight capacity is 300 lbs (136 kg). Its base frame is steel tubing, similar to the cage bars.
Leg Developer
The GLDA1 leg developer comes included with the bench. This attachment features three height adjustment positions. In addition, it comes with a 9″ (22.8 cm) peg for loading with a weight plate. This peg is 1″ in diameter. Thus, it is for Standard weight plates, but it can load 2″ plates with an Olympic adapter.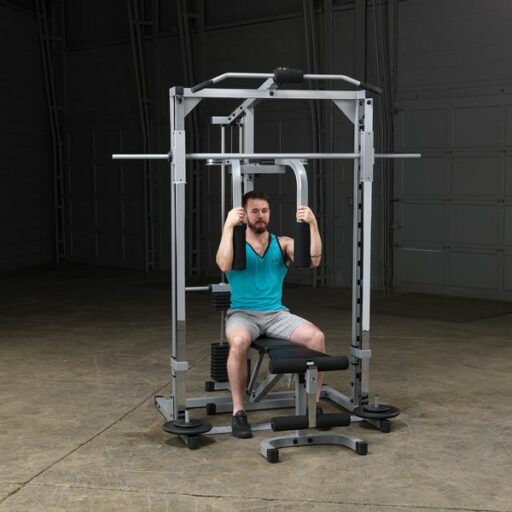 The GLDA1 leg developer attachment comes with a 4″ foam roller for optimal comfort during leg extensions, leg curls, or other exercises. The side-to-side length of the foam rollers is approximately 18″ (46 cm). It also features a rubber stopper to prevent paint chipping and clacking noises if it hits the seat's base.
An essential aspect of the leg developer and bench is that they do not attach to the lat machine's low pulley, similar to some other home gyms. Therefore, if you want to perform weighted leg extensions, you will have to load plates on their peg.
Preacher Pad Attachment
Last but not least, this Powerline home gym also includes the GPCA1 preacher pad attachment. Similar to the leg developer, it offers three height adjustment positions. In addition, it features 2″ foam padding and upholstery identical to the bench. It is 23″ (58.4 cm) wide, 14″ (35.5 cm) deep, and weighs approximately 18 lbs (8 kg).
Its exact weight capacity is not specified, but users have reported that it can withstand at least 120 lbs (54.4 kg) with no problem.
PSM1442XS Possible Exercises
Pull-ups
Wide grip pull-ups
Muscle pull-ups
Behind head pull-ups
Cliffhangers
Chin-ups
Close grip chin-ups
Wide grip chin-ups
Hanging knee raises
Hanging leg raises
Lat pulldowns
Close-grip pulldowns
Behind head pulldowns
Aerobic rowing
Kneeling rowing
Biceps curls
Triceps press downs
Pec flies
Incline presses
Decline presses
Horizontal presses
Single-arm chest presses
Wide grip chest presses
Close grip chest presses
Cable crunches
Cable twist crunches
Seated trunk rotations
Standing trunk rotations
Seated leg extensions
Lying leg extensions
Leg curls
Stand-up leg curls
Calf raises
Squats
Single-leg squats
Kneeling single-leg squats
Wide squats
Twisting squats
Jumping squats
Hip extensions
Hip adductions or Hip abductions
and more
You can use either the lat bar or the Smith machine bar for pull-ups. Also, since the bench does not attach to the cage, you can easily set it aside and perform all dumbbell exercises.
PSM1442XS Assembly & Maintenance
This Powerline Smith cage set requires complete assembly, and this also stands for the bench, the lat attachment, and the other attachment. Thus, its complete construction will take at least a few hours. Since most parts are relatively heavy, it would be best if two people assembled the machine.
The assembly task is not complicated. Manuals and schematics come included with the machine. However, assembly tools are not included, so that you will need adjustable wrenches, a set of Allen wrenches, and a rubber mallet.
It would help if you periodically lubricated the guide rods of the lat attachment and the Smith machine's guide tubes for maintenance. A bottle of silicone lubricant comes with the gym. It is also advisable to inspect the machine from time to time to ensure there are no damaged parts and re-tighten any loose parts.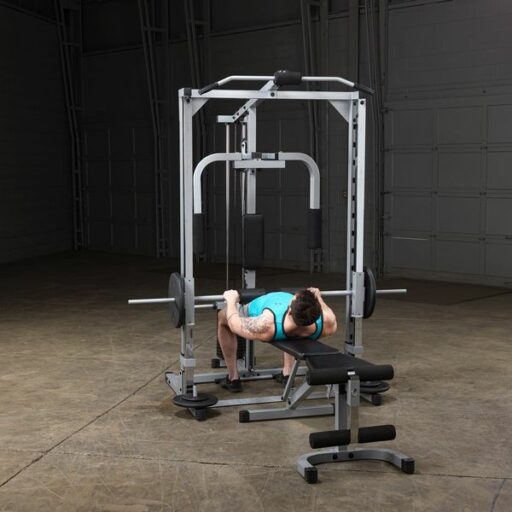 Pros
Heavy-duty 12-ga steel construction;
Dual-lock safety spotter catch system;
14 adjustment positions for the Smith cage;
Pec fly station included;
Lat machine with high-pulley and low-pulley workout stations;
150 lbs weight stack consisting of cast iron plates on the lat machine;
Extra pegs for loading Standard 1″ weight plates on the carriage of the lat machine;
Standard 1″ / 32 lbs barbell included;
Flat/incline/decline bench included;
3-position preacher pad included;
DuraFirm 2″ pads on the seat, backrest, and preacher pad;
Leg developer included;
Heavy-duty fiberglass reinforced nylon pulleys;
2,200 lbs tensile strength steel cables;
Lat pulldown bar comes included;
A short row bar comes included;
Diamond-pattern base plate for extra foot stability;
Storage pegs for 1″ weight plates on the front base of the unit;
Over 50 possible exercises;
Quiet operation;
Little maintenance is required;
Reasonably easy to assemble.
Excellent warranty.
Cons
The leg developer cannot connect to the low pulley of the lat machine;
2″ adapters for Olympic plates do not come included but are available;
Ankle cuffs and D-handles do not come included but are also available.
Powerline PSM1442XS Smith Machine Package Summary
The Body-Solid Powerline PSM1442XS Smith Machine Package includes several attachments: an adjustable bench, pec fly station, lat pulldown and low pulley station, leg developer, and a preacher pad attachment. A 32 lb (15 kg) barbell, a lat bar, and a short row bar also come included with the machine. The lat machine features a 150 lbs (68 kg) cast iron weight stack.
Moreover, it's a pretty complete strength training package with heavy-duty construction. It offers the possibility to perform more than 50+ gym-quality exercises to train all muscle groups. And finally, it's a versatile piece of equipment, perfect for any home gym setup.
I hope you found this article helpful and informative. Would you please speak up if you have anything you'd like to share on the topic or any opinions about my website? I look forward to your comments, questions, and the sharing of ideas.
Please remember that you should consult your physician to determine if you have any medical or physical conditions that could risk your health and safety or prevent you from using the equipment properly. In addition, your physician's advice is essential if you are taking medication that affects your heart rate, blood pressure, or cholesterol level.