Whether you're an elite athlete or a complete novice, the WaterRower Driftwood Rowing Machine with an S4 monitor delivers a total body workout. In addition, this exercise equipment features the patented WaterFlywheel, which mimics the sensation of rowing in a lake. This indoor rowing machine can deliver a powerful yet low-impact workout with adjustable resistance levels.
It has a dual-rail design supporting a maximum user weight capacity of 1000 lbs. It is premium Ash hardwood, absorbing vibrations to ensure a smooth ride. In addition, this wooden rowing machine has a driftwood stain finish to give it that authentically aged look.
The S4 monitor includes six information and programming windows, 6 Quick Selection buttons, and 3 Navigation buttons. Motivating workout stats displayed on the S4 are intensity, stroke rate, heart rate (wireless chest-strap compatible), zone bar, duration, distance, and Watts.
Virtually maintenance-free, this indoor rower requires no lubrication; add a chlorine tablet (available for free) every six months. After your workout, the fitness rowing machine can store vertically to save floor space.
Learn more in my complete review below!
Product: WaterRower Driftwood Rowing Machine with an S4 monitor
Price: For a great deal on this rower, merely go here on Amazon
Warranty: Frame 5 years / Parts 3 years
My rating: 9.8/10
Affiliate Disclosure: As an Amazon Affiliate Program participant, I earn commissions on purchases made through links in this post. Full disclosure
Details and Specifications
Assembled dimensions: 83L x 22W x 21H inches (211L x 56W x 53H cm)
Product weight: 108 lbs (49 kg)
Supported weight: 1,000 lbs (453.5 kg)
Frame: Premium Ashwood
Footrests: Size-adjustable, with straps
Resistance type: Water
Fitness monitor: S4
Warranty: Frame 5 years / Parts 3 years
Driftwood Frame construction
The WaterRower Driftwood features a similar design to the Oxbridge model. Its frame is durable, premium Ash hardwood with a driftwood stain finish for an aged look. All wooden parts come with Danish oil treatment for a beautiful aspect and a long lifespan.
The fully assembled unit is relatively large, especially lengthwise; it takes approximately 83″L x 22″W (211 x 56 cm) of floor space. Therefore, it is advisable to leave at least two clearance feet at its rear and on each side for safe and unhindered operation.
Therefore, it's not exactly a fitness machine adequate for a small room. But on the other hand, it can be stored vertically, its vertical footprint being 21″ x 22″ (53 x 56 cm).
The WaterRower Driftood fluid rower is slightly more massive than the Natural model. Water in the tank weighs approximately — 108 lbs (49 kg). However, its relocation isn't tricky once assembled as its front base comes with transport wheels. The rear part and the front part of the machine feature small rubber stabilizers that provide a superior grip on the floor.
The machine's rails are long enough to accommodate users with an inseam up to 38″ (96.5 cm). Therefore, users up to 6'5″ (196 cm) should exercise appropriately, with a complete leg extension.
Seat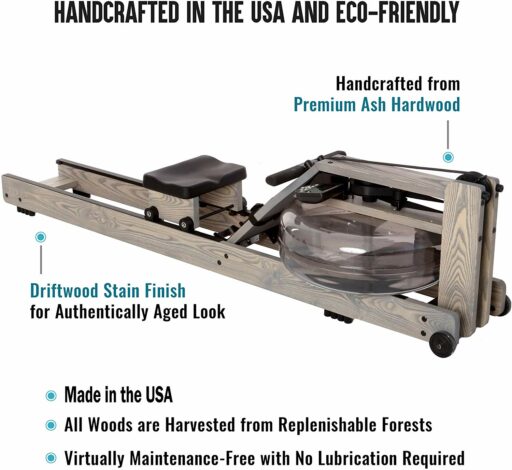 The seat included with the WaterRower Driftwood features a base frame with the same Ash hardwood material, reinforced with steel elements. In addition, its top integrates a layer of padding and is contoured for optimal comfort.
The seat and the rails have a maximum user weight capacity of 1,000 lbs (453.5 kg). Although this would seem to be a bit of a stretch, the tracks and the seat are strong enough to hold users of all sizes.
The seat comes with a set of durable wheels. They integrate eight heavy-duty ball bearings to deliver a smooth motion. Four are on top of the rails, while the other four slide on the tracks' inner sides to add stability.
If you're wondering, the top of the seat stands at approx. 14″ (36 cm) above floor level. It's not too high, and users with specific disabilities may have difficulties with taking a seat.
However, a "HiRise" kit is available for this rower, and it costs around $100.00. Furthermore, when utilizing the package, the maximum user weight capacity is reduced to 600 lbs. It consists of four small feet, elevating it by approx — 8″ (20 cm). The "HiRise" kit does not come included and must be purchased separately.
Driftwood Footrests and Pulling Handle
This rowing machine features a set of adjustable footrests. They offer several length adjustment positions and can accommodate athletic shoes of all sizes. In addition, they have heel guards and adjustable straps so you can correctly stabilize your feed during your workout.
The distance between the footrests is approximately 4″ (10.1 cm), resulting in no extra lateral stress on the ankles and knees. They don't have a pivoting design, though; their supporting board has an angle of approx — 45 °.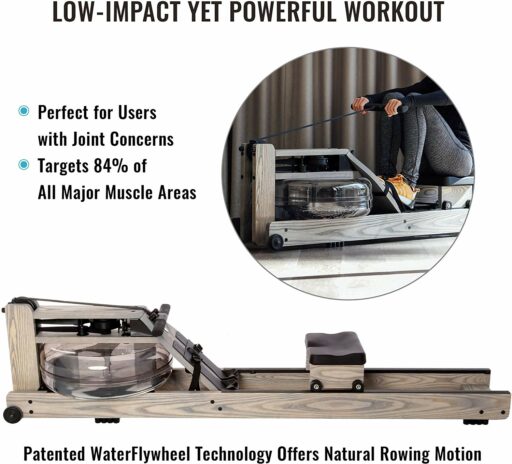 One last aspect to note here regards the unit's pulling handle. It is a short and oval bar featuring rubberized grips for optimal hand adherence and comfort. The handle is attached to a high-strength nylon strap, resistant to wear and tear. Also, since it's a strap, not a chain, it does not require lubrication, and it generates considerably less vibration.
Water tank & resistance
The rower comes with a polycarbonate water tank similar to most other WaterRower machines. Its total capacity is five gals (19 liters), but its maximum fill is only 4.5 gals (17 liters). The tank features a patented impeller attached to a system of heavy-duty bungee cords and pulleys. As you begin rowing, the impeller spins into the water, generating resistance.
The machine's water tank does not have a 2-chamber design, such as First Degree Fitness rowers. It also doesn't have a water level adjustment system. Therefore, if you want to train with less resistance, you will have to manually remove some of the tank's water.
Conversely, if you're going to train with the maximum resistance level, you should fill it up to its top marking with 17 liters of water (4.5 gals).
The machine generates a dynamic response and a feeling similar to the rowing of a real boat. Thus, the harder you pull, the more resistance you will get.
Concerning the noise level generated by this fluid rower, I can safely say that it is considerably quieter than most air resistance rowers. Of course, the impeller's water tank movement makes a swooshing water sound, but it's far from being annoying or loud.
Driftwood S4 Monitor
Just like the WaterRower A1 Rose model, the Driftwood rower comes with the S4 monitor. This is one of the reasons it costs approx—$ 100 more than the other models.
This S4 monitor features a multi-panel LCD, which means that it can show multiple workout metrics simultaneously. In addition, it features six QuickSelect buttons and three Navigation Buttons.
It can track intensity (or speed), watts, KCalories per hour, stroke rate, heart rate, and distance traveled. Additionally, it also features Interval Workout Settings for length and intensity and 9 Advanced Workout Programs.
The console is programmable to show the distance in meters, miles, km, or number of strokes. The same goes for speed. It displays in m/s, mph, /500m, or /2 km). It's also telemetric. This means that it can work with an ANT+ or Polar HR chest strap transmitter. However, the HR chest strap sells separately.
It also has a PC interface capability. Thus, you can connect it to your PC via cable. In addition, you can sync to various online fitness apps such as WaterRower's Online Rowing Community, WebRacing, and WaterCoach FIT.
The console is battery-powered, and it requires 4 AA batteries. It has an On/Off/Reset button and has a sleep function that initiates after 2 minutes of inactivity on the rower.
Driftwood Assembly & Maintenance
The water tank comes pre-assembled, but the rest of the unit's main parts do require assembly. For this, you will have to connect the two main rails, add the seat, the water tank, the footrests, connect the recoil belt to the bungee cord, and attach the console.
The manual guides you through all the assembly steps, and the tools required for the assembly come included with the rower. A small water pump for filling/emptying the tank also comes included, and several chlorine pills for treating the water.
For maintenance, the unit's frame doesn't require much. However, it's advisable to check its joints and bolts from time to time and retighten if necessary. The water in the tank requires chlorine treatment every six months to prevent the formation of algae. However, the rails require cleaning before every use.
One last aspect to note here regards the machine's warranty. Like most WaterRower machines, it comes with a 1-year warranty by default. However, by registering your rower through the WaterRower website within the 1st year of use, you will extend the warranty to 5 years for the frame and three years for the parts.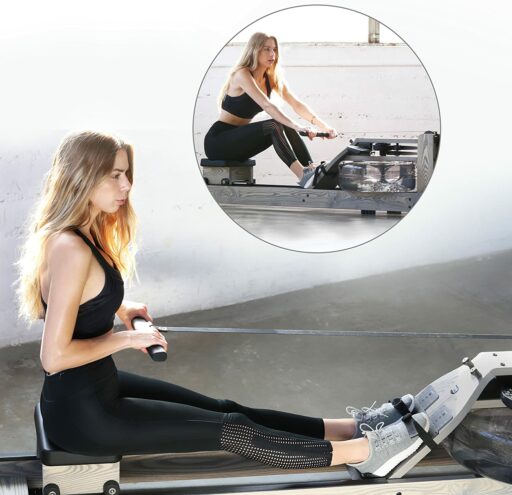 Pros
High-capacity rower (1,000 lbs);
Ash hardwood frame with superior aesthetics and a Driftwood pattern;
Can be stored vertically;
Transport wheels and rubberized stabilizers;
Contoured, padded seat;
Water-resistance system for a dynamic response;
Adjustable footrests with heel guards and straps;
Advanced fitness computer with nine preset programs;
Smooth and quiet operation;
Rower for users of all levels;
Little maintenance required;
Easy to assemble;
Excellent warranty.
Cons
No angle-adjustability for the footrests;
The HR chest strap does not come with the rower;
The S4 monitor isn't backlit.
WaterRower Driftwood Rowing Machine Summary
The WaterRower Driftwood is a high-capacity, fluid resistance rower. It features a durable Ash wood frame with a beautiful Driftwood pattern, an ergonomic seat, and the S4 programmable fitness computer.
Moreover, it's a machine for users of all levels, from beginners to professional athletes, for home use or commercial use. In addition, it provides a full-body workout, which targets approximately 84% of all muscles. And finally, it's not one of the most affordable rowers, but its quality and durability match the price.
I hope you found this article helpful and informative. Would you please speak up if you have anything you'd like to share on the topic or any opinions about my website? I look forward to your comments, questions, and the sharing of ideas.