The Inspire Fitness BL1 Home Gym has a heavy-duty 2" by 4" oval 11 gauge tubular steel frame and features 2000 lb tensile strength cables, fiberglass reinforced nylon pulleys, 18" revolving curl bar, 48" steel lat bar, press arm, leg extension/curl bar, and a padded bench with adjustable seat and backrest.
The BL1 body lift uses your body weight as resistance and is adjustable from 10% to 150% of your total body weight.  Thus, you can easily select your required resistance level with the user-friendly one-handed adjustment slide lever.
The Inspire Fitness BL1 Home Gym offers the ability to perform over 30 strength training exercises. With this in mind, you can work all your body's major muscles, including your abs, back, chest, arms, shoulders, and legs.
The BL1 body lift is a fitness machine intended for home use (a lifetime residential warranty). It came out in 2014, so it has been around for a while. It has its pluses and minuses, and in this review, I'll try to cover them all.
Learn more in my complete review below!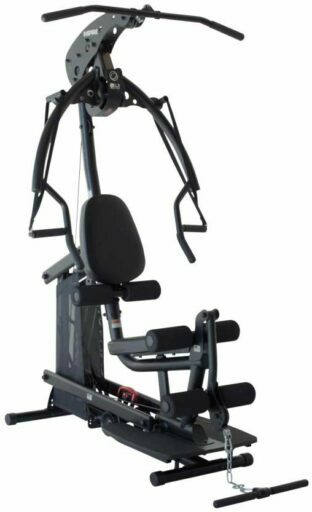 Product: Inspire Fitness BL1 Home Gym
Price: For a great deal on this gym, merely go here on Amazon
Warranty: Lifetime
My rating: 9.5/10
Affiliate Disclosure: As an Amazon Affiliate Program participant, I earn commissions on purchases made through links in this post. Full disclosure
Details and Specifications
Assembled dimensions: 55L x 43W x 89H inches (140L x 109W x 226H cm)
Assembled weight: 225 lbs (102 kg)
Weight resistance: Selectorized, 10% – 150% of the user's body weight
Possible exercises: 30+
Accessories: Curl bar, lat bar
Warranty: Lifetime
BL1 Frame construction
This Inspire Fitness home gym is heavy-duty, 11-gauge ovalized tubular steel, 2″ x 4″, which pretty much means that it has a very sturdy construction. In addition, all the steel parts come with a corrosion-resistant powder finish.
Its weight capacity isn't in the user's manual, but several other sources specify the machine's total weight capacity as 550 lbs (250 kg). Its cables are also rated for 2,000 lbs (907.1 kg) tensile strength. Thus, it can support users of a wide variety of bodyweights without any issues.
The machine's cables come coated with a polyurethane sheet, providing a smooth gliding over the pulleys. All the pulleys integrate industrial grade, sealed ball bearings for a long lifespan and quiet operation. In addition, they're fiberglass reinforced nylon, highly resistant to wear and tear, and reliable, just like the cables.
Compared to other home gyms, the BL1 is not extremely large. It is 55″ (140 cm) long, while its width is 43″ (109 cm), given by the outer points of the press grips. However, keep in mind that the lat pulldown bar accessory is 48″ (122 cm). Therefore, it is advisable to allow at least a few clearance feet on each side of the machine to perform all the exercises correctly, safely, and without any restrictions.
The machine's height when not in use is approx. 81″ (206 cm). However, since the BL1 is a leverage home gym and lifts your body, its top point will also lift when you workout. Its maximum height can reach 89″ (226 cm). Therefore, you place it and use it in a room with a ceiling at least 8′ high.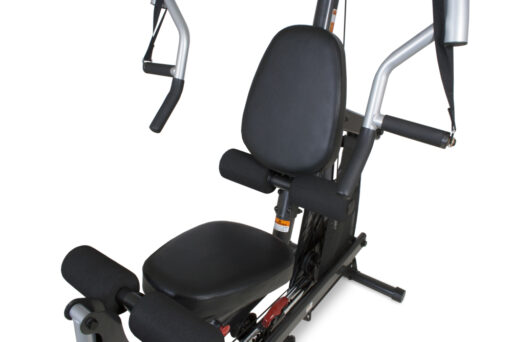 Since it's a fitness machine with a steel tubing frame, it's not exactly lightweight, even though it doesn't integrate a weight stack. When fully assembled, it weighs over 200 lbs; therefore, its stability shouldn't be an issue. However, its base tubes don't integrate rubberized stabilizers or pads, so it's advisable to place them on a mat to prevent floor damage.
Seat, Backrest, and Foam Rollers
The Inspire Fitness BL1 comes with an adjustable seat and backrest. The seat adjusts vertically, while the backrest adjusts horizontally. Both offer several adjustment positions to accommodate users of all sizes and facilitate various exercises.
This home gym also has three pairs of 4″ foam rollers, two on the leg developer attachment, and one set under the backrest. The foam rollers under the backrest serve as knee stoppers if you want to perform lat pulldown exercises on high-weight settings.
Accessories
The Inspire Fitness BL1 leverage home gym includes a 48″ standard lat pulldown bar with curved rubber grips, a short revolving curl bar with rubberized grips, and an extension chain for both these bars. The band grips attached to the press station arms are parts of the machine, not accessories, so they're also included. They're the main elements for the pec fly exercises.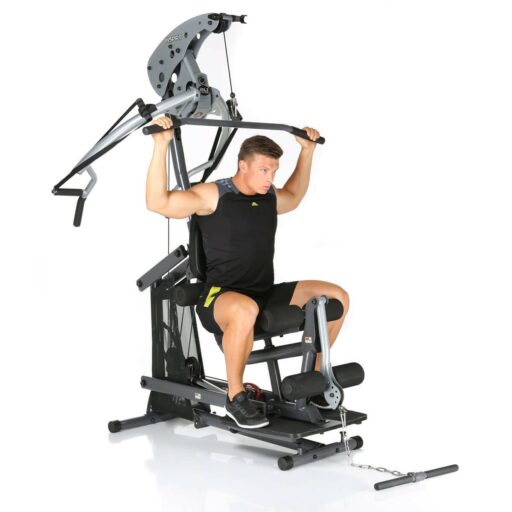 BL1 Workout stations
Chest press station – this workout station is the primary mobile arm of the machine. It has a multi-grip design and multi-functionality. For example, you can hold on to its grips or arms when performing standing leg curls. In addition, it's angle-adjustable, offering ten adjustment positions.
Along with the classic chest press, it also provides the possibility to perform supported rows, shoulder exercises, and several other types of exercises.
Pec fly station – since this isn't a conventional weight stack machine, the pec fly station is also different. The handgrips power it with straps attached to the chest press station. They don't offer the full range of motion of a conventional fly press but provide more flexibility. So. you can focus your muscles in different ways by using this workout station.
High-pulley station (lat bar included) – is for lat pulldown exercises and the training of triceps, shoulders, and back muscles. The lat bar has a standard, curved design, with foam grips at the ends.
Low-pulley station – This workout station offers the possibility to perform a wide array of exercises, such as stand-up curls, triceps kickbacks, and more. But, since it's a leverage machine that uses your body weight, you will have to stand on the incorporated footplates for exercises such as curls or stand-up rows.
Leg developer – This attachment speaks for itself; connected to the lower pulley system, it offers the possibility to perform leg extensions. However, since the machine doesn't have a long bench, only a regular seat, standard (face-down), you cannot perform leg curls. You can do stand-up, one-leg curls, though.
Weight Resistance System
Have I mentioned enough that this is a selectorized leverage home gym? This means it doesn't include a weight stack, and the main weight resistance element is your body weight.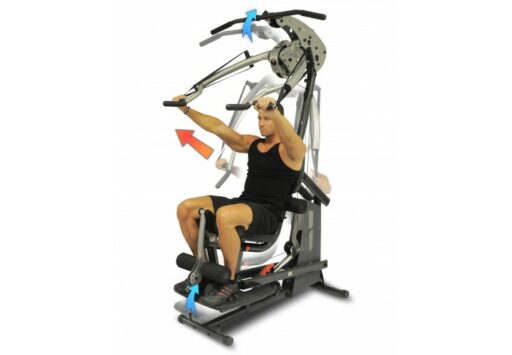 The machine comes with a lever arm at the bottom featuring 15 adjustment positions. Each adjustment position corresponds to a percentage of your body weight from 10% to 150%.
For example, if you select the No. 1 setting on the lever, the machine will offer 10% of your body weight. So, if you weigh 200 lbs, that will be 20 lbs of weight resistance.
If you select the No. 8 sets, you will get a weight resistance of 80% of your body weight (200 lbs user, 160 lbs of weight resistance).
The highest weight resistance setting allows you to lift 150% of your body weight. So, if you weigh 200 lbs, that would be 300 lbs of weight resistance.
The adjustment lever is within reach under the seat, so you can quickly adjust the resistance without getting up all the time. In addition, the adjustment is easy to do; you pull up the selector element, drag it onto the desired position, and lock it back into place.
Another advantage of the lack of a weight stack is that the operation of the machine is tranquil. In the case of a weight stack, the weight plates will continuously slap onto each other as you exercise, which is not the case for this machine.
Also, as the weight plates glide on their beams, there's a slight dragging feeling during pulls. This aspect is inexistent for the Inspire Fitness BL1.
There are two main downsides, though. First of all, the weight increments depend on your body weight, so you won't be able to adjust the resistance in strict increments of 10 lbs or 5 lbs. And secondly, for specific exercises such as seated cable rows or outer leg raises, you will need to add some weight to the seat because you can't perform them while sitting on the machine's chair or standing on the integrated footplates.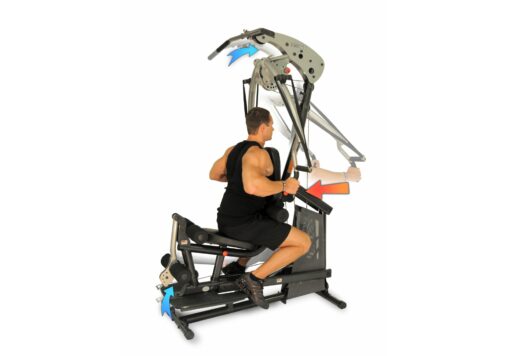 BL1 Possible Exercises
Ab Crunch
Bicep Curl
Calf Raise
Chest Fly (via straps)
Chest Press
Parallel Grip Chest Press
Chest Press (via straps)
Deltoid Extension
Horizontal Lat Pull (or Supported Row)
Inner Leg Raise
Outer Leg Raise
Kickback
Lat Pulldown
Leg Curl
Leg Extension
Preacher Curl
Shoulder Press
Parallel Grip Shoulder Press
Shoulder Press (via straps)
Shrug
Side Bend
High Pulley Torso Twist
Parallel Grip Shoulder Press
Tricep Extension
Tricep Pushdown
Upright Row
and more.
Specific exercises on this list require extra accessories. For example, kickbacks or outer leg raises will require an ankle cuff. Also, specific exercises may require some improvisation. For example, the machine doesn't come with a preacher pad, so you will have to use the leg developer's rollers to support your elbows for preacher curls.
You can also perform weighted squats while standing onto the integrated footplates and using the low pulley with a custom grip accessory. However, this exercise is not advisable, as you can quickly lose balance.
BL1 Assembly and Maintenance
The Inspire Fitness BL1 doesn't come assembled, and its assembly will take at least a few hours. The included manual offers pretty concise and comprehensive assembly instructions, so the whole process shouldn't be too complex. Tools required for the assembly do not come included so that you will need a set of wrenches or two adjustable wrenches and a rubber mallet.
Once assembled, this home gym doesn't require much maintenance. However, it would help if you periodically looked for loose bolts or damaged/worn-out parts to eliminate any related problems. Also, if the joints or pulleys begin to squeak, they may require lubrication.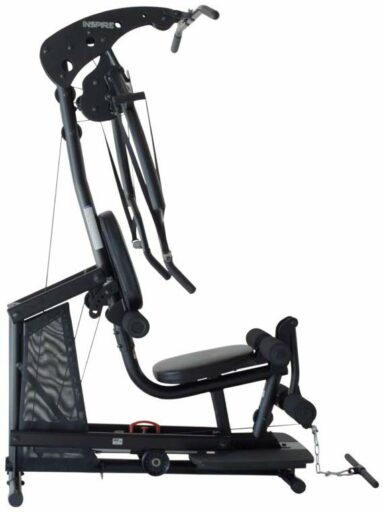 Pros
Sturdy construction – can support users of all sizes;
Thick and durable vinyl upholstery, with consistent padding for maximum comfort;
Adjustable seat and backrest;
Durable, sweatproof upholstery on the seat and backrest;
Consistent foam padding on the chest bars and leg workout station;
Relatively small footprint for a home gym system;
Includes five workout stations – pec fly, chest press, low pulley, high pulley, and leg developer;
Ten adjustment positions for the chest press;
Selectorized weight resistance system, with a weight range between 10% and 150% of the user's total weight;
The lack of a weight stack eliminates the noise generated by the contact of weight plates during exercises, so the operation of the machine is tranquil;
The weight resistance lever is conveniently placed under the seat so you can easily adjust the resistance without having to get up all the time;
Lat bar included;
Revolving short bar included;
Poster with all the possible exercises is also (included);
Over 30 exercises available;
Little maintenance required;
Reasonably easy to assemble;
Lifetime warranty.
Cons
Ankle cuff not included;
Ab harness not included;
Since the resistance depends on your body weight, you can't adjust it in strict increments of 5 lbs or 10 lbs;
You cannot perform seated cable rows.
Inspire Fitness BL1 Home Gym Summary
The Inspire Fitness BL1 is a leverage home gym that offers a weight resistance between 10% and 150% of your body weight. It has five main workout stations, features very sturdy construction, and can support users of all sizes. Its chest press has ten adjustment positions, while the seat and backrest are also adjustable.
Moreover, it's a fitness machine that doesn't take too much usable space, and its operation is tranquil. In addition, it offers the possibility to perform more than 30 exercises. And finally, it's a bit more expensive than similar home gyms with a weight stack, but it's a quality fitness machine and comes with a lifetime warranty.
I hope you found this article helpful and informative. If you have anything you'd like to share or any opinions about my website, please speak up. I look forward to your comments, questions, and the sharing of ideas.