The Sole F63 Folding Treadmill 2019 model is a high-end treadmill with plenty of power and speed, sturdy and bulky construction, and user-friendly features. It is considered the best treadmill in its price class by a few fitness equipment resources- websites and magazines.
The F63 features a 3.0 HP continuous duty modern motor that offers up to an impressive 12 mph if you can run at such high speed and 15 levels of resistance. You'll enjoy the 60″ x 20″ running surface and the challenge of the 15 power incline levels, whether you're walking, jogging, or running. In addition, there are ten preset programs for cardiovascular training and fat burning.
The Sole F63 folding treadmill features a blue-backlit large console that shows you the stats like time, distance, calories burned, speed, pace, pulse, and incline. You'll also find a "Peak and Valley" graph for different programs and a quarter-mile track function. You can integrate it with the wireless chest straps or use the pulse sensor handles for heart rate reading at the machine's front.
You'll find reliable Bluetooth speakers on the display console of the F63, where you can listen to your favorite songs during your workout session. In addition, you can put your smartphone or tablet on the tablet holder above the LCD for entertainment purposes while you work out.
Learn more in my complete review below!
Product: Sole F63 Folding Treadmill
Price: For a great deal on this treadmill, merely go here on Sole Fitness.com
Warranty: Frame lifetime / Motor lifetime / Deck 3 years / Electronics 3 years / Parts 3 years / Labor 1 year
My rating: is 9/10
Affiliate Disclosure: As a participant of the Sole Fitness Affiliate Program, I earn commissions on purchases made through links in the post. Full disclosure
Details and Specifications
Assembled dimensions: 82L x 35W x 57H inches (208L x 89W x 145H cm)
Running surface: 60L x 20W inches (152.4L x 50.8W cm)
Assembled weight: 254 lbs (115 kg)
Weight capacity: 325 lbs (147 kg)
Motor: 3.0 HP
Speed range: 0.5 – 12 MPH
Incline: Automatic, 0% – 15%
Console: 10 programs, Bluetooth
Extras: Chest strap, sound system, cooling fans, bottle holders, tablet holder
Warranty: Frame lifetime / Motor lifetime / Deck 3 years / Electronics 3 years / Parts 3 years / Labor 1 year
F63 Frame Construction
The Sole Fitness F63 folding treadmill features a heavy-duty steel frame with a rust-resistant and chip-resistant paint finish. Unfortunately, it's quite a heavy machine; it weighs more than 250 lbs with assembled parts. Therefore, the transport of the boxed unit requires at least two people.
But on the other hand, all this weight provides superior stability. Also, in terms of stability, the unit comes equipped with adjustable, rubberized levelers, which allow you to stabilize it on any floor correctly.
Of course, this Sole treadmill integrates several ABS parts, as well. For example, the console's dashboard, the motor's cover, and the side rail covers are all durable ABS materials.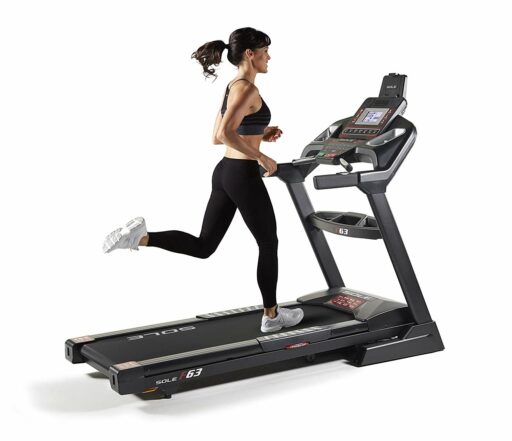 The fully assembled treadmill is fairly large. Its footprint is approx. 82″L x 35″W (208 x 89 cm). Plus, you will have to leave at least three feet of clearance at the rear of the deck, and at least two feet of clearance on each side of the deck, for safe usage.
On the other hand, this treadmill has a folding design. The deck can fold up and lock on the two upright bars. The folding mechanism integrates a hydraulic cylinder, lowering softly when you unfold the deck to prevent damage.
With the deck folded up, the unit's length is reduced by more than half. Also, its front base integrates transport wheels, which facilitate the relocation of the treadmill.
Deck
The F63 comes with a durable deck, rated for 325 lbs (147 kg) for a user weight capacity. In addition, it integrates the Cushion Flex system, which reduces up to 40% of your joints' running impact. Therefore, a run or walk on this machine results in considerably less workout-related pain and soreness, allowing you to exercise longer.
The running platform uses a 2-ply, non-slip rubber belt. It has a two-rubber layer structure over a middle PVC layer with a nylon backing that rolls over the deck and rollers. The rubber adds durability, the PVC stops the belt from over-stretching, and the nylon provides a smooth, static-free surface to glide over the deck and rollers.
The unit's belt provides an active surface of 60″L x 20″W (152.4L x 50.8W cm). Therefore, it is more than enough for users up to 6'5″ (196 cm).
The integrated rollers are 2.5″ in diameter; they have a crowned structure with sealed bearings and copper grounding to reduce static. As a result, they deliver excellent traction and contact surface against the belt, preventing slippage and increasing the belt's lifespan.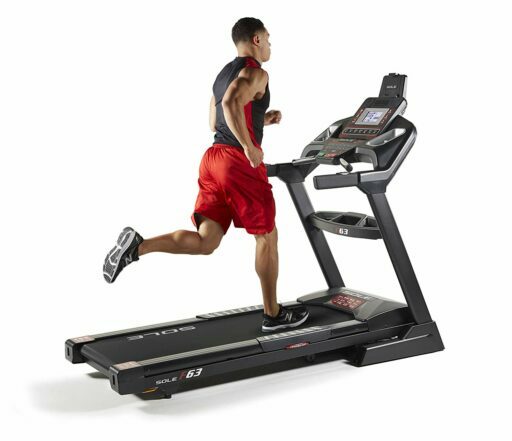 F63 Incline and step-up height
The Sole F63 folding treadmill has a motorized incline system. Therefore, you can adjust the incline from the controls on the console during your exercise routine. Also, the console has several programs that automatically change the slope of the deck.
The unit's incline system consists of a metallic lift and a different drive motor. As you adjust the incline, the motor controls the lift, which slowly elevates the deck's front.
The deck's step-up height is approx — 8″ (20 cm) when the incline is 0%. Conversely, the deck's front gains a few inches in size, with the slope set to the highest level. Therefore, ensure that the ceiling height in the room where you'll be using the machine is at least 20″ (51 cm) taller than your size.
This Sole treadmill offers an incline range between 0% and 15%. The incline adjustment increments are 1%. Gradual incline controls are integrated into the left handgrip and on the left side of the console. However, the console has quick incline selection keys for the 1, 3, 5, 7, 9, 12, and 15 incline settings.
Drive motor
The Sole F63 treadmill features a 3.0 HP drive motor that provides top performance for prolonged workouts, even at the maximum speed. In addition, it delivers a smooth and steady motion for the belt even if it is close to the 325 lbs (147 kg) weight capacity.
It also integrates a small flywheel to improve stability and minimize belt vibration. This flywheel also enables the motor to run cooler with less amp draw, increasing its lifespan.
This treadmill makes available a speed range between 0.5 MPH and 12 MPH. The speed adjustment increments are 0.1 MPH, which is quite a plus, as you can easily find the best speed for your workout.
Gradual speed adjustment controls are integrated into the machine's right handgrip and on the console's right side under the display. As for the incline, the console provides gradual speed adjustment controls for the 2, 3, 4, 5, 7, 9, and 12-speed settings.
Like any other motorized treadmill, the SOLE F63 needs a connection to an external power source (120V). Therefore, its cable with a US plug is (included) with the machine. The connector is at the front part of the deck and the On/Off switch.
The unit's motor is pretty silent, and the deck's cushioning system does absorb some of the noise generated by your cadence. However, you will hear the rhythm if you run at high speed.
F63 Console
The F63 comes with a pretty advanced console. To begin with, it has a 6.5″ diagonal LCD with an LED backlight and large readouts.
The display is split into several sections and shows all the workout metrics at once, so you don't have to use a scan function to alternate them. It indicates the selected speed and incline, time, pace, distance, calories burned, and pulse.
The speed and distance readings are metric (km/h and kilometers) units or English (mph and miles). In addition, there is a 1/4 mile (400 m) track display for the distance reading, which counts all the laps you have completed.
You can use the sensors integrated into the unit's front handgrips or a BLE 4.0 wireless HR chest strap transmitter for pulse reading. This accessory is not (included), though.
The console has ten built-in workout programs. The first one is Manual mode. This program allows you to walk or run while adjusting the speed and incline you like during your ride.
The following (P1 – P5) programs are preset. Each one has a specific setup. For example, P1 is Hill Climb, P2 is Fat Burn, P3 is Cardio, P4 is for Strength training, and P5 has a HIIT (interval) layout.
The subsequent two applications are User Programs (User 1 & User 2). Each of them allows users to create their program, save it, and reuse it for as long as they like.
And finally, the last two programs are heart rate-based. One has a default level of 60% of your Projected Heart Rate maximum, while the other has an 80% value. The machine will auto-adjust the speed during any HR program to keep you at the selected projected heart rate level.
Enhance Your Workout With STUDIO
Sole Fitness workouts are done for all levels and range from 10 minutes to 60 minutes. In addition, Sole utilizes heart rate metrics and data from your equipment across all of your workouts to help you exercise smarter.
Connect your Bluetooth-enabled Sole Treadmill, Elliptical, and Spin Bike to get real-time metrics such as Speed, Incline, RPM, and Power. Also, connect any Bluetooth Heart Rate Monitor to see real-time metrics of how your heart rate responds to workouts.
Train with the world's best instructors from the country's top fitness studios. Our instructors will motivate and push you to your next personal best in running, cycling, boxing, rowing, and more.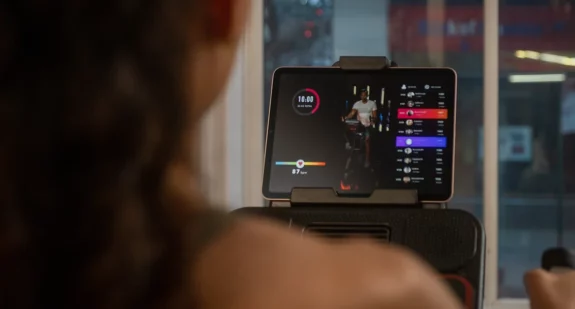 Give it your best and go toe-to-toe with other beginners or pros on STUDIO's community-powered leaderboard. Your position is determined by your heart rate, evening the playing field while pushing you to your next record.
Over 3,000+ boutique fitness classes led by leading fitness instructors, with more added daily. Pick up the pace with treadmill or outdoor runs, then switch it up for cycling, rowing, strength, boxing, and more.
You'll earn FITCOIN during every workout. The harder you push, the more you'll make. Redeem prizes, offers, and rewards with your hard-earned FITCOIN. You don't have to do it alone. Sweat with the community, connect, follow, and invite your friends to work out together.
Please note that the tablets in the images do not come with the machine.
Amenities
The console also offers several extra amenities. One is the sound system, consisting of two speakers at the unit's top. This sound system is compatible with most smartphones and MP3 players, and you can play music through them for a better output. You can also sync it with your device via Bluetooth.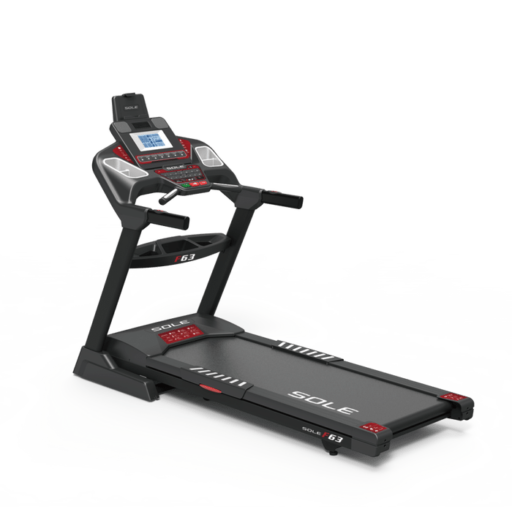 Another extra feature is the fan setup placed between the two speakers. The two integrated fans provide plenty of cooling during more intense or longer rides.
There is a tablet holder at the top of the unit and two accessories/bottle holders on each dashboard. And finally, a USB port allows you to recharge your smartphone or tablet during workouts.
F63 Assembly and Maintenance
The machine's deck with drive and incline motors and all the other parts comes pre-assembled. You only need to attach the two front masts and the accessory tray and connect the console.
Therefore, it shouldn't take more than an hour. All the necessary tools for the assembly come with the treadmill, and the manual provides clear step-by-step assembly instructions.
For maintenance, the deck requires periodic lubrication. The console has a function that will notify you to lubricate the deck after every 90 hours of use. In addition, the belt should be clean to prevent debris or textile fibers from getting caught in the rollers or motor. It is also advisable to check for loose bolts and parts periodically and retighten them if necessary.
Pros
Sturdy frame and deck – can support users up to 325 lbs;
Folding frame, space-saving design;
A soft-drop mechanism for unfolding the deck;
Transport wheels on the machine's bases;
Adjustable stabilizers included;
The Cushion Flex shock absorption system;
Motorized incline, 0% – 15%;
3.0 HP motor, offering speed levels up to 12 MPH;
Speed increments of 0.1 for gradual adjustment;
Quick keys for speed and incline;
Pulse reading function (via handgrip sensors or wireless chest strap);
Ten workout programs;
Goal settings for time, distance, and calories;
1/4 miles track display for the distance traveled, with laps count;
Both metric and imperial units for the speed and distance;
Cooling fans included;
The sound system included;
Accessory trays included;
Tablet holder included;
Bluetooth function;
USB port included;
Quiet operation;
Reasonably easy to assemble;
Little maintenance is required;
Excellent warranty.
Cons
Calorie reading is not too accurate.
Sole F63 Folding Treadmill Summary
The Sole F63 Folding Treadmill features a 3.0 HP motor, an automatic incline system with 15 levels, and a console with ten workout programs. Even though it's a machine designed for home use, it offers an impressive 325 lbs weight capacity, similar to light commercial models.
It also has a folding design and Bluetooth connectivity. Moreover, it's an excellent treadmill for light to intense cardio training, muscle toning, stamina development, interval training, and weight loss for users of all levels.
I hope you found this article helpful and informative. Would you please speak up if you have anything you'd like to share or any opinions about my website? I look forward to your comments, questions, and the sharing of ideas.
Please remember that you should consult your physician to determine if you have any medical or physical conditions that could risk your health and safety or prevent you from using the equipment properly. In addition, your physician's advice is essential if you are taking medication that affects your heart rate, blood pressure, or cholesterol level.