The Diamondback Studio Cycle 1260Sc is something you might find at a cycling studio. For example, this means it's both durable and sturdy, able to accommodate not just a wide variety of rider body types but multiple riders in the same household.
The flywheel is propelled by a precision-controlled belt drive system using the new Click & Adjust dual magnetic resistance system. With the flip of a lever, you'll enjoy 16 levels of resistance that simulate everything from downhill rides to uphill climbs and everything in between.
You're in complete control of your riding experience on the 1260Sc. With the new quick-adjust features, you can achieve the perfect cycling geometry that suits you best. Therefore, you can create your custom rider settings for seat height, saddle fore/after positioning, handlebar height, and handlebar fore/aft positioning.
At the core of the new digital fitness monitor is WATT output technology. It helps you stay on pace and target with a continuous display of your WATT output, so you know how much force you're putting through each pedal revolution. In addition, it also tracks and displays other essential workout details, including the time, distance, calories, RPM, load, and heart rate.
Learn more in my complete review below!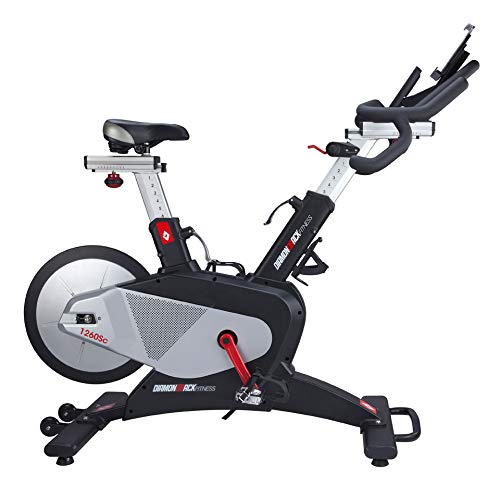 Product: Diamondback Studio Cycle 1260Sc
Price: For a great deal on this bike, merely go here on Amazon
Warranty: Parts 3 years / Labor 1 year
My rating: is 8/10
Affiliate Disclosure: As an Amazon Affiliate Program participant, I earn commissions on purchases made through links in this post. Full disclosure
Details and Specifications
Assembled dimensions: 59L x 23W x 50H inches (150L x 58W x 127H cm)
Flywheel weight: 31 lbs (14 kg)
Assembled weight: 130 lbs (59 kg)
Supported weight: 300 lbs (136 kg)
Handlebars: 4-way adjustable
Seat: 4-way adjustable
Drive mechanism: Belt
Resistance: Manual magnetic, 16 levels
Fitness Monitor: Time, speed, distance, RPM, Watts, pulse, load, goals
Extras: Tablet holder, bottle holder
Warranty: Parts 3 years / Labor 1 year
1260Sc Frame Construction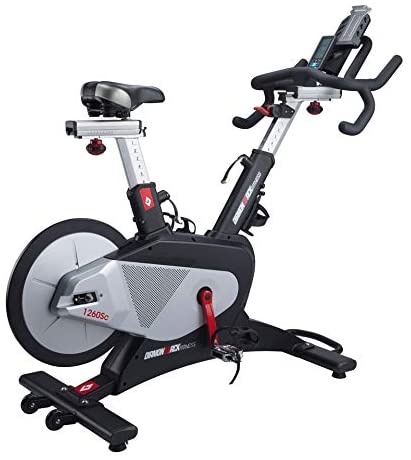 The Diamondback Studio Cycle 1260Sc  features a heavy-duty steel frame with a seat, handlebar posts, and sliders made of aluminum alloy. The main steel frame has an abrasion-resistant and corrosion-resistant black paint finish. Then, of course, the aluminum posts have their natural polish.
The bike's construction also incorporates several ABS parts. For example, the drivetrain, the resistance system, and the central longitudinal base bar have ABS covers pre-assembled from the factory.
The bike has a V-type frame, similar to the Keiser M3i. This design promotes superior micro-adjustability. Not only that, the seat and handlebars have horizontal sliders. In addition, if you extend their upright posts, the distance between them also increases.
The Diamondback Fitness 1260Sc indoor cycling bike is slightly bigger than other models. With the frame fully assembled, it is approx. 59″ (150 cm) long, and 23″ (58 cm) wide, while its footprint is 48″L x 22″W (122 x 56 cm).
Thus, you will need a usage surface of at least 70″L x 60″W (178 x 152 cm) for it. It is also reasonably heavy, weighing approximately 130 lbs (59 kg). This weight is quite a plus, as it plays an essential role in the bike's overall stability.
This Diamondback exercise bike has adjustable stabilizers on both its base bars. In addition, they have rubberized pads that prevent damage to your floor and improve the bike's grip.
The rear base also comes with wheels, while the front base bar features a lifting handle, easing the unit's relocation. Using the wheels, you won't have to handle more than 30% of the bike's total weight when you relocate it.
Seat and handlebars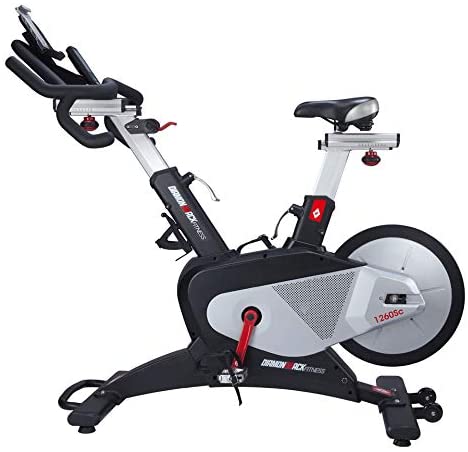 The Diamondback Studio Cycle 1260Sc includes a saddle that provides more comfort than the average spin bike seat. It is slightly wider and integrates more cushioning. In addition, its top is made of durable vinyl material. Lastly, it has a central groove to improve breathability.
It also has a set of two springs at the rear, allowing it to adapt slightly to your movement during each pedal stroke.
The saddle has a standard, collar-based adjustment system. Therefore, compatible replacements for it are widely available. Furthermore, the seat can tilt slightly forward or backward.
The bike's seat offers four-way adjustability (up, down, forward, and backward). In addition, the upright post has 13 adjustment positions, while the horizontal slider also provides several inches of front-to-back adjustment.
Therefore, the bike comfortability accommodates users between 5'2″ and 6'5″ (157 – 196 cm). The seat assembly is also durable enough to support users up to 300 lbs (136 kg).
The bike's handlebars also offer four-way adjustability, just like the seat. Their vertical post offers seven adjustment positions, while its horizontal slider allows about 3″ (~8 cm) of front-to-back adjustment.
The handlebar assembly has a multi-grip design. It also has a loop aero bar in the middle and drop-down grips, a feature many other spin bikes do not offer.
Unfortunately, the handlebars do not integrate HR pulse sensors. However, the bike's fitness monitor does have a pulse reading function. I'll cover this aspect in detail in the section below. In addition, the whole handlebar assembly is fully rubberized to provide a better grip.
1260Sc Drive system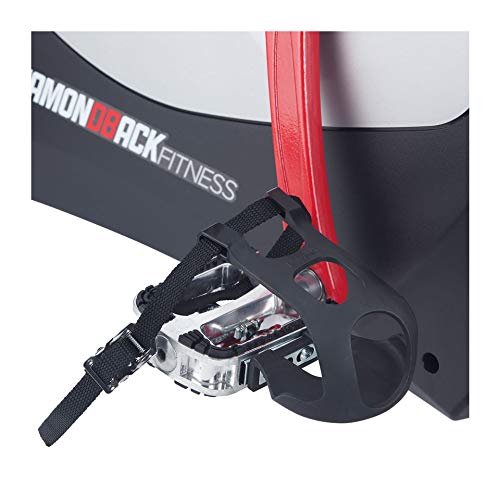 The Diamondback Studio Cycle 1260Sc comes with a mid-range flywheel. It weighs 31 lbs (14 kg) and has a balanced design to smooth pedaling motion. It has the same black paint finish as the bike but has gray ABS side covers for extra protection.
The flywheel is bi-directional, meaning you can pedal reverse if you want. However, the pedals continue to move for as long as the wheel is spinning. Therefore, you cannot coast on the bike as on a road bike.
The bike's drivetrain uses two heavy-duty rubber belts. Therefore, the bike's transmission does not require any lubrication. Also, it delivers a much smoother motion than a chain drive and is almost entirely silent.
The Diamondback 1260Sc, an indoor cycling bike, is for spinning workouts. So naturally, it comes with a heavy-duty crankset that can support users up to 300 lbs (136 kg) with no problem. If you're wondering, the crank arm length is 173 mm, while the Q-Factor (spacing between the pedals) is 187 mm.
Thus, it is a pretty narrow Q-Factor, designed to eliminate the lateral stress on the knees as it promotes a natural foot positioning on the pedals.
The included pedals are aluminum alloy. They have toe cages with adjustable straps and SPD clips for spin shoes on the other side. Also, their threads are 9/16 standard; you can always replace them.
Resistance system
The Diamondback studio cycle 1260Sc features a manual magnetic resistance system. It consists of a magnetic brake that hugs the flywheel. The brake assembly is connected to the tension dial on top of the handlebar post through a steel cable.
The brake covers a more significant portion of the flywheel by pressing this lever down, which results in more incredible pedaling difficulty.
The bike makes available 16 resistance levels. The first one provides little pedaling difficulty, based only on the weight of the flywheel. For instance, this can be great for anyone who wants to undergo a lighter training regiment or recovery training.
Conversely, the highest resistance level provides quite a bit of pedal tension, simulating a steep climb, which is excellent for a quick cardio boost.
Fitness monitor
The first aspect to note about the Diamondback studio cycle 1260Sc fitness monitor is that there are two ways to power it up. It can run on two AAA batteries. In addition, the 1260Sc also integrates a small generator that can power up the monitor when you pedal. You will have to pedal at over 40 RPM to power up the unit to use the self-generating function. A self-shutdown process also initiates after 4 minutes of inactivity on the bike.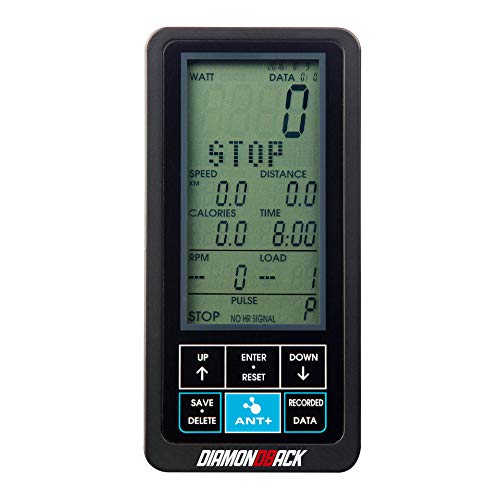 The fitness monitor features an LCD divided into multiple sub-sections to show all the workout metrics. It tracks time, distance, speed, calories, watts, pulse, and the selected load (or resistance level). For speed and distance, you can choose either metric or Imperial units.
You will have to use a wireless ANT+ chest belt or wristband for the pulse reading function. Unfortunately, it does not come with the bike. In addition, the bike does not have integrated HR pulse sensors.
Unfortunately, the fitness monitor does not have preset workout programs. However, you can select workout targets for time, distance, calories, and watts. Once a target is set for time, distance, or calories, the monitor will countdown from the selected value until it reaches zero. Then, it will notify you that you have completed your goal.
The fitness monitor will prompt you to increase the load or RPM for the Watts target to remain at the selected value.
A calendar and date function is available on the monitor as well. Consequently, it requires setting up when you power it for the first time. But most importantly, the monitor allows you to record your workout data and pick up from where you left off on your next session.
Amenities
Finally, the bike's fitness monitor can sync with various smartwatches and other activity monitors. It is compatible with multiple 3rd party apps such as Zwift, MyZone, TrainerRoad, SufferFest, or Kinomap. Unfortunately, to sync it with any of these apps, you will need an ANT+ bridge device that does not come with the bike.
1260Sc Assembly and Maintenance
Like many other spin bikes, the Diamondback studio cycle 1260Sc is pre-assembled with its main body in one piece. So you only have to attach the base bars, the handlebar, the tablet holder, the fitness monitor, the seat, and the pedals.
Consequently, the assembly task shouldn't take more than 30 minutes. The included manual provides straightforward assembly instructions, and an essential toolkit also comes with the bike.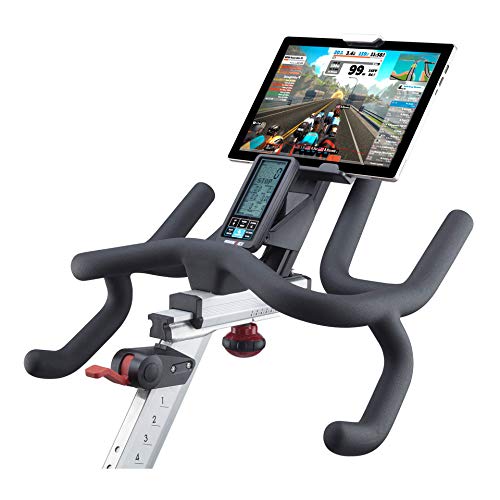 Once fully assembled, you don't have to worry much about maintenance. As mentioned earlier, since it has a belt transmission system, it doesn't require lubrication. So, you only have to keep the bike clean, periodically check for loose bolts and parts, and re-tighten them if necessary.
Pros
Commercial-grade construction – can support users up to 300 lbs;
Professional-looking design;
Bases with adjustable, rubberized levelers;
Transport wheels on the front base;
4-way adjustable seat with extra cushioning and a central groove for extra breathability;
4-way adjustable handlebar with a multi-grip design, including drop-down grips;
Balanced flywheel for a smooth pedaling motion and solid momentum;
Heavy-duty crank made for spin workouts;
Dual-sided aluminum alloy pedals with toe cages and SPD clips for spin shoes;
Narrow (187 mm) Q-Factor, minimizing the lateral stress on the joints;
Frictionless, wear-free, magnetic resistance with 16 level settings;
Smooth and quiet belt drive, great for apartment use;
Fitness monitor that tracks time, distance, speed, watts, RPM, calories, resistance load, and pulse;
Target settings for time, distance, calories, and Watts;
Recording function for your workout data;
The fitness monitor is telemetric, compatible with ANT+ wrist or HR straps;
The monitor is compatible with various fitness apps, such as Zwift, MyZone, TrainerRoad, SufferFest, or Kinomap, via an ANT+ bridge;
The monitor can be powered via batteries or by your pedaling (self-powered);
The bottle holder comes included;
Tablet holder included;
Easy to assemble;
Little maintenance is required;
Excellent warranty.
Please note that the tablet pictured in some images does not come with the bike.
Cons
ANT+ bridge device for online connectivity not included;
An HR chest strap or wristband does not come included;
The fitness monitor LCD does not have a backlight.
Diamondback Studio Cycle 1260Sc Summary
The Diamondback Studio Cycle 1260Sc is a commercial-grade indoor cycling bike offering 16 levels of manual-magnetic resistance, superior micro-adjustability, and an advanced fitness monitor compatible with apps Zwift, MyZone, TrainerRoad, SufferFest, or Kinomap. In addition, it supports any spin workout with a highly durable crankset and dual-sided pedals.
It's an excellent bike for intense cardio training, interval training, stamina and leg strength development, and weight loss. And finally, it's not exactly the most affordable bike, but it offers excellent value.
I hope you found this article helpful and informative. Would you please speak up if you have anything you'd like to share on the topic or any opinions about my website? I look forward to your comments, questions, and the sharing of ideas.
Please remember that you should consult your physician before starting any exercise program to determine if you have any medical or physical conditions that could put your health and safety at risk or prevent you from using the equipment properly. In addition, your physician's advice is essential if you are taking medication that affects your heart rate, blood pressure, or cholesterol level.