Rowing is an efficient, effective way to burn calories, tone total-body muscle, and improve cardio. The Stamina DT 397 Rowing Machine comes outfitted with all the features you need for an effective rowing workout. So, if you want an easy way to burn calories, tone muscle, and boost heart health, look no further than the Stamina DT 397 Rowing Machine.
Unique dual-technology resistance combines the power of dynamic air resistance and adjustable magnetic resistance into one system. First, pull harder to engage the air resistance if you want more of a challenge. Then, adjust the tension knob to any eight levels of magnetic resistance for increased intensity.
Take your potential a step further on the Stamina DT 397 rowing machine and track time, count, distance, calories burned, and total count on the large, easy-to-read LCD fitness monitor. Upgrade your workout potential and follow with müüv, the free smart audio coaching app.
The DT 397 has several features designed to enhance comfort and convenience, such as a padded, molded seat, padded rowing handle, textured footplates with adjustable straps, built-in wheels, and a bottle holder. The rowing machine also stands on end for easy storage.
Learn more in my complete review below!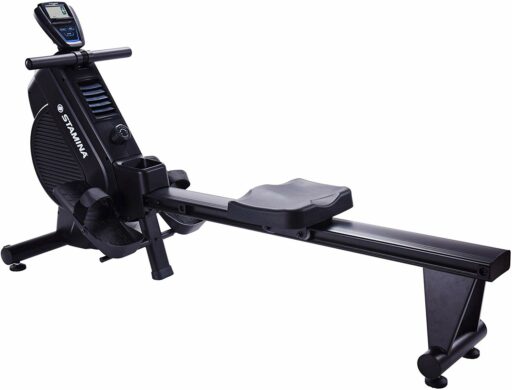 Product: Stamina DT 397 Rowing Machine
Price: For a great deal on this rower, merely go here on Amazon
Warranty: Frame 3 years / Parts 90 days
My rating: 8.75/10
Affiliate Disclosure: As an Amazon Affiliate Program participant, I earn commissions on purchases made through links in this post. Full disclosure
Details and Specifications
Assembled dimensions: 66L x 22W x 34.5H inches (168L x 56W x 88H cm)
Assembled weight: 50 lbs (22.6 kg)
Weight capacity: 250 lbs (113 kg)
Footrests: Pivoting
Resistance system: Air & magnetic
Fitness Monitor: Time, distance, count, total count, calories, goals
Warranty: Frame 3 years / Parts 90 days
DT 397 Frame construction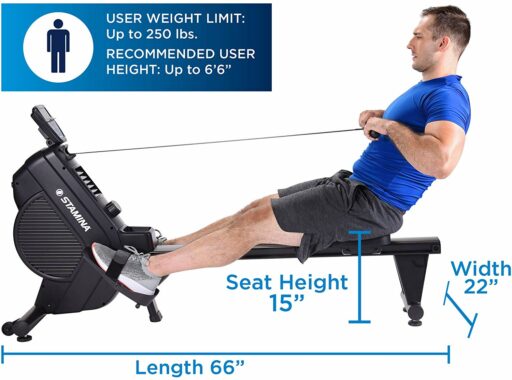 The Stamina DT 397 rower combines steel, aluminum, and ABS parts in its development. The front part of the frame that holds the drive and resistance elements is steel, and the two base stabilizer elements. The casing of the drive and resistance elements is durable ABS plastic.
The sliding rail of the machine is aluminum-made. All the unit's metallic parts come with a corrosion-resistant black paint finish.
The fully assembled unit is relatively small for an air-resistance rower. It is only 66″ (168 cm) long and 22″ (56 cm) wide, while some other machines are pretty long. Therefore, its main seat rail is not too long. Unfortunately, this rower isn't for users taller than 6'3″ (190 cm).
The machine's frame does not fold. However, it stores vertically to save space. When stored vertically, its footprint becomes approx. 34″L x 22″W (88 x 56 cm).
This Stamina rower is not extremely heavy. The complete set-up frame weighs only 50 lbs (22.6 kg). Therefore, one person can carry and assemble the machine. Plus, its front base integrates transport wheels, which ease its relocation if needed.
Although it's not a heavy rower, the Stamina DT 397 offers excellent stability. Both its front and rear stabilizers come with adjustable levelers.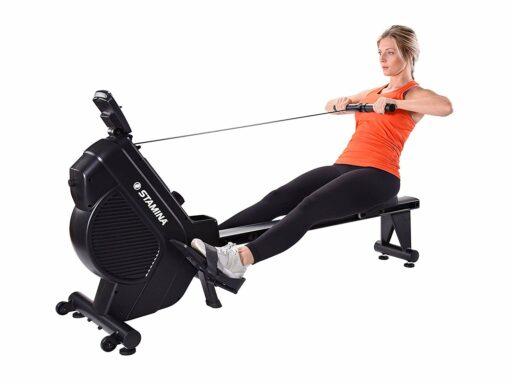 I must mention two other notable features: the accessory holder and the air damper integrated into the drive system's front casing. The accessory holder consists of a large tray under resistance control that can accommodate any water bottle and other accessories.
The air damper is above the resistance control. This allows you to adjust the angle of the air current generated by the internal fan during rowing, in case you would like some cooling as you exercise on the rower.
Seat and other parts
The Stamina DT 397 rowing machine features a reasonably large seat. It is approx. 12″ (30 cm) wide, offering plenty of contact surface. Its surface is contoured for extra comfort and adherence.
The base frame of the seat is steel-made. It integrates two sets of wheels equipped with ball bearings for a smooth motion. The wheels come to reduce the noise generated by the moving seat. The seat frame also conceals them for improved safety.
The seat and the rail assembly have a maximum user weight capacity of 250 lbs (113 kg). It's also important to mention that the top of the seat stands at approx. 15″ (38 cm) above floor level promotes easy entry and exit, which is quite a plus for users with disabilities or the elderly.
The rower features two pivoting footrests. This design type allows them to tilt as you apply pressure on them during each rowing motion, adopting the most suitable angle. They cannot be locked, though. However, they have stoppers at the rear, preventing them from tilting backward more than approximately 45 °.
The footrests are made of durable ABS material. In addition, they have heel guards, adjustable straps, and a textured surface for superior foot stability.
The DT 397 rower comes with a standard pulling handle. It consists of a short steel bar with rubberized grips. Unfortunately, it does not integrate HR pulse sensors, and the monitor doesn't have a pulse reading function.
The handle is attached to a durable nylon strap connected to the internal drive system. Since the machine uses a belt and not a chain, it doesn't require lubrication.
DT 397 Resistance system
The Stamina DT 397 combines air and magnetic resistance elements. First of all, the main resistance generator is its internal fan. As you pull the handle, the fan spins inside its casing, and the air current generated adds difficulty to the rowing motion.
The fan also produces a dynamic response, a characteristic of any air-resistance fitness machine. This means that the harder you pull the handle, the more resistance you will get.
The rower also has a secondary resistance-generating element. The magnetic brake offers eight distinct levels of resistance. The 1st level lets you use just the resistance provided by the air fan. Conversely, the 8th setting adds considerably more resistance, promoting a more consistent workout.
As opposed to the DT Pro model, the magnetic brake of the DT 397 rower is manual. It is attached to the tension knob on the front unit. Therefore, you don't have to connect the rower to an external power source. But on the other hand, its fitness monitor does not have preset programs and cannot adjust the resistance automatically.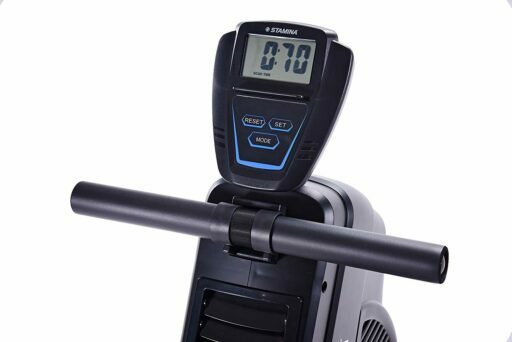 Since it's an air resistance rower, the DT 397 does generate a bit of noise during usage. However, the noise level is relatively low. As a general idea, it shouldn't cover the moderate volume level of a TV set.
Fitness monitor
The Stamina DT 397 air and magnetic rower includes a fitness monitor. It features an LCD (without an LED backlight) that tracks time, distance, count, total count, and calories burned.
Unfortunately, it does not have a pulse reading function. Therefore, to track the pulse, you will have to use a separate device. However, it also does not have preset programs or online connectivity.
The fitness monitor has three buttons that are straightforward to use. These are Mode, Set, and Reset. The Mode button allows you to scroll through the workout metrics and select the one you want to display.
However, there is also a Scan Mode, which you can pick via the Mode button; when the Scan Mode is selected, the monitor rotates all the values showing each one for a few seconds.
The Set button allows you to select workout goals for time, count, and calories burned. The monitor will show the remaining value if a workout goal is selected until you complete that goal. And finally, the Reset button clears all the values on the fitness monitor to zero.
This rower also includes free access to müüv, the smart audio coaching app. müüv helps you move 500+ minutes per month with the right mix of cardio, strength, and flexibility for a healthy and sustainable lifestyle. You'll get smart audio coaching that is personalized, progresses for you, and is fun to do.
The all-in-one app includes a follow-along assembly video, personalized workouts tailored to your equipment, and an ad-free music listening experience from iHeartRadio. Download the müüv app on the Apple App Store or the Google Play store.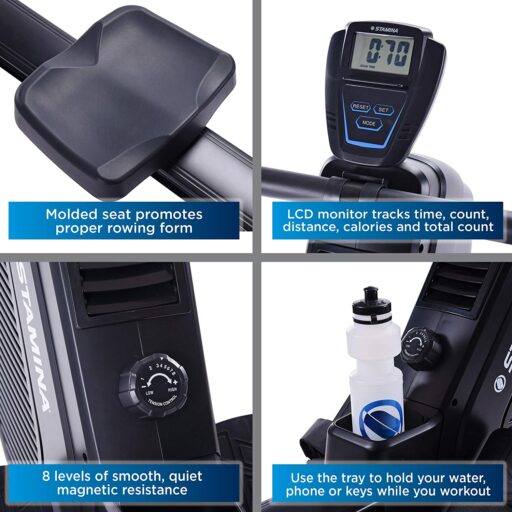 The fitness monitor is battery-powered and requires two AAA batteries, which do not come with the rower. It starts when you begin rowing or press one of the buttons. It also has a sleep function if there is no activity on the machine for several minutes.
DT 397 Assembly and Maintenance
Like other rowers, the machine's drive and resistance unit comes pre-assembled and attached to the frame's front part. You only have to attach the seat to the rail, connect the rail to the front piece, and add the two base stabilizers, the footrests, and the fitness monitor.
Consequently, this shouldn't take more than 30-40 minutes. The manual provides clear assembly instructions, and a set of essential tools also comes with the rower.
Once assembled, you don't have to worry too much about maintenance. However, it is advisable to keep the rail clean to prevent any damage to the seat or its rollers. You should also periodically check for loose bolts and parts and retighten them if necessary.
Pros
Fairly sturdy frame – can hold users up to 250 lbs;
Light construction, easy to handle;
Can be stored in an upright position to save space;
Wide aluminum beam for extra seat stability;
Contoured seat for optimal comfort;
Transport wheels integrated into the front base;
Adjustable stabilizers on the rear and front bases;
Pivoting footrests for a perfect foot position with each stroke;
Air resistance for a dynamic response during rowing;
Magnetic resistance for extra micro-adjustability;
Eight levels of resistance for light to medium workouts;
Fitness monitor included – it can track time, distance, count, total count, and calories burned;
Goal settings for time, count, and calories;
Air damper for diverting the generated current at you in case you want some cooling during the workout;
The bottle holder comes included;
Easy to assemble;
Little maintenance is required.
Cons
The fitness monitor does not have a pulse reading function;
The fitness monitor LCD does not have a backlight;
Batteries for the fitness monitor do not come with the rower.
Stamina DT 397 Rowing Machine Summary
The Stamina DT 397 is a rowing machine designed for home use. It has an air and magnetic resistance system offering eight difficulty levels. Additionally, it has a light construction with a thick sliding beam for extra stability; it supports users up to 250 lbs and stores vertically.
It also has a fitness monitor that tracks essential workout metrics. Moreover, it's a fairly decent machine for a full-body cardio workout, stamina development, and weight loss.
I hope you found this article helpful and informative. Please speak up if you have anything you'd like to share on the topic or opinions about my website.? I look forward to your comments, questions, and the sharing of ideas.
Please remember that you should consult your physician to determine if you have any medical or physical conditions that could risk your health and safety or prevent you from using the equipment properly. In addition, your physician's advice is essential if you are taking medication that affects your heart rate, blood pressure, or cholesterol level.