The Schwinn IC2 Indoor Cycling Bike takes everything you love about an invigorating outdoor cycling workout and brings it into the controlled comfort of your home. With this in mind, the innovative IC2 lets you adjust resistance levels in continuous increments to simulate hills—building strength and burning calories as you push towards your goals.
A pad provides this spin bike's resistance on the top of the flywheel that is wool felt. You can adjust the resistance by turning the knob. The great thing about this is that it is incremental. Therefore, it does not go from little resistance to impossible to ride with nothing in the middle. Instead, you can increase the resistance as you continue to train and your legs become more muscular.
The digital display on the Schwinn IC2 does everything you need in an exhibit; no more, no less. So if you want to start your workout while monitoring calories burned, speed, and all of the other essentials without any added inconveniences, this is the bike for you.
Another essential thing to consider when choosing an excellent indoor spinning bike is the weight of its flywheel. This Schwinn IC2 Indoor Cycling Bike has a 31 lb flywheel and high inertia that gives you the same momentum you can get from a standard road bike. It also adds support as you spin to provide you with a wobble-free experience while you work out.
Learn more in my complete review below!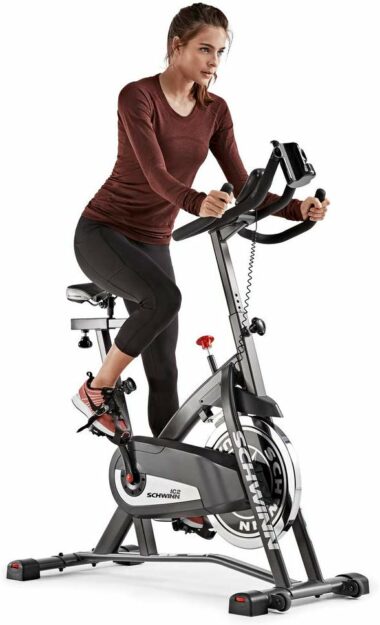 Product: Schwinn IC2 Indoor Cycling Bike
Price: For a great deal on this bike, merely go here on Amazon
Warranty: Frame 5 years / Mechanical & Electronics 1 year / Wear Parts 90 days
My rating: 8/10
Affiliate Disclosure: As an Amazon Affiliate Program participant, I earn commissions on purchases made through links in this post. Full disclosure
Details and Specifications
Product dimensions: 45L x 23W x 49H inches (114L x 58W x 124H cm)
Product weight: 83 lbs (37.6 kg)
Flywheel weight 31 lbs (14 kg)
Supported weight: 250 lbs (113 kg)
Handlebars: Adjustable
Seat: Adjustable
Pedals: With straps
Drive mechanism: Chain
Brakes: Direct-contact, wool-felt pads
Resistance: Adjustable
Bottle holder: Yes
Progress tracking computer: Yes
Warranty: Frame 5 years / Mechanical & Electronics 1 year / Wear Parts 90 days
IC2 Frame and parts
The Schwinn IC2 Pro Indoor Cycle's frame is constructed from zinc galvanized and powder-coated steel to withstand long-term use. Other parts, such as the seat slider, handlebars, and hardware, are also made from top-quality steel to ensure stability and durability.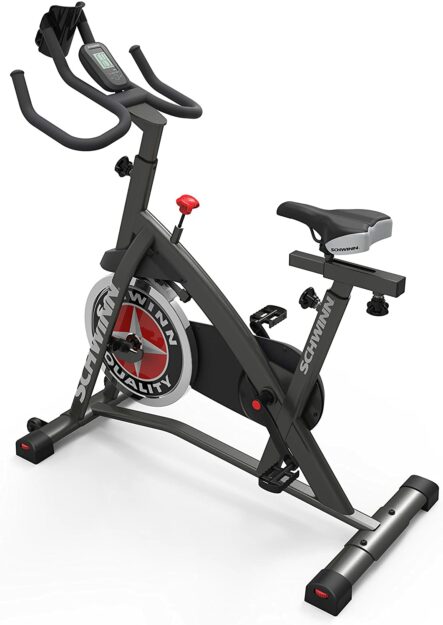 Although it's a heavy-duty exercise bike, the Schwinn IC2 bike does not occupy too much space. At 45″ (114 cm) in length and 23″ (58 cm) in width, it should fit a smaller room.
The bases of the frame come with stabilizers. Once you choose a location for your bike, make sure to adjust each stabilizer knob until the cycle is entirely stable. The front base comes with a transportation wheel for a more comfortable relocation.
The seat can go pretty high, being able to accommodate users between 4'9″ (142 cm) and up to 6'6″ (198 cm). For this purpose, the vertical bar has 12 adjustment levels, with 1 inch (2.5 cm) distance between them. It also features horizontal adjustability, offering the possibility to move it closer or farther from the handlebar.
The seat's design is pretty slim, characteristic of high-intensity exercise bikes. It does not offer the comfort of the seats specific to upright or recumbent bikes, but then again, this is not a bike for comfort. It's a model made for people who want to sweat. It's a standard seat, though, which means it's replaceable, or you can add a gel seat cover.
The handlebar is also adjustable, but only vertically. It has a design that allows different grips and positions for different types of exercise. It's also consistently padded with rubber foam, for a good grip, even in case of sweaty hands. The handlebar includes a bottle holder, bottle not included, though.
The crank arms are substantial, made to last, and support users up to 250lbs (113 kg), working out even in a complete standing position. Pedals include toe-straps to prevent feet from slipping. They're standard pedals, and in case you prefer clip-on pedals, you can replace them with bicycle shoes.
Last but not least, this Schwinn exercise bike comes with a pretty heavy flywheel for smooth and steady pedaling. Resistance is adjustable, but resistance levels are not specified. On the other hand, you can adjust resistance while pedaling until you reach the desired level. Resistance can go pretty high, up to the point you cannot pedal anymore.
Resistance System
The wool felt pad on the top of the flywheel provides resistance. To increase or decrease the resistance, you turn the knob as you do with the ones you find in gyms.
You don't have to turn it too much for the resistance to become very hard, so it can take a little getting used to, but it is incremental. It does not go from no resistance to impossible to pedal and nothing in between; it just needs small turns.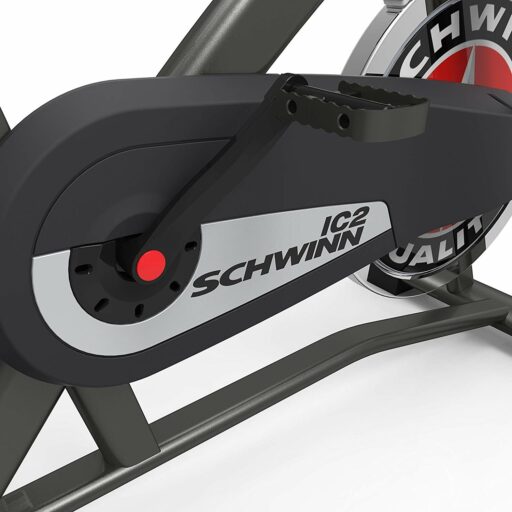 The single wool felt pad gives excellent, consistent resistance, so there are no variations while riding. Unfortunately, the resistance generates by the wool pad coming in contact with the wheel, so the pads will wear down and need replacement periodically. The only place I see where they are available is from Schwinn itself.
To stop the wheel quickly rather than letting it come to a stop naturally, you press down on the resistance knob, and it acts as a brake.
The resistance is a continuous adjustment. Therefore, you can use no levels or settings to mark how much resistance you had for a particular workout. Thus, this can make it difficult to set the bike back to a previous workout setting if the resistance has changed between exercises – you can only do this by feel.
IC2 Drive System
The Schwinn IC2 Indoor Cycling Bike uses a chain drive, as you find on an outdoor bike. Therefore, it requires the same sort of maintenance that you would do for those bikes – it is going to need lubricating with bike chain oil every month or 20 hours of riding. The chain may also need tightening or loosening as it beds in over time.
Although there is more ongoing maintenance than a belt-type drive, it can always be adjusted, unlike when a belt drive loosens and needs changing. On the other hand, the chain is a bit noisier than a belt drive and has a noise level around the same as you get from a standard outdoor bike.
The chain has a guard around it, keeping it quiet and preventing you from getting oil on your clothes or banging the chain with your ankles.
You can't coast with these bikes, meaning pedals will continue turning until the flywheel comes to a stop. Before dismounting the bike, pedals should not be spinning, and you can stop this with the brake quickly if you need to get off in a hurry.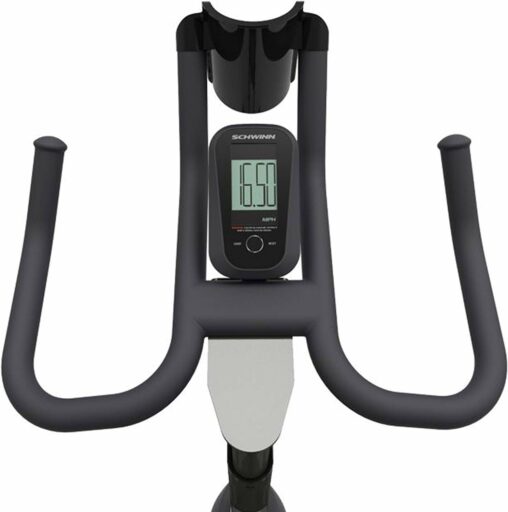 Console
The bike comes with a simple computer with an LCD that attaches to the handlebars. The LCD requires 2 AA batteries that come with the bike.
It measures RPM, calories burned, time, distance, and speed. Unfortunately, it cycles between each of these measurements every 5 seconds, and you can't change this, so you need to wait for it to cycle round if you are checking one particular statistic while riding.
The numbers are easy enough to read in good light, but it can be challenging to know which statistic you are reading. The display could use a  backlight to make it easier to read in a darker room.
The distance and speed are either in miles or kilometers. To start the computer, you can press the start button or begin pedaling. The console turns off after 5 minutes of no activity, or you can turn it off or restart it by pushing the start button.
If you cycle at less than 5 rpm for 3 seconds, you can read all the measurements – Time, Calories, Total Distance, Average Speed, and Average RPM. When you start pedaling again, the workout measurements will continue.
The computer does not store your previous workout numbers, nor can you upload these to your PC or online. If there are any you want to keep, they need to be recorded manually in your workout journal or on a spreadsheet.
The calorie number is only an estimate based on the distance traveled and speed, so it doesn't consider the user's weight, etc.
IC2 Assembly and Maintenance
The assembly of the IC2 is pretty straightforward. The flywheel, crank, and arms, chain, and chain protection are already attached to the frame. Therefore, you will only have to install the seat and handlebar posts, seat, handlebar, pedals, frame bases, and the LCD computer. Additionally, the box comes with the tools required for the assembly.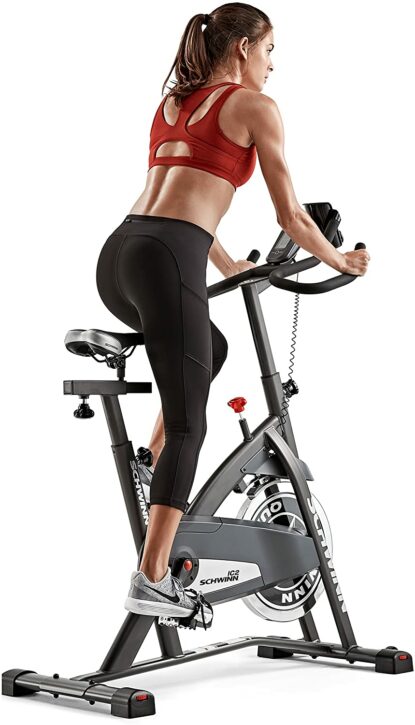 For maintenance, the chain requires monthly lubrication with any bike chain oil. In addition, it's advisable to check and retighten any screws and bolts which may have loosened. Also, the LCD screen of the progress tracking unit is not waterproof. Therefore, make sure to keep it dry, removing any sweat or water drops that may fall on it.
Pros
Quality construction;
Infinite resistance;
2-way adjustable handlebars;
4-way adjustable seat;
Fitness console – time, distance, RPM, speed, and calorie readouts.;
It can accommodate users between 4'9″ (142 cm)and 6'6″ (198 cm);
It doesn't take up a lot of floor space –  45″ (114 cm) x 23″ (58 cm).;
Provides a smooth and quiet operation;
Easy assembly.
Cons
It doesn't have a pulse reading function;
The LCD isn't backlit;
The console doesn't have online capability.
Schwinn IC2 Indoor Cycling Bike Summary
Overall, the Schwinn IC2 is an excellent bike with a very durable, reliable, and stable design, offering high-intensity training possibilities. With this in mind, it will most definitely help you achieve any fitness goals that you may have chosen, and it is a great calorie burner.
Moreover, it's an indoor cycling bike that offers just about anything anyone would expect from such a piece of exercising equipment. It's an affordable investment that can last a lifetime.
I hope you found this article helpful and informative. If you have anything you'd like to share or any opinions about my website, please speak up. I look forward to your comments, questions, and the sharing of ideas.