Experience weight loss workouts from the convenience of your home! The Tunturi Cardio Fit E35 Upright Bike with Ergometer is perfect for light to medium intensity workouts, muscle toning, calorie-burning, stamina development, and recovery training. So today, get started on the Tunturi Cardio Fit E35 Upright Bike with an Ergometer for cardio conditioning and strength endurance.
The E35 has a motorized eddy current resistance system with 16 different resistance levels across 12 preset workout programs. With this in mind, the user can customize their workout depending on the moment's desired challenge. In addition, the E35 comes with a 15.4 lb (7 kg) flywheel, providing consistent momentum and smooth pedaling.
The E35 comes equipped with a fitness monitor that features an easy-to-read LCD located on the handlebars. It displays current speed, elapsed time, distance covered, calories burned, heart rate, recovery, body fat, RPM, and watts generated. In addition, the user can measure their heart rate through integrated pulse sensors in the handlebars.
The comfortable leather saddle on the Tunturi Cardio Fit E35 is adjustable vertically and horizontally. Users can also change the position of the handlebars to correct their posture during workouts. The footrest is full, and transport wheels help make the relocation of the machine easy. The pedals are weighted, enabling them always to turn up when you remove your feet from them.
Learn more in my complete review below!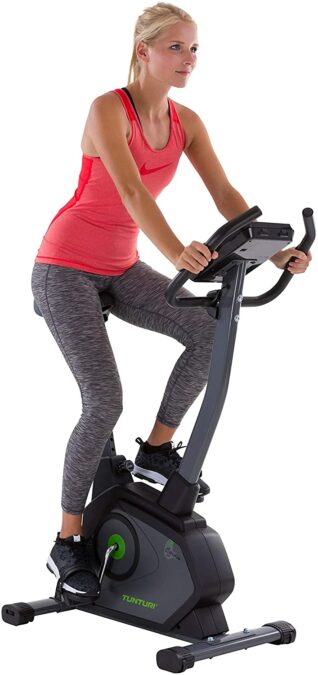 Product: Tunturi Cardio Fit E35 Upright Bike
Price: For a great deal on this bike, merely go here on Amazon
Warranty: 2-years limited
My rating: 7.75/10
Affiliate Disclosure: As an Amazon Affiliate Program participant, I earn commissions on purchases made through links in this post. Full disclosure
Details and Specifications
Assembled dimensions: 34.3L x 20.1W x 51.6H inches (87L x 51W x 131H cm)
Flywheel weight: 15.4 lbs (7 kg)
Assembled weight: 50.7 lbs (23 kg)
Weight capacity: 242.5 lbs (110 kg)
Seat: 4-way adjustable
Drive: Belt
Resistance: Eddy current, 16 levels
Fitness Monitor: 16 programs (12 preset), BMI function, Recovery function
US electrical adapter included
Amenities: Tablet holder
Warranty: 2 years limited
E35 Frame construction
The Tunturi Cardio Fit E35 features a steel frame with ABS covers for the crankset, flywheel, and resistance elements. In addition, all the steel tubes come with a rust-resistant and chip-resistant gray and black paint finish.
Like most other upright bikes, the Tunturi E35 is not a large fitness machine. With the frame fully set up, it is approx — 34″ (87 cm) long and 20″ (51 cm) wide. Also, its highest point is approx. 51.6″ (131 cm) above floor level. Therefore, it requires a usage area of at least 60″ x 50″ (153 x 127 cm).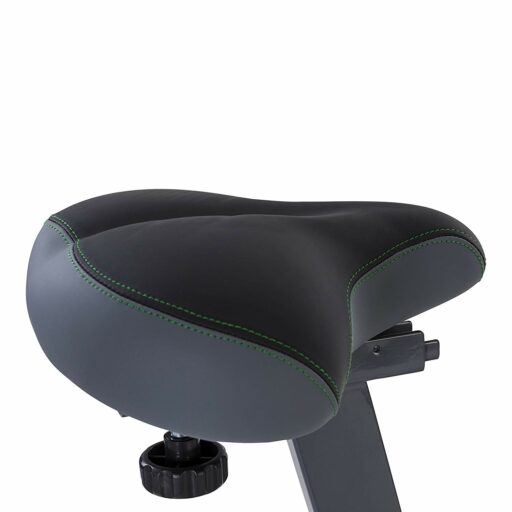 The fully assembled bike is not too heavy, either. It weighs approximately 50.7 lbs (23 kg). Therefore, one person can carry and build the bike. Plus, its relocation is facilitated by the two transport wheels integrated into its front base.
The unit's rear base comes with two adjustable stabilizers. Thus, you can perfectly level it on any floor. It is advisable, though, to place and use it on a rubber mat.
Seat and handlebars
The Tunturi Cardio Fit E35 offers superior ergonomics. One of these elements is the seat. The included saddle is more substantial and integrates more cushioning than other bikes. Also, its top is contoured, featuring a longitudinal groove for extra breathability.
The seat offers 4-way adjustability (up, down, forward, backward). In addition, its upright bar features multiple adjustment positions with increments of approximately 1″ (2.5 cm), and its horizontal slider provides several extra inches of front-to-back adjustment.
Thus, the bike can accommodate users between 5'2″ and 6'5″ (157 – 196 cm). Also, its seat provides a maximum user weight capacity of 242 lbs (110 kg).
The bike's handlebar is adjustable as well. In addition, it features a small knob, which allows you to adjust its angle. However, as opposed to the seat, its height is not adjustable. In addition, the size of the front mast is not adjustable.
The handlebar features a multi-grip design. A layer of high-density foam fully covers it to provide optimal comfort and a secure grip. In addition, its side grips come with metallic pulse sensors, so if you hold on to them, the fitness monitor can track your pulse rate or run the Recovery test.
E35 Drive and resistance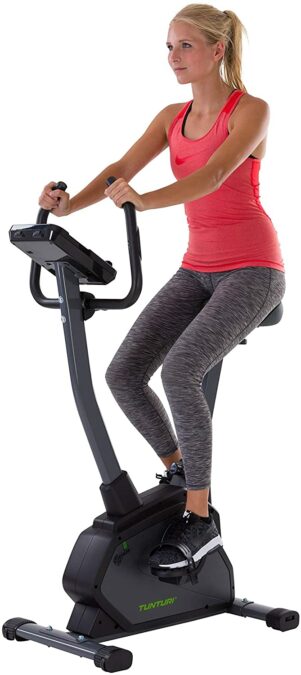 In terms of resistance, the E35 comes with an eddy current system. It integrates a magnetic brake and a servo motor. Therefore, it requires an external power source and comes with a US electrical adapter plug.
The resistance is only adjustable from the fitness monitor. Or, if you decide to use one of the preset workout programs, the bike will auto-adjust resistance.
The bike offers 16 levels of resistance. The first few levels deliver a relatively light pedaling difficulty; they're great for anyone who requires recovery training or has joint problems. Conversely, the top resistance levels provide considerably more pedal tension simulating a hill climb, promoting a higher burn and superior cardio training.
The Tunturi E35 Cardio Fit features a mid-range flywheel for an upright bike. It weighs 15.4 lbs (7 kg), which is pretty decent for an upright bike. Furthermore, it provides excellent momentum and a steady pedaling motion.
Last but not least, this Tunturi exercise bike has a belt drivetrain. Like any other belt-based drive system, it comes with several advantages. First, the cycle produces almost no noise when in use. Second, the belt drive generates considerably less vibration than a chain. And finally, you don't have to lubricate it.
Crankset and Pedals
The crankset is reasonably durable, equipped with solid steel arms. However, it's not for standing up while pedaling or spin workouts. Since this is an upright bike, it's for seated exercises only.
The included pedals are weighted; they have weight elements on their bases, enabling them always to turn up if you remove your feet from them. They also have a textured surface for superior adherence and adjustable straps so you can secure your feet if needed.
The E35 allows for pedaling in reverse. However, coasting on road bikes is not possible. You will still benefit from the selected pedaling resistance when pedaling in reverse. The fitness monitor will monitor your distance, speed, and other metrics when pedaling in reverse.
E35 Fitness monitor
The E35 has a mid-range fitness monitor. It features an LCD with an LED backlight for superior readability. There are seven subsections to show multiple workout metrics simultaneously. It tracks time, distance, speed, RPM, watts, calories, and pulse.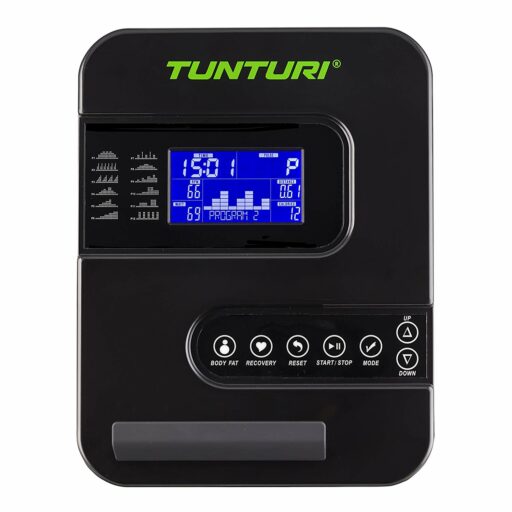 The speed and distance readings can be metric (km/h, km) or imperial units (MPH, miles). Unfortunately, the fitness monitor is not telemetric. Therefore, it can only read your pulse through the incorporated sensors. In addition, it does not work with Polar or other wireless HR chest strap transmitters.
Unfortunately, the fitness monitor does not have online connectivity, nor is it compatible with any online fitness apps. Also, the monitor does not have a sound system or cooling fan. However, it does integrate a tablet holder. This accessory is towards the monitor's bottom, so it will cover the LCD and function keys if you place a tablet on it.
Workout Programs
The Tunturi E35 makes available 16 workout programs. The first one is Manual mode. During this program, you can adjust the resistance as you like from the arrow keys on the fitness monitor, and you can also set up goals for time, distance, and calories.
The P1-P12 are preset programs. Each one has its segment setup, featuring various resistance intervals. You can view their configuration on the diagram to the left of the fitness monitor display. Also, you can select the duration for each one of them.
The last three programs are the User program, the HRC mode, and the Watt mode. The User program allows you to create your custom program with the desired resistance intervals.
The HRC mode is a heart rate-based program; it allows you to select a target heart rate of 55%, 75%, 90%, or a custom HR up to 100%. The bike will auto-adjust the resistance during this program to keep you close to the selected heart rate target. And finally, the Watt mode allows you to choose a Watt target (the default is 120 Watt).
The monitor also comes with a Recovery function and a BMI function. The Recovery function measures the time your heart requires to bring your pulse to be healthy after the workout.
The result will give you a rating between F1 (Outstanding) and F6 (Poor). This way, you can give an idea of your current fitness level. In addition, the BMI function determines your body fat percentage based on your height, weight, gender, and age.
E35 Assembly and Maintenance
The main body of the bike comes pre-assembled. All the drive and resistance elements are already attached to the mainframe and concealed by the ABS covers. All you need to do is connect the base bars, the seat post, the seat, the front post, the handlebars, the fitness monitor, and the pedals.
Consequently, this task shouldn't take longer than one hour of your time. All the tools required come with the bike, and the manual provides clear assembly instructions and schematics.
Once assembled, its maintenance doesn't require much. You should check for loose bolts and parts before each workout and retighten them if necessary. Wipe off any sweat and keep the bike clean. That's all there is to it.
Pros
Sturdy frame for a home use bike – can support users up to 242 lbs (110 kg);
It comes with adjustable stabilizers on the rear base;
Transport wheels on the front base;
Multi-grip and angle adjustable handlebar;
Integrated pulse sensors are on the side grips of the handlebar;
4-way adjustable seat;
Large saddle with a contoured surface and extra cushioning;
Perimeter-weighted flywheel for a steady pedaling motion;
Silent belt drive;
Zero friction eddy current resistance;
16 resistance settings;
Weighted pedals with adjustable straps;
Mid-range fitness monitor with a LED-backlit LCD;
16 workout programs (1 manual, 12 preset, one user, 1 watt, one h.r.c)
Goal setting functions for a time, distance, and calories;
It comes with a recovery test;
BMI calculator;
Little maintenance is required;
Easy to assemble.
Cons
There is no bottle holder;
A tablet will block the fitness monitor LCD.
Tunturi Cardio Fit E35 Upright Bike Summary
The Tunturi E35 Cardio Fit is a mid-range upright exercise bike for home use. It features an eddy current motorized resistance system with 16 tension levels, and its fitness monitor offers 16 workout programs, a Recovery test function, and a BMI calculator.
It's a trainer for light to medium intensity workouts, muscle toning, calorie-burning, stamina development, and recovery training. Moreover, it's an affordable exercise bike, offering excellent value for the price.
I hope you found this article helpful and informative. Would you please speak up if you have anything you'd like to share on the topic or any opinions about my website? I look forward to your comments, questions, and the sharing of ideas.
Please note you should consult your physician to determine if you have any medical or physical conditions that could risk your health and safety or prevent you from using the equipment properly. In addition, your physician's advice is essential if you are taking medication that affects your heart rate, blood pressure, or cholesterol level.