The ECHANFIT CBK1901P Indoor Cycling Bike is attractive, addictive, and seriously whips you into shape. The heavyweight frame and inertia enhanced 35-pound flywheel provide a natural feel and consistent momentum that delivers a smooth and quiet workout, perfect for users between 5' 3" ~ 6' 6" and a maximum user weight capacity of up to 300 lbs.
The CBK1901P five-magnet magnetic resistance system combined with a belt drive produces a smooth and quiet ride. Turn the knob for infinite resistance levels to ensure a wide range of exercise intensity options. Press down the knob, and the emergency braking system engages, allowing for a safe and quick stop.
The ECHANFIT CBK1901P indoor cycling bike is fully adjustable. The seat is 4-way adjustable (up, down, front, back) with ergonomic and super soft cushion, and the non-slip handlebars are also 4-way adjustable, providing you a suitable and comfortable cycling experience. In addition, the caged pedals are designed with adjustable straps and buckle to fit most shoe sizes.
Learn more in my complete review below!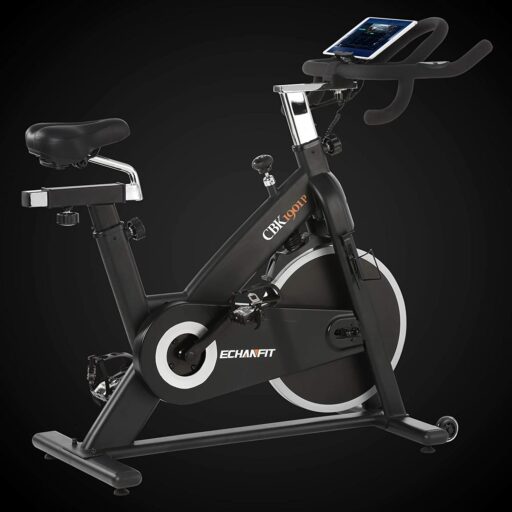 Product: ECHANFIT CBK1901P Indoor Cycling Bike
Price: For a great deal on this bike, merely go here on Amazon
Warranty: 1-year limited
My rating: 8/10
Affiliate Disclosure: As an Amazon Affiliate Program participant, I earn commissions on purchases made through links in this post. Full disclosure
Note: The tablet displayed in the image sells separately.
Details and Specifications
Assembled dimensions: 41.34L x 21.30W x 48.03H inches (105L x 54W x 122H cm)
Shipping weight: 91.5 lbs (41.5 kg)
Flywheel weight: 35 lbs (~16 kg)
Weight capacity: 300 lbs (136 kg)
Seat: 4-way adjustable
Drive: Belt
Resistance: Magnetic
Fitness console: Time, distance, speed, calories, pulse, scan
Extras: Bottle holder and a device holder
Warranty: 1 year limited
CBK1901P Frame construction
Although the ECHANFIT CBK1901P is an indoor cycling bike made for home use, its frame features construction and durability, similar to a light-commercial model. The bike has a triangular structure made of thick, ovalized steel tubing, with the main bar slightly curved for improved sturdiness and aesthetics.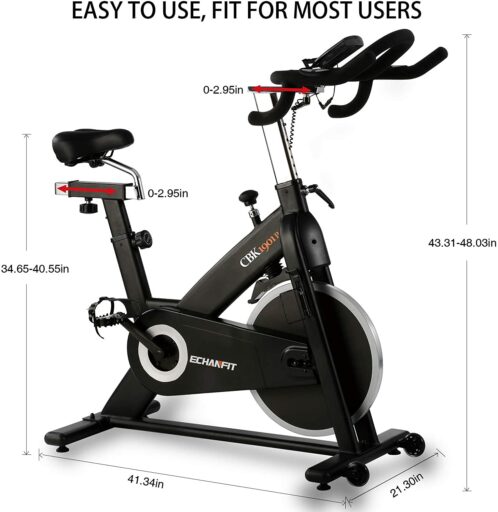 The whole frame is black with a durable, corrosion-resistant coating. The only exceptions are the handlebar post, the seat slider, and the flywheel, chrome plated.
The ECHANFIT CBK1901P is a bit smaller than the previous version. With all the parts assembled, it is approx 41.3″ (105 cm) long and 21.3″ (54 cm) wide. Thus, it can fit pretty well, even into a small room. However, it is advisable to assign at least two clearance feet to ease access and safe usage.
The fully assembled bike is pretty heavy. It weighs approximately 90 lbs (40 lbs), more than twice the average road bike's weight. However, all this weight provides superior stability. Plus, both base bars of the bike comes equipped with adjustable and rubberized levelers.
Despite its weight, the bike is easy to move. Its front base features a set of large silicone wheels, which facilitate its relocation. By using these wheels, you will only handle approx—35% of the bike's total weight.
One last aspect to mention here regards the short bar that connects the seat tube with the mainframe. This particular element makes stretches or step-up/step-down exercises, which specific spin workouts may require. This specific feature is a plus; not all spin bikes have it.
Seat and handlebars
The ECHANFIT CBK1901P features a four-way adjustable (up, down, front, back) seat. Its upright bar offers approx 6″ (15.24 cm) of adjustment, from 34.65″ (88 cm) above floor level to 40.55″ (103 cm).
Also, its horizontal slider adds approx 3″ (7.5 cm) of front-to-back adjustment. Thus, the bike should be able to accommodate users comfortably between 5'3 ″ and 6'6 ″ (160 – 198 cm).
Taller persons should still use this exercise bike, but they may not benefit from a complete leg extension. The bike has a maximum user weight capacity of 300 lbs (136 kg), which also applies to the seat.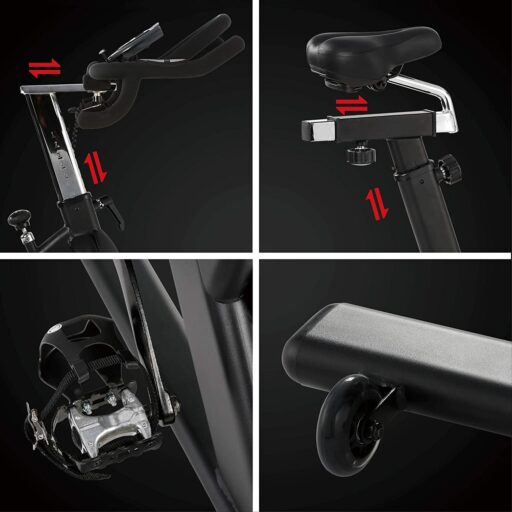 The bike's saddle is for superior comfort. First of all, it is larger than the average race seat, providing an extra contact surface. It integrates a thick layer of foam cushioning, and its top is contoured for improved breathability.
It has extensive cropping in the center for extra breathability. Its rear section features two springs, which enable it to flex and adapt to your movement as you ride. It's also important to mention that its attachment system features a standard collar with a bolt and nut. Therefore, if you will ever need to replace it, compatible options are widely available.
The CBK1901P comes equipped with a smaller handlebar than the previous version, but it delivers extra comfort. It has a multi-grip design, offering the possibility to adopt a climbing grip, an aero grip, or a standard grip. It also has drop-down grips, a feature that many other spin bikes don't have.
The handlebar's side grips integrate pulse sensors, and the included performance monitor has a pulse reading function. A layer of rubber foam material covers the whole handlebar for extra comfort.
It's also four-way adjustable, just like the seat. Its slider offers approx. 3″ (7.5 cm) of adjustment, while its upright post has an adjustment span between 43.3″ – 48.03″ (110 – 122 cm).
CBK1901P Drive and resistance
The bike comes equipped with the same manual magnetic resistance system as the previous version. However, its flywheel is a bit heavier. It weighs 35 lbs (~16 kg) and has a perimeter-weighted design for improved inertia.
It is also bi-directional; therefore, you can pedal in reverse if you want to diversify your workouts. However, coasting is not possible on the bike. The pedals will continue to spin for as long as the flywheel is spinning.
The bike's resistance system consists of a magnetic brake placed above the flywheel and connected to the tension knob on top of the mainframe tube.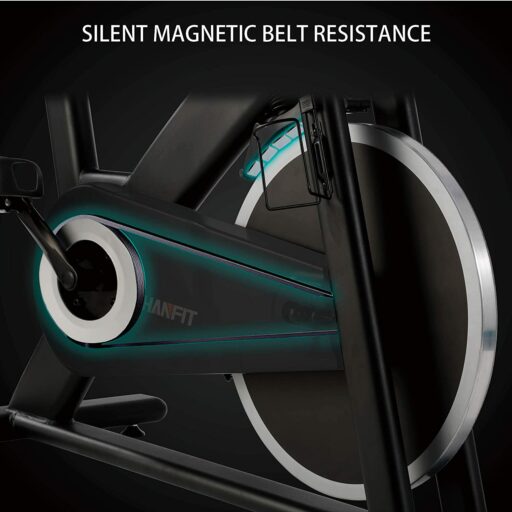 Since it's a manual brake, you don't need to connect the bike to a power source. Instead, by simply turning the knob, the magnets move closer or farther from the flywheel, which adds or reduces the pedaling difficulty.
The bike's brake does not have pre-determined tension levels. Instead, you turn the knob until you get the desired pedaling motion. As a general idea, the bike provides quite a tremendous pedaling difficulty, simulating a steep climb when tightened to its maximum.
Like most other exercise bikes with a magnetic resistance system, the ECHANFIT CBK1901P comes with a belt drive. This type of transmission comes with a few advantages. For example, you don't have to lubricate the belt. It also generates less vibration than a chain.
The bike will support any spin workout. It is equipped with a heavy-duty crankset with solid steel arms and should withstand pedaling while standing up as long as the user doesn't exceed the maximum specified weight capacity (300 lbs).
The included pedals are also metallic, made of aluminum alloy. They feature toe cages and adjustable straps. They don't have SPD elements for spin shoes. Their threads are standard 9/16, so replacements are widely available if you want to replace them with SPD pedals.
Console
The bike includes the same performance monitor as the CMK1901 version. However, it's a pretty basic console without any workout programs. Instead, it features an LCD that tracks time, distance, speed, calories burned, and pulse.
It's not telemetric, so you cannot sync it with a Polar or ANT+ HR strap; it can only read your pulse if you hold on to the sensors integrated into the handlebar grips.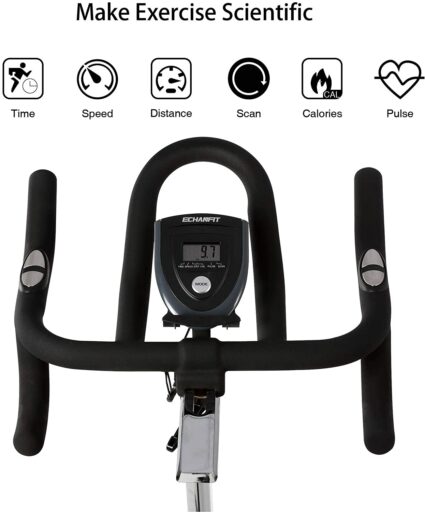 The fitness console features only one button. You can scroll through the workout metrics and select the one you want to view by pressing it repeatedly. The console has a Scan Mode, which you can also choose by repeatedly pressing the button.
When the Scan mode is ON, the unit automatically rotates all the metrics, showing each one for a few seconds. You can also press and hold the button to clear all the values on the console to zero.
The fitness console is battery-powered, and the batteries come included with the bike. It starts up when you press the button or when you begin pedaling. It also has a sleep mode; if it doesn't detect any activity on the bike for a few minutes, it automatically turns off.
CBK1901P Assembly and Maintenance
The ECHANFIT CBK1901P requires some assembly. However, the flywheel, magnetic brake, crankset, and belts are already attached to the frame. You only have to add the two base bars, the seat post, the pedals, the handlebar post, the handlebar, and the fitness console.
This shouldn't take more than an hour. The manual provides pretty clear instructions, and an essential toolkit for the task also comes included with the bike.
For maintenance, all you have to do is keep the bike's frame clean, wipe off the sweat at the end of the workout, and periodically check for loose bolts and parts. Since the drivetrain uses a belt, it doesn't need lubrication.
The brake is also magnetic and doesn't touch the flywheel, so there's no wear and tear. Thus, you don't have to worry about brake pad replacements, as would be the case for a spin bike with a friction resistance system.
Pros
A sturdy frame similar to the structures of light commercial spin bikes;
Excellent weight capacity – can support users up to 300 lbs;
Aesthetic design;
Adjustable stabilizers on both bases;
Transport wheels on the front base;
Stepping bar above the crankset;
4-way adjustable seat;
High-comfort saddle with thick cushioning and a median groove for improved breathability;
Multi-grip handlebar with drop-down grips and aero grips;
The handlebar is also 4-way adjustable;
Silent belt drive;
Bi-directional, perimeter-weighted flywheel;
Frictionless magnetic resistance;
Fitness console included – it can track time, distance, speed, pulse, and calories burned;
Device holder included;
Bottle holder included;
Easy to assemble;
Little maintenance is required.
Cons
No backlight on the LCD;
The pulse reading function is not too accurate.
ECHANFIT CBK1901P Indoor Cycling Bike Summary
The ECHANFIT CBK1901P is an indoor cycling bike made for home use. It features a heavy-duty construction similar to commercial spin bikes. In addition, it comes equipped with a manual magnetic resistance system, a 35-lb perimeter-weighted flywheel, and a fitness console that tracks the essential workout metrics.
Moreover, it's a bike designed to support any spin workout, great for high-intensity cardio, interval training, stamina development, and weight loss. In all, it's an excellent exercise bike, a great alternative to any commercial spin bike, and also considerably more affordable.
I hope you found this article helpful and informative. If you have anything you would like to share or any opinions about my website, please speak up. I look forward to your comments, questions, and the sharing of ideas.