Using the same principles that govern a boat's water dynamics, the WaterRower M1 LoRise Rowing Machine provides an unlimited range of resistance, making it suitable for various strengths and skill levels. The faster you move, the higher the drag and the greater the intensity of exercise required to maintain your speed in a boat.
The benefit of a water resistance rower is that it most closely simulates a boat moving through water. The WaterRower M1 LoRise's patented WaterFlywheel emulates this naturally self-paced benefit of rowing. This is a workout you can start benefitting from immediately, regardless of experience!
The Series 4 Performance Monitor balances technical sophistication with user-friendliness. The S4 Monitor tracks m/s (meters per second), distance, time, total strokes, stroke rate, mph (mile per hour), /500m (time per 500 meters), /2km (time per 2 kilometers), watts, heart rate (with optional HR chest strap) and Kcalories per hour.
The handle of the WaterRower M1 LoRise is made of aluminum for strength and lightness, with a tear-drop shape that fits comfortably into the palm to minimize wrist torque. The drive strap of the WaterRower M1 LoRise is high-density polyester webbing guided by nylon pulleys. As a result, the drive strap is not worn and maintenance-free, requiring no messy lubrication.
Learn more in my complete review below!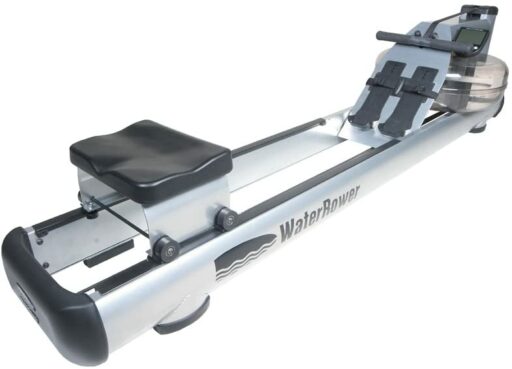 Product: WaterRower M1 LoRise Rowing Machine
Price: For a great deal on this rower, merely go here on Amazon
Warranty: Frame 5 years / Parts 3 years (upon completion of registration)
My rating: 9.75/10
Affiliate Disclosure: As an Amazon Affiliate Program participant, I earn commissions on purchases made through links in this post. Full disclosure
Details and Specifications
Assembled dimensions: 88L x 22.25W x 20H inches (223.5L x 56.5W x 51H cm)
Product weight: 111 lbs (50.5 kg) w/o water; 148 lb (67.5 kg) w/ water
Supported weight: 700 lbs (317 kg)
Frame: Steel
Footrests: Size-adjustable, with straps
Resistance type: Water
Performance monitor: S4
Warranty: Frame 5 years / Parts 3 years (upon completion of registration)
M1 Frame
Like any other WaterRower model, the M1 LoRise features substantial and durable construction. Most of the frame in this particular model is tubular steel. In other words, the rails, the base of the seat, the footrest pad, and the tank guard are all steel-made. All steel parts come coated with anti-corrosive paint for a sleek and rust-free finish.
The steel M1 LoRise model features tiny feet welded directly to the rail tubes, and they come with plastic caps for better stability. These feet are, however, non-adjustable. So even though the machine is rather heavy, it may still require a carpet or mat to achieve perfect stability if the pavement or floor is uneven.
Like most fluid resistance rowers, this particular model occupies quite a bit of space length-wise. It takes 88″L x 22.25″W (223.5 x 56.5 cm) of floor space.
Also, to these dimensions, you will have to add at least 2′ (61 cm) clearance at the rear and approx—1′ (30.5 cm) on each side for the correct and unrestrained use of the rower. Differently put, it may not be the perfect choice for a small apartment or room.
This rower can be stored vertically, though. The water tank guard features two tiny feet, while the rower's front-end cap integrates two wheels. The rower should be resting on these two feet and wheels in the vertical position. The wheels facilitate the rowers handling and relocation for storage.
Since it features an 88″ (223.5 cm) length, this rower can accommodate users with an inseam up to 40″ (101 cm). So it's's pretty much safe to say that users up to 6'6″-6'7 '6″-6'7 ″ (198 – 201 cm) can comfortably use this machine, benefiting from a complete leg extension.
It is, after all, a professional rower. And when it comes to user weight capacity, the M1 models can support users up to 700 lbs (317 kg) with no problem.
Seat and footrests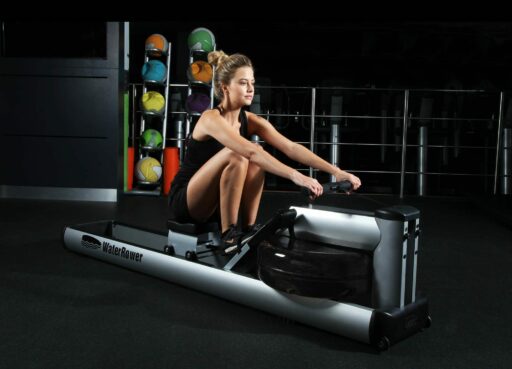 The WaterRower M1 LoRise rowing machine is equipped with a standard seat, with its base made of steel just as the frame. The seat's top is covered with synthetic leather, with a contoured design to comfortably position.
It also incorporates a thin layer of cushioning to help with the even dispersion of the user's weight and diminishes the impact on the buttocks and lower back. However, the cushioning isn't extreme, and the seat is pretty firm.
This rower's seat will give you an elevation from the floor level of approx 11″ (28 cm). This is a common standard in most rowers. But for elderly users or users with impaired movement, the M1 HiRise model offers a much more convenient entry point, as it supplies a 20″ (51 cm) elevation.
The seat rollers use high-grade, stainless steel ball bearings, but they have PVC material outside. In addition, the extrusions of the rails, on which the seat glides, are also PVC-made. As a result, the rollers and seat glides are not metallic offer the advantage of a much smoother and quieter drive.
The gliding surface is also much tolerating any small particles that may fall on it. As opposed to that, if the glides of a rower are metallic, even the slightest dirt particle fallen on it will result in bumps and clicks during rowing.
The sliding extrusion on the rails will wear over time. But keep in mind that this rowing machine offers commercial quality. Thus, even if you work out for a couple of hours per day on the rower, they should still last for at least a couple of years. Plus, a new set costs $10.
The footrests are long enough to accommodate shoes of all sizes. They feature adjustable straps, but they do not feature angle-adjustability. However, the footrest pad is at an angle of 45°, which should be comfortable for most users.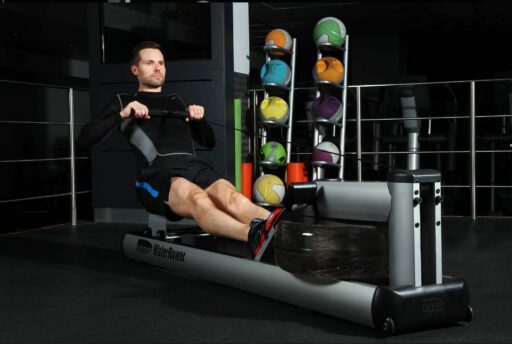 M1 Water tank and resistance system
The M1 LoRise rower features a highly durable, polycarbonated tank with a 4.5 gal (17 liters) capacity. The tank's capacity is slightly higher than 4.5 gals (17 l), but 4.5 gals is its maximum allowed water capacity. Therefore, don't fill past the markings on the tank indicating the water level.
The main resistance-generating element is a 2-paddle water flywheel, which spins into the water tank as you begin to row. The wheel connects through a pulleys system to an incredibly durable strap, similar to a car's seat belt. The pulling handle is a simple bar covered with rubber foam material to ensure a comfortable grip.
Since this M1 model is a fluid rowing machine, it offers the closest feel to an actual boat's rowing. The resistance level generates by the strength you put behind each stroke. In other words, the harder you pull, the more resistance you'll get.
On top of that, the resistance offered by water rowers is more consistent than in air rowers, as you will feel it from the starting point of the catch phase. Resistance begins a bit after the catch in air rowers such as the Concept2 models.
The overall resistance is adjustable by adding or removing water from the tank. With the tank filled at maximum allowed capacity, you will get a lot of resistance, the amount required by a professional rower athlete.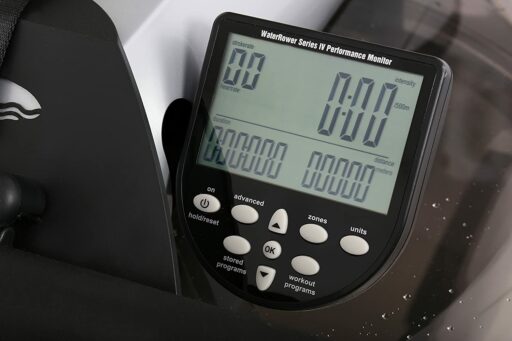 Console
The S4 performance monitor supplied with the M1 LoRise rowing machine is user-friendly and offers quite various features. First of all, it can display intensity, stroke rate, heart rate, distance, time, watts, and KCalories. In addition, it can indicate intensity (or speed) in meters per second (m/s) or miles per hour (MPH).
Distance is trackable in meters, kilometers, miles, or total strokes. For a time, there are 500m and 2000m functions. Its database has nine advanced workout programs, but it can also store nine more workout program settings.
However, the best part about the S4 unit is that it features PC interface capability. You can connect it to your PC via cable to use various apps, such as WebRacing, WaterCoatch Fit.
These allow you to customize workouts or set up different goals and WaterRower's online community, where you can upload and keep a better track of your results.
The rower itself doesn't feature any pulse sensors. Thus, for the console unit to track your pulse and use the heart rate-oriented workouts, you need a Polar or ANT+ heart rate chest strap. However, this accessory is not (included) with the machine.
The S4 unit is battery-powered, requiring four AA-type batteries.
M1 Assembly and Maintenance
The assembly of this rowing machine should take between 45 minutes and an hour. However, it's a relatively simple process. The tank with the drive system is pre-assembled. Therefore, you only need to attach the rails by adding the rear cap, then the container with the front cap.
Seat, footrests, connecting the cords and wires, and finally installing the console are required. All the tools are necessary, and the assembly manual is (provided) with the machine.
Maintenance requires cleaning the seat gliding rails with a piece of cloth before every workout, if possible. The water in the tank doesn't need to change.
However, adding a chlorine pill into the water every six months. Chlorine pills come with the rower. When storing the machine vertically, check if the seal is holding and there aren't any leaks.
Finally, to activate the 5-year frame and 3-year parts warranty, you will need to register your product with WaterRower. Without registration, you benefit only from one year of warranty.
Pros
Extreme user capacity, being able to hold up users to 700 lbs;
Can accommodate tall users;
Superior aesthetics, solid steel frame;
Storable in an upright position;
Water-resistance system, providing the most natural rowing feel that you can get;
Contoured, padded, and ergonomically designed seat;
Advanced performance monitor, PC compatible and HR strap compatible;
Smooth and quiet operation;
Rower for users of all levels, from beginner to pro;
Very little maintenance required;
Easy to put together;
Easy to handle and transport;
Excellent warranty.
Cons
An HR chest strap does not come with the machine;
The footpad is not angling adjustable.
WaterRower M1 LoRise Rowing Machine Summary
The WaterRower M1 LoRise is a high-capacity rowing machine with a highly sturdy build, offering a rowing sensation as close as it gets to the rowing of a real boat. In addition, it's a professional rower that supplies the training setting for users of all levels.
Moreover, it's a fitness machine great for low and high-intensity cardio training, interval training, muscle toning, and building stamina. A workout on this machine involves over 80% of your muscles. It's a much lower impact on the leg joints than running on a treadmill. Even though it's not exactly a cheap rowing machine, its quality stands up to the price. Therefore, it's safe to say that this particular fitness machine comes with an excellent price/quality ratio.
I hope you found this article helpful and informative. Would you please speak up if you have anything you'd like to share on the topic or any opinions about my website? I look forward to your comments, questions, and the sharing of ideas.
Please note: Before starting any exercise program, you should consult your physician to determine if you have any medical or physical conditions that could put your health and safety at risk or prevent you from using the equipment properly. In addition, your physician's advice is essential if you are taking medication that affects your heart rate, blood pressure, or cholesterol level.