Never be bored with various exercise experiences using the ECHANFIT Magnetic Rower in your home. From global workouts and even cross-training options like an indoor cycle and full-body training, the ECHANFIT rower provides limitless variety.
The Silent Magnetic Resistance is long-lasting and reliable, will not require much maintenance, and does not create noise, bringing you a smooth and quiet experience. Increase the intensity and build strength using the 16 levels of silent magnetic resistance.
The ECHANFIT rower has a fitness monitor, which shows speed, distance, time, RPM, stroke count, and strokes per minute (SPM). In addition, it includes a convenient scan feature. But unfortunately, the monitor cannot read your pulse from a wireless HR chest strap transmitter.
Rowing is a great cardiovascular exercise and a workout to strengthen major muscle groups. It is a low-impact exercise, which can be highly challenging, burning calories and toning the body. The ECHANFIT Magnetic Rower is an excellent choice if you want to invest in a workout to last you a lifetime.
Learn more in my complete review below!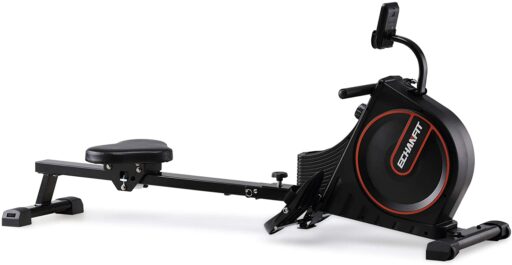 Product: ECHANFIT Magnetic Rower
Price: For a great deal on this rower, merely go here on Amazon
Warranty: 1 year limited
My rating: is 9/10
Affiliate Disclosure: As an Amazon Affiliate Program participant, I earn commissions on purchases made through links in this post. Full disclosure
Details and Specifications
Assembled dimensions: 75.20L x 19.29W x 33.46H inches (191L x 49W x 85H cm)
Shipping weight: 61 lbs (27.6 kg)
Weight capacity: 265 lbs (120 kg)
Frame: Steel
Resistance type: Magnetic, 16 levels
Fitness Monitor: Time, RPM, count, distance, calories, goals, scan
Warranty: 1 year limited
ECHANFIT Frame Construction
The ECHANFIT magnetic rower features a steel frame but also incorporates ABS parts in its construction. For example, the drive and resistance elements' covers and the footrests come from durable ABS material.
All the steel parts in the machine's construction are powder-coated with a durable paint finish, resistant to corrosion. The color used is black, the only color available for this rower model (at least for the moment).
The fully assembled trainer is smaller than other rowers. However, it still is approx. 75″ (191 cm) long and 19.2″ (49 cm) wide, so it may not fit too well in a small room.
Also, it's best to leave at least two feet of clearance on each side of it and at the rear. Nonetheless, this rower is foldable. Its rail can fold up, reducing its length to approximately 29″ (73 cm).
The unit's rail offers approx. 38″ (96 cm) of travel for the seat. Also, the footrests are a few inches away from the end of the track. Therefore, this rowing machine can accommodate users with an inseam of up to 43.3″ (109 cm). Consequently, it can provide a complete leg extension for users up to 6'6 ″ (198 cm).
The ECHANFIT magnetic rower isn't extremely heavy. The frame, fully set up, weighs approximately 55 lbs (25 kg). Thus, one person can carry and assemble the rower. Furthermore, its front base features transport wheels, which facilitate its relocation. Plus, its rear base bar comes equipped with adjustable stabilizers.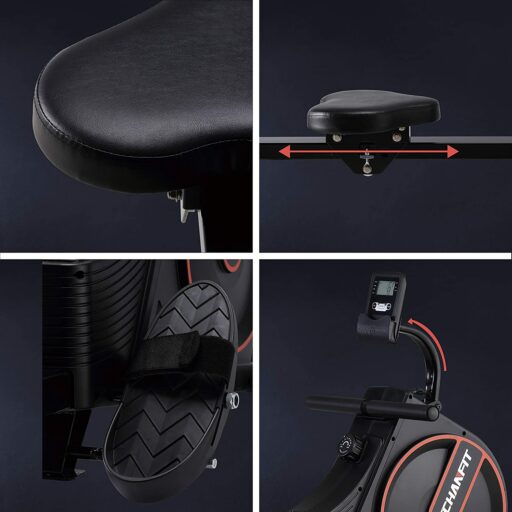 One last aspect to note here regards the rail angle. For the ECHANFIT rower, the rail slants forward by a few degrees. Therefore, the machine provides a slightly faster recovery motion and extra difficulty for the leg-push phase.
Seat and other parts
The ECHANFIT magnetic rowing machine has a reasonably large seat designed for optimal comfort. It integrates approx. 1.5″ (4 cm) of foam padding and upholstery is made of durable vinyl material.
The base of the seat is steel-made. It integrates three-roller sets; two slides on top of the rail while the third is underneath it for extra stability. The rollers integrate ball bearings for smooth motion. They have rubberized outer covers to minimize noise. The side of the metallic seat frame conceals the wheels to improve safety.
The seat and the rail have a maximum user weight capacity of 265 lbs (120 kg), which is not bad for a machine made for home use. Also, the seat's maximum height (when it's extended to the back) is approx. 10″ (25.4 cm), so entry and exit shouldn't be too difficult, even for users with specific disabilities or the elderly.
This rower comes equipped with two large, non-adjustable footrests, and they feature heel guards and adjustable straps for maximum foot stability. In addition, they will accommodate athletic shoes of all sizes.
The footrests have a pivoting design, which means they can swivel on their axis, so you can slightly change your feet' angle during each stroke. Nonetheless, they have rear stoppers, so they can't swivel backward over a higher pitch than approx—50 °.
The rower's pulling handle consists of a short straight bar attached to a heavy-duty abrasion-resistant nylon strap. Thus, the unit's drive system doesn't require any lubrication. Unfortunately, the pulling handle doesn't have pulse sensors like some of the most expensive rowers, and the included monitor does not have a pulse reading function.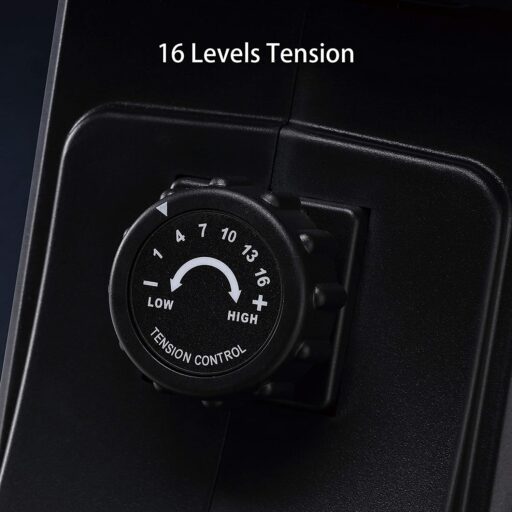 ECHANFIT Resistance system
This ECHANFIT rowing machine features a magnetic resistance system with manual action. Therefore, you don't have to connect it to a power source. Unfortunately, this also means the fitness monitor does not adjust the resistance and does not have preset workout programs.
The unit's resistance system is up to a point similar to an upright magnetic bike's tension system. It consists of a magnetic brake connected to the tension dial on top of the machine's front unit through a steel cable. When turning the knob clockwise, the brake moves closer to the flywheel, increasing the resistance.
As opposed to other rowers in this price and feature range, the ECHANFIT rower offers 16 levels of resistance (rather than only 8). Furthermore, this allows micro-adjustments to provide better possibilities for finding the right workout load.
The exact weight of the internal flywheel is not specified. However, given the machine's weight, it probably doesn't weigh more than 20 lbs (9 kg). It is a balanced flywheel with more weight in its perimeter, which leads to extra inertia.
The internal transmission uses a poly-v belt. This drive will reduce vibration and eliminate the need for periodic lubrication.
It's important to note that since this is a magnetic rower without any water or air resistance elements, it does not provide a dynamic response during rowing. For example, the resistance does not depend on how hard you pull the handle; it only depends on the selected tension level.
Moreover, this shouldn't be inconvenient, as the machine still provides a consistent, full-body cardio workout. However, a professional rowing athlete may need a dynamic response to benefit from a more natural rowing feel.
Fitness monitor
The fitness monitor included with this ECHANFIT magnetic rower has no preset workout programs and cannot adjust the unit's resistance automatically. However, it also doesn't require an external power source, as it is battery-powered.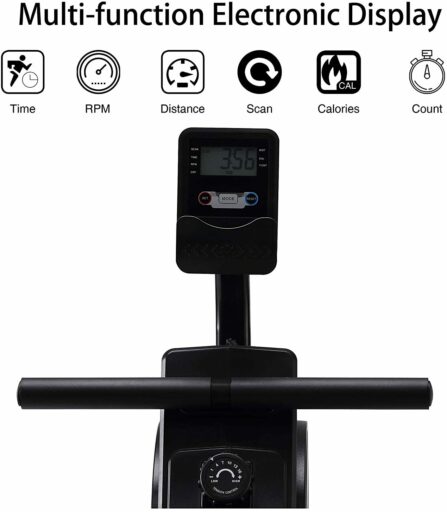 The fitness monitor features a large LCD (without LED backlight), tracking time, distance, RPM, count, and calories burned. Unfortunately, it does not integrate an HR receiver and cannot read your pulse from a wireless HR chest strap transmitter. Thus, if you need to keep track of your pulse during rowing, you must use a separate device.
The monitor features three buttons. The Mode button allows you to scroll through the workout metrics and select the one you want to view, or you can choose the Scan Mode, and in this case, the parameters will rotate; each one displays for several seconds.
The Set button allows you to set up a workout goal for time, count, or burn calories. When a goal is selected, the monitor will countdown from the chosen goal to zero, notifying you when you have completed your goal. And finally, the Reset button clears all the values on the monitor to zero.
Unfortunately, the monitor does not have online connectivity, a sound system, or a USB port. However, it does integrate a tablet holder. Also, its mount is foldable to provide better storage possibilities if needed.
ECHANFIT Assembly and Maintenance
The front unit with the drive and resistance elements of the machine comes pre-assembled. The rest of the parts require user assembly. Therefore, you will have to attach the seat to the rail, connect the seat to the front unit, and add the two base bars, the footrests, and the fitness monitor.
Consequently, this shouldn't take more than an hour of your time. All the necessary assembly instructions are in the manual. Tools for assembly also come with the rower.
It is advisable to keep the machine's rail clean to prevent damage to the seat rollers for maintenance. Other than this, you only have to check for loose bolts from time to time and keep liquids away from the exercise meter unit.
Pros
Sturdy frame for a home-use machine – can hold users up to 265 lbs;
Folding frame and aesthetic design;
Transport wheels on the front base;
Adjustable stabilizers on the rear base;
Large, padded seat for improved comfort;
Relatively long rail – can accommodate users up to 6'6″;
Pivoting footrests with adjustable straps;
Quiet magnetic resistance with 16 distinct levels;
Fitness monitor included – it tracks time, distance, count, RPM, and calories burned;
Goal settings for time, count, and calories;
Tablet holder included;
Easy to assemble;
Little maintenance is required.
Cons
The fitness monitor LCD does not have a backlight;
A tablet placed on the tablet holder will cover the fitness monitor LCD;
The fitness monitor does not have a pulse reading function.
ECHANFIT Magnetic Rower Summary
The ECHANFIT magnetic rower offers 16 levels of resistance, a large comfortable seat, and a folding frame. It has a reasonably decent construction with a weight capacity of 265 lbs, and it also includes a fitness monitor with goal-setting functions for time, count, and calories.
It's an excellent home-based machine, allowing you to perform a full-body cardio workout and recovery training, improve your stamina, tone muscles, and lose weight. It's also a pretty affordable trainer for less than $325.
I hope you found this article helpful and informative. Would you please speak up if you have anything you'd like to share or any opinions about my website? I look forward to your comments, questions, and the sharing of ideas.
Please remember that you should consult your physician to determine if you have any medical or physical conditions that could risk your health and safety or prevent you from using the equipment properly. In addition, your physician's advice is essential if you are taking medication that affects your heart rate, blood pressure, or cholesterol level.