The Sunny Evo-Fit Recumbent Bike SF-RB4954 features a robust frame, offering a comfortable and quality workout experience at a reasonable price. The construction of the Sunny SF-RB4954 features an anti-corrosion-painted heavy-duty steel frame. It has an appealing outlook and sturdiness that supports a maximum user weight capacity of 300 lbs (136 kg).
The Sunny SF-RB4954 features a frictionless electromagnetic resistance system with 24 adjustable levels. The resistance adjustment is via the fitness monitor; thus, the bike needs an electricity connection. In addition, the Evo-Fit Recumbent Bike comes equipped with a belt drive system. Therefore, its operation is smooth and quiet and requires no lubrication or adjustment.
The Sunny Evo-Fit Recumbent Bike SF-RB4954  has an advanced fitness monitor with a couple of exciting features: a backlit LCD, 12 pre-installed workout programs, a Recovery Function, and goal settings for Time, Calories, Distance, Heart rate, and more. In addition, the monitor tracks time, distance, speed, calories, pulse, RPM, and watts.
The 2-way adjustable seat with a backrest is large, contoured, and cushioned for a comfortable workout experience. It adjusts horizontally (forward & backward). Its height increases or decreases when it changes back or forward because the seat is attached to a slanted steel rail. Thus, users with inseams of 26″ min-34''maximum will get a full leg extension.
Learn more in my complete review below!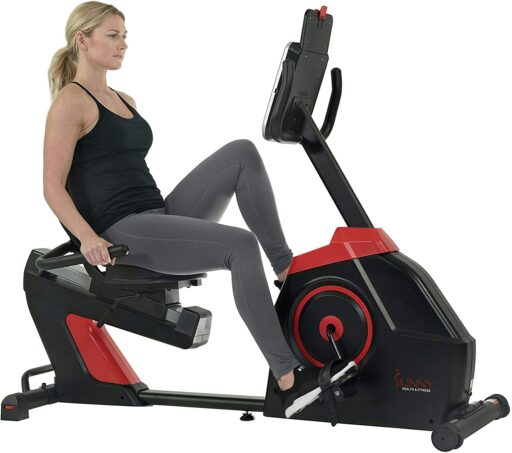 Product: Sunny Evo-Fit Recumbent Bike SF-RB4954
Price: For a great deal on this bike, merely go here to Sunny Health & Fitness.com
Warranty: Frame 3 years / Parts 180 days
My rating: is 8/10
Affiliate Disclosure: As a Sunny Health & Fitness Affiliate Program participant, I earn commissions on purchases made through links in this post. Full disclosure
Details and Specifications
Assembled dimensions: 62.6L x 25W x 49.2H inches (159L x 63.5W x 125H cm)
Assembled weight: 100 lbs (45.3 kg)
Weight capacity: 300 lbs (136 kg)
Seat: Adjustable
Pedals: Weighted, with straps
Resistance: Eddy current, 24 levels
Fitness Monitor programs: 1 manual, 12 preset, 1 watt, one personal, 4 HRC, Recovery
Extras: Sound system, Bluetooth, USB charging port, cooling fan, bottle holder, tablet holder
Warranty: Frame 3 years / Parts 180 days
SF-RB4954 Frame Construction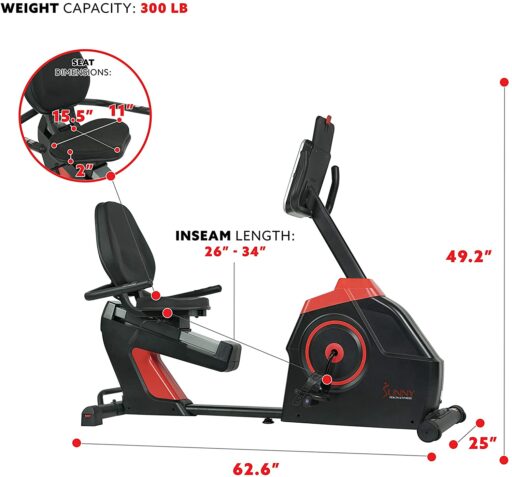 The Sunny SF-RB4954 Evo-Fit Cardio features a heavy-duty steel frame rated for a user weight capacity of 300 lbs (136 kg), which is not bad for a home-use exercise bike.
Of course, the bike integrates several ABS plastic parts in its construction, but these shouldn't influence its overall sturdiness as their role is only protective or cosmetic. Some of the most notable ABS parts are the seat base covers, the flywheel covers, and the monitor's casing.
The bike is relatively large compared to a spin bike or an upright bike. With the frame fully set up, it is approx 62.6″ (159 cm) long and 25″ (63.5 cm) wide. Leaving at least two feet of clearance all around it is advisable to ease access. Therefore, it may not be the best exercise bike in a small room or apartment.
It's important to mention that the bike has a step-through design, and the gap between the seat and the bike's front unit is relatively large. Therefore, it offers easy entry and exit, which can be quite a plus for users with specific disabilities or the elderly.
The bike is relatively heavy; its net weight is approx 100 lbs (45.3 kg). However, this weight and its relatively large footprint deliver excellent stability. Plus, its rear base comes equipped with adjustable levelers.
The bike can easily be moved and handled once assembled in terms of relocation. Its front base bar has small wheels, while the rear base integrates a lifting handle. Therefore, you won't be holding more than 30% of the bike's total weight by using the handle and the wheels to relocate the bike.
Finally, all the steel parts in the bike's construction are powder coated with durable enamel and highly resistant to corrosion. The color used is black, the only color available for this bike. The only exception is the seat rail, which has a gray finish.
Seat and handlebars
The Evo-Fit Cardio recumbent bike comes with a seat designed for extra comfort. Both its seat and backrest pads feature a thick layer of foam cushioning. In addition, they also have contours for improved ergonomics, while the backrest has a firm backbone for improved lumbar support. Furthermore, both seat and backrest pads have durable vinyl upholstery.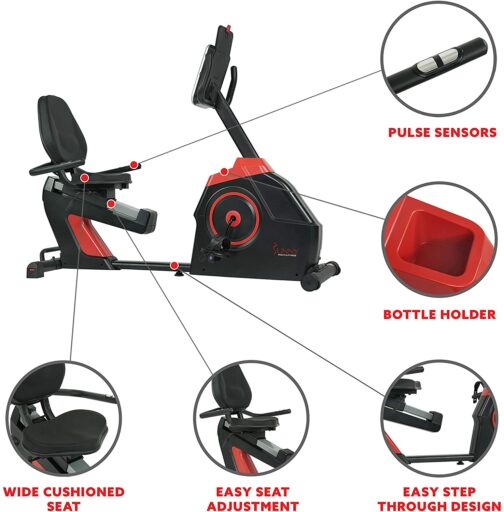 The seat is two-way adjustable (forward, backward). However, its sliding rail is oblique to provide better positioning and leg extension for users of all heights. In addition, its rail offers plenty of adjustment length so that the bike can accommodate users up to 6'5 ″ (196 cm) with no problem.
It's important to note that the backrest is directly attached to the seat frame. Therefore, it does not have a reclining mechanism and cannot be adjusted up or down independently from the seat's rest.
The Sunny SF-RB4954 has two sets of handlebars. One attaches directly to the seat frame, the other to the front mast. The seat handlebars integrate pulse sensors, and the fitness monitor has a pulse reading function.
The front handlebars have a multi-grip design, but they do not have any sensors. Both handlebars have rubber foam grips for extra comfort, and neither is adjustable.
SF-RB4954 Resistance system
The Sunny SF-RB4954 Evo-Fit Cardio recumbent bike features an eddy current resistance system. Thus, it requires an external power source. An adapter (9V, 2.5A) comes included with the bike. It also means that its monitor can adjust the resistance automatically.
The bike's resistance system consists of two main elements, a servo motor and a magnetic brake. The resistance is adjustable from the fitness monitor, or when a program automatically adjusts the resistance, the servo motor changes the position of the magnetic brake to the flywheel, which adds or reduces resistance.
This Sunny exercise bike offers 24 levels of resistance. The 1-3 difficulty levels offer light resistance, great for recovery training or a light warm-up, and the 4-6 levels are for advanced aerobic exercise and burning calories. The 7-10 levels are great for toning leg muscles and improving strength and stamina.
And finally, the 20-24 levels allow you to achieve a higher calorie burn and an increased cardiovascular rate in a shorter time.
Drive system
Despite its heavy construction (100 lbs / 45.3 kg), the Sunny SF-RB4954 does not have a weighty internal flywheel. As a result, it only weighs 7.7 lbs (3.5 kg). However, it is perimeter-weighted, so it provides a bit of extra momentum. The eddy current brake adds considerable pedaling difficulty, especially if one of the top levels is selected. It also allows reverse pedaling.
The bike comes equipped with a durable, 3-piece crankset. Its arms are slightly longer than other recumbent or upright bikes, offering a somewhat ampler pedaling motion. In addition, the pedals have counterweights to always self-level. They also come equipped with adjustable straps.
Last but not least, the bike comes with a belt drive system. It uses a poly-v belt, 430 J6 types. Unlike a chain drive, it comes with a few advantages. For example, you don't have to worry about its lubrication. It also delivers a smoother motion than a chain drive.
SF-RB4954 Fitness monitor
The Sunny SF-RB4954 Evo-Fit fitness monitor includes an impressive range of features. First, it has a multi-window LCD that tracks time, distance, speed, calories, pulse, RPM, and watts. In addition, it also indicates room temperature when in idle mode.
The speed and distance are in Imperial units (MPH and miles). In addition, you will have to hold the integrated pulse sensors; the monitor is not telemetric and cannot read your pulse from a wireless strap.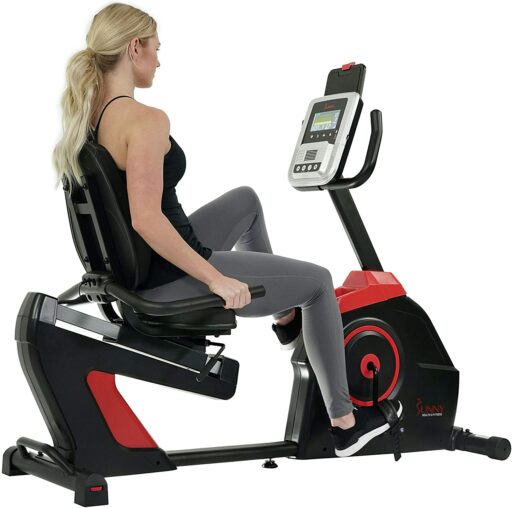 Unfortunately, this Sunny exercise bike doesn't have online connectivity. However, it has a fairly decent range of preset programs. First, it has a Manual program that allows you to exercise freely, adjusting the resistance you like during your workout.
During the Manual program, you can also set time, distance, calories, and pulse targets. In addition, the following 12 programs are preset. They have various segment layouts and allow you to perform different workouts.
The Fitness Mode allows you to exercise under a fixed time and resistance level. The Watt program adjusts the resistance depending on your speed, maintaining a specific constant watt output. Finally, the Personal program allows you to create your program profiles.
At the same time, the HRC programs adjust the resistance based on your pulse rate. There are 4 HRC programs set for 55%, 75%, 90%, and custom.
A Pulse Recovery function is also available. It counts your pulse at the end of your workout and, based on the result, gives you a fitness rating between F1 (perfect) and F6 (poor).
Amenities
The Sunny SF-RB4954 also has several non-fitness features. These are a USB port, Bluetooth connectivity, a sound system, a cooling fan, and a tablet holder.
The USB port only offers recharging possibilities for your phone or tablet. It doesn't allow workout data transfer.
The sound system consists of two speakers on each unit's side. The Bluetooth function is for the sound system. It allows you to sync your smartphone with your bike to play music through the integrated speakers.
The cooling fan is at the bottom center of the monitor. It is not super powerful but offers a bit of cooling during the most intense workouts. And finally, the tablet holder is placed at the top of the monitor and can accommodate any tablet.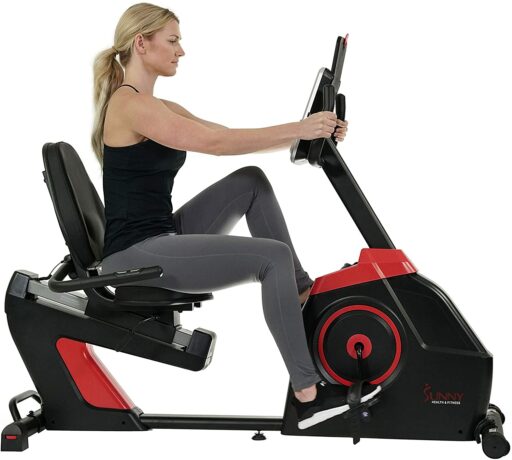 SF-RB4954 Assembly and Maintenance
The main body of the bike comes pre-assembled. Also, the drive and resistance parts are already attached to the mainframe. Therefore, you only need to connect the base bars, the seat, the backrest, the handlebars, the pedals, and the fitness monitor.
Therefore, it may take more than an hour of your time, but the task isn't too tricky. The manual provides clear assembly instructions and schematics, and all the necessary tools come with the bike.
Once assembled, you don't have to worry too much about maintenance. All you have to do is periodically check for loose parts and keep the unit clean.
Pros
Sturdy, steel frame – 300 lbs capacity;
Transport wheels on the front base;
Lifting handle on the rear base;
Adjustable stabilizers on the rear base;
Step-through frame design for easy access to the seat;
Seat handlebars with pulse sensors;
Cushioned and contoured seat pad and backrest;
Lever-based rail adjustment system for the seat;
Weighted pedals with adjustable straps;
Eddy current resistance system;
24 resistance levels available;
Mid-range fitness monitor with an LCD that can track time, distance, speed, RPM, Watts, calories, and pulse;
20 workout programs (12 preset);
Tablet holder included;
The sound system included;
USB charging port included;
Bluetooth connectivity for the speakers;
Cooling fan;
Reasonably easy to assemble;
Little maintenance is required;
Excellent warranty.
Cons
The calorie reading function is not too accurate;
The fitness monitor is not telemetric;
The fitness monitor does not have online connectivity;
There is no water bottle holder.
Sunny Evo-Fit SF-RB4954 Recumbent Bike Summary
The Sunny Evo-Fit SF-RB4954  is a heavy-duty recumbent bike made for home use. It features an eddy current resistance system, superior ergonomics, and a fitness monitor with 20 workout programs (12 preset).
It's a mid-range exercise bike, great for recovery training, light to medium-intensity cardio workouts, muscle toning, interval training, and weight loss. Overall, it's a pretty inclusive and durable bike, offering excellent value for the price.
I hope you found this article helpful and informative. Would you please speak up if you have anything you'd like to share or any opinions about my website? I look forward to your comments, questions, and the sharing of ideas.
Please remember that you should consult your physician to determine if you have any medical or physical conditions that could risk your health and safety or prevent you from using the equipment properly. In addition, your physician's advice is essential if you are taking medication that affects your heart rate, blood pressure, or cholesterol level.