The Efitment E006 Magnetic Elliptical provides a no-impact, smooth-flowing workout for your upper and lower body. It's perfect for a user who wants all the benefits from running but is safer on the knees and incorporates more upper-body movement.
The E006 comes equipped with eight levels of manual magnetic resistance so that you can switch up the intensity of your workout with the convenient tension knob. With a simple twist, you can change resistance so your training can remain challenging. In addition, a belt-driven flywheel ensures quiet, smooth, and maintenance-free movement.
The Efitment E006 Magnetic Elliptical makes tracking your progress simple with the fitness monitor! You can see your results to keep you motivated and on pace by displaying your time, speed, distance, calories burned, pulse rate, and scan.
The E006 features oversized textured non-slip footplates that will accommodate all sizes while featuring a ribbed surface to ensure safe footing during the most demanding vigorous workouts! With a 13-inch stride length, this unit is compact and ideal for small and tight spaces.
Learn more in my complete review below!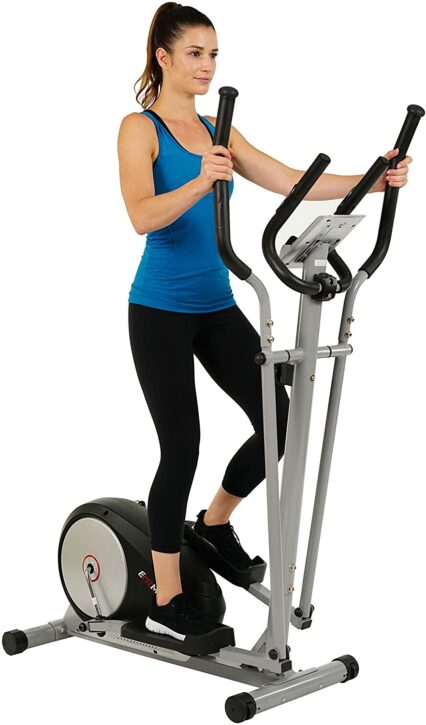 Product: Efitment E006 Magnetic Elliptical
Price: For a great deal on this elliptical, merely go here on Amazon
Warranty: 3 years
My rating: 7.5/10
Amazon Affiliate Disclosure: I may earn commissions on purchases made through links in this post. Full disclosure
Details and Specifications
Assembled dimensions: 50L x 24W x 62H inches (127L x 61W x 167H cm)
Assembled weight: 80.5 lbs (36.5 kg)
Supported weight: 220 lbs (100 kg)
Stride: 13 inches (33 cm)
Incline: No
Footplates: Standard, ribbed
Resistance: Manual magnetic, eight levels
Fitness Monitor: Time, distance, total distance, speed, calories, pulse, SCAN
Extras: Tablet holder
Warranty: 3 years
E006 Frame construction & parts
The Efitment E006 shares many similarities with the Efitment 005 regarding the resistance system, console, and others. However, it's a slightly larger elliptical. It's 50″ (127 cm) long and 24″ (61 cm) wide, while its highest point reaches approx. 62″ (167 cm) above floor level. It's also a bit heavier than the E005 model, weighing approx—80.5 lbs (36.5 kg).
This elliptical trainer doesn't have a folding frame. Instead, its front base comes with transport wheels, so relocating it once you have finished your workout shouldn't be a problem. The rear base features polygonal rotating caps, which serve as stabilizers.
The machine's steel tubing frame is quite solid for a light-duty elliptical. In addition, it comes with corrosion-resistant light gray paint.
The pedals are made of heavy-duty ABS material. Since it's a budget elliptical, they don't integrate adjustment systems or cushioning. However, they're large enough to accommodate athletic shoes of all sizes, and they feature a ribbed surface for extra adherence and front guards to prevent your feet from sliding forward.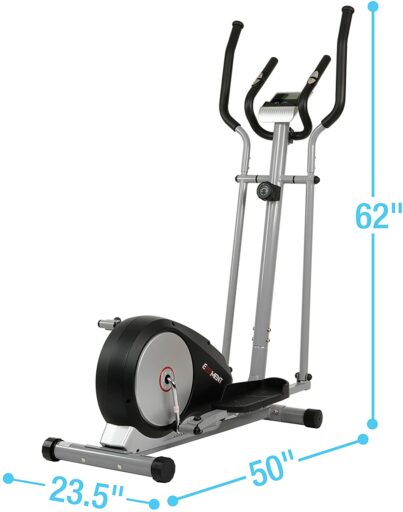 In addition, they attach to steel bars and steel crank arms, which are pretty solid; the machine has a maximum user weight capacity of up to 220 lbs (100 kg).
This Efitment elliptical trainer has two sets, a mobile one and a fixed one for handlebars. They're both equipped with long handles which offer multiple grips. In addition, their handles are rubber-coated to provide a better grip. The stationary handlebars integrate stainless steel HR pulse sensors so the monitor can read your pulse.
The joints between the moving arms and the monitor mast and the moving components, pedal bars, and crank components integrate heavy-duty ball bearings. Therefore, it provides a smooth motion and a long lifespan of these parts.
Elliptical path, stride, step-up height & Q-Factor
The Efitment E006 is a rear-drive machine; therefore, its elliptical path is slightly inclined forward. Thus, the pedaling feel resembles going down a soft ramp. Due to this, the workouts put a bit more focus on your quads.
Like most other elliptical trainers with similar construction, the Efitment E006 features a relatively short stride. Its length is 13″ (33 cm) that comfortably accommodates users up to 5'5″ (165 cm) tall. Taller users can still use the elliptical but may not benefit from a satisfying stride during their workout.
The step-up pedal height for this trainer is approx. 6″ (15 cm), while the highest point reaches a height of approx. 12″ (31 cm) above floor level. Therefore, it's advisable to use the machine in a room with a ceiling height of at least 15″ higher than the tallest user.
One last aspect to note is the unit's Q-Factor (the spacing between the pedals). For this machine, the Q-Factor is 12″ (30.5 mm). It isn't extensive, so your feet are positioned on the pedals naturally. This way, the pedaling motion doesn't generate lateral stress on the joints.
E006 Drive & resistance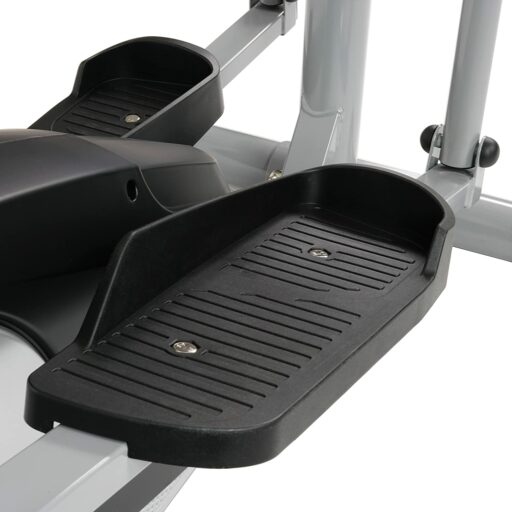 The main drive elements of an elliptical trainer are the flywheel, the transmission, and the crankset. The flywheel of the Efitment E006 isn't a large or heavy one. Its weight is not specified, but considering the total weight of the machine, it probably weighs between 8-12 lbs.
It's a balanced part designed to deliver a smooth motion. It's also bi-directional; thus, you can pedal reverse if you want to diversify your workouts.
Since it has a magnetic resistance system, it uses a poly-v belt for transmission. Therefore, the pedaling motion is almost entirely silent. In addition, you don't have to lubricate the belt (a chain drive requires periodic lubrication), and while pedaling, the belt generates virtually no vibration.
The unit's crankset features two durable steel crank arms. They support a maximum user weight of up to 220 lbs (100 kg).
The Efitment E006 uses a manual magnetic resistance system. It consists of a small magnetic brake attached to the dial on the monitor mast via a steel wire. When you turn the dial, the brake position with the flywheel changes, reducing or increasing resistance.
The resistance dial features eight levels. The first 1-3 resistance levels deliver light workouts, while the 8th resistance setting, although it doesn't provide extreme pedal tension, allows you to execute a more intense workout.
Since it's a manual resistance system, you can only adjust it from the tension dial. The fitness monitor plays no part in resistance adjustment. Also, the machine doesn't require a connection to a power source.
Fitness Monitor
The fitness monitor provided with the Efitment E006 offers a bit more than your average monitor. To begin with, it has a large and easy-to-read LCD. However, it doesn't have a backlight. It tracks time, distance, total distance, speed, calories, and pulse.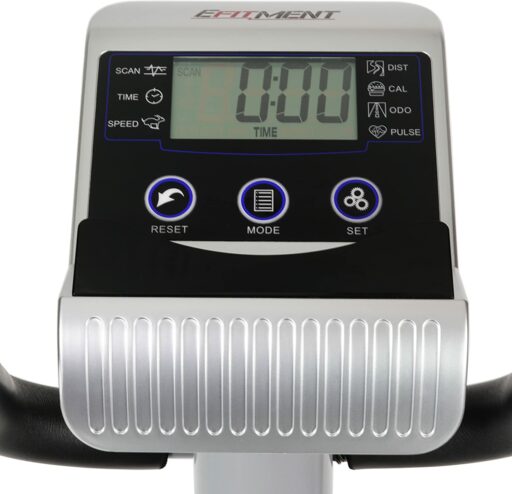 Unfortunately, the monitor is not telemetric; it can only track your pulse via the pulse sensors integrated into the handlebars. In addition, it is not telemetric; therefore, it doesn't work with Polar or other HR chest straps.
By default, the monitor's SCAN function is on. This function rotates all the above values, showing each for 4 seconds. You can toggle it off by pressing the MODE button. Also, by pressing the MODE button repeatedly, you can select any of the workout metrics to display all the time.
The monitor does not have any preset programs. However, it does have countdown functions for time, distance, calories, and pulse. You can use the SET button to set up a target value for any of these, and the monitor will countdown from that value until you reach zero. The RESET button covers the monitor's reset function; by pressing and holding this key, you can clear all the values to zero.
The battery-powered monitor requires AAA-type batteries, which come with the machine. It also has a sleep function to enter after 4 minutes of inactivity on the elliptical to save battery life.
One last aspect to note here regards the unit's integrated tablet holder. It consists of a reasonably large tray placed under the display and can accommodate just about any tablet.
E006 Assembly and Maintenance
The machine's base, with its resistance and drive elements, comes pre-assembled. Therefore, all you need to do is attach the base bars, the pedals, the console mast, the moving and fixed arms, and the fitness monitor. Consequently, this shouldn't take more than an hour of your time. Essential tools for assembly come with the machine, while the manual provides excellent instructions.
It is necessary to periodically check the machine's integrity and look for loose or broken parts to re-tighten or replace before using it. Also, the joints may require lubrication after a while.
Pros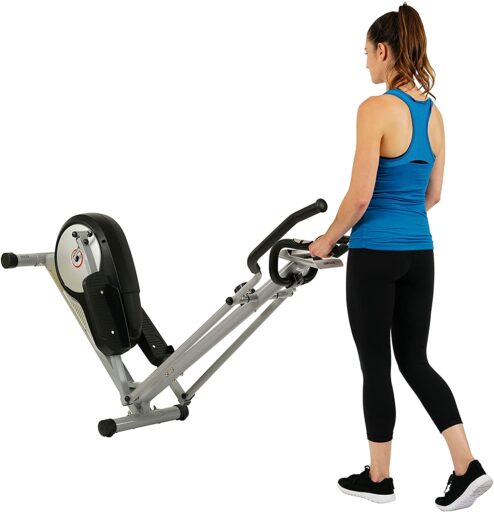 Solid construction for a light elliptical – can support users up to 220 lbs (100 kg);
Small footprint;
Adjustable stabilizers on the rear base;
Transport wheels on the front base;
Fixed and mobile handlebars;
EKG pulse sensors built-in the fixed handlebars.
Balanced flywheel providing a smooth and steady pedaling motion with a consistent momentum;
Extra-large, durable pedals;
Easy-to-use console unit;
Eight levels of magnetic resistance;
Fitness monitor included;
Countdown functions for time, distance, calories, and pulse;
Quiet operation;
Easy assembly;
Little maintenance is required.
Cons
The fitness monitor does not have an LED backlight;
A tablet placed on the tablet holder will cover the LCD and block access to the controls;
Not a machine for tall users – its stride is only 13″ (33 cm).
Efitment E006 Magnetic Elliptical Summary
The Efitment E006 is an entry-level elliptical trainer featuring a manual magnetic resistance system, belt drive, and fitness monitor that can track pulse, time, distance, speed, and calories. It's a fitness machine for light to medium-intensity cardio workouts, excellent for muscle toning, stamina gain, and weight loss.
It doesn't have a long stride (only 13″), but this can be a plus for users who require recovery training due to a joint injury, for example. And finally, it's one of the most affordable trainers, offering an excellent price/value ratio.
I hope you found this article helpful and informative. Please speak up if you have anything you'd like to share on the topic or opinions about my website.? I look forward to your comments, questions, and the sharing of ideas.
Please remember that you should consult your physician to determine if you have any medical or physical conditions that could risk your health and safety or prevent you from using the equipment properly. In addition, your physician's advice is essential if you are taking medication that affects your heart rate, blood pressure, or cholesterol level.