Even if you live in a New York-style apartment, you can still work out in the comfort of your home with the Exerpeutic 575 XLS Upright Bike. The bike features a 400 lb weight capacity, 21 preset workout programs, 16 levels magnetic tension control system, three-goal workout settings, a backlit LCD fitness monitor, etc. This Exerpeutic 575 XLS provides all the challenges you need to achieve your workout goals.
Above all, it includes a Bluetooth Smart Technology free app for tracking your workout results. Furthermore, with its space-saving folding design, the exceptional folding bike is perfect for limited-sized rooms and spaces. So get the results you want with Exerpeutic 575 XLS Bluetooth Smart Technology Folding Upright Exercise Bike, 400LBS, Black/Blue.
Learn more in my complete review below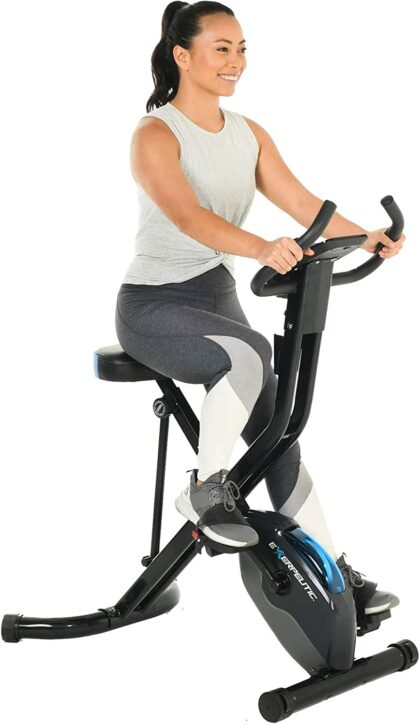 Product: Exerpeutic 575 XLS Folding Upright Bike 2020 Version
Price: For a great deal on this bike, merely go here on Amazon
Warranty: Frame 1 year / Part 90 days
My rating: is 9/10
Amazon Affiliate Disclosure: I may earn commissions on purchases made through links in this post.
Details and Specifications
Assembled dimensions: 39L x 24.4W x 48.4H inches (99L x 62W x 124H cm)
Assembled weight: 59 lbs (26.7 kg)
Supported weight: 400 lbs (181 kg)
Handlebar: Non-adjustable
Seat: Adjustable
Resistance: Eddy current, 16 levels
Fitness Monitor: 20 preset programs, one manual program, goal settings, Bluetooth
Extras: Device, accessory holder
Warranty: Frame 1 year / Part 90 days
575 XLS Frame Construction
The Exerpeutic 575 XLS folding upright bike features an X-type frame consisting of two main pieces. The main component consists of two parallel tubes and supports the handlebar and the console. The minor part hosts the seat post, the seat, and the drive mechanism.
The two pieces connect in the middle, and there's an extra support bar for the seat post at the rear, which considerably improves the bike's overall sturdiness. Other upright bikes with an X-type frame do not have this feature. The Exerpeutic bike has a maximum user weight capacity of 400 lbs (181 kg).
This bike features a black paint finish as opposed to the older Exerpeutic Gold 575 XLS model. The paint coating is double-layered and resistant to rust and abrasion.
The fully assembled bike doesn't take up too much space. However, it is 39″ (99 cm) long and 24.4″ (62 cm) wide. Therefore, it is advisable to leave at least two feet of clearance around it for easy access.
The bike's frame can fold up. The two main pieces can fold from their center axis, and with the frame folded, the bike's footprint reduces to 26.4″D x 24.4″W (67 x 62 cm). Thus, it can store in a closet.
The bike is not extremely heavy. With all the parts assembled, it weighs only 59 lbs (26.7 kg). Therefore, one person can build the bike with no problem. Its front base has wheels facilitating its relocation, while its rear stabilizer has polygonal levelers.
Seat and handlebars
The Exerpeutic 575 XLS features an extra-large saddle. Its top is not contoured but integrates approximately 2″ (5 cm) foam padding. Also, its cover is made from durable vinyl material. Thus, the bike provides fairly decent comfort.
The seat is two-way adjustable (up, down). It does not have a horizontal slider like other upright bikes for front-to-back adjustment. Nonetheless, since the seat post is oblique, the higher you set the seat, the farther it will be from the handlebars.
Therefore, the bike comfortably accommodates users between 5'1″ and 6'5″ (155 – 196 cm). Furthermore, as I've mentioned, it supports users up to 400 lbs (181 kg).
The handlebar has a multi-grip design. It offers the possibility to adopt a standard grip, a climbing grip, and a close grip. However, it is non-adjustable and attaches to the front section of the mainframe part via screws, so its angle is not adjustable.
A layer of high-density foam material fully covers the bike's handlebar for a more comfortable grip. In addition, the side grips integrate metallic HR pulse sensors, and the fitness monitor has a pulse reading function.
575 XLS Drive and resistance
The Exerpeutic 575 XLS comes equipped with an eddy current resistance system. Therefore, it requires a connection to a power source to adjust the resistance.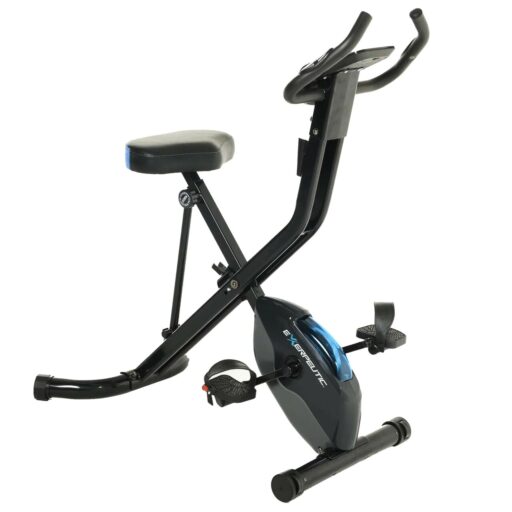 However, it also means that the fitness monitor can automatically adjust the resistance and has preset workout programs. The bike comes with a 110V power adapter.
The resistance system consists of a servo motor and a magnetic brake. As you adjust the monitor's resistance or the monitor automatically adjusts the resistance, the motor moves the brake closer or farther from the flywheel, which adds to or reduces the pedaling difficulty.
There are 16 levels of resistance available on the fitness monitor. The first few levels offer a lower training difficulty, which is excellent for anyone undergoing recovery training. On the other hand, the top 15-16 levels provide quite a bit of extra tension, which will help you achieve a higher cardiovascular rate in a shorter time, improve your stamina, and lose some weight.
Like most other magnetic resistance exercise bikes, the Exerpeutic 575 XLS features a belt drive system. It uses a poly-v belt resistant to stretching and abrasion. This type of drivetrain comes with several advantages. For example, as opposed to a chain drive, you don't have to lubricate it. It also generates less vibration than a chain.
The exact weight of the internal flywheel is not specified. However, since the bike is pretty light, it probably doesn't weigh more than 20 lbs (9 kg). It has a balanced structure for a smooth pedaling motion. It is also bi-directional; however, coasting is impossible on the bike.
Finally, the bike comes equipped with a durable crankset featuring crank arms similar to road bikes. The pedals are relatively large, with a textured surface and adjustable straps for improved foot stability. They are also weighted to self-level when you remove your feet from them.
Fitness monitor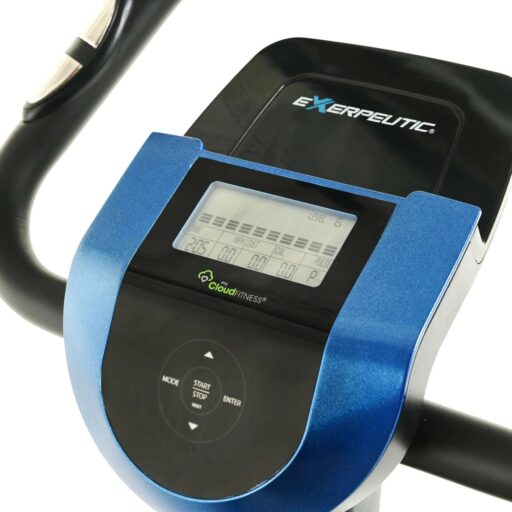 The Exerpeutic XLS 575 comes equipped with a mid-range fitness monitor. It features an LCD divided into multiple sub-sections to show as many workout metrics as possible. It indicates time, distance, total distance, speed, RPM, watts, calories, and pulse.
It's important to note that the monitor's pulse reading function only works through the integrated HR pulse sensors. Unfortunately, the monitor is not telemetric and cannot read your pulse from a fitness band or HR chest strap. Also, speed and distance can either be metric or English units.
The fitness monitor offers multiple workout programs. First, it has the Manual mode, which monitors your distance traveled, calories burned, etc., while you pedal. For this program, you can select time, distance, or calories burned goals.
The following 20 programs are preset. Each one has its specific segment layout. For example, some have an interval layout, and others are better for losing weight. In contrast, others have a peak layout, progressively increasing the resistance for the first part of the workout and decreasing it for the second part.
Two other notable monitor features are the user profiles and Bluetooth connectivity. There are two user profiles available so that users can save their program settings for quick access. In addition, the Bluetooth technology allows you to sync the monitor with your smartphone or tablet via the MyCloudFitness app (for iOS and Android) to track your progress online.
The bike's monitor does not have a sound system, cooling fan, or USB port. However, its top section is shaped like a small shelf so that you can place your smartphone or tablet on it to either use the MyCloudFitness app as you exercise or surf the web. Unfortunately, the monitor has no connection ports for your device (no AUX, no USB).
575 XLS Assembly and Maintenance
The bike's frame comes pre-assembled. The two main parts are pre-assembled in the middle. After that, you only have to add the two base stabilizers, the seat post, the saddle, the handlebars, the fitness monitor, and the pedals. Consequently, this shouldn't take more than 30-40 minutes of your time. The manual provides clear assembly instructions and schematics, and all the necessary tools come with the bike.
The unit's maintenance doesn't require much. All internal components are pre-lubricated, and since the bike has a belt drive system, it doesn't require lubrication. Thus, all you have to do for maintenance is wipe the dust from the frame, periodically check for loose bolts, and retighten as needed.
Pros
Sturdy construction – can support users up to 400 lbs;
Transport wheels included;
Adjustable levelers on the rear base;
Small footprint;
Foldable, great for a small apartment;
Large and padded seat;
Can accommodate users between 5'1″ and 6'5″;
Multi-grip handlebar with pulse sensors;
Heavy-duty crankset with weighted pedals
Smooth and quiet operation;
Eddy current resistance system – 16 levels of resistance;
Multi-window LCD fitness monitor with LED backlight;
21 preset programs;
Manual mode;
Goal settings for time, distance, and calories;
Two user settings;
Bluetooth connectivity – compatible with the MyCloudFitness app for iOS and Android;
Device holder included;
Accessory holders included;
Easy to assemble;
Little maintenance is required.
Cons
The calorie and pulse readings are not too accurate;
No bottle holder.
Exerpeutic 575 XLS Folding Upright Bike Summary
The Exerpeutic 575 XLS is an upright folding bike featuring a motorized magnetic resistance system with 16 difficulty levels, a large padded saddle, and a 21-program fitness monitor with Bluetooth connectivity. It also has an impressive weight capacity of 400 lbs (181 kg).
Moreover, it's an excellent trainer for light to medium cardio training, muscle toning, stamina development, and weight loss.
I hope you found this article helpful and informative. Please speak up if you have anything you'd like to share on the topic or opinions about my website.? I look forward to your comments, questions, and the sharing of ideas.
Please remember that you should consult your physician to determine if you have any medical or physical conditions that could risk your health and safety or prevent you from using the equipment properly. In addition, your physician's advice is essential if you are taking medication that affects your heart rate, blood pressure, or cholesterol level.