Get fit with Fitness Reality 5000X Water Rowing Machine with MyCloudFitness App. The FR 5000X has a vertical water tank which provides better resistance for each stroke than others in a flat position. In addition, you can adjust the six levels (1-6) to increase resistance and get a more challenging workout.
It also comes with a large 4.5″ LCD, six water resistance levels, 13 race options, five common workout goals, and a large cushioned seat that will keep you comfortable throughout your workout sessions. In addition, you can get a good console view angle with the pivoting console post.
The included free MyCloudFitness app allows you to set workout goals, track your workouts, etc. So follow along with Olympic rowers and get your personalized workout plan with the MyCloudFitness App. So train hard and get the Fitness Reality 5000X Water Rowing Machine results.
Learn more in my complete review below!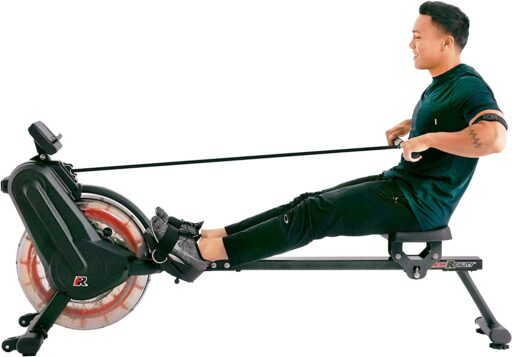 Product: Fitness Reality 5000X Water Rowing Machine
Price: For a great deal on this rower, merely go here to Amazon.com
Warranty: 1 year limited
My rating: is 9/10
Affiliate Disclosure: As an Amazon Affiliate Program participant, I earn commissions on purchases made through links in this post. Full disclosure
Details and Specifications
Assembled dimensions: 74.8L x 21.5W x 32.7H inches (190L x 55W x 83H cm)
Supported weight: 300 lbs (136 kg)
Assembled weight: 55 lbs (25 kg)
Frame: Steel
Footrests: Pivoting design
Resistance type: Water, six levels
Fitness Monitor: 3 HIIT programs, 5 Preset programs, 13-level Race program, Bluetooth
Extras: Device holder
Warranty: 1 year limited
5000X Frame Construction
The Fitness Reality 5000X water rowing machine is a fitness machine made for home use and features a reasonably light construction. Its net weight (without water in the resistance tank) is only ~55 lbs (25 kg), so one person can easily carry and assemble the rower.
Also, once completed, it can be handled and relocated easily; even if the tank has water filled to the highest level, its front base comes equipped with a set of transport wheels.
The machine features a steel tubing frame that combines oval and rectangular tubes in its construction. In addition, all the steel parts come with a rust-resistant and chip-resistant black paint finish.
The FR 5000X rower comes equipped with a horizontal rail. Therefore, the machine promotes a neutral position and rowing motion (other rowers have a slightly inclined rail and deliver a slightly better workout for the legs).
The rail is also reasonably high above the floor level, placing the seat at approximately 17″ (43 cm). Thus, it is quite a plus for users with specific disabilities as it leads to a more accessible and comfortable entry and exit.
The rower is not super large compared to other models. It is approx. 74.8″ (190 cm) long and 21.5″ (55 cm) wide, while its highest point reaches approx. 32.7″ (83 cm) above the floor. It is also advisable to allow at least two feet of clearance on each side of the machine and at the rear for easy access and correct usage.
The machine's rail does not fold. However, the whole machine can store vertically, resting on its front base stabilizer and the large bumper at the top of the drive system casing.
Seat and other parts
The Fitness Reality 5000X water rowing machine has a seat designed for optimal comfort. Its top section has padding and contours. Its dimensions are 12″W x 10″D (30.4 x 25.4 cm), so it provides plenty of contact surface.
The base of the seat is steel-made. The rail and the seat are reasonably sturdy and have a maximum user weight limit of 300 lbs (136 kg). Also, the machine's applicable user inseam is 39″ (99 cm), so it comfortably accommodates users up to 6'3″ (190 cm) with no problem.
The seat integrates three sets of wheels. Two slide on top of the rail while the third one slides underneath it, closing the seat on the rail. The wheels have internal bearings and a rubber layer outside for a smooth and quiet motion.
Unlike the FR 3000WR model, the FR 5000X has pivoting footrests. Therefore, they can slightly tilt on their axis to accommodate the angle of your feet better during each stroke. However, they don't tilt past an angle of approx. 45°.
The machine's footrests are a durable thermoplastic polymer. Their size is non-adjustable, but they're large enough to accommodate athletic footwear of all sizes. In addition, they have adjustable straps, as well as heel guards, for maximum foot stability.
The pulling handle is a simple, straight bar. It has rubber foam sleeves for an improved grip. It's attached to the machine's resistance system via a heavy-duty, braided nylon strap, highly resistant to stretching and abrasion. Unfortunately, it does not have any controls or pulse sensors.
5000X Resistance system
The Fitness Reality 5000X is a water-resistance rowing machine. It features a large polycarbonate tank with transparent walls. Its exact capacity is unknown, but it's probably similar to other water-resistance rowers (between 3.5 and 4.5 gallons).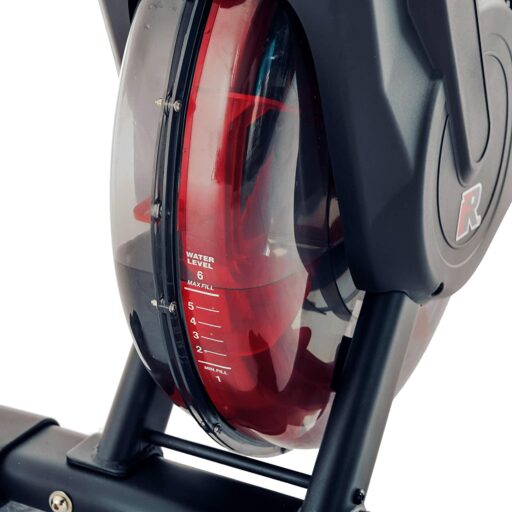 The main resistance element is a multi-blade impeller integrated into the tank and connected to the machine's drive system. Therefore, the impeller spins in the water inside the tank when you pull the handle, generating resistance.
The main advantage of this Fitness Reality rowing machine is that the water tank is vertical. Therefore, the impeller must push the water up when it spins and beat the gravity pulling it down. As a result, the impeller slows down between pulls, which results in a more consistent resistance.
Another advantage of the water-resistance system is that it provides a dynamic response during rowing. For example, the impeller will spin faster and produce more resistance if you pull the handle faster. Thus, it emulates, up to a point, the sensation of rowing a real boat through the water.
The water tank has a simple (single chamber) construction. It does not have any extra resistance adjustment features. There are six water levels marked on it, and to change the water level, you have to manually add or remove water from the tank. More water in the tank will provide more resistance. But the water level should not exceed the 6th level marked on the tank.
Fitness monitor
The Fitness Reality 5000X water rowing machine includes a reasonably decent fitness monitor. It features a 5.5″ diagonal LCD divided into several sub-sections to view multiple workout metrics.
It tracks time, distance, strokes, total strokes, strokes per minute, split time, drag force, and watts. You can also sync the water level with the monitor to provide more accurate data.
The monitor allows setting up workout goals for time, distance, and calories. After choosing a goal, it will countdown from the selected value until it reaches zero, always showing the remaining value from the desired goal.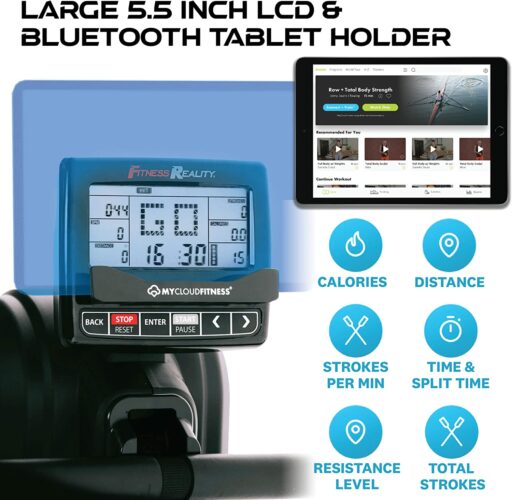 In terms of programs, the fitness monitor has 5 Standard Preset programs, 3 Customizable HIIT programs (interval-based programs), and a Race program with 13 difficulty levels.
Each program offers a specific type of workout; some focus on improved cardiovascular activity. Others aim to help you improve your stamina, while others are great to use if you want to burn calories quickly.
The fitness monitor also has Bluetooth connectivity and is compatible with the free MyCloudFitness app. Therefore, you can download this app on your smartphone (it's available for iOS and Android) and sync the monitor with your device to stream your workout data directly into the app and track your progress better.
Last but not least, the fitness monitor is battery-powered and requires two AA batteries. It also integrated a device holder to place your phone or tablet.
5000X Assembly and Maintenance
The machine's water tank unit comes pre-assembled. You only have to attach the front stabilizer and the rail, insert the seat on the rail and close the rail with the rear stabilizer. Therefore, it shouldn't take more than 30-40 minutes of your time. The manual provides step-by-step instructions with attached schematics. An essential toolkit for the task comes included.
For maintenance, the water inside the tank requires chlorine treatment to prevent the formation of algae, or you can change it periodically. In addition, you should clean the rail to avoid any damage to the seat wheels. It is also advisable to regularly check for loose bolts and parts and ensure that all the moving parts still function correctly.
Pros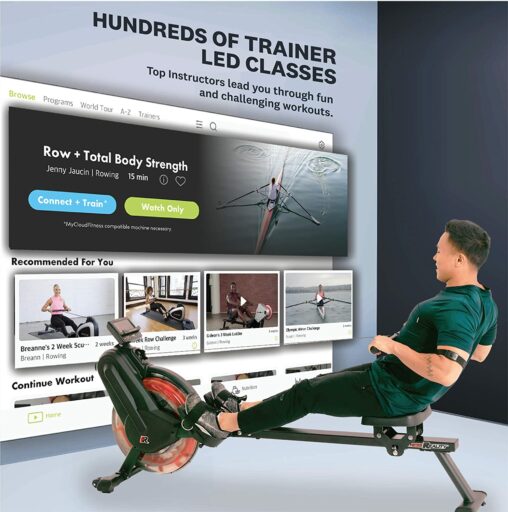 Sturdy steel frame – can support users up to 300 lbs;
It can store vertically;
Adjustable levelers on the rear base;
Transport wheels on the front base;
Large contoured seat for optimal comfort;
The seat's top is approx. 17″ above floor level for easy entry and exit;
Pivoting footrests with heel guards and adjustable straps;
Water-resistance system which provides a dynamic response during rowing and a natural feel;
Vertical water tank for extra resistance;
Fitness monitor included – it tracks time, distance, strokes per minute, total strokes, split time, calories, and watts;
3 HIIT programs;
5 Preset programs;
Goal settings;
1 Race program with 13 levels of difficulty;
Bluetooth connectivity and compatibility with the free MyCloudFitness app;
Device holder included;
Smooth and quiet operation;
Tools for assembly included;
Little maintenance is required.
Easy to assemble.
Cons
There is no pulse reading function;
A phone placed on the device holder will partially cover the fitness monitor LCD;
The fitness monitor LCD doesn't have a backlight.
Fitness Reality 5000X Water Rowing Machine Summary
The Fitness Reality 5000X is a water-resistance rower made for home use. It features a vertical water tank for extra resistance, a durable rail with a maximum weight limit of 300 lbs, and a fitness monitor with multiple workout programs.
In addition, the fitness monitor also has Bluetooth connectivity and is compatible with the MyCloudFitness app. Moreover, it's a reasonably decent rower, one of the most affordable models with water resistance and online connectivity, a machine great for a full-body cardio workout.
I hope you found this article helpful and informative. Would you please speak up if you have anything you'd like to share on the topic or any opinions about my website? I look forward to your comments, questions, and the sharing of ideas.
Please note that you should consult your physician to determine if you have any medical or physical conditions that could risk your health and safety or prevent you from using the equipment properly. In addition, your physician's advice is essential if you are taking medication that affects your heart rate, blood pressure, or cholesterol level.