The Fitness Reality 3000WR Water Rower is an excellent rower with a maximum user weight capacity of up to 300 lbs. The rower's design has a solid steel frame, which makes it very stable on those higher resistance levels. One should keep in mind that this is designed as a compact rower to suit smaller spaces. So, it may not be ideal for users over six feet tall.
The FR 3000WR rowing machine comes with a water resistance system. You can add or remove water to increase/ decrease the intensity of your workout. Water-resistance levels (1-6) are adjustable with the included water pump and funnel. The angled water tank slows down water faster between pulls, which provides better resistance for each stroke.
The 3000WR also comes with a large 4.5" LCD that tracks time, distance, strokes, total strokes, strokes per minute, split time, drag force, and watts. The console has 5 Standard Preset programs, 3 Customizable HIIT programs (interval-based programs), and a Race program with 13 difficulty levels in terms of programs.
With the included free MyCloudFitness app, you can set workout goals, track your workouts, and more. So train hard and get the results you want with the FITNESS REALITY 3000WR Bluetooth Water Rower.
Learn more in my complete review below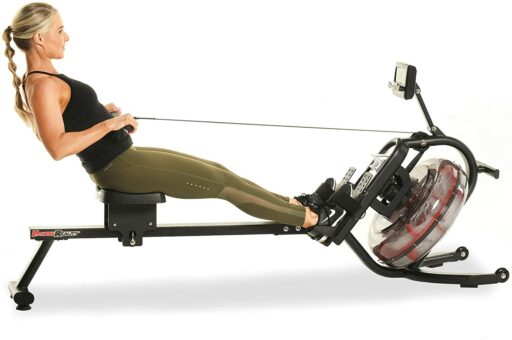 Product: Fitness Reality 3000WR Water Rower
Price: For a great deal on this rower, merely go here on Amazon
Warranty: 3 years limited
My rating: 8.25/10
Amazon Affiliate Disclosure: I may earn commissions on purchases made through links in this post.
Details and Specifications
Assembled dimensions: 77.3L x 20W x 34H inches (196L x 51W x 86H cm)
Supported weight: 300 lbs (136 kg)
Assembled weight: 71.9 lbs (32.6 kg)
Frame: Steel
Footrests: Adjustable, non-pivoting
Resistance type: Water, six levels
Fitness console: 3 HIIT programs, 5 Preset programs, 13-level Race program, Bluetooth
Extras: Phone holder
Warranty: 3 years limited
3000WR Frame construction
The Fitness Reality 3000WR features an all-steel frame. The only major component in its construction that it's not steel-made is the water tank.
All the steel parts in the rower's construction come coated with a rust-resistant and abrasion-resistant paint finish. The color used is black, this being the only color available for this particular model (at least for now).
Compared to other rowers, such as the Concept2 Model D, the Fitness Reality 3000WR is smaller. However, it still measures approximately 77″ (196 cm) in length and 20″ (51 cm) in width. Plus, it is advisable to leave at least 24″ (61 cm) on each side and at its rear for safe usage and ease of access. Thus, the machine may not fit too well in a small room.
On the other hand, this Fitness Reality rower can store vertically. Its front frame section comes equipped with an extra stabilizing bar and two wheels for a smooth relocation. When stored vertically, its footprint becomes 29″L x 20″W (73.6 x 51 cm, while its height becomes 77.3″ (196 cm). IF you're wondering, the water can remain inside the tank when the unit is stored vertically.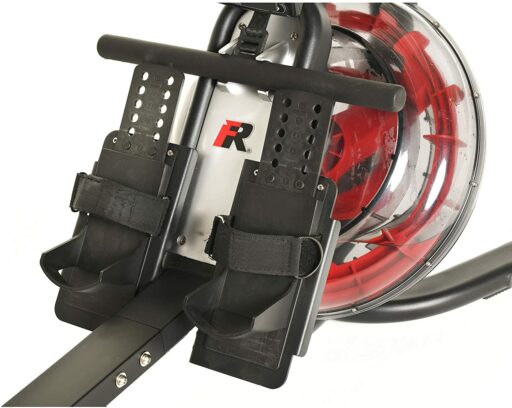 The unit's sliding rail measures approx. 39″ (99 cm). Therefore, the rower can accommodate users up to 6'6 ″ (198 cm), allowing a complete leg extension. The rail and seat assembly are also durable enough to support users up to 300 lbs (136 kg).
One last aspect to mention here is that the machine's rail is slightly inclined forward; it is approx. 1″ lower at the front than at the rear. This leads to a faster recovery motion and a somewhat superior workout for the legs.
Seat and other parts
The Fitness Reality 3000WR rower comes equipped with a seat designed for optimal comfort. Its top has a thick layer of polyurethane material, so it's not completely hard but pretty firm. Also, its surface is contoured for better positioning. Its dimensions are 12″W X 10″D (30.4 x 25.4 cm), so it provides plenty of contact surface.
The seat base is steel-made, so, along with the rail, it should support users up to 300 lbs (136 kg) with no problem. It integrates three sets of wheels, two that slide above the rail and one under it for improved stability. All the wheels are equipped with sealed ball bearings for a smooth motion while their outer layer is rubberized to reduce noise.
The machine's rail is slightly inclined forward. Therefore, when the seat extends to the rear of the railway, its top reaches approx. 17.3″ (~44 cm) above floor level). This is a pretty decent height and shouldn't pose any positioning difficulties for users with specific disabilities.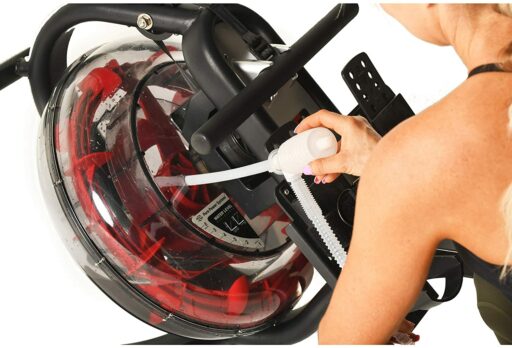 The unit's footrests are similar to the ones on most other machines. They combine steel and ABS parts in their construction. They are adjustable and should accommodate athletic footwear of all sizes, and they feature heel guards and adjustable straps for improved foot stability.
The footrests do not pivot on their axis. Their steel base plates have a fixed angle of approximately 45°-50°. Thus, they provide optimal foot positioning and a firm push during workouts.
The machine's pulling handle consists of a 19″ (48.2 cm) straight bar attached to a heavy-duty abrasion-resistant nylon strap. This means the unit's drive system doesn't require any lubrication. The pulling handle doesn't integrate any pulse sensors, and the included console does not have a pulse reading function.
3000WR Resistance system
The Fitness Reality 3000WR is a water resistance rower. It comes equipped with a heavy-duty polycarbonate water tank that integrates a multi-blade impeller. This impeller is the main resistance generator. It spins inside the water as you pull the handle and increases the workout load.
One of the water-resistance rower's essential traits is the dynamic response they provide during each stroke. In other words, the faster you pull the handle, the more resistance you will get.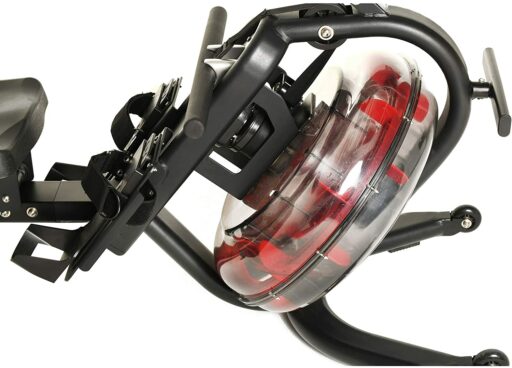 This resembles the feeling of rowing a real boat through the water and can be quite a plus, especially for users who want to train on a professional level.
This rower doesn't have a mechanical resistance adjustment knob on the water tank as most First Degree Fitness rowers, such as the Apollo Pro II, for example. However, you can still adjust the overall water resistance by adding or removing water from the tank.
There are six levels marked on the container. If you want to benefit from the maximum resistance possible, you should fill it up to the 6th level. A funnel and pump kit for this task are included with the machine.
Like other water resistance rowers, the Fitness Reality 3000WR doesn't generate too much noise during usage. It won't cover the sound of your TV set on one of the lowest sound settings as a general idea. It's not as loud as most air resistance rowers. But you can hear a soft "whoosh" sound during each stroke.
Console
The Fitness Reality 3000WR comes with a reasonably decent console. Not only that, it tracks the most crucial workout metrics; it also has several built-in programs and offers Bluetooth connectivity.
The console unit features a 4.5″ diagonal display divided into seven sub-sections so you can view multiple workout metrics at once. It tracks time, distance, strokes, total strokes, strokes per minute, split time, drag force, and watts. It does not have a pulse reading function, though.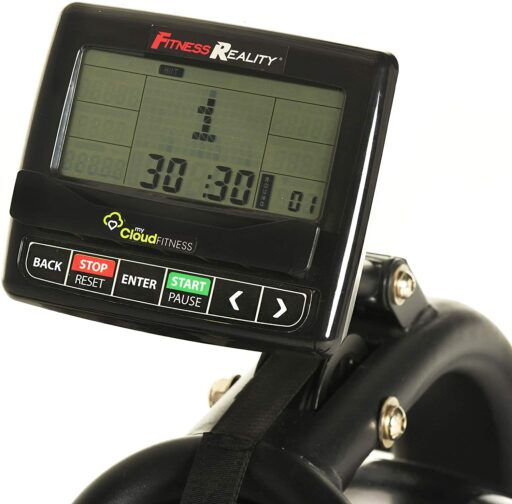 The console's time, distance, and calories offer the possibility to set up a workout goal. If a goal is selected, it will countdown from the specified value until it reaches zero, always showing the chosen target's remaining value.
The console has 5 Standard Preset programs, 3 Customizable HIIT programs (interval-based programs), and a Race program with 13 difficulty levels in terms of programs.
Each program offers a specific type of workout; some focus on an improved cardiovascular activity; others aim to help you improve your stamina, while others are great to use if you want to cut down some quickly.
The console also has Bluetooth connectivity and is compatible with the free MyCloudFitness app. Therefore, you can download this app on your smartphone (it's available for iOS and Android) and sync the console with your device to stream your workout data directly into the app and keep a better track of your progress.
Two other notable console features are the adjustable arm and the phone holder. The component is pretty long and allows angle adjustment. You can also tilt the console unit, so you can always view your workout data. The device holder consists of a small shelf right above the unit's controls. A smartphone placed on it will cover the display, though.
3000WR Assembly and Maintenance
The machine's front section with the water tank and all the drive and resistance elements comes pre-assembled. So, in terms of assembly, you only have to attach the front base stabilizer, connect the rail to the front unit, insert the seat on the track, close the rail with the rear base stabilizer, and attach the console.
This shouldn't take more than 20-30 minutes. The manual provides clear assembly instructions and schematics. Also, a set of essential tools comes included with the rower.
For maintenance, the water inside the tank requires chlorine treatment to prevent the formation of algae. However, you can also change it from time to time.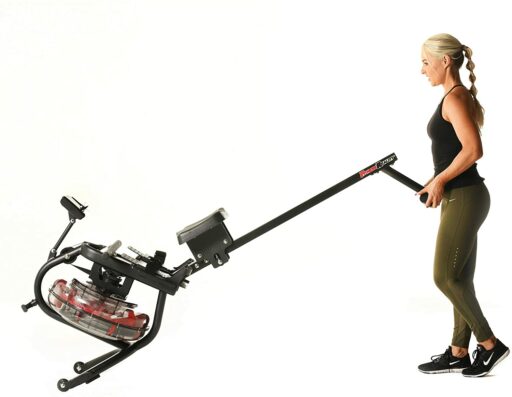 The rail needs cleaning to prevent any damage to the seat wheels. It is also advisable to periodically inspect the machine for loose bolts and parts and re-tighten them to avoid any damage to the unit or any accidents.
Pros
Sturdy steel frame – can support users up to 300 lbs;
Can be stored vertically, and the water doesn't require removal for storage;
Adjustable stabilizers on the rear base;
Transport wheels on the front base;
Durable, contoured seat;
The seat's top is at approx. 16″ above floor level for easy entry and exit;
Adjustable footrests with heel guards and straps;
Water-resistance system which provides a dynamic response during rowing and natural feel;
Inclined water tank for extra resistance;
LCD console which shows time, distance, strokes per minute, total strokes, split time, calories, and watts;
3 HII programs;
5 Preset programs;
1 Race program with 13 levels of difficulty;
Bluetooth connectivity and compatibility with the free MyCloudFitness app;
Angle-adjustable arm for the console;
Phone holder included;
Smooth and quiet operation;
Tools for assembly come included;
Little maintenance is required.
Easy to assemble.
Cons
No pulse reading function;
A phone placed on the holder will cover the LCD;
The LCD doesn't have a backlight.
Fitness Reality 3000WR Water Rower Summary
The Fitness Reality 3000WR is a mid-range water resistance rower made for home use. It features a sturdy frame with a weight limit of 300 lbs, adjustable footrests, and a console with multiple workout programs. It also excels in ergonomics and can be stored vertically. It's a reasonably decent fluid resistance rower, great for a full-body cardio workout, a great alternative to any commercial-grade model.
I hope you found this article helpful and informative. If you have anything you'd like to share or any opinions about my website, please speak up. I look forward to your comments, questions, and the sharing of ideas.