If you want a seamless cardio workout and professional gym results at home, then the Fitness Reality 710ST Elliptical is an excellent option at a reasonable price. This machine is powerful and versatile enough to provide users with a low-impact, full-body workout. The 710ST is suitable for all types of elliptical workouts, from beginner to high-intensity training.
The 710ST is a premium elliptical trainer featuring a "Turbo Momentum Drive," which helps with a smoother, quieter, and more high-performance operation. The flywheel weighs 44 pounds, about three times heavier than average elliptical flywheels. The belt drive also requires less maintenance.
The Fitness Reality 710ST Elliptical has a very sleek digital fitness console made from acrylic. It is a touch screen digital display that tracks time, distance, total distance, speed, RPM, calories, watts, pulse, and workout goals. The console is not telemetric. It can only read your pulse if you hold on to the sensors integrated into the machine's fixed handlebar.
The 710ST fitness console is also Bluetooth compatible, and you can sync it with your smartphone or tablet via the MyCloudFitness app. The app is free, available for both iOS and Android. There are also 24 pre-set workout programs to give you even more variation.
Learn more in my complete review below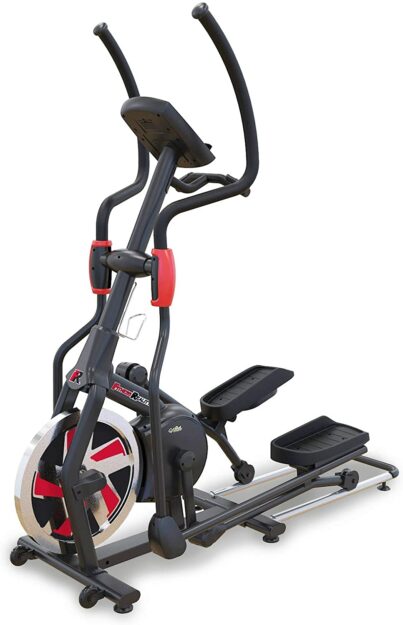 Product: Fitness Reality 710ST Elliptical
Price: For a great deal on this elliptical, merely go here on Amazon
Warranty: Frame 10 years / Parts 3 years / Electronics 2 years / Wear parts 2 years
My rating: 9.25/10
Amazon Affiliate Disclosure: I may earn commissions on purchases made through links in this post.
Details and Specifications
Assembled dimensions: 66.5L x 24.6W x 68.3H inches (169L x 62W x 173H cm)
Shipping weight: 154 lbs (69.8 kg)
Flywheel weight: 44 lbs (20 kg)
Stride length: 20 inches (51 cm)
Weight capacity: 300 lbs (136 kg)
Incline: No
Resistance system: Motorized magnetic, 24 levels
Console: 24 pre-set programs, three workout goals, recovery, Bluetooth, MyCloudFitness compatible
Extras: Device holder, bottle holder
Warranty: Frame 10 years / Parts 3 years / Electronics 2 years / Wear parts 2 years
710ST Frame construction
The Fitness Reality 710ST elliptical trainer combines steel, aluminum, and thermoplastic parts in its construction. Most of the machine's frame is cylindrical, rectangular, and oval steel tubes for improved sturdiness and aesthetics.
Simultaneously, the pedal rails are aluminum, and the covers of the drive and resistance elements and several other small covers are heavy-duty thermoplastic material.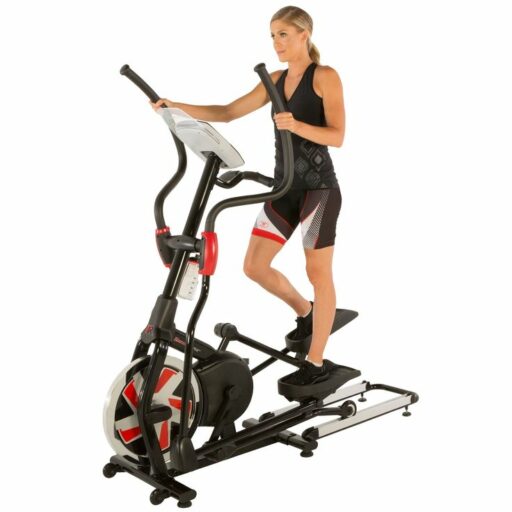 All the steel tubes in the machine's construction come double-coated with a corrosion-resistant and abrasion-resistant paint finish, black. The only exceptions are the flywheel, a chrome-plating finish, and the aluminum wheel tracks, which have their natural polish.
Like most elliptical machines with a front-drive system, the Fitness Reality 710ST is a reasonably large trainer. It is approx. 66.5″ (169 cm) long, and 24.6″ (62 cm) wide, while its moving arms reach approx. 68.3″ (173 cm) above floor level.
It is also advisable to leave at least two feet of clearance all around the machine for ease of access and safe usage. Therefore, it may not fit too well in a small room.
The unit is also pretty heavy. It comes in two boxes, one of 110 lbs (49.8 kg), the other of 43 lbs (19.5 kg). Therefore, two persons should carry boxed parts. However, once assembled, one person can move this elliptical. Its front base comes equipped with a set of large transport wheels.
Handlebars
This Fitness Reality elliptical trainer comes equipped with two sets of handlebars, one mobile, one fixed. The mobile handlebars feature extended grips and oval grips at the top. They are attached to the pedal bars featuring plastic covers for the joints for extra protection.
Since they connect to the pedals, they continue to move for as long as you pedal. They cannot lock to remain stationary.
The fixed handlebars attach directly to the front mast of the machine under the console. They are non-adjustable. They have short lateral grips, similar to the handlebars of a bike. Their grips integrate metallic pulse sensors, and the console can track your pulse. Both handlebar sets have their main grips covered by high-density foam sleeves for extra comfort.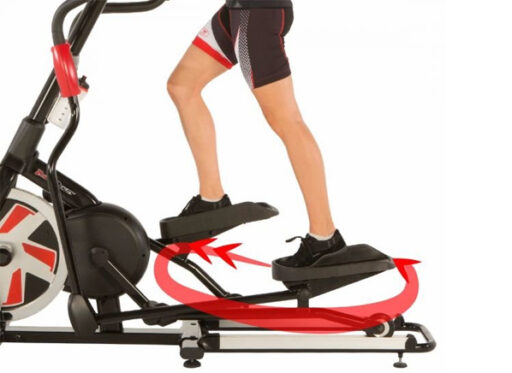 710ST Elliptical path, stride, and pedal height
The Fitness Reality 710ST features a pretty neutral, horizontal elliptical path. Moreover, the pedaling motion resembles a walk or jog on a straight path, unlike other front-drive ellipticals, which may have their path a bit inclined.
The machine does not have an incline system. Therefore, the position of its elliptical path or the length of its stride is not adjustable. It makes available a stride of approx—20″ (51 cm). Therefore, the applicable user height of this elliptical trainer is 5'1″ – 6'4″ (155 – 193 cm). Also, the pedals have a maximum user weight capacity of 300 lbs (136 kg).
The pedal trays are heavy-duty thermoplastic material. They do not have any extra cushioning. The joints of the two-pedal bars integrate ball bearings for a smooth motion.
The bottom pedal wheels also combine sealed bearings and have a thick silicone rubber layer outside for reduced noise. Therefore, the machine provides a low-impact walking motion, a great alternative to a treadmill, especially for users with joint problems or back problems.
The step-up pedal height (the lowest pedal position to the floor) is approx—11″ (28 cm). Conversely, at their highest point, the pedals are at approx. 20″ (51 cm) above floor level. Therefore, it is advisable to place and use the machine in a room with a ceiling that is at least 25″ (63.5 cm) higher than the tallest user.
Resistance System
The Fitness Reality 710ST elliptical trainer comes equipped with a motorized magnetic resistance system. This means that it requires an external power source to make resistance adjustment possible. It also means that the console can automatically adjust the resistance.
Of course, an adapter with a power cord comes included with the machine. The connection point for it is on the main base tube, close to the front.
The machine's resistance system consists of a magnetic brake and a servo motor. As you adjust the console's resistance or adjust the resistance automatically, the motor moves the brake changing the distance between it and the flywheel, which adds or reduces the workout load.
This Fitness Reality elliptical trainer makes available 24 tension levels. The 24th level delivers quite a high difficulty offering the possibility to improve strength and push your limits. Conversely, the lowest resistance level is not very light compared to other trainers, primarily due to heavy flywheel.
710ST Drive System
The machine comes equipped with an extra-heavy flywheel, similar to the ones on spin bikes. It weighs 44 lbs (20 kg) and is also perimeter-weighted. This type of construction considerably improves inertia and adds consistency to the ride.
The flywheel is bi-directional. Thus, the machine allows reverse pedaling. Of course, when pedaling in reverse, you will get the same resistance as when pedaling forward, and coasting on the machine is not possible.
Like many other ellipticals or exercise bikes equipped with a magnetic resistance system, the 710ST elliptical features a belt drive system; it integrates a solid poly-v belt that is resistant to abrasion and stretching.
This type of transmission comes with a few advantages. First of all, it generates less vibration than a chain, contributing to the ride's overall smoothness. And second of all, you don't need to worry about its lubrication.
Console
The Fitness Reality 710ST elliptical machine comes equipped with a mid-range console with Bluetooth connectivity. Therefore, you can sync it with your smartphone or tablet via the MyCloudFitness app to track your workout history online, as well as for other features. The app is free, available for both iOS and Android.
The console features an LCD with an LED backlight for improved readability. The display divides into multiple sub-sections to show as many workout metrics as possible at once. It tracks time, distance, total distance, speed, RPM, calories, watts, and pulse.
The speed and distance are in either metric or English units. The console is not telemetric for the pulse reading as it does not have an HR receiver. It can only read your pulse if you hold on to the sensors integrated into the machine's fixed handlebar.
The console makes available several workout programs. First, it has the Quickstart mode with the Manual program, which offers the possibility to exercise adjusting the resistance manually throughout your workout.
There are three target settings for time, distance, and calories burned. Once specifying a target for any of these metrics, the console will countdown from the selected value until it reaches zero and notifies you with a beep that you have completed your workout goal.
710ST Workout Programs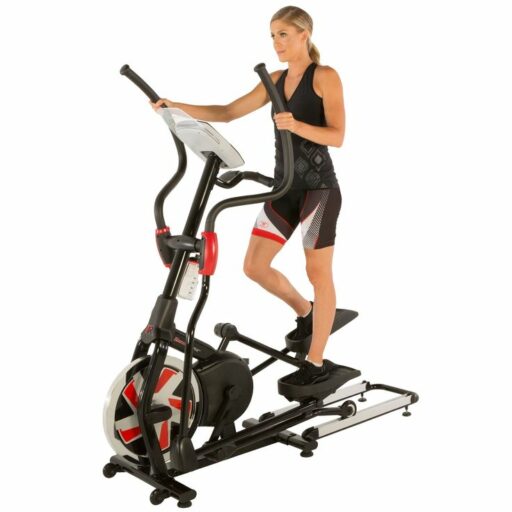 Next, there are 24 pre-set programs. If one of these programs is selected, the elliptical will automatically adjust the pedal resistance, depending on the workout's current segment.
Each program has a specific segment layout. Several offer an interval training setup; others will progressively increase the resistance, then lower it abruptly, while others have a peak or hill layout.
The console also has a Pulse Recovery function with its unique key on the dashboard. This function provides feedback on your pulse recovery after the workout and requires you to hold on to the pulse sensors. Depending on the pulse count after the exercise, the console will provide you with a fitness rating between F1 – excellent and F6 – poor.
Finally, the console does not have integrated speakers or an AUX port, a cooling fan, or a USB port for recharging your device. However, it does incorporate a device holder. This consists of a small shelf at the bottom of the unit, supporting your tablet or smartphone.
Assembly and Maintenance
Although the front part of the machine with the flywheel and the resistance elements comes pre-assembled, the rest of the trainer pretty much requires user assembly.
This may take up to two hours of your time, but the task is not too complicated. The manual provides clear, step-by-step assembly instructions, and all the necessary tools come included with the machine.
You will have to connect the rail system to the front part of the frame, add the pedals, the front upright bar, the handlebars, the console, and several small covers.
In terms of maintenance, the internal parts don't require any lubrication. The pedal wheel tracks require some lubrication from time to time, and a small lubricant pack comes included with the elliptical.
The machine joints may also require lubrication if they begin to squeak, but this shouldn't occur if lubricated during assembly. Other than this, you should only keep the machine clean and periodically check for loose parts and retighten if necessary.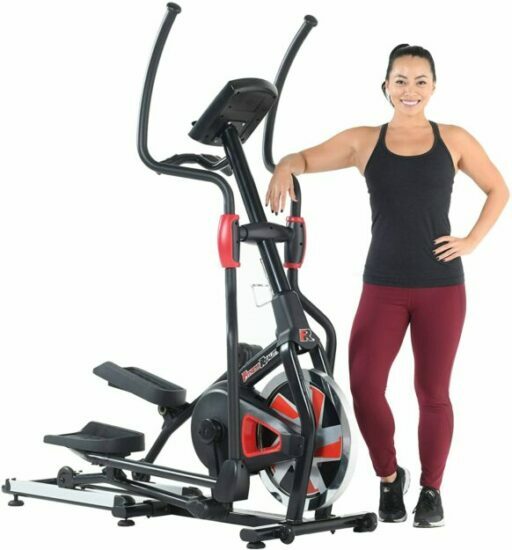 Pros
Sturdy steel frame – can support users up to 300 lbs;
Aesthetic design;
Adjustable foot levelers;
Transport wheels on the front stabilizer;
Large, ergonomic pedals;
Pedal bar joints with ball bearings;
Large silicone pedal wheels for a smooth motion;
Aluminum tray-type tracks for improved pedal stability;
24 levels of magnetic, motor-assisted resistance;
Extra-heavy, 44 lbs flywheel, with a perimeter-weighted structure for improved inertia;
Smooth and quiet belt drive;
Fixed and mobile handlebars;
Pulse sensors incorporated within the fixed handlebars;
Multi-function console with an LED-backlit display;
24 pre-set programs;
Goal functions for time, distance, and calories;
Recovery function;
Bluetooth connectivity – allows you to track your workout history online via the MyCloudFitness app;
Tablet holder included;
Bottle holder included;
Little maintenance required;
Excellent warranty.
Cons
The console is not telemetric;
A tablet placed on the device holder may cover the LCD.
Fitness Reality 710ST Elliptical Summary
The Fitness Reality 710ST is a heavy-duty elliptical trainer made for home use. It features a 24-level motorized magnetic resistance system, a 44-lb. perimeter-weighted flywheel, a set of large ergonomic pedals, and a console with Bluetooth connectivity and 24 onboard workout programs.
Moreover, it's an excellent machine for light to high-intensity cardio workouts, stamina and strength development, weight loss, and muscle toning. It's not one of the most affordable ellipticals available in this feature range, but it offers excellent value for the price.
I hope you found this article helpful and informative. If you have anything you would like to share or any opinions about my website, please speak up. I look forward to your comments, questions, and the sharing of ideas.