The Bowflex PR1000 home gym helps strengthen your muscles and add a bit of cardio training to the mix with over 25+ strength exercises and a built-in rowing station. With up to 210 pounds of Power Rod resistance, this versatile machine helps work the abs, arms, chest, back, shoulders, and lower body.
One key feature of the PR1000 is that it comes equipped with power rods instead of your standard free weights, which is suitable for a few reasons. First, they're a relatively low impact on the body and can save someone additional joint stress that free weights can entail. Second, this machine provides a lifter with up to 210 lbs of resistance.
Another feature that makes the Bowflex PR1000 home gym versatile is the amount of space needed. It's relatively small for the amount of versatility it offers. The minimum dimensions for this machine are 100 x 78 inches. Therefore,  it could fit in various spaces such as an apartment, garage, or basement.
The Bowflex PR1000 has been around for many years. The machine is perfect for the workout beginner who may not have a goal other than getting into shape and gaining strength. The PR1000 has a simple design with easy-to-use adjustable settings to guide a workout newbie through a full-body workout.
Learn more in my complete review below!
Product: Bowflex PR1000 Home Gym
Price: For a great deal on this gym, merely go here on Amazon
Warranty: Frame 1 year / Power Rods 5 years / Parts 60 days
My rating: is 9/10
Affiliate Disclosure: As an Amazon Affiliate Program participant, I earn commissions on purchases made through links in this post. Full disclosure
Details and Specifications
Assembled dimensions: 84L x 38W x 81H inches (213L x 97W x 205H cm)
Assembled weight: 131 lbs (59.4 kg)
Maximum user weight limit: 300 lbs (136 kg)
Resistance system: Power Rods
Standard weight resistance: 210 lbs (95 kg)
Possible exercises: 30+
Warranty: Frame 1 year / Power Rods 5 years / Parts 60 days
PR1000 Frame Construction
Like most home gym machines, the frame of this Bowflex gym is steel-made. Although it's rated to support users up to 300 lbs (136 kg),  the bench should support heavier users. However, in this case, the seat roller may wear down faster, and you will void the warranty.
All steel parts within the frame construction come with anti-corrosive and scratch-resistant paint. However, the machine is for indoors, even though its finish is quite durable. After all, temperature differences and moisture can take their toll on the components and reduce the machine's lifespan.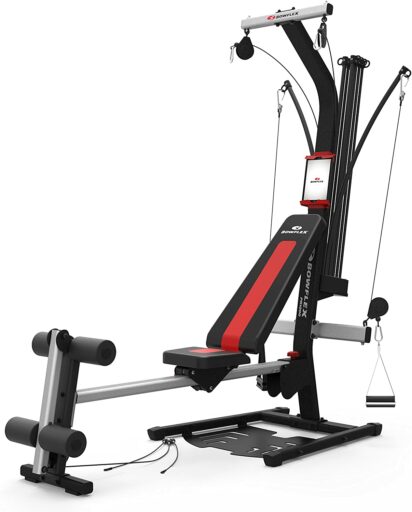 Although the Bowflex PR1000 is not precisely the most significant and bulkiest home gym system you'll find, it's still not small either. It has an 84″L x 38″W (213 x 97 cm) footprint and a height of 81″ (205 cm). Therefore, it will fit in a room with a seven-foot ceiling, and you'll still have 3″ (7.6 cm) to spare at the top, but it's not suitable for rooms with lower ceilings.
You'll need a 100″L x 78″W (254 x 199 cm) workout area for this machine for maximum safety. That's because as the resistance rods bend on the sides, they will increase the device's width. So if you want to carry out rowing exercises, or leg extensions, you'll need more space length-wise.
The machine's frame features three base stabilizers that rest on rubber feet to protect flooring and increase the machine's overall stability. Unfortunately, it doesn't feature any transport wheels, making it difficult to move after assembly.
The machine accommodates users up to 6'6″-6'7″ (198 – 201 cm) with no problem with most exercises.
Last but not least, the frame of this Bowflex home gym machine features a folding design. The bench bar, along with the bench, can fold up. You have to lock the bench horizontally and unlock the pin that connects the bench's bar to the mainframe.
Bench
First, this machine's bench is adjustable, allowing a 45° and 180° (horizontal) setup for its backrest. Furthermore, the backrest detaches from the seat assembly to facilitate the rowing exercises.
Both seat and backrest parts feature durable, black/red faux leather upholstery with 2″ cushioning. Overall, the bench offers all the comfort required for the exercises performed on this machine.
The seat assembly integrates a roller system and glides over the central horizontal bar of the frame, offering the possibility to perform rowing exercises or leg presses, for example. It can also lock onto the bar in several positions via a locking pin. In addition, the seat rollers integrate sealed ball bearings for prolonged life.
PR1000 parts
The Bowflex PR1000 integrates a leg attachment featuring 4″ (10 cm) upholstered roller cushions for maximum comfort during leg exercises. However, this leg attachment only supports leg extension exercises and doesn't offer the possibility of performing leg curls.
Like all home gym systems, the Bowflex PR1000 features several heavy-duty urethane material pulleys, also integrating industrial-quality ball bearings. Similarly, the handgrips come coated with rubber foam for maximum comfort, just like the leg attachment rollers.
They offer multiple grips, including standard, cuff, and foot grip. In addition, a leg press belt also comes supplied with grips. Furthermore, it's an accessory used in various other exercises, not just leg presses.
The cables that connect the grips and the resistance rods are steel-made, extremely durable, and have plastic sheet coverings.
And finally, the hooks and rings at the extremities of the grips and cables are also steel, with a chrome finish resistant to corrosion. These hooks and rings are solid enough to support at least 200 lbs (90 kg) of force. So you'll never have to worry about them snapping.
Weight Resistance System
The Bowflex PR1000 home gym features a flexible rod-based resistance system. Thus, there is no way to attach weight stacks to it, as in "traditional" home gym machines. Instead, the machine's cables connect to these rods, and as you pull the grips, the rods will bend, generating resistance.
Bowflex doesn't disclose the formula of the material used in these rods' composition, but they're a highly durable composite material coated with a rubber sheet. They're also precision machined, and the rings that connect to the cable hooks are almost impossible to remove.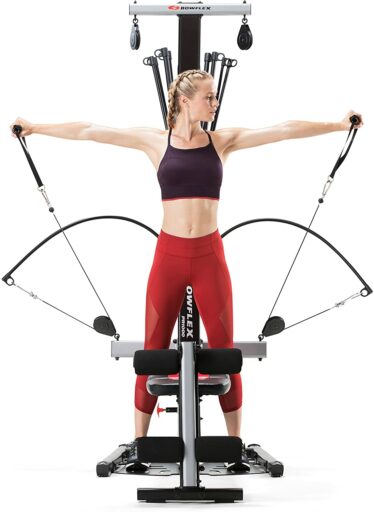 Each Power Rod generates a specific resistance, and you can connect multiple rods to a cable to achieve superior resistance. Each side features a set of rods with the following weight resistance increments: 5, 10, 10, 30, and 50 lbs (2.26, 4.5, 4.5, 13.6, 22.6 kg). Thus, you can obtain up to 105 lbs (47 kg) of weight resistance for each handgrip, totaling 210 lbs (95.2 kg). Unfortunately, the power rod resistance is not upgradeable.
PR1000 Possible Exercises
Arm Exercises
Triceps Pushdowns
Triceps Extensions
Standing Biceps Curls
Wrist Curls
Abdominal Exercises
Trunk Rotations
Seated (Resisted) Abdominal Crunches
Back Exercises
Narrow Pulldowns
Reverse Grip Pulldowns
Stiff-Arm Pulldowns
Seated Lat Rows
Seated Low Back Extensions
Chest Exercises
Bench Presses
Decline Bench Presses
Incline Bench Presses
Leg Exercises
Leg Extensions
Calf Raises
Seated Hip Abductions
Seated Hip Abductions
Leg Presses
Leg Kickbacks
Shoulder Exercises
Seated Shoulder Presses
Front Shoulder Raises
Crossover Seated Rear Delt Rows
Scapular Retractions
PR1000 Assembly and Maintenance
First of all, the machine comes in a box with the following dimensions: 54″L X 34″W X 9″H (137 x 86 x 23 cm). The box weighs more than 131 lbs (59.4 kg). Therefore, two people should transport and assemble the machine. Also, since the machine is rather bulky, it's best to complete it on the spot where it will be in use.
Overall, the assembly process is far from being difficult. The manual offers comprehensive, straightforward indications of the assembly of each part. Consequently, the assembly may take a couple of hours, though, as there are quite a few parts to put together. Furthermore, the tools for assembly do not come supplied with the machine. Therefore, you'll need an adjustable wrench and a Phillips screwdriver.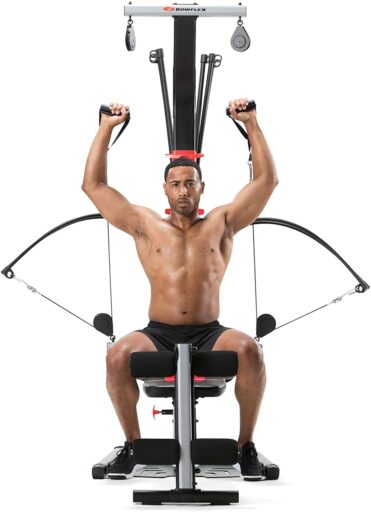 Maintenance doesn't require much. All you need to do is keep the machine clean and check the connection points before use. If you're going to perform any exercises involving the seat's movement, it's best to check if the gliding rail is free of any dirt or objects that may damage the rollers.
Pros
Sturdy steel frame;
Folding frame design;
Durable upholstery on the bench, made of faux leather;
2-inch cushioning on the bench for maximum comfort;
4-inch upholstered roller cushions for leg extensions;
Versatile handles supporting three types of grips;
Bench with two-position: 45° and 180°;
Gliding seat for aerobic rowing and leg press exercises;
Innovative Power Rod weight resistance system, no weight stacks required;
Industrial quality ball bearings in all moving parts;
Over 30+ possible exercises;
Workout placard depicting various exercises, attached to the back tower of the machine for quick reference;
Up to 105 lbs of resistance per arm, 210 lbs in total;
Excellent warranty package.
Cons
Not an upgradable machine.
Tools for assembly do not come included.
Bowflex PR1000 Home Gym Summary
The Bowflex PR1000 is a home gym system with one of the best price/quality ratios that you can find at the moment. It's an excellent machine for beginners but can also supply the required training setting for intermediate and even advanced users since it offers up to 105 lbs weight resistance per arm (or leg), totaling 210 lbs.
Moreover, it's a sturdy machine that doesn't require weight stacks for resistance as it uses Power Rods. It's not the most complete since it doesn't have a lat bar or specific bar for butterfly exercises. However, the system covers more than 30+ possible exercises, and with some creativity, more are possible.
I hope you found this article helpful and informative. Would you please speak up if you have anything you'd like to share on the topic or any opinions about my website? I look forward to your comments, questions, and the sharing of ideas.
Please remember that you should consult your physician to determine if you have any medical or physical conditions that could risk your health and safety or prevent you from using the equipment properly. In addition, your physician's advice is essential if you are taking medication that affects your heart rate, blood pressure, or cholesterol level.