The Spirit Fitness XT385 Treadmill will keep you motivated mile after mile. The large 22″ x 60″ running surface and 3.5 HP motor give you all the room and power you need for a comfortable workout. In addition, the top speed of 12mph and 15% elevation are sure to keep you challenged.
The XT385 features a 7.5-inch dot matrix LED display that is very easy to read. In addition, the console tracks the following essential information: time, speed, distance, incline, pace, calories burned, and heart rate. There is also a 1/4 mile track display for the distance, which indicates the number of laps you have completed.
The Spirit Fitness XT385 treadmill offers a wide array of workout programs: 5 preset, two custom, two heart rate controlled, and manual modes. The heart rate is measured by either hand grip pulse sensors or an HR chest strap with a transmitter (included) and tracked on the Heart Rate % profile. In addition, built-in Bluetooth connects to the Spirit Fit App, which can track and record your workout.
The Muscle Activation feature is present in the Spirit XT385 treadmill. It stimulates the most important muscle groups in your body to maximize your workout, including the glute, quad, hamstring, calf, chest, and arm muscles. Therefore, this is ideal for you if you are trying to improve your muscle tone and performance.
Learn more in my complete review below!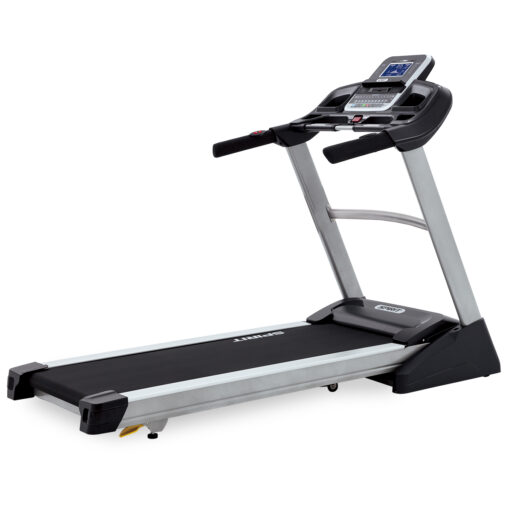 Product: Spirit Fitness XT385 Treadmill
Price: For a great deal on this treadmill, merely go here on Amazon.com
Warranty: Frame lifetime / Motor lifetime / Deck lifetime / Parts 10 years / Labor 1 year
My rating: is 9/10
Amazon Affiliate Disclosure: I may earn commissions on purchases made through links in this post. Full disclosure
Details and Specifications
Assembled dimensions: 80L x 35W x 57H inches (203L x 89W x 145H cm)
Tread belt dimensions: 60L x 22W inches (152L x 56W cm)
Assembled weight: 283 lbs (128 kg)
Supported weight: 375 lbs (170 kg)
Motor: 3.5 HP, 0.5 – 12 MPH
Incline: Automatic, 15 levels
Console: 10 programs, Bluetooth, Spirit Fit App compatible
Extras: Sound system, cooling fan, accessory trays, tablet holder
Warranty: Frame lifetime / Motor lifetime / Deck lifetime / Parts 10 years / Labor 1 year
XT385 Frame Construction
The Spirit Fitness XT385 treadmill features a heavy-duty steel frame combining oval, cylindrical, and rectangular tubes in its construction. In addition, all the steel parts come coated with a durable paint finish, highly resistant to corrosion and abrasion, and light gray.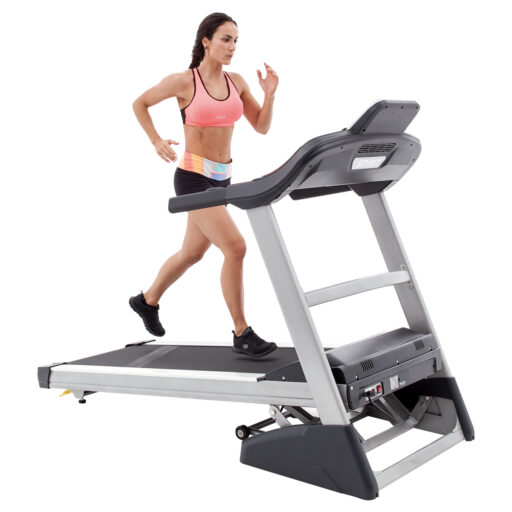 The fully assembled treadmill is quite large. It is approximately 80″ (203 cm) long and 35″ (89 cm) wide. Thus, it may not fit too well in a small room. It is also advisable to leave at least two feet of clearance on each side of the deck and three feet of clearance at its rear for safe usage and ease of access.
The treadmill is also hefty. Its net weight is 283 lbs (128 kg). Thus, two people and a hand truck are needed to transport the packaged unit. However, once assembled, one person can quickly move the treadmill as its front base frame comes equipped with transport wheels that facilitate its relocation.
The treadmill is foldable. Its deck folds up to save some space and is also a plus for cleaning under the machine. It uses a hydraulic mechanism that unfolds the deck slowly to prevent damage.
Deck construction and incline
The Spirit Fitness XT385 treadmill integrates a 1-inch (2.54 cm) thick phenolic deck board, with a maximum user weight capacity of 375 lbs (170 kg). In addition, it uses a 2-ply belt, 2.5 mm thick, highly resistant to stretching and abrasion.
The top layer of the belt is textured to provide an improved grip. The internal rollers are pretty large in diameter (2.5″ front, 2.0″ rear) and have a crowned design for superior traction. In addition, they integrate industrial-grade bearings for a smooth motion.
The machine's belt offers a running surface of 60″L x 22″W (152 x 56 cm), so the machine comfortably accommodates users up to 6'6″ (198 cm), allowing a complete range of motion during running.
The unit's running platform comes equipped with six internal cushioning elements. Most of them are in the middle and front parts to reduce the shock of each foot strike. In addition, the rear section of the running platform is more rigid to provide a better push.
The Spirit Fitness XT385 treadmill comes equipped with a power incline system. Therefore, the console can adjust the incline automatically, depending on the selected workout program.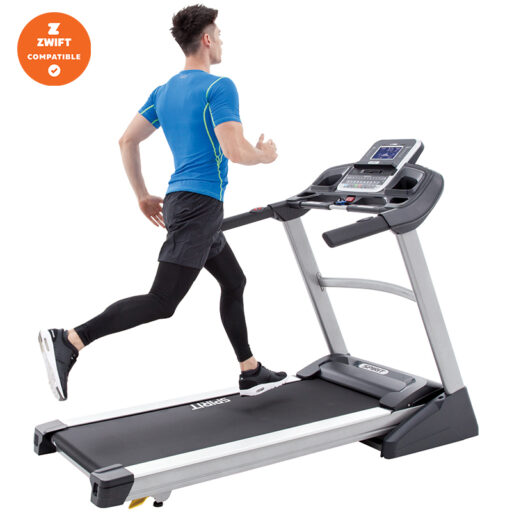 The treadmill makes available 15 levels of incline. The incline increments are 0.5%. You can adjust the incline manually from the controls on the console or the ones on the left-handgrip. The console also has quick selection incline controls from 0 to 9.
The step-up deck height is approx—8″ (20 cm). However, with the incline set to maximum, the front of the deck will be higher by a few extra inches. Therefore, you should use the machine in a room with a ceiling at least 20″ (51 cm) higher than the height of the tallest user.
XT385 Drive motor
The Spirit Fitness XT385 treadmill has an industrial-grade 3.5 HP motor designed to support prolonged running without overheating or losing performance. It also integrates a small, perimeter-weighted flywheel for extra motion stability.
The machine's motor offers a standard speed range of 0.5 – 12 MPH. The speed is adjustable in increments of 0.1 MPH and 0.5 MPH.
To be more specific, the speed controls have a double function; short repeated presses will adjust the speed in increments of 0.1 MPH, while if pressing and holding them, the speed will change in increments of 0.5 MPH.
The console makes available controls for gradual speed adjustment and quick speed adjustment. The quick speed adjustment keys go from 0 to 9, so to select a greater speed level than 9 MPH, you will have to use the gradual speed adjustment keys. The right grip of the machine also integrates controls for gradual speed adjustment.
The motor itself is pretty silent. However, depending on your weight, running technique, and footwear, your cadence may generate more or less noise.
Console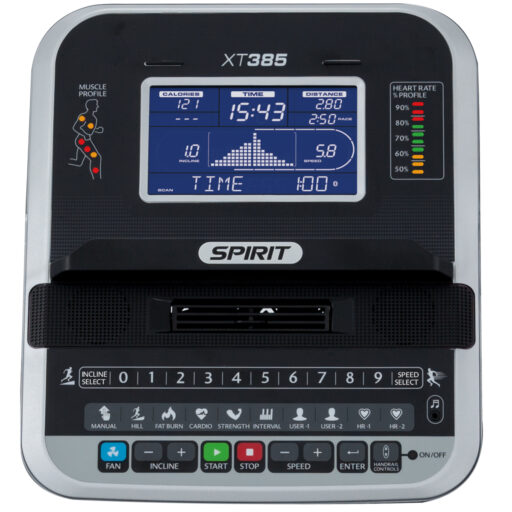 The Spirit Fitness XT385 treadmill comes equipped with a multi-function console. It features a 7.5″ display with a blue LED backlight and significant digits for improved readability. It indicates current speed and incline, time, distance, pace, calories burned, and pulse.
The speed and distance are default set to English units (MPH and miles), but there are also metric units. The pulse reading function is both telemetric and grip contact.
Therefore, the console reads your pulse if you hold on to the sensors integrated into the front handlebar or a wireless HR chest strap (included). There is also a 1/4 mile track display for the distance, which indicates the number of laps you have completed.
The console has Bluetooth connectivity and is compatible with the Spirit Fit App, available for iOS and Android. This app allows you to sync your workout data with one of the many fitness cloud sites. Therefore, you can track your progress online, use various online custom workout programs, and benefit from multiple other features.
The console has ten built-in programs as well. Each program has its quick-access key on the console: Manual, Hill, Fat Burn, Cardio, Strength, Interval, User 1, User 2, HR 1, and HR 2.
The manual program allows you to adjust the speed and incline you like during the workout. The preset programs are Hill, Fat Burn, Cardio, Strength, and Interval. The User programs allow you to create two custom programs with your desired time, speed, and incline adjustments.
And finally, the Heart Rate programs are preset for 60% and 80% of the maximum heart rate. They automatically adjust the speed depending on your heart rate to keep you close to the selected HR interval.
Amenities
Other notable console features are the sound system, the cooling fan, the device holder, and the accessory trays. The sound system consists of two small speakers between the console keypad and the display. In addition, the aux port connects your smartphone or MP3 player to listen to your music through the console.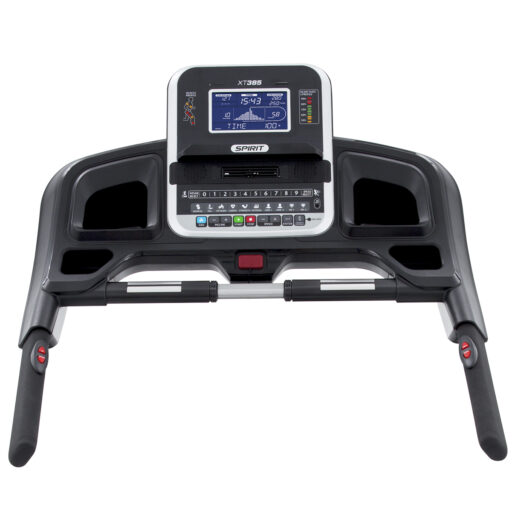 The workout fan is between the two speakers. It is not too powerful but does provide some cooling which may be pretty welcome during workouts. The device holder has a small shelf above the fan; it can host your tablet or phone during workouts. And finally, the console dashboard has four molded compartments in which you can store your bottle holder and various accessories.
XT385 Assembly and Maintenance
The machine's running platform, with the belt, the rollers, and the motors, comes pre-assembled. All you need to do for assembly is attach the two upright bars, their base covers, the middle support bar for the vertical bars, and the console.
Consequently, this may take an hour of your time, but the task is not too complicated. The manual provides all the necessary assembly instructions and tools for the treadmill.
For maintenance, you should keep the belt clean to prevent debris from being caught in the motor. The belt and deck are pre-lubricated, but you should be re-lubricated after every 90 hours of use, and a bottle of lubricant comes included.
Other than this, you should also periodically inspect your treadmill to ensure that all the parts still function correctly and that there are no loose joints or parts and retighten as needed.
Pros
Sturdy frame and deck – can support users up to 375 lbs;
Folding frame with soft-drop mechanism;
Transport wheels on the front frame base;
Adjustable stabilizers on the rear base;
Shock absorption system (6 cushions) integrated into the deck;
Motorized incline – 15 levels;
3.5 HP motor, offering speed levels up to 12 MPH;
Speed increments of 0.1 MPH and 0.5 MPH;
Quick keys for speed and incline (from 1 to 9);
Speed and incline controls integrated into the machine's handrails;
Pulse sensors integrated into the front grips of the machine;
Telemetric console – can read pulse from an HR chest strap transmitter (included);
Multi-function console with a large, 7.5-inch display that shows up to 9 workout metrics simultaneously;
1/4-mile track display for the distance traveled, with laps count;
Both metric and imperial units for the speed and distance;
Ten workout programs;
Bluetooth connectivity and compatibility with the Spirit Fit App for online progress tracking;
Sound system included;
Cooling fan included;
Bottle/accessory holders included;
Device holder included;
Quiet operation;
Deck lubricant and tools for the assembly included;
Reasonably easy to assemble;
Little maintenance is required;
Excellent warranty.
Cons
A tablet placed on the device holder will partially cover the LED.
Spirit Fitness XT385 Treadmill Summary
The Spirit Fitness XT385 is a heavy-duty residential treadmill. It comes equipped with a 3.5 HP motor, a 15-level power incline system, offers a sizeable 60″L x 22″W running platform, and includes a 10-program console with Bluetooth connectivity.
Moreover, it's a machine for users of all levels, great for low to high-intensity cardio training, interval training, stamina development, muscle toning, and weight loss. It's not exactly an affordable treadmill, but it offers excellent quality for the price.
I hope you found this article helpful and informative. Please speak up if you have anything you'd like to share on the topic or opinions about my website.? I look forward to your comments, questions, and the sharing of ideas.
Please remember that you should consult your physician to determine if you have any medical or physical conditions that could risk your health and safety or prevent you from using the equipment properly. In addition, your physician's advice is essential if you are taking medication that affects your heart rate, blood pressure, or cholesterol level.