The Fitleader UF1 Upright Bike is an upright magnetic stationary exercise bike with a perimeter weighted 15.4-pound flywheel designed indoors at home. The cycle would be a great addition to your home gym to burn some calories, keep fit, lose weight, get in shape, get your heart pumping.
You can exercise as straightforward or as hard as you want with different resistance levels of difficulty levels from 1 to 8. It will run smoothly and quietly at all times and will undoubtedly give you that real bike road feels.
The Fitleader bike's comfy seat is adjustable for height inseam between 30 to 43 inches. The maximum user weight is 290 pounds, and it has 41 x 20 x 59 inches. Pedals have a comfy and ergonomic design and help with an efficient, smooth, and comfortable ride.
Getting a stationary indoor bike is one of the most common alternatives (rowing machines, elliptical trainers, treadmills, and more) to jogging outdoors or going to the gym. If you enjoy cycling, it is a no-brainer.
Learn more in my complete review below!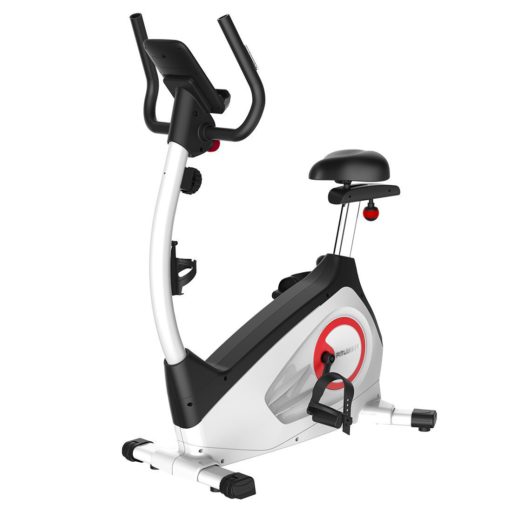 Product: FitLeader UF1 Upright Bike
Price: For a great deal on this bike, merely go here on Amazon
Warranty: 1 year limited
My rating: 8/10
Affiliate Disclosure: As an Amazon Affiliate Program participant, I earn commissions on purchases made through links in this post. Full disclosure
Details and Specifications
Assembled dimensions: 41L x 20W x 59H inches (104L x 51W x 150H cm)
Shipping weight: 68 lbs (31 kg)
Flywheel weight: 15.4 lbs (7 kg)
Supported weight: 290 lbs (131.5 kg)
Handlebars: 2-way adjustable
Seat: 4-way adjustable
Pedals: With adjustable straps
Drive: Belt
Resistance: Magnetic, eight levels
Fitness console: Included
Amenities: Bottle holder, tablet holder
Warranty: 1 year limited
UF1 Frame
This upright bike features a one-piece, steel-made frame, durable enough to support users up to 290 lbs (131.5 kg). In addition, there are several plastic parts in its construction. Such as the covers of the flywheel and crank assembly. Also, the caps of the bases, the handlebars' joint cap, and the tablet holder.
These have no direct role in the user's support and do not affect the bike's overall sturdiness. Plus, the flywheel's shroud covers feature an aesthetic design, rendering the whole aspect of the cycle quite good-looking.
The bike's bases integrate adjustable stabilizers with rubber covers to protect your floors, and of course, to maximize its stability. Unfortunately, this upright bike is not foldable. However, its front base features a pair of caster wheels to facilitate its transport.
Even though it's not too heavy, with an assembled weight of approx. 65 lbs (29.5 kg), you will handle less than half of its weight during transport by leaning it forward on its wheels. Thus, its transport for storage shouldn't be a problem for most users.
Like most upright exercise bikes, the FitLeader UF1 does not occupy too much space. It has a footprint of 41″L x 20″W (104L x 51W cm), which makes it pretty safe to say that it's a natural fit even for small rooms.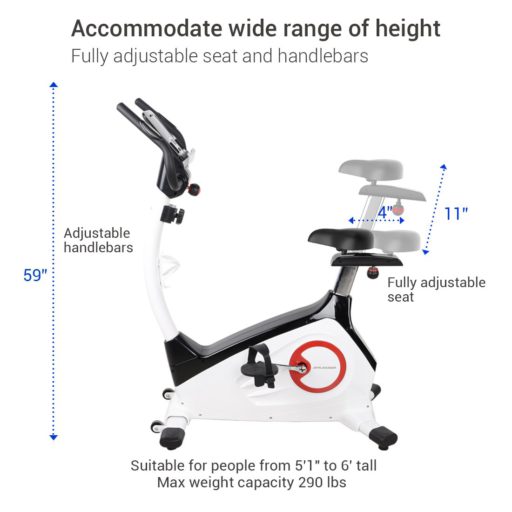 UF1 Seat and Handlebars
The seat supplied with this bike is pretty much the same model as the one for the UF2. It's a standard seat. In addition, it features a traditional connection system to its post, making it easy to find a replacement for it, just if you want a more comfortable model.
The saddle is contoured, features a bit of padding, and it's considerably more extensive than an indoor cycling bike seat, evidently offering much more comfort.
The seat is 4-way adjustable, which can be adjusted up, down, forward, and backward. In addition, it has several adjustment positions throughout 13″ (33 cm).
Its lowest position places it 30″ (76 cm) above the floor level, while its highest position sets it at approximately 43″ (110 cm). In other words, the bike can accommodate users between 5′ – 6'5″ (152 – 196 cm).
The handlebar is also adjustable. Its angle can be changed and secured into position via a knob. In addition, it features a multi-grip design covered by a thin sheet of rubber foam material to supply adequate comfort and prevent damage to the hands. It also integrates stainless steel pulse sensors; thus, the console can keep track of your heart rate.
UF1 Drive and resistance
This exercise bike has a medium-sized flywheel with a weight of 15.4 lbs (7 kg). It's a perimeter-weighted flywheel, which means the pedaling motion is pretty smooth and stable.
It's also a belt-driven bike, an aspect that comes with two advantages. First of all, it's hushed; second, the belt does not require periodic lubrication as a bike chain typically does.
The bike uses a substantial crank assembly with steel crank arms and weighted pedals with adjustable straps. However, keep in mind that this is an upright bike. It's for seated workouts. So, even though it would probably support you in a stand-up workout routine, it's not made for this type of exercise.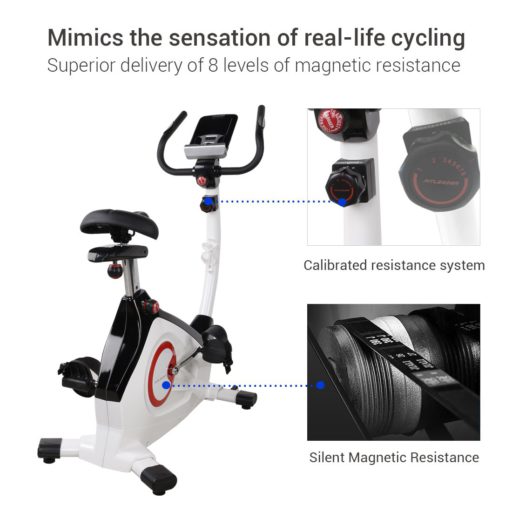 Reverse pedaling is also possible on this bike. Thus, you can put a little bit of diversity into exercising routines. Also, when pedaling backward, the meter will continue to count your statistics.
Just like the FitLeader UF2, this bike uses a manual magnetic resistance system. It consists of a magnetic element connected to the resistance knob via a steel wire. By turning the knob, you change the magnetic brake pad's position to the flywheel, reducing or increasing drag.
Needless to say, since the resistance system is manual, this fitness machine does not require to be connected to a power source.
There are eight distinctive resistance levels specified on the tension knob. The first two levels offer little tension, which means they're great for anyone with a reduced fitness level or users who require physiotherapy. Conversely, the 7-8 resistance levels will help you break a sweat.
UF1 Console
The console is easy to operate. It features only one button, which covers all of its functions. It has a SCAN function which cycles through all the metrics, indicating each one for several seconds. However, you can select any of these values to be the only ones displayed on the screen. To reset all the metrics, just press and hold it for several seconds.
The console starts when the sensor detects activity on the pedals or when you press the button. It automatically shuts off after several minutes of inactivity. It requires 4-AA type batteries (included).
The console can track six statistics, including distance, time, speed, RPM, calories, and pulse. It also has an Odometer function, which keeps track of the total length traveled. Unfortunately, the console is not telemetry enabled. But it can read your pulse and keep track of your heart rate via the sensors integrated into the handlebars.
In terms of accessories, there are two to be mentioned. First of all, the whole console assembly integrates a tablet holder, serving as a reading rack for a book or magazine. And secondly, the bike comes with a bottle holder, which attaches to the handlebar's main post.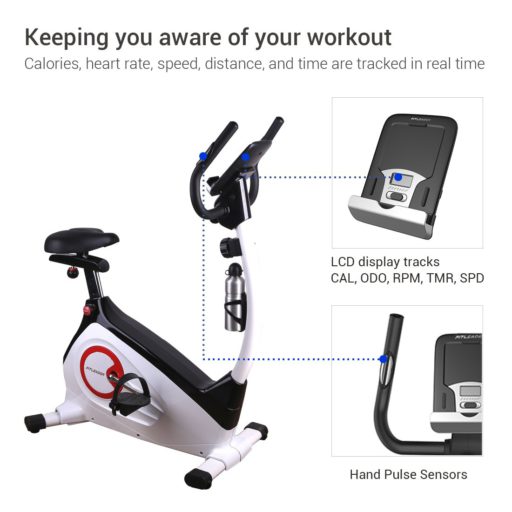 UF1 Assembly and Maintenance
The main body of the bike comes ready-assembled. In other words, its flywheel, crankset, belt, and the other internal parts come already in their place and have plastic shrouds.
Thus, in terms of assembly, you only need to add the bases to the main body, the seat post, the seat, the handlebar post (connecting the tension wire), the handlebars, and finally, the meter with the tablet holder. Again, tools for assembly are (supplied), as well as a very comprehensive manual.
Maintenance doesn't require much. All you have to do is check the machine's joints from time to time and re-tighten them if it's the case.
Pros
Sturdy construction, elegant design;
Small footprint;
Ergonomic seat, 4-way adjustable;
Magnetic resistance, with eight distinctive settings, for light to medium cardio;
Handlebars with pulse sensors;
Angle-adjustable tablet holder;
The fitness console included;
Tablet holder and bottle holder included;
Quiet and smooth drive;
Easy to put together;
Little maintenance is required.
Cons
The handlebars need to be tightened well in the position. Otherwise, they will wiggle a bit;
A tablet placed on the holder will cover the display of the console.
FitLeader UF1 Summary
The FitLeader UF1 is an upright exercise bike made for light to medium cardio workouts. It features a manual magnetic resistance system with eight exceptional levels of resistance. It offers excellent comfort and the possibility to tone your muscles, regain or maintain your cardiovascular fitness, build stamina, and even lose weight. You can burn up to 250 calories over 25-30 minutes of pedaling on it.
It's not a commercial upright bike like the SOLE LCB, but it's perfect for home use as it features pretty solid construction. In addition, it would help achieve a healthier lifestyle overall and the right kind of healthy diet to help you get the results faster. And finally, it costs under $400, which is not bad for the range of features it offers.
I hope you found this article helpful and informative. Would you please speak up if you have anything you'd like to share on the topic or any opinions about my website? I look forward to your comments, questions, and the sharing of ideas.