The ProGear 100S Exercise Bike/Indoor Training Cycle enables you to train in the comfort of your own home, simulating the authentic feel of an outdoor road bike. In particular, the ProGear 100S is a great low-priced entry-level spin bike. It has features you would typically expect to find on more expensive models, including a fully adjustable seat, an LCD workout monitor, and pulse heart-rate sensors.
The ProGear 100S indoor cycle utilizes a chain drive for a more authentic road bike feel. In addition, it has a 22 lb cast-iron inertia-driven flywheel with a chrome rim that provides smooth and consistent momentum.
The ProGear 100S comes equipped with a tension control dial to adjust the resistance for a more challenging or comfortable workout. The ergonomic seat is cushioned for comfort and tailored both up/down and forward/backward for a custom fit.  In addition, the bike itself is sturdily built, supporting a maximum user weight capacity of up to 250 lbs.
Learn more in my review below!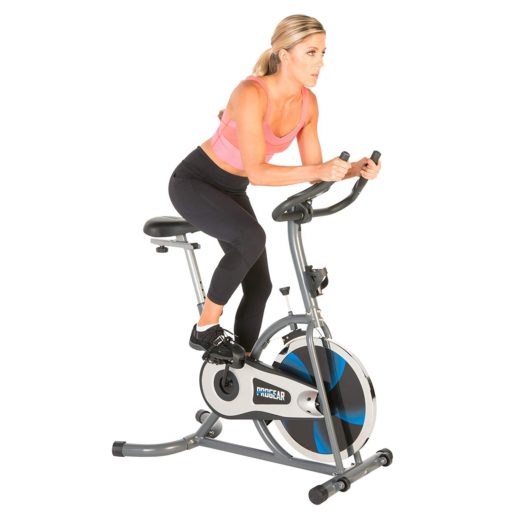 Product: ProGear 100S Exercise Bike
Price: For a great deal on this bike, merely go here on Amazon
Warranty: 1 year limited
My rating: 8/10
Affiliate Disclosure: As an Amazon Affiliate Program participant, I earn commissions on purchases made through links in this post. Full disclosure
Details and Specifications
Assembled dimensions: 40L x 22W x 46H inches (102L x 56W x 117H cm)
Assembled weight: 60 lbs (27 kg)
Flywheel weight: 22 lbs (10 kg)
Weight limit: 250 lbs (113.3 kg)
Seat: 4-way adjustable
Pedals: With toe cages
Drive mechanism: Chain
Resistance: Friction, top-to-down felt pad
Bottle holder: Yes
Computer: Basic
Warranty: 1 year limited
100S frame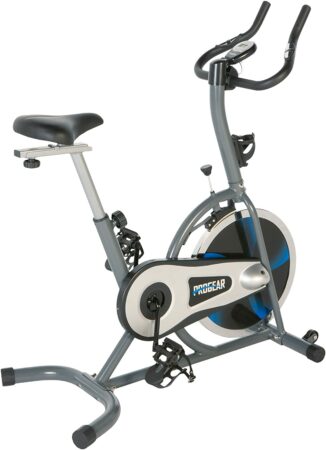 The ProGear 100S is a light indoor cycling bike featuring steel with a total assembled weight of 60 lbs. It also has a small footprint, taking only 40″L x 22″W (102 x 56 cm) of floor space, thus being an excellent choice for a small apartment.
However, despite its small footprint and lightweight, it still does offer excellent stability. As long as the user doesn't exceed the 250 lbs (113.3 kg) weight limit, there shouldn't be any issues related to the bike's operation.
The frame's steel parts are powder coated with gray paint, except for the seat post, which is silver painted. Unfortunately, these are the only colors available, at least for now.
The bike's front base integrates a set of small wheels to ease its transport and handling once you've finished your workout. Also, the rear base features adjustable, polygonal plastic caps, which serve as stabilizers.
Seat and handlebars
The ProGear 100S features a seat more similar to upright bikes than the spin bikes' seats. However, it's not a slim seat, featuring an entire surface and a little bit of padding, offering slightly better comfort for upright workouts than a spin bike seat.
However, the seat does not have a standard connection system to its post. Instead, the seat post has a small triangular metallic plate, and the seat connects to it via three bolts. Thus, if you need a replacement someday, you'll have to either order a new one from Paradigm or adapt one to the bike.
The seat is 4-way adjustable, the bike being able to accommodate users between 5'1″ and 6'2″ (155 – 188 cm). Adjustment of the seat is made via two large knobs, easy to turn and pull.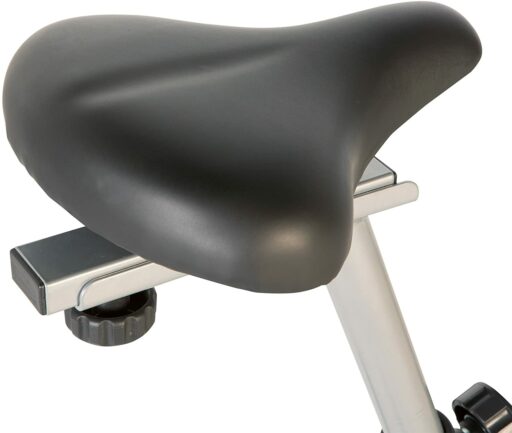 The bike's handlebar assembly features a relatively simple design, similar to the one supplied with the Sunny Health & Fitness SF-B1203. As a result, the ProGear 100S bike is quite similar in specs to this Sunny exercise bike. The handlebar offers multiple grip possibilities, though, and has a rubber foam coating for more comfort.
However, it's not adjustable, though, being attached via bolts by its upright post. However, it does integrate stainless steel pulse sensors so that the meter unit can track your pulse.
100S Drive and resistance
This ProGear indoor cycle trainer features a chain-drive system. It uses a chain similar to road bikes; thus, it should be easy to find one if you ever need a replacement.
The flywheel supplied with this indoor cycling bike is a relatively light one, with a total weight of 22 lbs (10 kg). It's perimeter-weighted, though, providing a stable pedaling motion and the consistent momentum required for spin workouts. Overall, the ride is smooth and quiet; the only noise produced is the chain's soft whirring.
The crankset is exceptionally sturdy, featuring solid steel crank arms, finished with standard pedals. It can support stand-up pedaling routines if they don't exceed the specified 250 lbs weight capacity.
The pedals are basic. They don't incorporate clips for spin shoes. Instead, they're equipped with toe cages to offer the required foot stability if necessary and the extra forward leg thrust required by some spin workouts.
This ProGear exercise bike has a primary friction system, consisting of a felt pad in contact with the flywheel in a top-down manner. The resistance pad is attached to the resistance knob on top of the central tube of the frame. By turning the knob, the resistance pad will apply more or less friction onto the flywheel, increasing or decreasing the bike's overall resistance.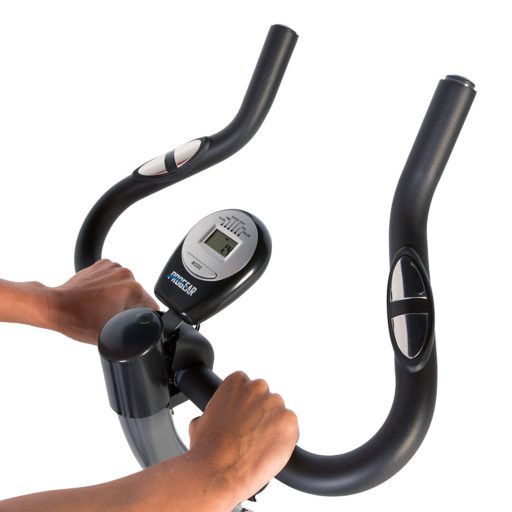 Pedaling in reverse is possible. But since it's not a road bike and the transmission system is simple, you cannot coast. When driving in reverse, resistance remains constant, depending on how much friction the felt pad applies to the flywheel.
Console
The console supplied with the ProGear 100S indoor training cycle is a pretty basic unit. It does not offer any preloaded workout apps, but it does supply information regarding essential data users would want to know during their workout. For example, it tracks speed, time, distance, calories, and pulse.
The unit is relatively easy to operate. It comes on when you begin pedaling on the bike, and it will automatically turn off after several minutes of inactivity on the bike. It only features one button (MODE), and it turns on by pressing this button.
By pressing the button multiple times, the display will cycle between the values mentioned earlier, and you can choose the one you want to view at any time. However, it also has a SCAN function that automatically cycles through these values, showing each for several seconds.
The console requires 2 AAA-type batteries (included).
100S Assembly and Maintenance
The flywheel, crank system, chain, and resistance pad come already assembled. Therefore, the assembly requires you to place the main bike frame to its bases, attach the seat and handlebars, the pedals, and finally, the fitness meter.
The user's manual covers all the assembly steps, a task that shouldn't take longer than 30 minutes. Also, the tools required for construction are (provided).
Maintenance requires the periodic lubrication of the chain. In addition, the bike's resistance pad may require lubrication and, accordingly, by applying a bit of silicone lubricant on the edge of the flywheel.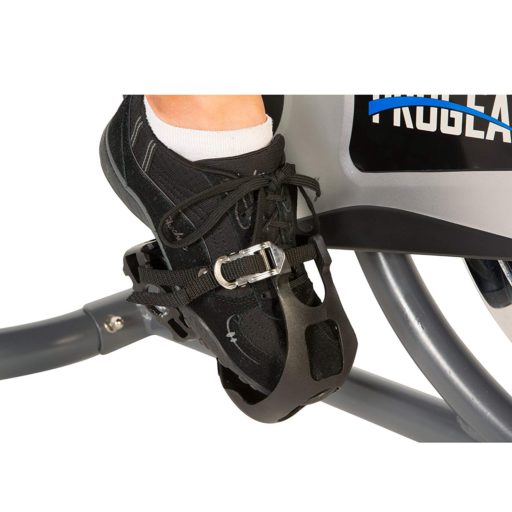 Pros
Sturdy, lightweight frame;
Multi-grip handlebar;
4-way adjustable seat;
Balanced, heavy flywheel for a consistent momentum and smooth pedaling;
Chain drive, which can last a lifetime;
Quiet drive system;
A reliable crank system, able to hold the user in stand-up pedaling position;
Standard pedals with toe cages;
Console included;
The bottle holder included;
Easy to assemble;
Little maintenance is required.
Cons
No adjustability on the handlebar.
ProGear 100S Exercise Bike Summary
The ProGear 100S is a lightweight indoor cycling bike with a felt pad, friction resistance. It only has a 250 lbs user weight capacity; however, its frame and crank assembly are substantial enough to support spin workouts.
Even though it's a basic, affordable bike, it does come with a console, an accessory that some of the most expensive models don't offer. It's a bike made for cardio training, stamina building, muscle toning, and weight loss. And finally, since it costs less than $200, it offers excellent value for the price.
I hope you found this article helpful and informative. Would you please speak up if you have anything you'd like to share on the topic or any opinions about my website? I look forward to your comments, questions, and the sharing of ideas.