The BodyCraft Xpress Pro Home Gym comes with over 50+ exercises to start you on your way to achieving all of your fitness goals. With all of these exercises, you can easily modify your workout, whether your goal is to lose weight, train for sports, or recover from injury. Standard activities include chest presses, leg lifts, seated rows, lat pulls, press arms, and leg curls.
The BodyCraft Xpress Pro was the first home gym to incorporate Adjustable Cable Arms. This innovative feature opened up hundreds of new home gyms, including Dumbbell Training, Functional Training, Core Training, Sports Specific and Rehabilitation exercises.  Virtually every home gym manufacturer has adopted adjustable Cable Arms in the business. The XPress Pro is the standard; copied but not duplicated!
Its pulley and cables bring about unrestricted, entirely natural, and correct biomechanical movements. The Xpress uses a 200lb weight stack for resistance. It has a double-up cable feature that increases the 200lb available weight stack up to 400 pounds for the bench press.
The BodyCraft Xpress Pro, while pricey home fitness equipment, proves much more functional than many other core lifts and free weight training options. It's much more compact than other models and still maintains its versatility in providing a full-body workout.
Learn more in my complete review below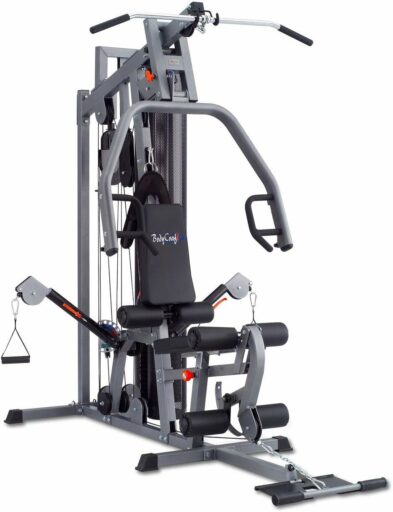 Product: BodyCraft Xpress Pro Home Gym
Price: For a great deal on this gym, merely go here on Amazon
Warranty: Frame lifetime / Parts lifetime (see the light-commercial warranty below)
My rating: 9/10
Affiliate Disclosure: As an Amazon Affiliate Program participant, I earn commissions on purchases made through links in this post. Full disclosure
Details and Specifications
Assembled dimensions: 83L x 57W x 82.75H inches (211L x 145W x 210H cm)
Assembled weight: 570 lbs (258.6 kg)
Weight stack: Steel plates, 200 lbs (90.7 kg)
Max. weight resistance: 400 lbs (181.4 kg)
Possible exercises: 50+
Residential: Frame lifetime / Parts lifetime
Light commercial: Frame 10 years / Parts 2 years / Wear parts 6 months
Xpress Pro Frame construction
The BodyCraft Xpress Pro is one of the sturdiest home gyms in this specs and price range. Its frame has 2″ x 3″ and 2″ x 2″ heavy gauge steel tubing. All the steel bars in the frame construction feature a Platinum Gray multi-stage electrostatically applied powder coating. This coating is corrosion-resistant and scratch/chip resistant.
The machine has a solid structure. Its total weight, with the included weight stack, exceeds 500 lbs. Therefore, it's advisable to be transported and assembled by at least two people. On the other hand, all this weight renders the machine perfectly stable. You won't need to bolt it to the floor. Also, its bases are equipped with rubberized caps to prevent floor damage. However, due to its impressive weight, it's recommended to place it on a rubberized mat.
This BodyCraft home gym system takes quite a bit of space. Its assembled footprint is approx. 83″L x 57″W (211 x 145 cm) and on top of that, it is recommended to keep at least two feet of clearance on each side for unhindered operation. Its highest point is approx. 83″ (211 cm) above floor level. Therefore, it should fit in a room or basement with a 7′ ceiling height, but it will be a very tight fit.
Seat and Backrest
The seat and backrest are both adjustable. The seat offers several upright adjustment positions, while the backrest adjusts front to back. Therefore, the machine can accommodate users of all sizes. The seat adjustment bar is spring-assisted, so you can easily adjust it to your desired height while seated.
The seat and the backrest have extraordinarily dense and durable foam padding. The upholstery is made of heavy gauge vinyl and double-stitched for extra durability. Differently put, with proper care, it can last a lifetime.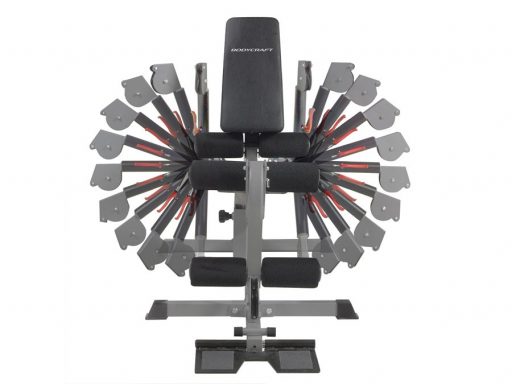 Pulleys and Cables
The BodyCraft Xpress Pro home gym integrates quite an impressive number of heavy-duty pulleys. Each pulley is four 1/2″ (11.4 cm) in diameter, made of fiberglass reinforced nylon, and spins on a sealed and pre-lubricated bearing hub.
The cables feature a 7 x 19 strand construction; they're steel ropes rated at 2,000 lbs (907 kg) tensile strength. Each cable has a highly durable nylon coating, which results in a smoother operation of the machine.
Xpress Pro Workout stations
The BodyCraft Xpress Pro home gym features six distinctive workout stations. These are chest press, arms cable station, high pulley station, intermediate pulley station, low pulley station, and leg developer.
Chest press –
This workout station features a multi-grip design to accommodate all users' needs and can perform various press exercises.
Unlike other home gyms with a chest press, the BodyCraft Xpress Pro offers an extra feature for its chest press. It has a unique double-up feature, which increases the resistance to a 1:2 ratio for the press, delivering up to 400 (181.4 kg) lbs of weight resistance.
Adjustable arm station –
This is another feature that many other home gym systems at this price and spec range do not have. The lateral arms have ten adjustment positions, similar to the arms of the Bowflex Revolution model. They have standard grips, and their pulleys can rotate 180°. They offer the possibility to perform a wide array of arm and chest exercises.
High pulley station –
This station opens the possibility to perform a variety of lat pulldowns and other upper pulley exercises. It comes with a standard lat bar with curved, high-density foam grips and a chrome finish.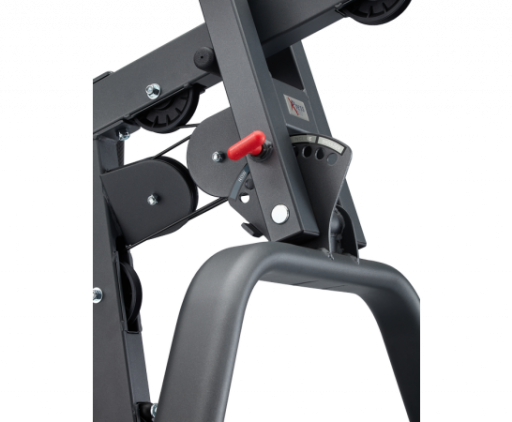 Mid pulley station –
This workout station allows you to perform ab crunches—furthermore, the ab harness accessory (is included).
Low pulley station –
This station comes with a short extension chain and a short pulling handle for low or stand-up rows. It opens a wide array of low pulley exercises. The machine also includes a footplate for enhanced stability during stand-up activities involving the low pulley and an ankle strap for leg abductions or other similar uses.
Leg developer station –
This element allows you to perform leg extensions and standing leg curls. It is equipped with 4″ foam rollers to provide the optimal comfort for these exercises.
An optional (not included) leg press station is also available for the BodyCraft Xpress Pro home gym. Just as the chest press, it offers a double-up ratio of 1:2, providing up to 400 lbs (181.4 kg) of weight resistance. Other optional accessories for this home gym are a triceps rope and sports stick.
Xpress Pro Weight stack and weight ratios
The Xpress Pro home gym comes with a 200 lb (90.7 kg) weight stack, including 20 highly durable plates, at 10 lbs (4.5 kg) each. The weight plates are steel, so this BodyCraft cable machine is a bit more expensive than other similar models. They're durable plates and can last a lifetime with proper care. Also, they're precision-milled and integrate nylon bushing for smooth operation.
The weight ratio for most workout stations is 1:1. However, since the chest press has a double-up feature, the weight resistance ratio is 1:2 resulting in up to 400 lbs (181.4 kg) of weight resistance. This also goes for the optional leg press attachment.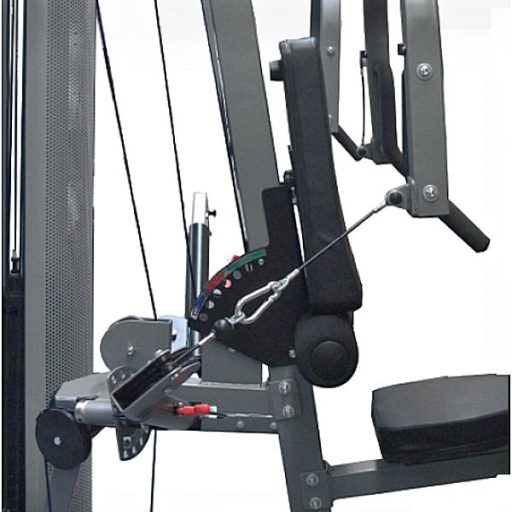 The machine has a metallic enclosure for the weight stack. This element is noise-dampening and perforated, delivering maximum safety and improving the overall aesthetics of the machine.
One last aspect to mention here is upgradability. There aren't any additional plates available separately for this machine. However, there are optional 5 lbs (2.26 kg) and 2.5 lbs (1.1 kg) add-on weights, which offer some diversity in weight increments.
Xpress Pro Possible Exercises
Arm Exercises
Triceps Pushdown
French Press
Triceps Press
Cross Triceps Extension
Rope Pushdowns
Standing Hammer Grip Curls
Seated Biceps Curl
and more
Abdominal Exercises
Standing Trunk Rotation
Trunk Rotation
Standing Oblique Crunch
Reverse Crunch
Seated Abdominal Crunch
and more
Back Exercises
Standing Wide Angle Lat Row
Narrow Pulldowns with Hand Grips
Seated Lat Rows
Shoulder Pullover
Reverse Grip Lat Pulldown
Wide Pulldowns
and more
Chest Exercises
Seated Press
Cable Fly
Resisted Punch
Cable Crossover
Standing Chest Press
Standing Chest Fly
and more
Leg Exercises
Leg Extension
Prone Leg Curls
Standing Leg Kickback
Standing Hip Extension
Leg Press (optional)
and more

Optional Leg Press
Shoulder Exercises
Rear Deltoid Rows
Standing Lateral Shoulder Raise
Seated Shoulder Press
Standing Shoulder Press
Front Shoulder Raise
Standing Rear Deltoid Row
and more
Xpress Pro Available Options:
1:2 ratio
Up to 400 lbs. resistance
Fully adjustable for all size users
Full leg development, including calves
A must-have for the ultimate Triceps Workout.
Heavy Duty Chrome Plated Swivel.
Ergonomic Solid Rubber Hand Stops.
Commercially Rated
It's an ideal add-on to any product with a high pulley.
High-Density Rubber Comfort Grip
Precision Sealed Ball Bearing Motion
Chrome plates D Ring Swivel
Machined Aluminum Trim End Cap
Xpress Pro Assembly and Maintenance
Just as for most other home gyms, the assembly isn't exactly a walk in a park. It will take several hours due to the many parts that you will have to connect. However, the manual does offer step-by-step, detailed assembly instructions.
The tools required for the assembly do not come included with the machine. You will need several adjustable wrenches, Allen wrenches, and a Phillips screwdriver.
Once assembled, the machine doesn't require a lot of maintenance. All you will have to do for this is dust and periodically check for loose bolts and parts. The pulleys may also need lubrication, but they come pre-lubricated from the factory, so you shouldn't need to worry about it for a long time.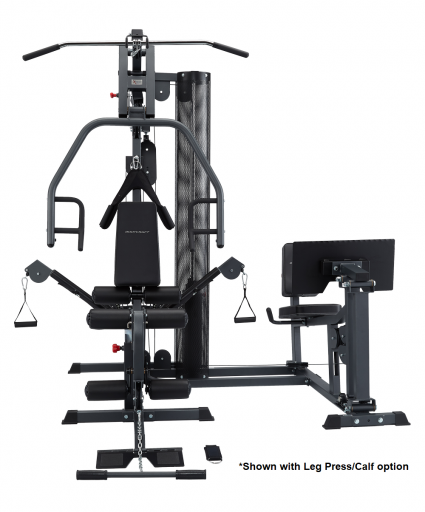 Pros
Sturdy and stout frame, offering excellent stability;
Quite an appealing design, which can also serve as a motivation factor;
Adjustable seat and backrest;
The durable upholstery and thick padding for optimal comfort;
Six workout stations, including press station, adjustable arm station, lat pulldown station, mid pulley station, low pulley station, and leg developer attachment;
Multiple grip possibilities for the chest press;
4″ thick rollers for the leg developer element;
Ten adjustment positions for the lateral pulley arms;
180° rotating pulleys on the lateral pulley arms;
Heavy-duty pulleys and cables;
Accessories included: two pulling handles, lat bar, short row bar, ab harness, and ankle strap;
Steel, highly-durable weight plates;
The total weight of the stack is 200 lbs;
Maximum weight resistance for the chest press 400 lbs;
Over 50 exercises available;
Little maintenance required;
Excellent warranty.
Cons
It doesn't have a conventional fly press station;
Not too easy to assemble.
BodyCraft Xpress Pro Home Gym Summary
The BodyCraft Xpress Pro is a light-commercial home gym featuring a 200 lbs steel weight stack and six workout stations, including a press station, an adjustable arm station, lat pulldown station, intermediate pulley station, low pulley station, and leg developer attachment.
It's a machine for users of all levels, including advanced weight lifters. And finally, it may not be an inexpensive home gym, but the quality in its components, durability, versatility, and overall effectiveness stand up to the price.
I hope you found this article helpful and informative. If you have anything you'd like to share or opinions about the content on my site, please speak up. I look forward to your comments, questions, and the sharing of ideas.