The GoElliptical T-300MX Elliptical Trainer offers an electronically adjustable stride from 18″ to 22″ while having a sizeable overall footprint. The electronic Variable Adjustable Stride (VST) adjustment allows you to adjust the stride during your workout with the simple push of a button. In addition, the welded steel frame provides quality construction and stability.
Geared for both the beginner and the advanced user, the T-300MX comes equipped with a quiet, maintenance-free magnetic resistance system with 24 different resistance settings. For ease of use, adjust the resistance from the stationary handlebars or use the contact heart rate sensors to view your pulse.
The intuitive computer provides a large 7″ readout displaying time, speed, distance, pulse, and calories. In addition, the considerable variation of unlimited programs makes every workout new and exciting. The T-300MX program package includes a quick start, fitness test, manual, custom, random, and heart rate control (chest belt transmitter included).
This elliptical has multi-position handlebars and oversized 17 ½" pedals for added comfort. In addition to, adjustable pedal angles up to 6 degrees remove stress on the feet and ankles. The adjustable cooling fan provides a cool breeze during your workout. Listen to your favorite songs with the Mp3 and iPod-compatible music system (via the headphone port).
Learn more in my complete review below!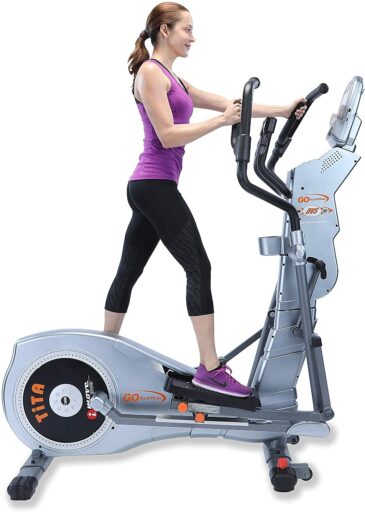 Product: GoElliptical T-300MX Elliptical Trainer
Price: For a great deal on this elliptical, merely go here to Amazon.com
Warranty: Frame lifetime / Parts 2 years / Electronics 2 years
My rating: is 8.25
Affiliate Disclosure: As an Amazon Affiliate Program participant, I earn commissions on purchases made through links in this post. Full disclosure
Details and Specifications
Assembled dimensions: 66L x 28W x 67H inches (168L x 71W x 170H cm)
Shipping weight: 172 lbs (78 kg)
Weight capacity: 325 lbs (147 kg)
Stride: Adjustable, 18 – 22 inches (46 cm)
Pedals: Angle-adjustable
Resistance: Eddy current, 24 levels
Console: 29 programs, two user profiles, recovery function
Extras: Sound system, cooling fan, bottle holder, the device holder
Warranty: Frame lifetime / Parts 2 years / Electronics 2 years
T-300MX Frame Construction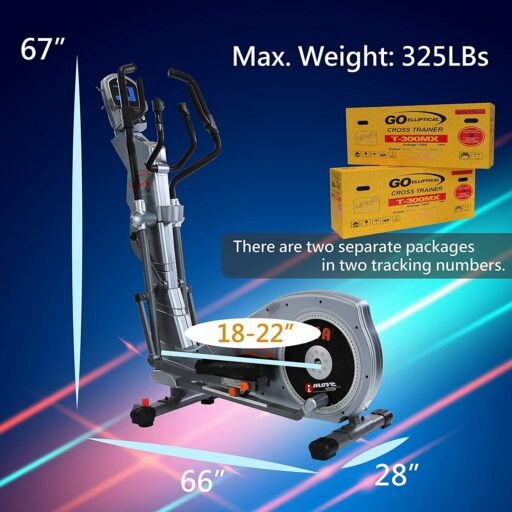 The GoElliptical T-300MX is part of the Tita series. All the cross trainers in this series have their frames almost wholly shielded by plastic guards, and this model is no exception. Nonetheless, the unit's thick steel tubing frame comes coated with a corrosion-resistant paint finish.
The T-300MX is a relatively sizeable elliptical trainer. With all the parts assembled, it is approx. 66″ (168 cm) long and 28″ (71 cm) wide, while its moving arms reach approx—67″ (170 cm) above the floor. In addition, it is advisable to allow at least two feet of clearance all around the machine for easy access.
The machine is also pretty heavy. Its net weight is approx—172 lbs (78 kg). Therefore, two people should transport the packaged trainer (in two boxes) or a hand truck. However, one person can easily transport the elliptical trainer as its front base features transport wheels once assembled. It also has adjustable levelers.
The machine has two sets of handlebars, one fixed and one mobile. The fixed handlebars integrate resistance controls, stride adjustment controls, and pulse sensors, and the moving arms have a multi-grip design. They connect to the pedal bar assembly and do not lock. Therefore, they continue to move for as long as you pedal.
Stride and pedal construction
One of the main pluses of the GoElliptical T-300MX is its motorized adjustable stride. The pedal bars connect to a small motor integrated into the main upright assembly of the machine. There are five stride settings available, these being 18″, 19″, 20″, 21″, and 22″.
In addition, there are stride adjustment controls integrated into the left fixed handgrip of the machine and the stride adjustment keypad.
Since the machine's stride adjustment feature is motorized, it allows you to adjust during workouts. When you change the stride length, the top pedal bars move the pedals forward or backward. Given the stride length, the machine comfortably accommodates users up to 6'5″ (196 cm).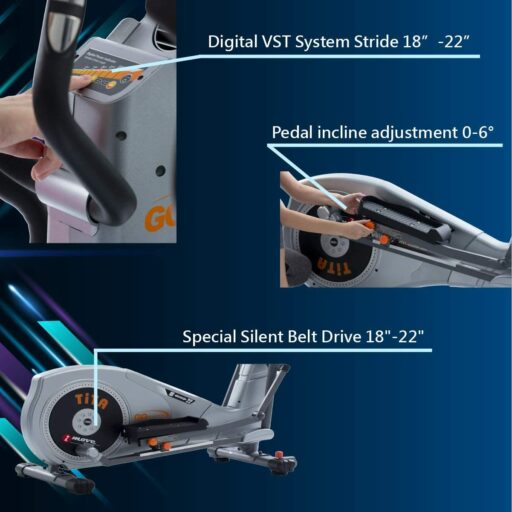 The pedals also have an incline function. Each one has a pull pin at the base, which allows you to change its angle. There are three incline positions for each pedal, 0°, 3°, and 6°.
The pedal trays are made of durable thermoplastic material and support users up to 325 lbs (147 kg) with no problem. They have a ribbed surface and side guards for improved foot stability. They're also pretty significant, approx. 17.5″ (44.4 cm) long, so they accommodate all footwear sizes.
Due to the pedal incline and stride adjustment, the angle of the elliptical path is variable. For example, you can opt for a neutral (horizontal) path or a path that inclines slightly forward; you can focus on different muscle groups and put some diversity into your workouts.
T-300MX Resistance and drive
The GoElliptical T-300MX elliptical trainer comes equipped with a motorized magnetic resistance system. This means that it requires an external power source. Also, the console has multiple workout programs that adjust the resistance automatically. A power adapter comes with the machine.
The unit's resistance system consists of a servo motor (different from the stride adjustment motor) and a magnetic brake integrated into the flywheel. The brake connects to the console and the controls that incorporate into the right fixed grip of the machine.
Thus, when you adjust the resistance, or the console automatically adjusts the resistance, the motor changes the magnet's pull, increasing or decreasing the workout load.
The machine makes available 24 resistance levels. The first few levels are not light due to the heavy internal flywheel. Conversely, the 20-24 tension levels offer quite a challenge, even for the most seasoned athlete.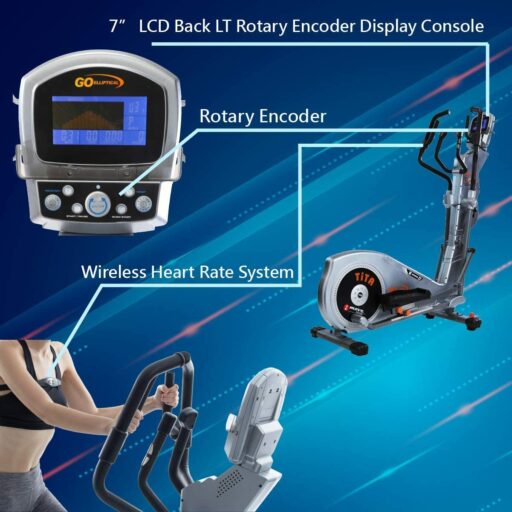 The T-300MX elliptical trainer uses a J6 poly-v belt. Therefore, as would be the case for a chain drive, you don't have to worry about transmission lubrication. It also delivers a tranquil, vibration-free motion.
The internal flywheel offers an inertia load of 48.5 lbs (22 kg) and a speed ratio of 1:10.8. It is bi-directional so you can pedal in reverse. When pedaling in reverse, the resistance remains the same, given by the selected level.
Console
Since the GoElliptical T-300MX elliptical trainer is an older model, it does not have Bluetooth connectivity and is not compatible with any new fitness apps. However, it has a pretty decent program base to keep you motivated.
For instance, it has a manual program that allows you to adjust the resistance and stride as you like during training. Next, 22 pre-set programs cover a fairly decent variety of workouts. Some have an interval layout, others are great for losing weight, while others help you improve stamina.
A personal program, a random program, three heart rate programs, and a fitness program are also available. The unique program allows you to craft your program by setting resistance values for each segment. The random program generates a random segment profile with every launch.
The target heart rate programs are set for 55%, 75%, and 90% of your maximum heart rate and adjust the resistance depending on your current heart rate. The fitness test is a heart rate program with an HR value of approximately —85%.
The console features an LCD with an LED backlight that shows time, speed, RPM, distance, calories burned, pulse, and resistance level. The console is telemetric. It can read your pulse from a wireless HR chest strap transmitter (this accessory is included). However, you can also hold on to the sensors integrated into the fixed handlebars to benefit from a pulse reading.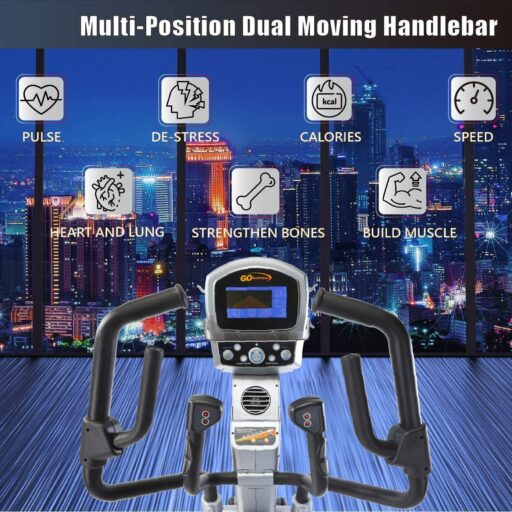 A pulse recovery function is also available. The console will count your pulse at the end of the workout and detect how long it takes your heart to return to an average BPM when activated. The result will give you a fitness rating between F1 – excellent and F6 – poor.
Amenities
Among other notable consoles are the USB charging port, a device holder, and a sound system. The USB port is on the side of the console and allows you to charge your phone or tablet. However, workout data transfer is not possible.
The device holder consists of a small shelf under the unit's LCD. And finally, the sound system consists of two small speakers, one on each side of the console. Thus, if you connect your phone or MP3 player to the console, you can listen to your music through the integrated speakers.
T-300MX Assembly and Maintenance
The base frame of the machine with all the drive and resistance elements comes pre-assembled. However, the rest of the parts do require user assembly. You will have to install the two base stabilizers, the pedals, the main upright tube assembly, the fixed and mobile handlebars, the console, and multiple plastic covers.
This may take more than two hours, but the process is not too complicated. The manual provides clear assembly instructions, and all the necessary tools come with the trainer.
You only have to lubricate the joints for maintenance to prevent squeaking noises, keep the machine clean, and periodically check for loose bolts and parts. The internal mechanism is pre-lubricated from the factory and does not require periodic lubrication.
Pros
Sturdy construction – can support users up to 325 lbs;
Transport wheels on the front base;
Adjustable levelers on the front base;
Fixed and mobile handlebars;
Grip HR sensors built-in the right fixed handlebar;
HR chest strap included;
Resistance controls built-in the fixed handlebars;
Stride adjustment controls built-in the left fixed handlebar;
Adjustable stride function (18″ – 22″);
Three incline positions for the pedals (0°, 3°, 6°)
Extra-large, adjustable pedals;
Balanced flywheel for a smooth pedaling motion;
24 levels of eddy current resistance;
LCD console with LED backlight;
22 pre-set workout programs;
3 HRC programs;
Custom program;
Random program;
Fit test program;
Recovery function;
Device holder integrated into the console;
Bottle holder included;
Sound system included;
USB charging port included;
Workout fan included;
Quiet operation;
Reasonably easy to assemble;
Little maintenance is required;
Decent warranty.
Cons
No online connectivity;
No fitness app compatibility.
GoElliptical T-300MX Elliptical Trainer Summary
The GoElliptical T-300MX is an elliptical machine made for home use. It features an adjustable stride with automatic adjustment, a 24-level eddy current resistance system, and a console with 29 workout programs. In addition, it also has a pretty decent build with a maximum weight capacity of 325 lbs (147 lbs).
Moreover, it's a trainer for low to high-intensity cardio training, muscle toning, interval training, and weight loss for users of all levels.
I hope you found this article helpful and informative. Please speak up if you have anything you'd like to share on the topic or opinions about my website.? I look forward to your comments, questions, and the sharing of ideas.
Please remember that you should consult your physician to determine if you have any medical or physical conditions that could risk your health and safety or prevent you from using the equipment properly. In addition, your physician's advice is essential if you are taking medication that affects your heart rate, blood pressure, or cholesterol level.