The Stamina 15-9003 Deluxe Conversion II Recumbent Bike/Rower is the perfect specimen. It lets you maintain two low-impact, high-payoff aerobic routines with just one piece of equipment in the convenience and comfort of your home. Plus, it has the technology and comfort features you want to stay motivated to row and ride.
Whether you are starting the path to good health today or you've already got that hard body and need to save time by exercising at home, this equipment will help you achieve complete fitness. So when your focus is on tightening thighs, hips, and buttocks without putting extra stress on joints, this recumbent bike/rower offers the workout to make it happen.
The super-quiet recumbent bike features a semi-reclined position designed for toning legs, buttocks, back, torso, shoulders, and arms to tone your lower body while providing an aerobic challenge to increase your heart rate and efficiently kick calories and fat to the curb. It helps you lose and maintain a healthy weight.
Fitness is all about focus. Therefore, get free access to the müüv fitness app. Move more with daily workouts tailored to the equipment you own. Combine innovative audio coaching with your Stamina equipment for a unique home workout experience. The müüv app includes personalized workouts, an equipment assembly video, and ad-free music from iHeartRadio.
Learn more in my complete review below!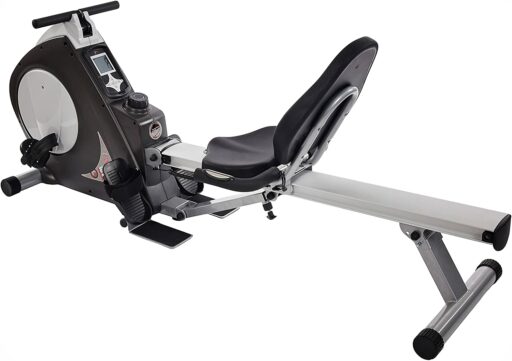 Product: Stamina 15-9003 Deluxe Conversion II Recumbent Bike/Rower
Price: For a great deal on this hybrid, merely go here to Amazon.com
Warranty: Frame 3 years / Parts 90 days
My rating: 8.25/10
Affiliate Disclosure: As an Amazon Affiliate Program participant, I earn commissions on purchases made through links in this post. Full disclosure
Details and Specifications
Assembled dimensions: 75.5L x 20W x 27H inches (192L x 51W x 68.5H cm)
Assembled weight: 106 lbs (48 kg)
Weight capacity: 250 lbs (113.3 kg)
Frame: Steel and aluminum
Footrests: Pivoting, with straps
Pedals: Weighted, with straps
Resistance type: Magnetic, eight levels
Fitness Monitor: Time, speed, calories, pulse, RPM, distance, SCAN, goal functions
Supported by the müüv fitness app
Warranty: Frame 3 years / Parts 90 days
15-9003 Frame Construction
The frame construction of the Stamina 15-9003 features similar construction to various other rowers. Accordingly, it combines steel and aluminum elements. As a result, the rowing beam is extruded aluminum, the front part of the frame sustains the resistance and drive mechanisms, and the rear stabilizer is steel.
Overall, the machine features a rather heavy construction. When fully assembled, it weighs 106 lbs (48 kg). However, its front base integrates two small wheels, facilitating its handling and relocation.
The frame's base tubes don't have adjustable stabilizers. However, the structure also has footplates at its midsection for exercises such as stand-up biceps curls or upright rows. These footplates considerably increase their stability.
Like any other rowing machine with magnetic resistance, this Stamina model isn't exactly small. Its footprint is 75.5″L x 20″W (192 x 51 cm), taking quite a bit of space. However, the frame has a folding design. The rowing beam can fold up and lock in the upright position; this way, the machine's length reduces to 35.5″ (90 cm).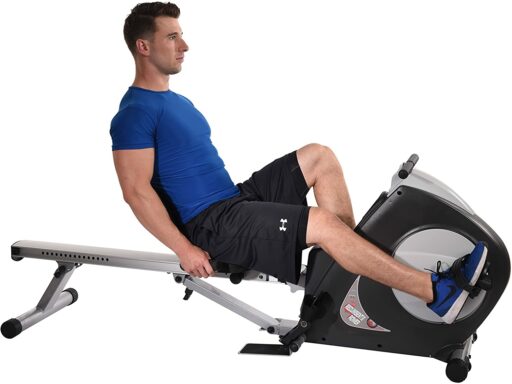 The rowing beam is long enough to accommodate users up to 6'5″ (195.5 cm). It's also solid enough to support users up to 250 lbs (113.3 kg). In addition, it features 15 adjustment holes at the rear and 15 at the front for locking the seat into position if you want to use the machine as a recumbent bike.
Seat, Footrests, and Pulling Handle
The Stamina Conversion II has an ergonomic seat and a large backrest. The stationary backrest connects to the seat's frame and is not adjustable. However, it's at an angle of approx. 60° and should not impact your rowing form in any way. Consequently, it provides a very comfortable position for pedaling.
The seat itself is pretty extensive, approx. 16″ (40.5 cm) wide and has a thin layer of padding, providing optimal comfort for rowing and pedaling. The seat assembly glides on four wheels, integrating sealed ball bearings for a long lifespan and smooth operation.
Its front part features a steel wire hook to attach the pulling handle to perform leg press exercises. However, performing leg presses on this machine is a bit awkward due to the positioning of the footrests. Furthermore, the machine doesn't provide the consistent resistance most users would want during leg press.
The seat assembly includes a set of handlebars with rubber foam grips and stainless steel HR pulse sensors. These sensors are the only means the monitor tracks your pulse. Unfortunately, the unit is not telemetric. Thus, you won't be able to track your pulse wirelessly during standard rowing exercises.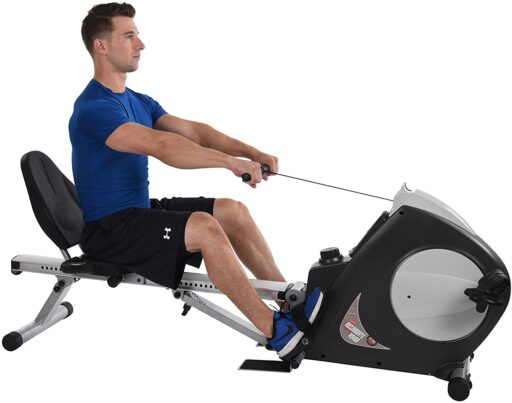 The Stamina 15-9003 has a set of large footrests with heel guards and adjustable straps. They also have a pivoting design, allowing you to find the most comfortable positioning of the feet by adjusting their angle.
Conversely, the recumbent section of the machine comes equipped with a set of weighted pedals with adjustable straps. The Q Factor to these pedals is a bit significant, though, the spacing between them being approx. 10″ (254 mm).
Last but not least, the machine's pulling handle consists of a simple, straight bar, with rubber foam grips, for optimal comfort.
15-9003 Resistance and drive
The Stamina Deluxe Conversion II is a manual magnetic rowing machine/recumbent bike hybrid. It doesn't require a connection to a power source. Its resistance system consists of a magnetic flywheel and a magnetic element connected to the resistance knob through a steel wire. When you turn the knob clockwise, the magnetic element will increase drag onto the flywheel creating more resistance.
The machine offers eight levels of resistance. The first ones deliver light workouts, while the top 7-8 resistance settings are medium intensity. Therefore, this may not be a machine for professional athletes. But on the other hand, it's perfect for beginners and intermediate users.
The machine's drive system uses a heavy-duty belt for transmission and a strap wheel with a bungee cord for the rowing mechanism.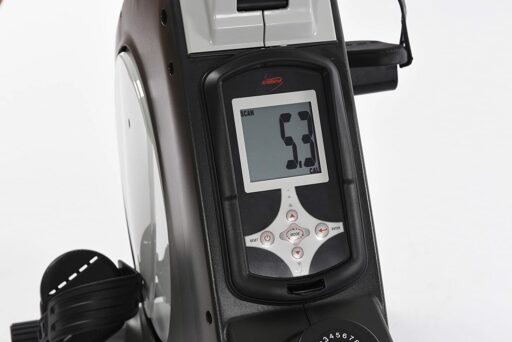 The flywheel is perimeter weighted, delivering a smooth and steady motion. Also, the drive system is almost silent since it's a magnetic bike/rower. So during rowing, you will only hear the soft sound of the seat gliding onto the rail.
Fitness Monitor
The fitness monitor supplied with this Stamina fitness machine offers quite a bit more than the average simple monitor. It is battery-operated and uses 2 AA batteries that do not come with the machine. It can track time, speed, distance, calories, RPM, and pulse, and it also has a SCAN function that rotates these values, keeping each one on-screen for 6 seconds.
The speed and distance are displayed in MPH and miles only. In addition, the pulse is only tracked via the integrated HR pulse sensors in the seat handlebars. However, the monitor is not telemetric. Therefore, it cannot read pulse through wireless HR chest strap transmitters.
The monitor allows for setting up goals for time, distance, pulse, and calories. However, since it doesn't allow user data such as age, weight, height, or gender, the calorie count is only an estimate and not 100% accurate.
The fitness monitor is easy to operate, and it has five keys. The Mode key selects a specific value to be displayed on-screen or toggles the SCAN function, and reset sets all the values to zero. The Up / Down arrows increase or decrease the target value for time, calories, distance, or pulse. And finally, Enter is used for entering setting mode and confirming the target values.
This product also includes free access to müüv, the intelligent audio coaching app. müüv helps you move 500+ minutes per month with the right mix of cardio, strength, and flexibility for a healthy and sustainable lifestyle. In addition, you'll get personalized audio coaching that progresses for you and is fun to do. The all-in-one app includes a follow-along assembly video, customized workouts tailored to your equipment, and an ad-free music listening experience from iHeartRadio. Download the müüv app on the Apple App Store or the Google Play store.
15-9003 Assembly and Maintenance
The drive and resistance elements of the Stamina 15-9003 recumbent bike/rower come pre-assembled from the factory and enclosed by their protective plastic shrouds. Therefore, the assembly of the machine requires you to add the base stabilizers, the rail, the pedals and footrests, and the seat. Consequently, this shouldn't take longer than one hour, and the manual provided includes all the necessary assembly instructions and all the tools required for assembly.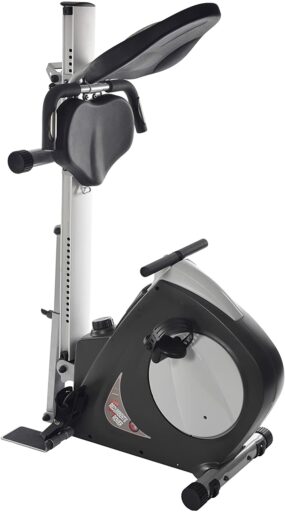 The internal parts don't require any maintenance. Therefore, the only care needed for this machine is the periodic cleaning of the rail and the periodic inspection for loose bolts and parts and retightening them as required.
Pros
Sturdy construction, able to support users up to 250 lbs;
Folding, space-saving design;
A versatile machine, offering the possibility to perform triceps kickbacks, biceps curls, upright rows, forearm curls, and other exercises, along with aerobic rowing and pedaling;
Transport wheels integrated into the front base;
Tranquil and smooth magnetic resistance system;
Eight levels of resistance for light to medium workouts;
Contoured, comprehensive, and foam-padded seat supplying excellent comfort;
Long gliding beam, which can accommodate users up to 6'5″;
Anti-slip, pivoting footrests, with adjustable straps, for maximum foot stability;
Weighted pedals with adjustable straps;
HR pulse sensors integrated into the handlebars;
Fitness Monitor included –  tracks time, speed, distance, RPMs, calories, and pulse;
Goal-setting function for a time, distance, calories, and pulse;
Compatible with the müüv fitness app;
Easy to assemble;
Little maintenance is required.
Cons
The fitness monitor is not telemetric and only reads pulse via the grip sensors.
The LCD monitor does not have a backlight.
Stamina 15-9003 Deluxe Conversion II Summary
The Stamina 15-9003 Deluxe Conversion II is a recumbent bike/rowing machine hybrid, which also offers the possibility to perform other exercises, such as triceps kickbacks, forearm curls, biceps curls, leg presses, or upright rows. It has a manual magnetic resistance system with eight distinctive resistance levels. In addition, it features a sturdy construction and also includes a programmable fitness monitor.
Widely recommended to help achieve peak cardiovascular fitness and strength, rowing machines offer the incredibly effective total body workout you want. And when you add the ability to burn fat and increase metabolism with stationary cycling rapidly, the Stamina Conversion II Recumbent Bike/Rower is the perfect equipment.
I hope you found this article helpful and informative. Please speak up if you have anything you'd like to share on the topic or opinions about my website.? I look forward to your comments, questions, and the sharing of ideas.
Please remember that you should consult your physician to determine if you have any medical or physical conditions that could risk your health and safety or prevent you from using the equipment properly. In addition, your physician's advice is essential if you are taking medication that affects your heart rate, blood pressure, or cholesterol level.