The ShareVgo SRM2000 Rowing Machine features an easy setup Bluetooth connection, easy assembly, and a compact foldable design for space-saving and storage. So you can always have a fun and effective workout in the comfort of your home.
The SRM2000 comes with an easy-to-read Bluetooth LCD fitness monitor that displays all essential information, i.e., scan, time, count, distance, and total count. In addition, calories burned and rowing performance metrics, including 500-meter split time and stroke per minute, are displayed on the app (the smart device is required).
The free ShareVgo Fitness App for iOS (SYNC with Apple Health) and Android allow you to track your progress and performance with an intuitive dashboard, including time, distance, calories, average split (time/500m), total stroke, etc. average stroke per minute, and BMI. In addition, it provides a more accurate calorie burned calculation based on gender, age, weight, rowing split, and tension level.
The fitness app provides a fun and effective full-body home workout by completing an open goal, six preset distance-based goals, and six challenges: 500 m, 2000 m, 10 km, 5 min, 30 min, and 60 min. Be engaged by sharing your results & competing with others. You'll have unprecedented visibility of your daily, weekly, monthly, and yearly indoor rowing exercise progress.
Learn more in my complete review below!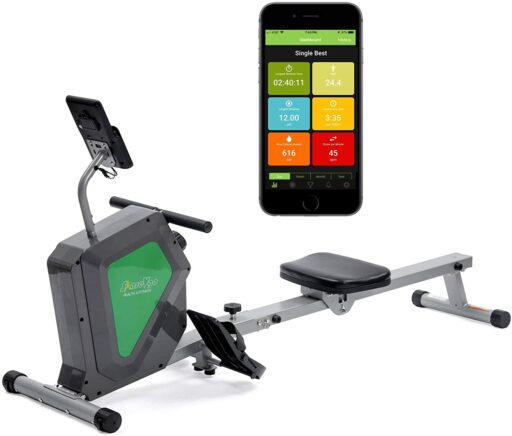 Product: ShareVgo SRM2000 Rowing Machine
Price: For a great deal on this rower, merely go here to Amazon.com
Warranty: 90 days
My rating: 8.5/10
Affiliate Disclosure: As an Amazon Affiliate Program participant, I earn commissions on purchases made through links in this post. Full disclosure
Please note that the smart device does not come with the machine.
Details and Specifications
Assembled dimensions: 71″L x 20″W x 35″H (180L x 51W x 89H cm)
Assembled weight: 51 lbs (23 kg)
Weight capacity: 285 lbs (129 kg)
Frame: Steel
Resistance type: Magnetic, eight levels
Extras: Device holder
Console: Time, count, total count, distance, scan, goals, Bluetooth
Warranty: 90 days
SRM2000 Frame Construction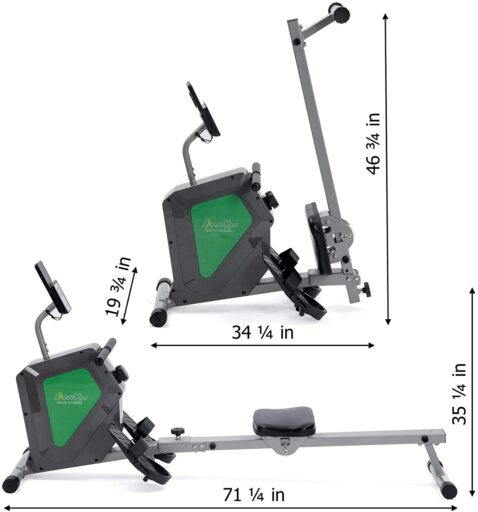 The ShareVgo SRM2000 rower features a steel rectangular and cylindrical tubing frame. All the steel parts in its construction come coated with a rust-resistant light grey paint finish. In addition, the machine's drive and resistant unit feature two durable thermoplastic gray covers, with a green panel in the middle for an extra aesthetic touch.
The rower is not too large; it's considerably smaller than most other rowing machines. With all the parts assembled, it is approx—71″ (180 cm) long and 20″ (51 cm) wide. However, the applicable user inseam is 38″ (96 cm).
Therefore, this rower comfortably accommodates users between 5'0″ and 6'4″ (153 – 193 cm) with no problem. Also, the rail slants forward slightly. Thus, the rower provides a more consistent workout for the legs.
The SRM2000 rower is foldable. Its rail with the seat can fold up. With the rail folded up, the machine's length reduces to approximately 34″ (86 cm) while its height reaches approx—47″ (119 cm).
This rowing machine is also pretty light. Its net weight is approx—51 lbs (23 kg). Therefore, one person can carry and assemble the rowing machine. Also, relocating the rower is easy as its front base stabilizer comes with two transport wheels.
Seat and handlebars
The ShareVgo SRM2000 rower comes equipped with a pretty comfortable seat. Its top integrates a layer of foam cushioning, while its cover is a durable vinyl material. In addition, it has a bit of contouring to provide better positioning for the user. It is approx. 12″ (30 cm) wide, giving plenty of contact surface.
The base of the seat is steel-made. It integrates three sets of wheels. Two slides on the top of the rail and the third at the bottom for improved stability. Furthermore, the wheels combine sealed bearings for a smooth motion. They also have a rubber layer on the outside to reduce noise.
The machine's rail and seat are durable and have a maximum user weight capacity of 285 lbs (129 kg). Also, since the rail slants slightly forward, the seat is higher when close to the rear. Therefore, its most elevated position from the floor is approx—10″ (25.4 cm).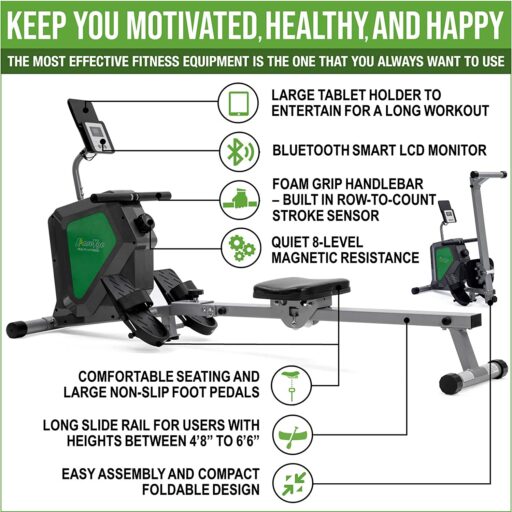 The ShareVgo SRM2000 rower comes equipped with two sizeable thermoplastic material footrests. In addition, they have heel guards, adjustable straps, and a textured surface for improved foot stability. Their size does not adjust, but they comfortably accommodate athletic shoes of any size.
The footrests have a pivoting design. This design allows them to tilt on their axis when you row to adapt better to the pressure your feet apply during rowing. In addition, they have stoppers at the heel so that they won't tilt backward past approx. 50°.
The machine's pulling handle consists of a short straight metallic bar. It features PVC foam sleeves for an improved grip. In addition, it attaches to a heavy-duty nylon strap highly resistant to abrasion. Unfortunately, it does not have pulse sensors or other controls.
SRM2000 Resistance system
The ShareVgo SRM2000 rower comes equipped with a manual magnetic resistance system. Thus, you don't need an adapter or an external power source for the rower. However, on the other hand, the included fitness monitor does not have preset programs and cannot auto-adjust the resistance as you row.
The main resistance element is an internal magnetic brake that connects to the tension knob on the front unit of the rower via a steel cable. When you turn the knob, the brake moves closer or farther from the internal flywheel, increasing or decreasing the workout load.
The main advantage of the magnetic resistance system is that the brake does not touch the flywheel. This leads to a very smooth and quiet rowing motion.
The machine's internal flywheel is not too heavy. It weighs only 8.8 lbs (4 kg). However, it is perimeter-weighted, which adds momentum and improves motion stability.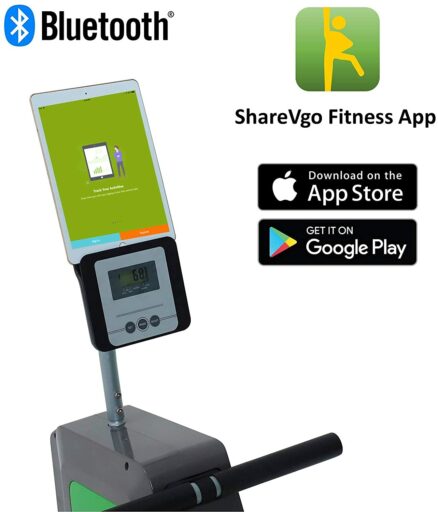 The machine features eight resistance levels. The lowest level delivers a rowing difficulty slightly more significant than other similar machines, but it's still a reasonably light workout load. On the other hand, the 8th level of resistance provides considerably more resistance for a more consistent workout.
Like most other full-magnetic rowing machines, the ShareVgo SRM2000 does not offer a dynamic response during usage. Therefore, the rowing difficulty does not depend on how fast you pull the handle, as for water rowing machines or air resistance rowers.
Since it is a magnetic rower, the resistance only depends on the selected resistance level. This shouldn't be a significant inconvenience. It's just that the rowing sensation of an air rower or water rower is closer to the feeling of rowing a real boat. Nevertheless, the machine still provides a pretty consistent full-body cardio workout.
Fitness monitor
The ShareVgo SRM2000 magnetic rower comes equipped with a pretty simple fitness monitor. Unfortunately, it does not have preset programs. However, it does have Bluetooth connectivity and allows you to sync the rower with your smartphone or tablet via the ShareVgo Fitness App. This app is available for both iOS and Android systems.
The ShareVgo app offers the possibility of creating goals for your workouts and tracking calories burned, time/500m, and has a BMI function. It offers various challenges. In addition, it also allows you to track your progress online or share it with social media.
Plus, you can sync it with Apple Health and most heart rate monitors to keep track of your pulse during the workout and view your average heart rate per workout.
However, the usage of the ShareVgo app is not necessary. The fitness monitor still offers a set of basic features on its own. It has an LCD that tracks time, count, total count, and distance. In addition, it features three buttons – Set, Mode, and Reset.
The Set button allows you to select time, distance, and stroke count goals. The Mode button covers the selection function; you can repeatedly press it to choose the metric you want to view or select the Scan Mode, which rotates all the metrics showing each one for a few seconds. And finally, the Reset button clears all the values on the monitor to zero.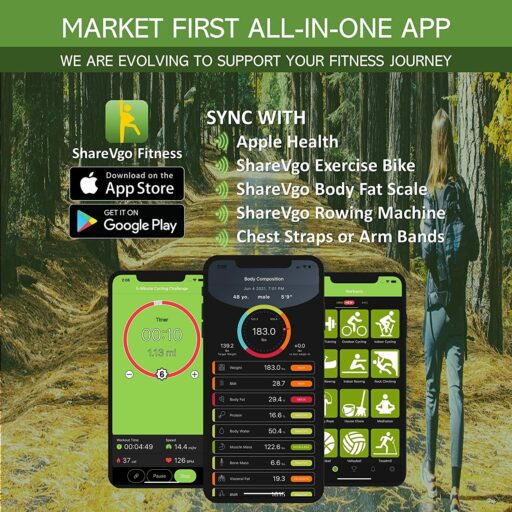 The fitness monitor is battery-powered, and it requires two AAA batteries. In addition, it starts when you begin rowing or press one of the buttons and automatically turns off if it does not detect any activity on the rower for more than 4 minutes.
The device holder can place a tablet or phone on the monitor. However, it does not have any ports for your phone (no USB, no AUX).
Please note that the smart device does not come with the machine.
SRM2000 Assembly and Maintenance
The drive and resistance section of the machine comes pre-assembled and connected to the front part of the frame. Thus, the rest requires user assembly. After that, you'll only need to add the front base stabilizer, insert the seat on the rail, connect the rail to the front section of the rower, and add the rear stabilizer, the footrests, and the fitness monitor.
Consequently, this shouldn't take more than 30-40 minutes of your time. All the tools necessary for the assembly come with the rowing machine. In addition, the included manual provides clear, step-by-step assembly instructions.
For maintenance, you don't need to do much. The internal components are pre-lubricated. The essential aspect of care is keeping the machine's rail clean and free of dust, textile fibers, or small objects that may damage the wheels of the seat or cause nicks into the rail. Also, a periodic check for loose parts and bolts and retighten them as needed.
Pros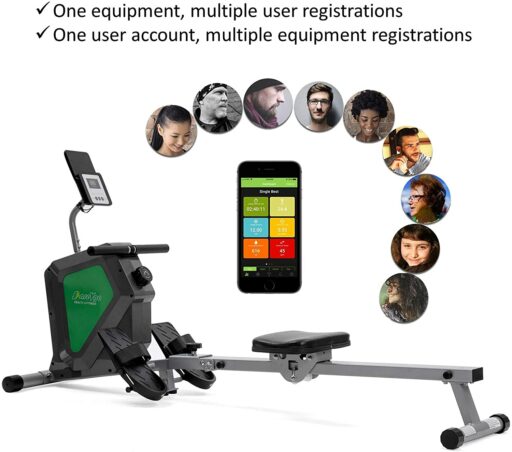 Sturdy frame – can support users up to 285 lbs;
Folding frame;
Transport wheels integrated into the front base;
Padded and contoured seat for optimal comfort;
Pivoting footrests for a perfect foot position with each stroke;
It can accommodate users up to 6'4″;
Smooth magnetic resistance system;
Eight levels of resistance for light to medium workouts;
Fitness monitor included – it can track time, count, and total count;
Bluetooth connectivity;
Compatible with the free ShareVgo Fitness App;
Device holder included;
Quiet operation;
Easy to assemble;
Little maintenance is required.
Cons
The fitness monitor LCD does not have a backlight;
An HR chest strap or armband does not come with the machine.
ShareVgo SRM2000 Rowing Machine Summary
The ShareVgo SRM2000 is a rower made for home use. It has an 8-level manual magnetic resistance system, a padded seat, pivoting footrest, and a folding rail. It also includes a fitness monitor that is Bluetooth-enabled and compatible with the ShareVgo Fitness app.
Moreover, it's a reasonably decent fitness machine, great for a full-body cardio workout, stamina development, interval training, and weight loss. It's also one of the most affordable rowers with Bluetooth connectivity.
I hope you found this article helpful and informative. Please speak up if you have anything you'd like to share on the topic or opinions about my website.? I look forward to your comments, questions, and the sharing of ideas.
Please remember that you should consult your physician to determine if you have any medical or physical conditions that could risk your health and safety or prevent you from using the equipment properly. In addition, your physician's advice is essential if you are taking medication that affects your heart rate, blood pressure, or cholesterol level.