The GoElliptical V-600X Elliptical Machine comes equipped with a maintenance-free, silent magnetic resistance system that provides a fluid elliptical movement. The manually adjustable 18″ stride combined with the cushioned upper body handlebars provides a comfortable upper and lower body no-impact workout for maximum calorie burn.
The V-600X offers 24 pre-set workout programs, random programs with unlimited variations, and 24 levels of magnetic resistance with a unique toggle switch allowing for an excellent cardio workout. In addition, the intuitive computer provides a Club Type 128 Dot Large LED readout displaying the program profile, time, speed, distance, pulse, and calories.
This elliptical has oversized 25.5″ x 5.5″ pedals that adjust to 8 different positions based on the user's preference for added comfort. As a result, the GoElliptical V-600X elliptical offers a fluid, comfortable 3-position, manually adjustable stride in a small package.
Learn more in my complete review below!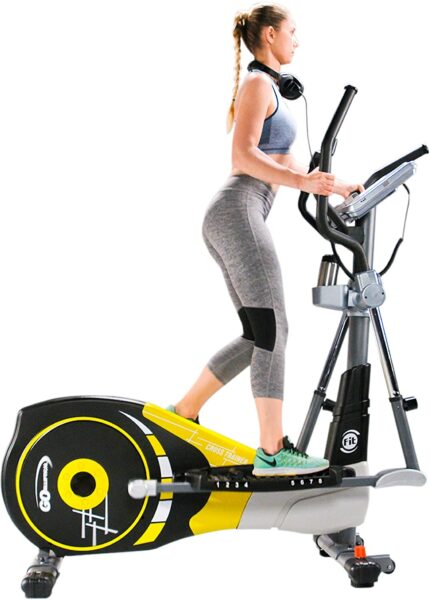 Product: GoElliptical V-600X Elliptical Machine
Price: For a great deal on this elliptical, merely go here on Amazon.com
Warranty: Frame lifetime / Parts 1 year
My rating: 8/10
Affiliate Disclosure: As an Amazon Affiliate Program participant, I earn commissions on purchases made through links in this post.  Full disclosure
Details and Specifications
Assembled dimensions: 60L x 28W x 68H inches (152L x 71W x 173H cm)
Shipping weight: 161 lbs (73 kg)
Weight capacity: 300 lbs (136 kg)
Stride: 18 inches (46 cm)
Incline: No
Pedals: Adjustable
Resistance: Eddy current, 24 levels
Console: 24 programs, recovery function
Extras: Sound system, USB charging port, bottle holder, and device holder
Warranty: Frame lifetime / Parts 1 year
V-600X Frame construction
First of all, the GoElliptical V-600X is the newer version of the V-600 model. It has a pretty similar frame construction but has a slightly different design and comes with another console. The machine's frame is steel tubing combining oval, cylindrical, and rectangular bars in its construction.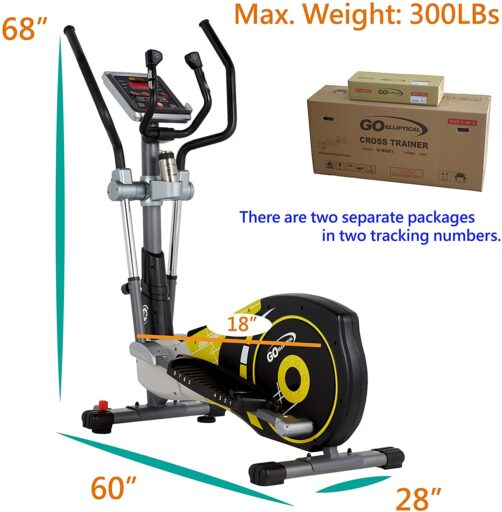 Most of the steel bars in the machine's construction come coated with a corrosion-resistant paint finish gray in color, except for the adjustable sections of the moving arms, which have a chrome finish. These are also adjustable, a feature that many other ellipticals do not have. The trainer also has a set of fixed handlebars that integrate pulse sensors and resistance controls.
As with most rear-drive elliptical trainers, most of the machine's base body has several large covers. These are durable thermoplastic materials featuring similar color to the V-950X model.
The fully assembled trainer is pretty heavy. It weighs approx. 161 lbs (73 kg) comes in two boxes; the giant box weighs 143 lbs (65 kg), so two people should carry the boxed machine. However, once fully assembled, one person can quickly move the elliptical. That's because its front base features a set of transport wheels.
The machine's impressive weight also plays an essential role in its overall stability. So you can be sure that it won't move or wobble, even if you engage in a more demanding workout. Plus, its front base comes equipped with a set of adjustable levelers.
Last but not least, the GoElliptical V-600X is a reasonably large fitness machine. Its footprint is approx. 60″L x 28″W (152 x 71 cm), while its highest point is 68″ (173 cm). Therefore, it is also advisable to leave at least two feet of clearance all around it for ease of access.
Elliptical path, stride, and pedal height
One of the most important aspects to note here is pedal adjustability. The GoElliptical Vena V-600X comes equipped with two oversized pedals featuring a ribbed surface. Each pedal has an adjuster attaching to one of its ribs to provide an extra guard point at the heel or the front.
The pedals are heavy-duty thermoplastic material. They have a maximum user weight capacity of 300 lbs (136 kg). They are attached to a set of rectangular steel bars connected to the machine's moving arms and crankset. Thus, the moving components will continue to drive for as long as you pedal.
Although it's a rear-drive trainer, its elliptical path offers a neutral angle. Due to the large pulley, it generates ample motion engaging multiple muscle groups. Even though the pedals do not have extra cushioning elements, the machine still provides a very comfortable, low-impact ride, great for users of all fitness levels.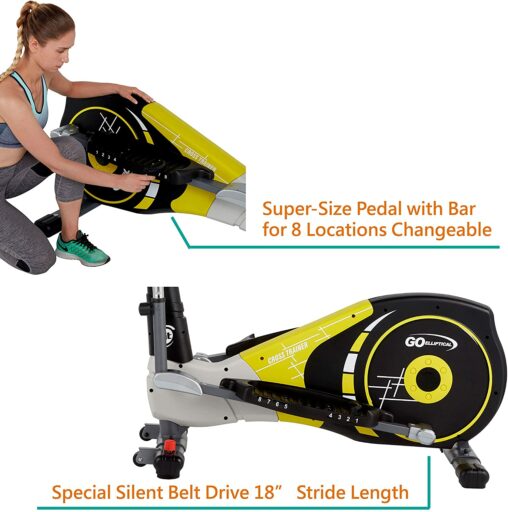 The machine offers a stride of approximately 18″ (46 cm). Thus, it comfortably accommodates users up to 6'3″ (190 cm). Also, due to the adjustable foot stoppers on the pedals and the adjustable moving arms, even taller users can use this machine comfortably, even if the stride may not provide a full range of motion for them.
The highest point of the pedals is 16″ (40 cm) above the floor level. Conversely, they are approximately 6″ (15 cm) above the floor at their lowest point. Therefore, it is advisable to use this trainer in a room with a ceiling of at least 20″ (51 cm) higher than the height of the tallest user.
V-600X resistance and drive
The GoElliptical V-600X comes equipped with a motorized magnetic resistance system. Therefore, it needs a connection to an external power source to power up the console and adjust the resistance. The machine comes with an adapter and cable.
The unit's resistance system consists of an internal servo motor and a magnetic brake. The motor makes the connection between the brake and the console. Therefore, as you adjust the resistance or adjust the console automatically, the motor will change the magnets' pull to provide more or less resistance.
The machine makes available 24 resistance settings. Due to the pretty impressive weight of the flywheel, the first few levels of resistance are not too light. As a result, they deliver a pretty consistent pedaling motion. Conversely, the highest resistance levels offer the possibility to perform a high-intensity cardio workout. Generally, even the most seasoned users may not hold a high and constant cadence using these levels for more than a few minutes.
The machine's internal flywheel is perimeter-weighted. This type of construction provides superior inertia. It is a reasonably heavy flywheel for a home-use trainer; it weighs approx. 17.6 lbs (8 kg). It is also bi-directional.
Like most other magnetic elliptical trainers, the V-600X integrates a J6 poly-v belt as its main transmission element. Therefore, you don't have to worry about transmission lubrication, as a chain drive would be the case. It also delivers a tranquil, vibration-free motion.
Console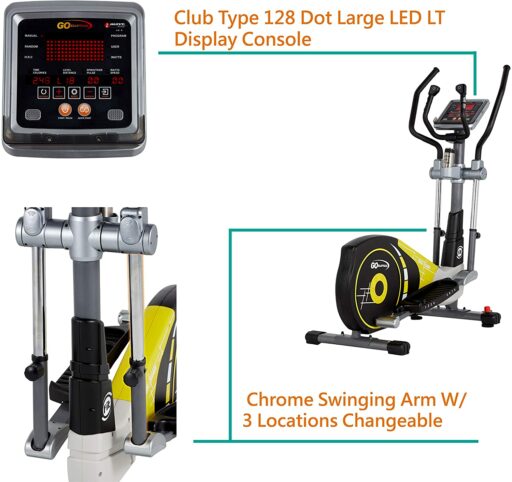 The GoElliptical V-600X comes equipped with the same type of console as the V-950X. In addition, it features an LED display with five windows, and it tracks time, distance, speed, RPM, calories, watts, and pulse.
The distance can either be metric units or English units. You can either hold on to the sensors integrated into the machine's fixed handlebars or wear a wireless HR chest strap for the pulse reading. However, this accessory does not come included with the machine.
The console offers 24 pre-set programs. These have various segment layouts. These pre-set programs automatically adjust the resistance depending on their segment layout. When a program is in use, its segments show up on the large, top display.
There is a Manual program and an HRC program. The Manual program allows you to adjust the resistance as you like from the integrated controls. The HRC program will change the resistance depending on your current heart rate.
There is also a Personal program and a Random program. Plus, the console offers the possibility to input your data, such as height, weight, age, and gender, to better calorie reading.
The console also has a pulse recovery function. This program counts your pulse at the end of the workout and detects how long it takes your heart to return to an average BPM. The result will give you a fitness rating between F1 – excellent and F6 – poor.
Amenities
The console is not compatible with any fitness apps and does not have Bluetooth or WiFi connectivity. However, it does have several other notable features. Among them, I can count the sound system, the USB port, and the tablet holder. The sound system consists of two small speakers visible on the bottom corners of the unit; an AUX cable comes included too.
The USB port is for recharging your device only; you cannot import or export workout data, as is the case for other fitness machines. The device holder consists of a small shelf at the bottom of the console where you can place your smartphone or tablet.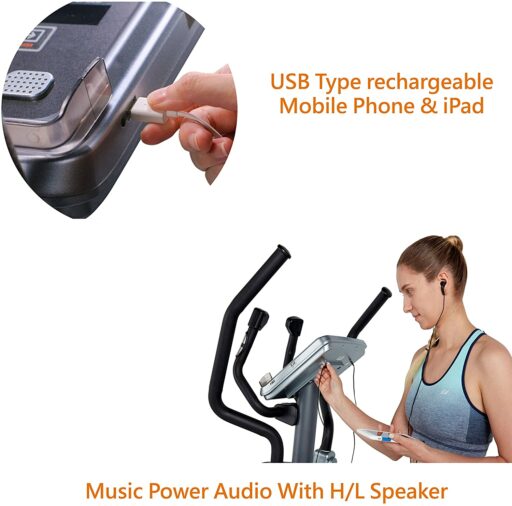 V-600X Assembly and Maintenance
The main body of the V-600X cross trainer comes pre-assembled. First, however, you will have to connect the two base stabilizers, the front mast, the moving arms, the fixed handlebars, the console, the pedal bars, the pedal trays, and several other small parts.
This may take up to two hours of your time. However, the task is not too difficult and straightforward. The manual provides all the necessary instructions and schematics. Also, all the tools for the job come with the machine.
For maintenance, you'll have to wipe the sweat that may fall onto the frame at the end of the workout, lubricate the joints if they develop squeaking noises, and periodically check for loose bolts and parts and retighten as necessary. The internal mechanism is pre-lubricated from the factory and does not require periodic lubrication.
Pros
Sturdy construction – can support users up to 300 lbs;
Transport wheels on the front base;
Adjustable levelers on the front base;
Fixed and mobile handlebars;
Grip HR sensors built-in the fixed handlebars.
Resistance controls built-in the fixed handlebars;
Three levels of adjustment for the moving arms;
Balanced flywheel for a smooth pedaling motion;
Oversized, adjustable pedals;
24 levels of eddy current resistance;
LED display console with LED backlight;
24 workout programs;
Recovery function;
HRC program;
Custom program;
Random program;
Device holder integrated into the console;
Bottle holder included;
Sound system included;
USB charging port included;
Quiet operation;
Reasonably easy to assemble;
Little maintenance required;
Decent warranty.
Cons
No incline;
No online connectivity.
GoElliptical V-600X Elliptical Machine Summary
The GoElliptical V-600X is a home-use rear-drive cross-trainer. It comes equipped with a motorized magnetic resistance system, adjustable arms, pedals, a 17.6 lbs internal flywheel, and a console with 24 pre-set programs.
Moreover, it's a pretty sturdy machine, great for users of all levels of light or high-intensity workouts, stamina and strength development, muscle toning, interval training, and weight loss.
I hope you found this article helpful and informative. If you have anything you would like to share or any opinions about my website, please speak up. I look forward to your comments, questions, and the sharing of ideas.