The Horizon 7.0 AE Elliptical Cross Trainer has a front-wheel drive that makes it more compact and space-friendly. In addition, the 23 lb flywheel makes for a smoother and quieter glide. Also, the heavier flywheel is conducive to supporting users up to 325 lbs. Equally important, the 20″ stride length is ideal for most users.
The wide range of incline levels (20) and resistance levels (20) means many challenging combinations suitable for beginners and more advanced users. Therefore, the Horizon 7.0 AE will be continually helpful throughout your fitness journey or for users of different fitness levels in the same household.
The 7.0 AE features advanced Bluetooth technology to connect with multiple devices and stream media to the integrated speakers. Moreover, the free AFG app lets you push workout data to your favorite fitness apps and control your workout from your device.
The Horizon 7.0 AE has eight workout programs that will give you a little bit of everything (calorie, distance, fat burn, etc.). Plus, with the addition of the incline settings, you can easily do your workouts. The 7″ LCD is the largest screen found on Horizon's ellipticals. It's large enough to see all of your stats during your training- no squinting necessary.
Learn more in my complete review below!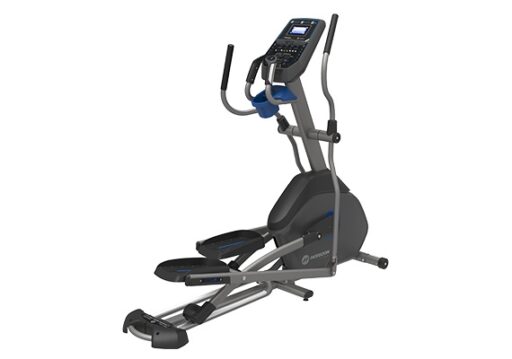 Product: Horizon 7.0 AE Elliptical Cross Trainer
Price: For a great deal on this elliptical, merely go here on Amazon
Warranty: Frame lifetime / Brake lifetime / Parts 3 years / Labor 1 year
My rating: 9.25/10
Affiliate Disclosure: As an Amazon Affiliate Program participant, I earn commissions on purchases made through links in this post. Full disclosure
Details and Specifications
Assembled dimensions: 76L x 24W x 65.6H inches (193L x 61W x 166H cm)
Assembled weight: 194 lbs (88 kg)
Flywheel weight: 23 lbs (10.4 kg)
Supported weight: 325 lbs (147 kg)
Stride: 20 inches (51 cm)
Incline: Automatic, 20 levels
Resistance: Eddy current, 20 levels
Console: 8 workout programs, AFG training app, Bluetooth
Extras: Bottle holder, tablet holder, speakers, cooling fan
Warranty: Frame lifetime / Brake lifetime / Parts 3 years / Labor 1 year
7.0 AE Frame
The Horizon Fitness 7.0 AE elliptical features a heavy-duty Six-Star frame designed to help you maintain an ideal body position during workouts and maximize comfort.
The machine has a pretty heavy overall construction; it weighs approx. 194 lbs (88 kg), which means it should be carried, unboxed, and assembled by at least two people. However, once completed, it can be moved with ease by only one person as its front bar integrates transport wheels.
The unit's super-weight also delivers excellent stability. As a result, you can ensure that this machine won't rock even if you engage in the most demanding workouts. Plus, both its middle base bar and rear base bar feature adjustable stabilizers with rubberized pads, allowing you to level it on any floor perfectly.
This Horizon elliptical trainer combines ovalized and cylindrical tubes in its construction for improved sturdiness and aesthetics. However, the machine also integrates several ABS parts. For example, the covers of the drive and resistance elements, the pedals, the casing of the console, and several other small covers are ABS material.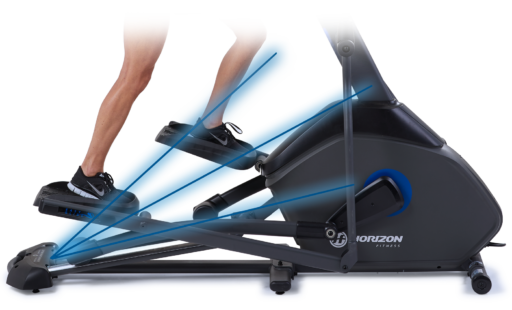 All the steel parts in the machine's frame come double-coated with a chip-resistant and rust-resistant paint finish. The color used is dark gray, this being the only color available for this trainer, except for the incline bar covers, which have a chrome finish.
Pedals and Handlebars
The Horizon 7.0 AE cross trainer comes with two heavy-duty pedals. Moreover, the pedal trays are a durable ABS material. Each pedal is attached to a metal plate welded directly to the pedal arm. The unit's pedals support users up to 325 lbs (147 kg), a weight capacity characteristic of most light-commercial cross-trainers.
The pedals do not have additional cushioning and articulation. However, the machine provides a pedaling motion with a bit of impact on your joints. The pedal trays also feature a non-slip surface and side/front guards to provide superior foot stability.
The cross trainer has two sets of handlebars, one mobile and one fixed. The mobile handlebars feature extended, curved grips. They are attached to the main console mast and the pedal bars, so they cannot be locked; they continue to move as long as you pedal. Their joints integrate sealed ball bearings for a smooth motion.
The fixed handlebars feature incline and resistance controls. They also integrate pulse sensors to monitor your pulse even if you don't use a wireless heart rate chest strap or armband.
7.0 AE Incline, stride, and elliptical path
The Horizon Fitness 7.0 AE elliptical cross trainer has an automatic incline system that ranges from 0% to 20%. It consists of a motor and a slight lift attached to the unit's rail system. As the incline is adjusted, the lift elevates or lowers the rail system, changing the elliptical path's incline.
Since the incline system is motorized, the incline level is only adjustable when connecting to a power source. The fixed-left grip features incline controls for gradual adjustment. The increments are 0.5%. However, the console also has quick selection incline buttons for levels 2, 4, 6, 8, 10, 12, 16, and 20.
This cross trainer offers a standard 20-inch (51 cm) stride. Therefore, it can accommodate users up to 6'5″ (196 cm), offering a complete range of motion. Also, the minimum height of the pedal is approx. 10″ (25 cm) while the highest pedal level is approx. 16″ (40 cm) above floor level.
Therefore, it is advisable to use this machine in a room with a ceiling at least 20-25 inches (51 – 63 cm) higher than your height.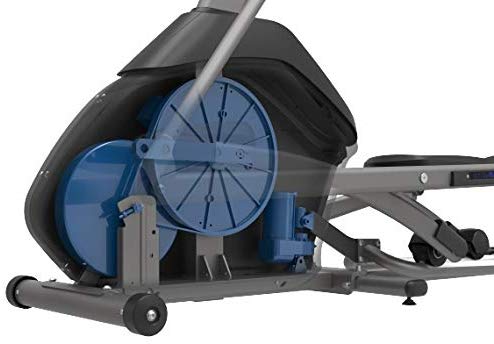 One last aspect to mention here regards the unit's elliptical path. The machine's elliptical path is horizontal with the incline set at zero, but the pedals are slightly inclined. Therefore, the pedaling motion may resemble a descension on a soft ramp.
Conversely, with the incline set up to the 20th level, the elliptical path becomes a few extra degrees inclined forward. So, as a small conclusion here, the machine provides a very consistent workout for your glutes and thighs while also maintaining a soft impact on your joints and back.
Drive System
The Horizon 7.0 AE cross trainer has a 23-lb (10.4 kg) flywheel. Due to this weight and balanced structure, it provides a consistent momentum and pedaling motion. It also allows reverse pedaling. Thus, you can add diversity to your workouts.
The machine's internal transmission uses a durable poly-v belt. This type of transmission comes with a few advantages. First of all, you will never have to worry about taking the unit apart to lubricate it, as may be the case for a chain drive system. And second of all, the pedaling motion is very smooth, quiet, and vibration-free.
Another aspect that we must mention here regards the pedal bar wheels. Each wheel has an outer silicone shell to minimize noise and provide a smooth pedal journey onto its rail. Also, both these wheels integrate industrial-grade sealed ball bearings for a lifetime duty.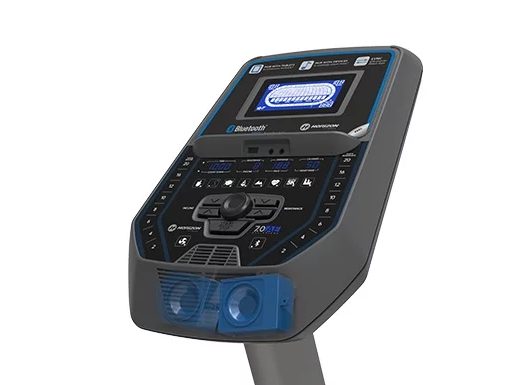 7.0 AE Resistance System
Like most other elliptical machines in this price and feature range, the Horizon 7.0 AE features an eddy current resistance system. Unfortunately, this means you have to connect it to a power source to adjust its pedal tension.
The unit does not require an adapter; it has a power cable featuring a U.S. standard 3-prong plug. It also means that the console can automatically adjust the resistance depending on the user program.
The machine's resistance system consists of a servo motor and a magnetic brake system. Moreover, as you adjust the resistance or the console automatically adjusts the resistance, the motor changes the magnetic brake's pull, leading to more or less pedaling difficulty.
There are 20 resistance levels available on this cross-trainer. The first few levels deliver little pedal tension, which is excellent for low-intensity cardio workouts or rehab training. The top 18-20 levels, on the other hand, provide considerably more resistance, perfect for anyone who wants regular exercise and extra fat-burning possibilities.
Last but not least, the machine offers controls for gradual and quick selection resistance adjustment. The incremental resistance controls integrate into the right fixed grip. They provide 0.5% adjustment increments.
The quick selection controls are on the right side of the console; just as for the incline, they allow you to select the 2, 4, 6, 8, 10, 12, 16, and 20 levels of resistance.
Console
The Horizon Fitness 7.0 AE elliptical trainer comes with a multi-function console. It features an LCD and an LED display. The LCD is at the top of the unit; it indicates incline, resistance, time, distance, RPM, watts, calories, pulse, and the current exercise program segments. It also shows the distance as a 1/4-mile track.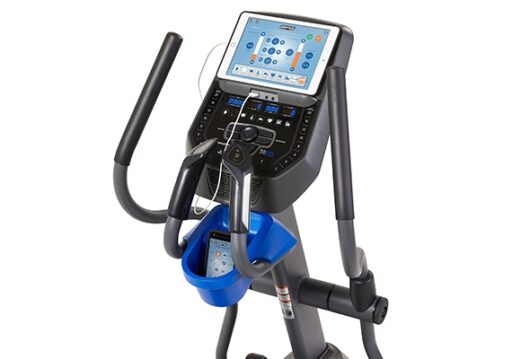 In contrast, the bottom LED display divides into four windows, which indicate (from left to right) time, resistance/incline, distance/pace, and calories/pulse.
The console is compatible with the free AFG Fitness app for iOS and Android. Therefore, you can install this app on your smartphone or tablet and sync your device with the console.
The app allows you to control your elliptical from your smartphone or tablet. Still, it also gives you the possibility to monitor your workout, track your progress, and view your workout history.
As I've mentioned earlier, the fixed handgrips have integrated pulse sensors for monitoring heart rate. However, the console also has Bluetooth and can communicate with Bluetooth 4.0 HR armband or chest strap. Unfortunately, an HR chest strap does not come with the elliptical.
7.0 AE Workout Programs
The console offers two main workout modes with eight workout programs; most programs also have multiple resistance levels. The first workout mode includes profile-based programs. These are Manual, Hill Climb, My First 5K, Fat Burn, and Custom.
– Manual is the standard program that allows you to exercise at your own pace, adjusting the incline and resistance you like throughout the workout session.
– Hill Climb is a program designed for cardiovascular ability and muscle tone improvement. It involves both incline and resistance and has ten levels.
– My First 5K is a program intended for anyone who wants to reach and break their first 5K distance. It helps you to achieve this record in 9 weeks. As its name suggests, Fat Burn is a program focused on weight loss. Just like Hill Climb, it has ten difficulty levels, 16 segments, and a duration of 60 seconds for each segment.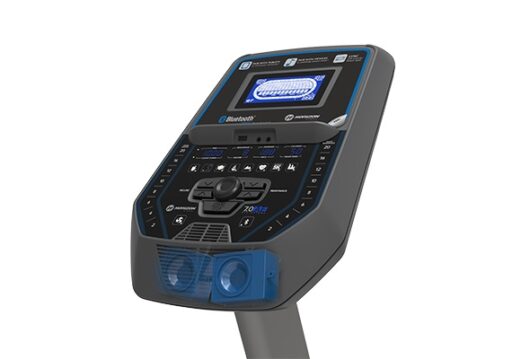 – Custom is a program that allows you to tailor your workout program, combining resistance and incline settings and time and distance settings. You can save this program and re-use it any time you want.
The second workout mode provided by the console includes Target Profiles. It makes available three programs. These are Distance, Calories, and Target Heart Rate.
– Distance offers 13 distance-based programs. You can choose from 1 mile, 2 miles, 5k, 5 miles, 10k, 8 miles, 15k, 10 miles, 20k, half marathon, 15 miles, 20 miles, and marathon goals. Additionally, for each program, there are ten difficulty levels available.
– Calorie is a similar program to Fat Burning, but it allows you to select your own calorie goal, between 20 and 980 calories burned (20 calorie increments).
– Target Heart Rate is a program designed for cardiovascular fitness improvement. It requires you to either use a Bluetooth HR band or integrated pulse sensors. In short, it allows you to select your target heart rate, and the console will auto-adjust the resistance to maintain your heart rate in the targeted range.
Amenities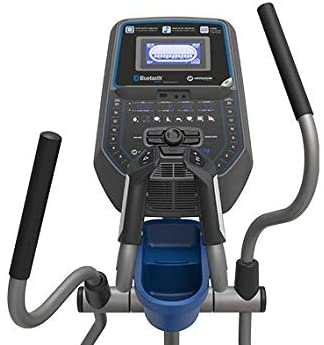 The console also has an integrated sound system, a cooling fan, and a tablet holder in terms of other features. The sound system consists of two speakers placed at the console's bottom.
Furthermore, it allows you to connect your smartphone, tablet, or MP3 player to the console via aux cable or via Bluetooth to play your music through it.
The cooling fan is right above the speakers. It's not too large in diameter but does provide some cooling if needed during a more intense workout. And finally, the tablet holder is placed right under the LCD.
7.0 AE Assembly and Maintenance
The front unit with the drive and resistance elements comes pre-assembled and attached to the base frame. However, the rest of the trainer requires assembly.
For instance, you will have to connect the rear part of the frame with the incline bars to the front section, attach the front base bar, the console mast, the pedal arms, the pedals, and the two moving handlebars, and the console, plus all the wire connections.
Therefore, it can take up to two hours of your time. However, the process is straightforward, while the manual provides step-by-step assembly instructions with attached schematics.
Moreover, maintenance doesn't require much. All you have to do is keep the incline rails clean to prevent any damage to the wheels and grease the joints if needed. Last but not least, you'll need to check for loose bolts and parts periodically and retighten or replace them as needed.
Pros
Sturdy frame with a weight capacity of 325 lbs;
Aesthetic design;
Adjustable stabilizers on the middle and rear bases;
Transport wheels on the front base;
Lifting handle integrated into the rear base;
Ergonomic, non-slip pedals;
Smooth and quiet belt drive;
Automatic incline, 20 levels;
Automatic (ECB) resistance system, 20 levels;
Incline and resistance controls integrated into the fixed handlebars;
Pulse sensors integrated into the fixed handlebars;
The large LCD, LED-backlit, offers excellent readability;
Extra LED displays for the main workout readouts;
Eight workout programs with multiple difficulty levels;
Console compatible with any 4.0 Bluetooth HR chest strap or armband;
USB charging port;
Sound system included, Bluetooth capable;
Cooling fan included;
Tablet holder included;
Bottle/accessory holder included;
Little maintenance is required;
Excellent warranty.
Cons
A tablet placed on the tablet holder will cover the console LCD;
Unfortunately, an HR chest strap does not come with the machine.
Horizon 7.0 AE Elliptical Summary
The Horizon 7.0 AE is a heavy-duty elliptical trainer featuring a light-commercial frame construction with a maximum user weight capacity of 325 lbs (147 kg). It also offers 20 levels of eddy current resistance, 20 levels of automatic incline, and a console with eight workout programs with multiple difficulty levels. It also has Bluetooth connectivity and is compatible with the free AFG Fitness app.
It's also perfect for light to intense cardio workouts, interval training, stamina training, and weight loss. And finally, it's not exactly one of the most affordable trainers, but it offers excellent value for the price.
I hope you found this article helpful and informative. Would you please speak up if you have anything you'd like to share on the topic or any opinions about my website? I look forward to your comments, questions, and the sharing of ideas.
Please note you should consult your physician to determine if you have any medical or physical conditions that could put your health and safety at risk or prevent you from using the equipment properly. In addition, your physician's advice is essential if you are taking medication that affects your heart rate, blood pressure, or cholesterol level.