The Body-Rider BCY6000 Upright Bike with Rear Drive Flywheel and Curve-Crank® technology brings the movement and momentum of gym studio classes into the comfort of your home. You'll experience ultra-smooth, ultra-quiet, and ultra-safe workouts with the Body-Rider BCY6000 Upright Bike.
The patented Curve-Crank® component revolutionizes user biomechanics in exercise motion by overcoming the discomfort of a "dead drop" angle in traditional straight crank machines. Enjoy the incredibly smooth, supportive, and comfortable performance with progressive resistance levels of intensity to meet and challenge every family member.
It's designed and tested for users 5'0" – 6'1" and up to 300 lbs to ensure safe, smooth exercise with daily use. Get your cardio HIIT with convenience and comfort with the Body-Rider BCY6000 Upright Bike.
The Body-Rider BCY6000 Upright Bike LCD helps you view your current speed, time, distance, and more as you move through your workout. The steel frame is for constant use, and the bike features eight resistance levels to give you a new challenge each time.
Learn more in my complete review below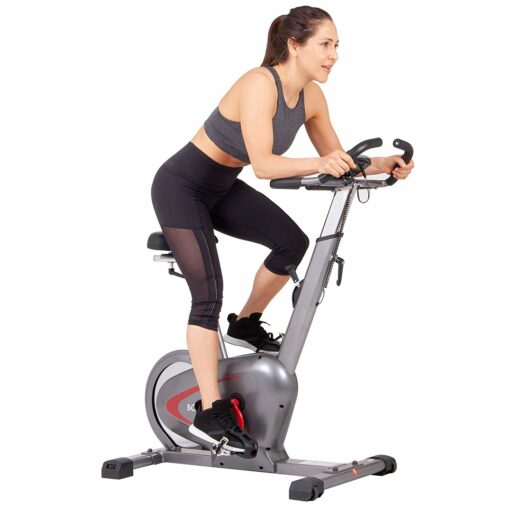 Product: Body-Rider BCY6000 Upright Bike with Rear Drive Flywheel
Price: For a great deal on this bike, merely go here on Amazon
Warranty: Frame 1 year / Parts 90 days
My rating: 9/10
Amazon Affiliate Disclosure: I may earn commissions on purchases made through links in this post.
Details and Specifications
Assembled dimensions: 35″L x 21″W x 45″H (89L x 53W x 114H cm)
Assembled weight: 77.1 lbs (35 kg)
Supported weight: 300 lbs (136 kg)
Seat: 4-way adjustable
Handlebars: 2-way adjustable
Drive system: Belt
Resistance: Manual magnetic, eight levels
Fitness console: Time, distance, total distance, speed, calories, pulse, scan
Warranty: Frame 1 year / Parts 90 days
BCY6000 Frame construction
The Body-Rider BCY6000 has a V-frame made of thick steel tubing. However, since it has a lighter flywheel, it is lighter than other spin bikes. With all the frames and parts in place, it weighs only 77.1 lbs (35 kg). Nonetheless, since it has a low center of gravity, it delivers excellent stability. Also, once assembled, the unit is relatively easy to move. Its front base features a set of two small transportation wheels.
This Body-Rider indoor cycling bike isn't huge. Compared to other fitness machines, such as treadmills or ellipticals, it has quite a small footprint. Its base is only 35″L x 21″W (89 x 53 cm), so it shouldn't need a usage area larger than 60″ x 50″ (153 x 127 cm).
Various other indoor cycling bikes feature a small bar connecting the seat tube to the front, serving as a stretching point or a step-up bar. The BCY6000 does not have this feature. The lower section of the frame with the drivetrain, crank, and resistance system features an ABS housing.
It's not advisable to step on it when you take a position on the seat. The rear section of the flywheel also features an ABS cover to maximize safety. The bike's rear base comes with two adjustable stabilizers. These offer the possibility to perfectly level the unit on any floor.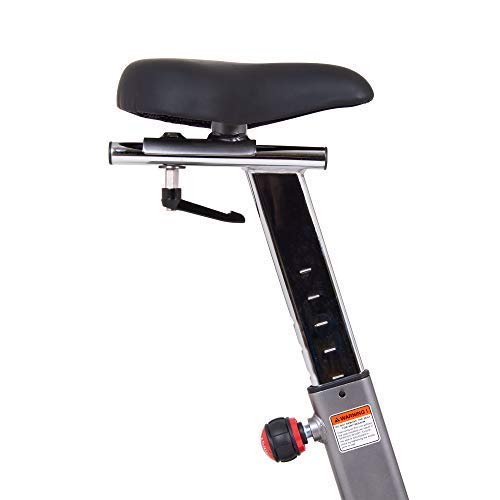 Last but not least, the mainframe of the bike comes with a chip-resistant and rust-resistant paint finish. The color used is gray, the only exceptions being the seat post and the handlebar post, chrome-plated for improved aesthetics.
Seat and handlebars
The Body-Rider BCY6000 has a standard saddle. It is slightly larger than the spin saddles included with various other indoor cycling bikes. It does not have internal air cushioning, though, but does integrate a layer of high-density foam padding. So, as a brief conclusion here, the bike's seat is made for optimal comfort.
The seat offers 4-way adjustability (front, back, up, down). Its upright post features several adjustment positions with increments of approx — 2″ (5 cm). Its horizontal slider also offers several inches of front to back adjustment. Thus, the bike is designed to accommodate users between 5'0″ and 6'1″ (153 – 185 cm).
Moreover, taller persons should also be able to use it. However, they may not benefit from a complete leg extension during seated workouts, even with the seat set to its highest position. Also, the seat can support users up to 300 lbs (136 kg).
The bike's handlebar features a multi-grip design with its side grips entirely covered by a rubber foam layer for optimal comfort. Furthermore, this bike has pulse sensors integrated into its top grips.
The handlebar assembly attaches to its post via several screws. It does not have a horizontal slider like the seat, so it does not offer the possibility of front to back adjustment. However, its upright post does offer several adjustment positions.
BCY6000 Resistance and drive
The Body-Rider BCY6000 indoor upright bike comes with a magnetic resistance system. Its internal magnetic brake is entirely mechanical. This means you don't have to connect the bike to an external power source. The console does not offer any control or correlation to the bike's resistance. It also doesn't have any preset programs.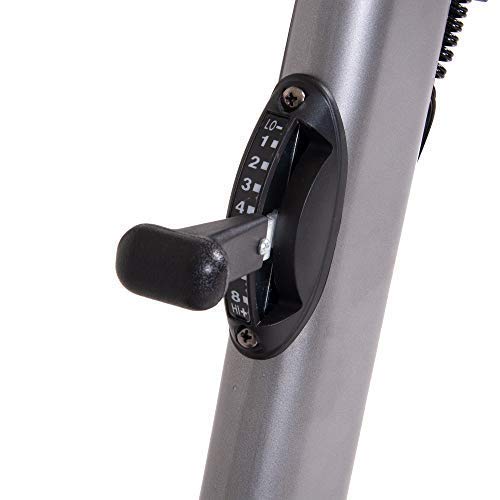 The bike's magnetic brake connects to the lever on the front post of the frame. By pushing the bar down, the brake covers a more substantial portion of the flywheel, which results in more resistance. Since it's a magnetic brake, the resistance elements do not touch.
Therefore, the wear-and-tear of the brake is minimal. Also, the brake doesn't generate any noise as for specific friction resistance spin bikes.
The bike makes available eight levels of resistance (or 8 "clicks). The first level is excellent for anyone who requires recovery training or, in general, for light workouts. Conversely, the 8th level of resistance simulates a hill climb, promoting a more intense cardio workout.
Since it's a magnetic resistance bike, its flywheel is not perimeter-weighed. It's also lighter than other spin bikes. Its exact weight is not specified, but it should be between 10-20 lbs (4.5 – 9.0 kg).
Therefore, the bike does not provide aggressive inertia with a heavy, perimeter-weighted flywheel. Nonetheless, due to the magnetic brake, it still provides a very consistent workout.
The bike's transmission uses a poly-v, heavy-duty belt. This means you don't ever have to lubricate it. It also promotes a whisper-quiet pedaling motion and a smooth, vibration-free ride.
The crankset is exceptionally durable, as well. It comes with curved, solid steel crank arms that can take any spin workouts. The pedals are also metallic, equipped with adjustable toe cages. Thus, you can pedal while standing up with no problem as long as you don't exceed the 300 lbs (136 kg) weight limit.
In case you're wondering, the pedals do not have SPD clips for spin shoes. However, their threads are standard (9/16″). Thus, compatible replacements for them are widely available.
Console
This Body-Rider upright bike includes a fitness console, an accessory that not all indoor bikes have. It is battery-powered and features an LCD (with no backlight), which tracks the essential workout metrics. These are time, distance, speed, calories, and pulse. It also has an odometer function, which tracks the total distance traveled since the bike's first use.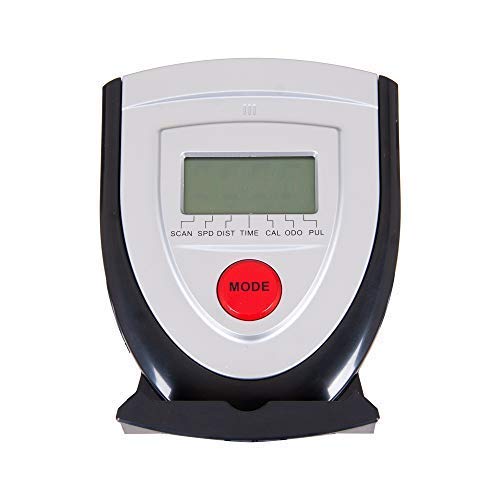 The fitness console is not telemetric. This means it cannot read your pulse from any wireless HR chest strap transmitter. Therefore, to benefit from a pulse reading, you have to hold on to the sensors integrated into the handlebars.
The fitness console unit is straightforward to use. It only has one button. By pressing the button repeatedly, you can select and lock any of the workout metrics to appear on display.
You can also select the Scan Mode, which rotates all the metrics showing each one for several seconds. The button also has a Reset function; by pressing without interruption for several seconds, it clears all the values to zero, except the odometer. To reset the odometer, you will have to remove the batteries.
The unit powers off automatically after a few minutes of inactivity on the bike to save battery life. To power it on, you either press the button or begin pedaling.
BCY6000 Assembly and Maintenance
The main body of the bike comes pre-assembled. Therefore, you only have to attach the base bars to the mainframe, the seat post, the saddle, the handlebar post, the handlebar, the exercise meter, and the console.
This shouldn't take more than 20 minutes. The manual provides clear assembly instructions and schematics, and all the necessary tools are (included).
Since the bike's drive system uses a belt, it doesn't need any lubrication. Thus, for maintenance, you only need to keep the bike clean and periodically check for loose bolts and parts.
Pros
Solid V-frame – can hold users up to 300 lbs;
Aesthetic design;
Transport wheels on the front base;
Adjustable stabilizers on the rear base;
4-way adjustable seat;
Multi-grip handlebar with integrated pulse sensors;
Balanced flywheel for a smooth pedaling motion and solid momentum;
A heavy-duty crank with curved arms made to support standing up spin workouts;
Durable, metallic alloy pedals with toe cages and straps;
Frictionless magnetic resistance with 8 level settings;
Silent belt drive;
Fitness console that tracks time, speed, distance, calories, and pulse;
Easy to assemble;
Little maintenance required.
Cons
No SPD clips on the pedals;
The fitness console isn't backlit;
No bottle holder.
Body-Rider BCY6000 Summary
The Body-Rider BCY6000 is an indoor upright bike featuring an 8-level magnetic resistance system, a super-quiet belt drive system, a durable Curved-Tech crankset, and a fitness console. Its seat offers 4-way adjustability, and its frame can support users up to 300 lbs.
It's a sturdy and good-looking exercise bike, perfect for a wide range of cardio workouts, muscle toning, stamina and strength development, interval training, and weight loss.
I hope you found this article helpful and informative. If you have anything you'd like to share or any opinions about my website, please speak up. I look forward to your comments, questions, and the sharing of ideas.