The BodyCraft CFT Functional Trainer is a low-profile, total body training device with a space-efficient footprint. The CFT has a height of 82.5 inches, allowing it to fit into rooms that no other functional trainer can. In addition, the tough diamond gray and textured black powder-coated finish evenly coats all surfaces for a long-lasting finish.
With dual swivel pulleys and cable travel, almost any movement imaginable is possible. Advanced with its two-sided support frame, the BodyCraft CFT Functional Trainer provides a more stable construction allowing bodyweight exercise. Each arm can move independently through 36 positions and 180 degrees, accommodating users of all heights and sizes.
Whether the motion is for Strength Training, Sport Specific, or maybe it's a motion you perform at work or during leisure activities, the BodyCraft CFT allows you to train the way you move. You define the movement path, strengthening every part of your body, improving your core, balance, and coordination.
The CFT Functional Trainer from Bodycraft comes with a 150lb weight stack upgradable to 200lbs. The weight stack to the user weight ratio is 4:1, providing up to a total of 37.5 lbs (50lbs with 200lb option) resistance allows for extremely smooth action, 2.5lb increment weight increases, and a more excellent range of motion. When you connect both pulleys, they then have a transfer ratio of 2:1 for heavy exercises.
Learn more in my complete review below!
Product: BodyCraft CFT Functional Trainer
Price: For a great deal on this gym, merely go here on Amazon
Warranty: Residential: Frame lifetime / Parts lifetime / Light commercial: Frame 10 years / Parts 2 years
My rating: 9.25/10
Affiliate Disclosure: As an Amazon Affiliate Program participant, I earn commissions on purchases made through links in this post. Full disclosure
Note: Some of the pictured images have optional equipment that does not come with the machine.
Details & Specifications
Assembled dimensions: 39.5L x 49.5W x 82.5H inches (100L x 126W x 210H cm)
Assembled weight: 284 (129 kg) or 334 lbs (151.5 kg)
Weight stack: Steel plates, 150 lbs (68 kg) or 200 lbs (90.7 kg)
Weight ratio: 4:1 (for each cable)
Adjustment positions: 32
Possible exercises: 25+
Accessories: 2x D-handle, 2x extension chain, ankle cuff, exercise poster
Warranty:
Residential: Frame lifetime / Parts lifetime
Light commercial: Frame 10 years / Parts 2 years
CFT Frame
The BodyCraft CFT is quite a compact, space-saving fitness machine. With the frame fully assembled, it only takes approx. 40″ x 50″ (100 x 126 cm) of space. Its height measures 82.5″ (210 cm), so the unit should fit even in a room with a 7′ ceiling (a tight fit, but should fit).
Of course, it is advisable to leave at least two feet of clearance on each side and at least three-four feet of clearance at the unit's front. To be able to perform all the exercises correctly, add a bench or other add-ons.
The lateral base bars of the machine features large rubber stabilizers. These are non-adjustable, but if appropriately assembled, the unit should offer excellent stability due to its weight. Thus, the bases do not have anchor points for securing them to the floor. Additionally, it is advisable to place and use it on a rubberized mat.
This home gym system features heavy-duty construction. Its frame is a heavy-gauge, ovalized steel tubing for extra sturdiness and aesthetics. The frame's base, the adjustable arm, and the top bar feature a corrosion-resistant and chip-resistant paint finish, black. The arm's central adjustment post and the weight stack guide rods have a chrome plating finish.
The upright adjustment post of the machine offers 32 positions for the moving arm assembly. The distance between the adjustment positions is a few inches. The highest is at approx. 78″ (198 cm) above floor level, while the lowest position is at approx. 12″ (31 cm) above floor level. Additionally, the moving element's selector is a sleek handle that allows you to unlock and quickly lock the bar into the desired position. Also, the upright bar's adjustment numbers are laser etched, so they won't deteriorate or wear out.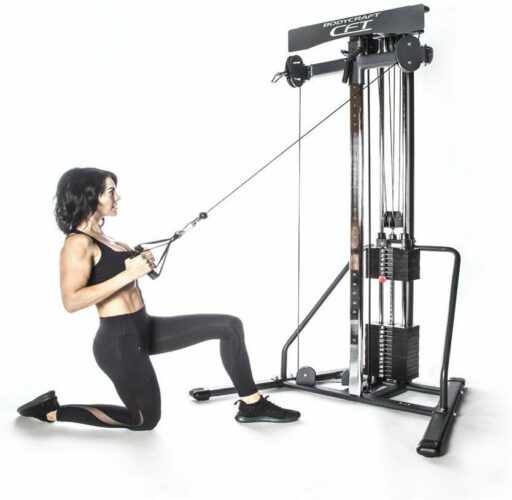 Pulleys and Cables
The BodyCraft CFT functional trainer comes with 13 fiberglass-reinforced nylon pulleys. Each pulley integrates a sealed ball bearing to provide smooth operation and a long lifespan.
The moving arm assembly of the machine has two pulley brackets, each one with two pulleys. Also, each bracket can swivel 180° to adapt perfectly to the exercise that you perform.
The machine integrates several aircraft steel cables, tested for 2,000 lbs tensile strength. They are also nylon coated to provide a smoother journey over the pulleys and reduce wear and tear.
CFT Accessories
The BodyCraft CFT functional trainer includes two D-handles with rubberized grips for extra comfort, two extension chains, one ankle cuff, and an exercise poster. Of course, there are various other accessories available for this machine.
For example, you can opt for the Power Row attachment, one of the F603 or the F320 utility benches, a long functional bar, or a handle for golf swings and baseball swings.
Weight Resistance
The BodyCraft CFT functional trainer is available either with a 150 lbs (68 kg) weight stack or 200 lbs (90.7 kg). If you opt for the 150 lb weight stack, you can always upgrade to 200 pounds by just purchasing the extra plates.
The weight plates are cast iron; they're highly durable, they can take a lot of abuse, and if the unit is for a home gym, they can last a lifetime. Additionally, just as the main adjustment bar, the weight plates have their numbers laser etched for extra durability.
The machine offers a weight ratio of 4:1. In other words, with the 200 lbs stack, you will get a maximum of 50 lbs (22.6 kg) per arm. Each plate weighs 10 lbs (4.5 kg), resulting in 2.5 lbs (1.13 kg) adjustment increments per arm.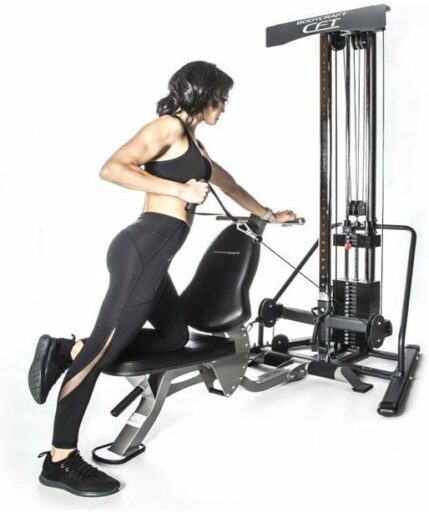 Of course, you can benefit from a 2:1 weight ratio (100 lbs of resistance) if you connect the two pulleys of the adjustment arm assembly with one of the included chains and attach the D-handles at the middle.
CFT Possible Exercises
The BodyCraft CFT comes with an exercise poster that covers 24 exercises. These are:
Core Twist
Wood Chop
Ab Crunch
Reverse Crunch
Bicep Curl
Tricep Kickback
Shoulder Press
Upright Row
One Arm Row
High Row
Rear Delt
Reverse Fly
Incline Press
Pec Fly
Chest Press
Low Fly
Glute Kick
Lunge
Hip Abduction
Squat
Lunge To Press
Lunge To Row
Press To Twist
Squat To Press
and more
Along with these, there still are other exercises that you can perform on this machine. For example, you can perform lat pulldowns, cable crossovers, baseball swings, golf swings, as well as fast exercises for high-intensity cardio, such as cable punches.
Also, some of these exercises require accessories that do not come with the unit. For example, incline presses or horizontal presses require a bench, while baseball swings require a unique sports handle.
CFT Assembly & Maintenance
Compared to other strength training machines, such as the Inspire Fitness M3, the BodyCraft CFT isn't a highly sophisticated machine. Therefore, even though it requires an entire assembly, it shouldn't be too difficult.
The included manual provides excellent step-by-step instruction and schematics, so the whole process shouldn't take more than two hours. It is advisable to be carried out by two people.
Once assembled, maintenance doesn't require much. However, the weight stack guide rods and the main adjustment bar may require a bit of lubrication from time to time. Other than this, you should to periodically check the unit for loose bolts and parts and retighten if necessary.
Pros
Extremely sturdy and stable frame;
Compact, space-saving design;
Rubber pads on its bases;
Smooth pulley and cable movement;
32 adjustment positions for the mobile arm assembly;
180° pivoting adjustable pulleys allowing a natural, healthy range of motion for all exercises;
Durable fiberglass-reinforced nylon pulleys with sealed ball bearings;
2,000 tensile strength, nylon coated cables;
Highly durable cast iron weight stack;
4:1 weight ratio for each arm, or 2:1 if you connect the two cables with a chain;
Available with a 150 lbs or 200 lbs stack;
Over 25 exercises available;
D-handles included;
Ankle cuff included;
Extension chains included;
Exercise chart included;
Little maintenance required;
Quiet operation;
Fairly easy to set up;
Excellent warranty.
Cons
Long bar not included;
Triceps rope not included.
BodyCraft CFT Functional Trainer Summary
Moreover, the BodyCraft CFT is a commercial-grade functional trainer featuring a compact design, a heavy-duty frame, and 32 adjustment positions for the pulley arm. It's available either with a 150 lb or a 200 lb weight stack.
Moreover, it offers the possibility to perform more than 25 exercises, and due to the 4:1 weight ratio for each arm, you can also perform high-intensity cardio exercises. Thus, it's a top-quality strength training machine, great for a full-body workout.
I hope you found this article helpful and informative. If you have anything you'd like to share or any opinions about my website, please speak up. I look forward to your comments, questions, and the sharing of ideas.