The Inspire Fitness CB1 Air Bike features a smooth, air-based resistance braking system along with a pair of strong exercise arms. The advantage of this unique air resistance system is that it offers as much resistance as you want. The harder you pedal, the higher the resistance.
The CB1 Air Bike features moving handlebars so you can work your upper body at the same time as your lower body as you cycle.  Alternatively, you can rest your feet on the bike's front footpegs to put all your focus on an upper-body workout.
The Inspire Fitness CB1 Air Bike comes with an easy-to-use workout computer with an easy-to-read LCD screen that displays motivating feedback stats including time, speed, distance, and calories burned.
The CB1 is solidly constructed with a durable steel frame for maximum stability and comes with rear transportation wheels for smooth relocation of the air bike.  The CB1 allows for a maximum user weight capacity of up to 300 lbs.
Learn more in our complete review below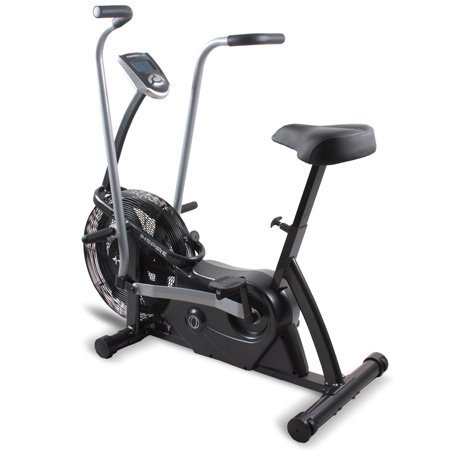 Product: Inspire Fitness CB1 Air Bike
Price: For a great deal on this bike, merely go here on Amazon
Warranty: Frame 7 years / Parts 3 years / Labor 1 year
My rating: 9.5/10
Affiliate Disclosure: I may earn commissions from purchases made through links in this post.
Details and Specifications
Assembled dimensions: 43.9L x 24.8W x 45.7H inches (111.5L x 63W x 116H cm)
Assembled weight: 82 lbs (37.1 kg)
Supported weight: 300 lbs (136 kg)
Drive: Belt / Chain
Resistance: Air
Fitness console: Time, speed, distance, odometer, calories, SCAN
Warranty: Frame 7 years / Parts 3 years / Labor 1 year
CB1 Frame construction
The Inspire Fitness CB1 is an upright exercise bike, and therefore, it doesn't take too much usable space. With the frame fully assembled, it's 43.9″ (111.5 cm) long, and 24.8″ (63 cm) wide. The handgrips give its maximum width; the bike's bases are approx. 1″ shorter.
The bike's highest point is the top of the handlebars, which reach 45.7″ (116 cm) above floor level. Also, it is advisable to have two feet of clearance on each side, and one foot of space at the front and rear, to avoid any hindrance during exercises.
This upright exercise bike has steel tubing. It's not an extremely heavy fitness machine but does weigh over 80 lbs, which is quite a bit more than the average road bike. This weight provides excellent stability, and on top of that, the front base tube has polygonal, adjustable stabilizers.
The bike's frame doesn't fold; however, its transport shouldn't be too difficult. Its rear base features two small transport wheels.
Although most elements in the bike's frame construction are metallic, there still are several plastic parts. These are the shrouds of the drive system, the pedals, and the base caps. The flywheel also has some plastic material, but its casing is metallic. These plastic parts do not play an essential role in the bike's overall sturdiness, though.
All the steel parts in the bike's construction have a rust-resistant and scratch-resistant paint. The colors used are black for most of the elements and gray for the mobile arms and the pedal arms.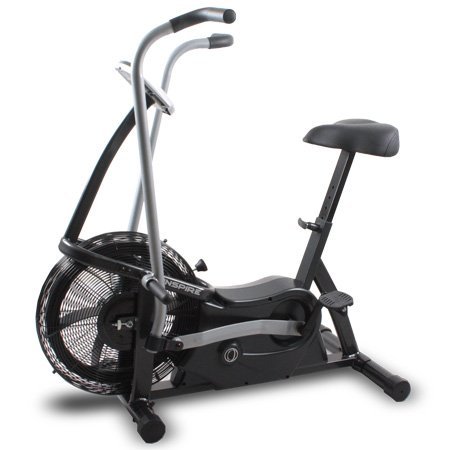 Seat and handlebars
Since the Inspire Fitness CB1 is an upright bike, it has a large seat, consistently cushioned, and with durable upholstery. This seat is designed for seated workouts and offers much more comfort than most seats for spin bikes.
The seat is only two-way adjustable. It doesn't have a horizontal slider, so it cannot move closer to the handlebars. However, its upright bar does offer 11 adjustment positions so that the bike can accommodate users between 5'0″ and 6'3″ (153 – 190 cm). Also, the seat can support users up to 300 lbs (136 kg), which is quite a plus for a bike of this caliber.
The bike's handlebars have a rather simple design; the handgrips feature a thick layer of rubber foam for maximum adherence and perspiration absorption.
An important aspect to mention here is that the bike's mobile arms are attached directly to the pedals bars. The handlebars continue to move while you're pedaling, or for as long as the flywheel is spinning. They cannot be locked in place to remain stationary, and cannot move independently from the pedals.
The bar to which the mobile arms are attached has two pegs which can serve as footrests. This feature gives you the possibility to exercise only by using the handlebars while keeping your feet stationary.
CB1 Drive system and elements
The first aspect to mention here is that the Inspire Fitness CB1 air bike integrates both a belt and a chain in its drive system. The chain connects the crank to the main pulley, while the belt connects the main pulley to the flywheel. This results in slightly more pedal tension than the resistance provided by the wheel.
The bike has a durable crankset. However, even though the crank arms are made of steel and may hold you if pedaling in standing up position, spin workouts of the sort are not recommended. It's, after all, an upright bike, meant for seated exercises.
The pedals feature a simple design with a metal core and a durable nylon shell. They do not have straps. Their threads are 9/16 standard, though, and in case you want to replace them, compatible options are widely available.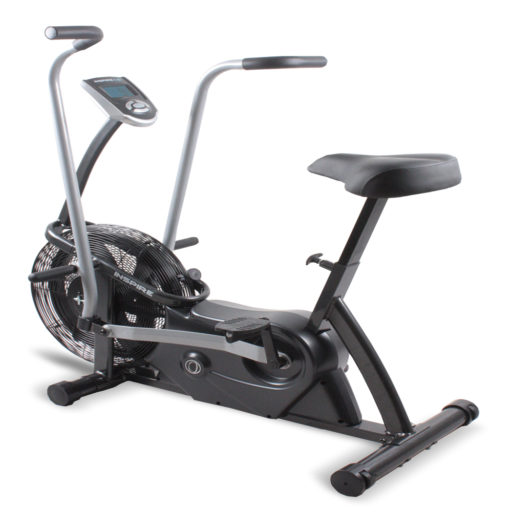 If you're wondering, reverse pedaling is possible on this exercise bike. This doubles the number of workouts available and gives you the chance to focus on different groups of muscles.
One last aspect to mention here regards the bike's Q-Factor (spacing between the pedals). Although the exact number isn't specified, it's relatively narrow. Thus, your feet will assume a correct position on the pedals, and the pedaling motion won't generate any lateral stress.
Resistance system and elements
The Inspire Fitness CB1 is an air resistance exercise bike. This means that it generates a dynamic response when you pedal. Differently put, the faster you pedal, the more resistance you will get.
The main resistance element is the large flywheel-fan. It has some plastic material, but it's a heavy-duty piece, reasonably thick, and should last for many years of use. As you begin pedaling and moving the bike's arms, the fan will start to spin, and the air current that goes through it will generate resistance.
The bike doesn't have any other resistance-generating elements. It does not have a magnetic brake to add resistance, such as the Sunny SF-B2640.
The casing on the fan has a small knob on it. This is a child-safety element. It allows you to lock the fan when you're not using the bike. It does not serve as a tension knob.
Although this exercise bike features an air resistance system, it's not extremely noisy. You will hear the fan if you pedal fast, but the level of noise generated is reasonably low.
CB1 Console
The fitness console included with the CB1 is a fairly basic one. It has a large display with LED backlight and shows time, distance, total distance (odometer), speed, and calories burned. Speed and distance are in MPH and miles; there's no metric display option. Also, the unit cannot read pulse. The bike does not have any pulse sensors, and the console does not integrate a pulse receiver for HR chest straps.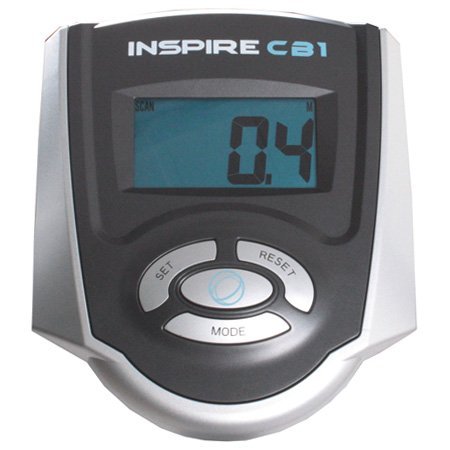 The console unit is easy to use. It has a SCAN function which repeatedly displays time, distance, odometer, calories, and speed in a sequence of 6 seconds at the time. You can turn off the SCAN function via the MODE button, and this way lock only the value that interests you on display.
The SET key allows you to set targets for time, distance, and calories, and the selected value will countdown from the goal that you've chosen. The RESET button covers the unit's reset function; by pressing it, all the metrics are set back to zero.
The console requires 2 AA batteries. It has a sleep function to save battery life. Therefore, it turns off automatically after 4 minutes of inactivity on the bike. It starts up when you begin to pedal or when you push one of the buttons.
CB1 Assembly and Maintenance
Most of the bike comes pre-assembled. It's mainframe with the fan, pulleys, belt, chain and the other internal elements are pre-assembled. You only have to attach the frame base tubes, the console mast with the console, the moving arms, the seat, and the pedals.
This shouldn't take more than one hour. All the tools for assembly are (included), and the manual provides precise assembly instructions.
For maintenance, it is recommended to lubricate the chain periodically. The fan and its casing will eventually accumulate dust and will require cleaning. Other than these, you should regularly inspect the bike for loose or broken parts, to re-tighten them or replace them before the usage of the bike becomes hazardous.
Pros
Sturdy and stable frame for a small bike, able to hold riders up to 300 lbs;
Aesthetic design, an aspect that can serve as a good motivation factor;
Adjustable levelers on the front base;
Transport wheels on the rear base;
Mobile handlebars for arms workouts;
Side pegs for resting your feet if you want only to use the mobile arms;
Large, ergonomic seat;
Air resistance system, great for interval workouts;
Fitness console included – it can track time, speed, distance, total distance, and calories;
Target settings for time, distance, calories;
Little maintenance required;
Reasonably quiet operation;
Easy to assemble;
Excellent warranty.
Cons
Doesn't have any straps on the pedals;
No tablet holder;
No bottle holder.
Inspire Fitness CB1 Summary
The Inspire Fitness CB1 is an air resistance upright bike, featuring a sturdy frame, able to support users up to 300 lbs. It has a large, ergonomic and adjustable seat, and includes an exercise console that can track time, distance, total distance, speed, and calories burned.
It's a great fitness machine for anyone who wants to engage multiple muscle groups during their cardio training. Moreover, it's perfect for weight loss, intervals, and stamina development. And finally, it's not one of the most affordable models but does come with a very consistent warranty and is a good investment in your fitness.
I hope you found this article helpful and informative. If you have anything that you'd like to share or opinions about the content on my site, please do speak up. I look forward to your comments, questions, and the sharing of ideas.
Recommended articles:
Please follow and like us: