The Self-Powered SportsArt C535U Upright Cycle is an upright cardio bike built for residential and light commercial applications. The C535U is ideal for homes, fitness studios, and apartment building gyms.
In particular, the 8.5:1 gear ratio and 40 electromagnetic resistance levels complement the many included fitness programs designed to reach the targeted heart rate for increasing aerobic capacity and accelerated fat loss.
The C535U features a Polar-compatible wireless receiver (chest strap NOT included). For example, it allows users to monitor and achieve their targeted heart rate zone for maximum fitness and fat-burning results.
The tri-color, multi-segment LED display readouts include Workout Level, Time, Distance, Calories, Speed, RPM, Watts, METs, Heart Rate, WT Loss Zone, Cardio Zone, and Active Zone. In addition, the C535U has ten integrated quick-start keys to help you find workouts faster. SportsArt's industrial-quality manufacturing provides dependability and functionality year after year.
Learn more in our complete review below!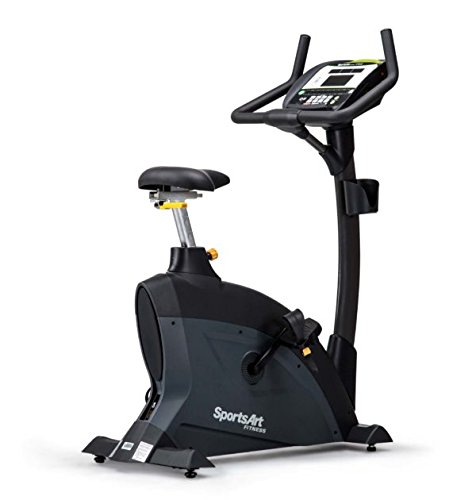 Product: SportsArt C535U Upright Cycle
Price: For a great deal on this bike, merely go here on Amazon
Warranty: Frame lifetime / Parts 5 years / Labor 3 years / Wear items 90 days
My rating: 9.25/10
Affiliate Disclosure: As an Amazon Affiliate Program participant, I earn commissions on purchases made through links in this post. Full disclosure
Details and Specifications
Assembled dimensions: 45.5″L x 22.8″W x 56.3″H (155L x 58W x 143H cm)
Assembled weight: 125.4 lbs (57 kg)
Weight capacity: 400 lbs (181.8 kg)
Seat: 4-way adjustable
Pedals: Weighted, with straps
Resistance: Eddy current, self-powered, 40 levels
Console: 10 programs, Bluetooth, SA WELL+ app compatible, USB ports
Amenities: Volume controls, tablet holder
Warranty: Frame lifetime / Parts 5 years / Labor 3 years / Wear items 90 days
C535U Frame Construction
The SportsArt C535U upright exercise bike features a heavy-duty steel frame; it supports users up to 400 lbs (181.8 kg), which is impressive for an upright bike. In addition, several durable ABS covers conceal most of the unit's base frame.
However, all the steel tubes in the machine's construction have an abrasion-resistant and corrosion-resistant powder coating finish. The color used is gray for most of the frame, except for the seat post.
The bike has a pretty heavy construction. It weighs over 125 lbs (57 kg) with all the parts assembled, more than three times the average road bike's weight. However, all this weight considerably improves the unit's stability. Plus, both its bases have adjustable levelers.
The front base of the bike has a set of caster wheels. Therefore, if you need to relocate it once you have finished your workout, these considerably facilitate the task. The bike's frame does not fold in any way, though.
The fully set up bike is slightly larger than the average upright bike made for home use, such as the Tunturi B35 example. However, it's far from being a super-large fitness machine. Its footprint is approximately 45″L x 23″W (155 x 58 cm). The highest point is at the top of the console, approximately 56″ (143 cm) above floor level. Therefore, leaving at least two feet of clearance around the unit is advisable for safe operation and access.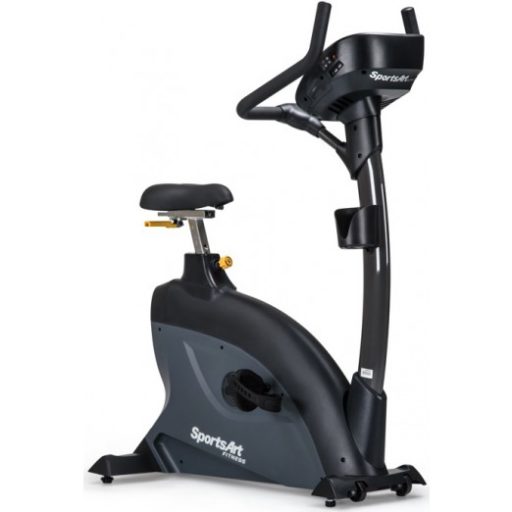 Lastly, the SportsArt C535U upright cycle does not have a step-through design. However, the front part of the frame is considerably lower, making it easier to pass over and assume a correct position on the seat.
Seat and handlebars
The SportsArt C535U has a 4-way adjustable (up, down, forward, backward) seat. Its vertical post offers plenty of adjustment positions to accommodate users up to 6'5″ (196 cm). The horizontal slider also provides several inches of adjustment to achieve a perfect position with the handlebar.
The included saddle does not have air cell cushioning; it's a standard saddle with a high-density, flexible and contoured top. The seat post has a triangular plate to which the saddle attaches via three bolts.
Although it's not a super-cushioned seat, it still is considerably more extensive than the average seats on most spin bikes.
The seat's straight bar adjusts via a pop-pin, while the horizontal slider is via the handle at its rear. Thus, horizontal adjustments are possible while you are seated.
The bike's handlebar is non-adjustable. Instead, it attaches to the short bar fixed bar via four screws, which provide an excellent, sturdy connection. The handlebar assembly has a multi-grip design and a layer of rubber foam material to provide a secure grip.
The bike's handlebar has no pulse sensors, but the console is compatible with all Polar wireless HR chest straps (not included).
C535U resistance
The SportsArt Fitness C535U upright exercise bike has a self-powered eddy current resistance system. Therefore, you don't need to connect the cycle to an electrical outlet; it produces the energy required to power up the console and control the internal brake. It also has an internal 12V battery, storing energy created during your workout sessions to power up the console.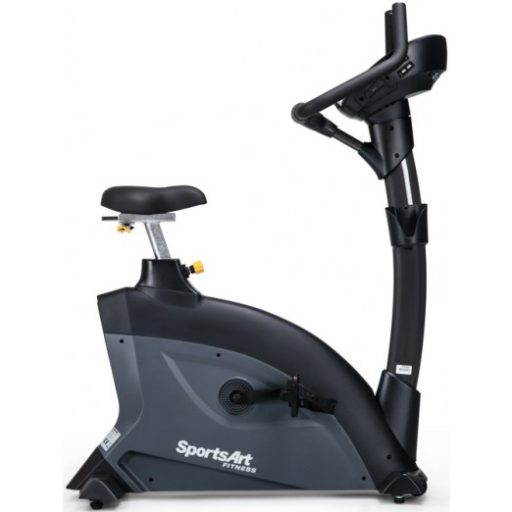 The resistance is only adjustable from the bike's console. However, it's also automatic; in other words, if you use specific programs, the cycle will auto-adjust the resistance.
The internal resistance elements are a servo motor and a set of magnets built into the flywheel. As you select a certain level of resistance from the console, the motor will adjust the magnets' pull, ultimately increasing or decreasing the pedaling difficulty.
The bike's resistance system excels in micro-adjustability; it offers 40 levels of resistance. The first few levels are very light and great for anyone who needs recovery training. Conversely, the 38-40 levels provide quite a bit of difficulty, simulating a hill climb and allowing you to quickly achieve a high cardio rate.
The weight of the internal flywheel is not specified. However, it has a balanced construction and delivers an extraordinarily smooth pedaling motion. It's also bi-directional. Therefore, you can diversify your workouts by pedaling in reverse.
C535U drivetrain
Like most other upright bikes with a magnetic resistance system, the C535U features a belt drivetrain. Thus, you don't have to remove the covers to lubricate the bike's transmission. Also, the belt drive system renders the cycle usage almost entirely silent.
Finally, the bike's crankset features heavy-duty crank arms and oversized, weighted pedals. However, since it's not a spin bike, it is not made for pedaling while standing up. Therefore, standing up while pedaling is not recommended even if you're not a heavy user and the crank arms/pedals can support you with no problem.
Console
This upright exercise bike features an LED display console with three display sections. The top display is the cardio advisor, which indicates your heart rate, the weight loss zone, and the cardio zone. The larger center display shows the profiles of the workout program. Finally, the bottom screen shows the full range of other workout metrics, including calories burned, RPM, the current resistance level, Mets, time, speed, distance, and watts.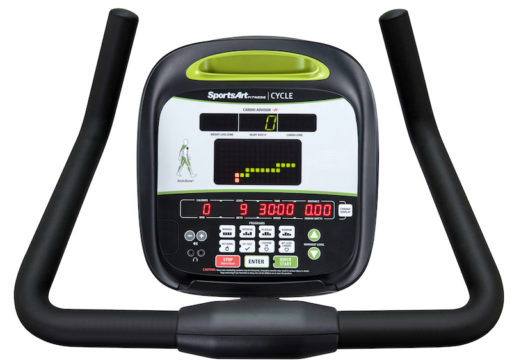 The speed and distance are adjustable to either metric units or imperial units. However, you will need a wireless HR chest strap (the console works with all Polar transmitters). In particular, the bike's handlebars do not have any pulse sensors, so; you will need an HR chest strap (sold separately) to read the pulse.
The bike's console has Bluetooth connectivity. Therefore, you can sync it with your smartphone or tablet via the SA WELL+ app to track your progress online. It also has 2 USB ports for charging your phone or transferring your workout data manually to your SA WELL+ account via a USB flash drive.
The console has volume controls for iOS devices and a tablet holder under the main keypad in other features.
Workout programs
The bike has ten built-in workout programs. Nine have their quick access key on the console: Quick Start, Manual, Interval, Plateau, Random, Fat Burn, Fit Test, Custom HR, WT Loss, and Cardio. The WT Loss and Cardio programs share the same program button.
Quick Start
The QuickStart program allows you to exercise without pedaling and adjusting the resistance you like while the console displays track of your workout data. The Manual program is similar to the QuickStart program but allows you to select time, distance, and calorie goals.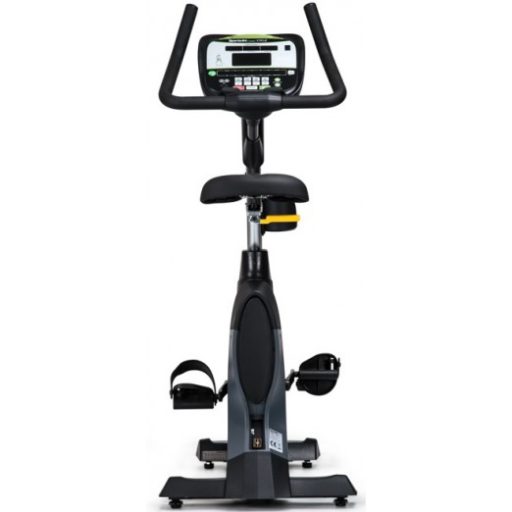 Interval
The Interval program has three settings. These are 1:1, 1:2, and 1:3. For the 1:1 parameter, the default "work" and "rest" intervals are 1 minute. The "work" interval is 1 minute for the other ones, but the "rest" intervals are 2 minutes, respectively 3 minutes. The resistance and interval durations are customizable, though.
Plateau
The Plateau program offers a workout with a gradually increasing resistance for 20% of the exercise, followed by a constant resistance level for 60% of the training. With resistance decreasing progressively for the remaining 20% of the exercise.
Random and Fat Burn
The Random program, as its name suggests, generates a random set of resistance profiles every time you press it. Fat Burn is a program designed to help you burn calories. It has 20 levels from which you can select one that corresponds to your fitness level.
Fit Test
The Fit Test program has four segments of 3 minutes; it will compare the actual Watts and the preset Watts in each part and adjust the resistance accordingly.
HR Programs
Finally, Custom HR is a heart rate control program that allows you to set your target heart rate. Next, WT Loss is an HR control program to keep you at the optimum speed for losing weight. And last, Cardio is an HR control program designed for cardio conditioning.
C535U Assembly and Maintenance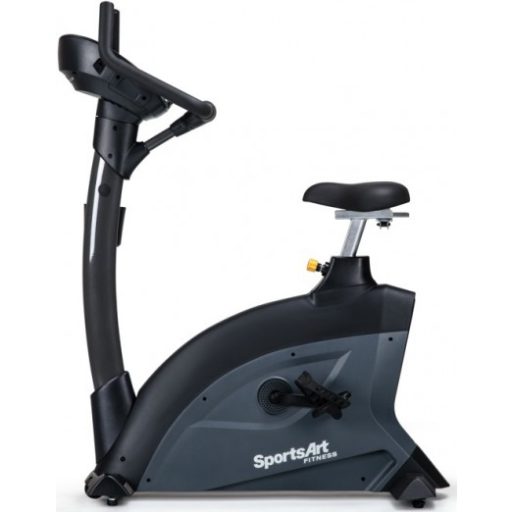 The bike's main body comes pre-assembled. The drive and resistance parts and the seat post are already attached to the mainframe. Therefore, you only need to connect the rear bottom base, the saddle, the console mast, the handlebar, the console, the pedals, and several other small covers.
Consequently, it may take up to an hour of your time. However, the manual provides clear assembly instructions, so the task is not too complicated. Also, all the tools required for assembly are included.
Maintenance doesn't require much. You only have to check for loose bolts and parts and keep the unit clean.
Pros
Heavy-duty commercial-grade construction;
Superior weight capacity (400 lbs);
Elegant design;
Fairly small footprint;
Adjustable, rubberized stabilizers on both bases;
Transport wheels included;
An extra-heavy unit providing superior stability;
Wide, standard saddle for optimal comfort;
4-way adjustable seat;
Automatic, eddy current resistance;
Self-powering system;
40 levels of resistance;
Ten workout programs;
Goal settings for time, distance, and calories;
Telemetric console, compatible with all Polar HR straps;
Imperial and metric unit settings;
Bluetooth connectivity;
Consistent with the SA WELL+ app;
A USB port for charging your smartphone or saving your workout data on a USB flash drive;
Volume controls for your iOS device;
The bottle holder included;
Easy to assemble;
Little maintenance is required;
Great warranty package.
Cons
Volume controls are only for iOS devices;
The handlebar does not have pulse sensors;
An HR chest strap does not come with the bike.
SportsArt C535U Upright Cycle Summary
The SportsArt C535U is a light-commercial heavy-duty upright bike. It features a self-generating eddy current resistance system with 40 available tension levels, and it also includes an LED display console that tracks all the essential workout metrics. Additionally, it has Bluetooth connectivity and ten built-in workout programs (some with multiple levels).
It's an excellent exercise bike for light to intense cardio training, weight loss, and stamina development. Since it's a light-commercial bike, it is not cheap, but its quality, durability, and included warranty match its price.
I hope you found this article helpful and informative. Would you please speak up if you have anything you'd like to share on the topic or any opinions about my website? I look forward to your comments, questions, and the sharing of ideas.
Please remember that you should consult your physician to determine if you have any medical or physical conditions that could risk your health and safety or prevent you from using the equipment properly. In addition, your physician's advice is essential if you are taking medication that affects your heart rate, blood pressure, or cholesterol level.