Are you looking for the ultimate home gym for high-caliber workouts? Look no further than Tytax M1 Home Gym. The M1 is an innovative machine because of its rugged build, safety, and versatile functionality.
The Tytax M1 comes with all you will need to perform more than 400 available exercises, including many different activities that other top-quality equipment will not allow you to complete. Therefore, it enables any user category, from beginning to advanced, to train at precisely the level they need to reach.
You will find many standard features on the Tytax M1 system. Including an adjustable sliding bench, a counter-balance system, multiple safe spotting methods, and an accessory rack that's useful for storing various equipment options – with more than ten add-ons available, the Tytax M1 is not your ordinary exercise system.
Just a few of the exercises you can do on the M1 includes the following. A horizontal leg press, seated vertical leg press, assisted squats, low row, cable crossover pec fly, lat pulldown, assisted pull-ups/chin-ups, dips, leg extensions, curls, seated and standing calf raises, and much more. You can perform all of these exercises with or without a counter-balance.
Learn more in my complete review below!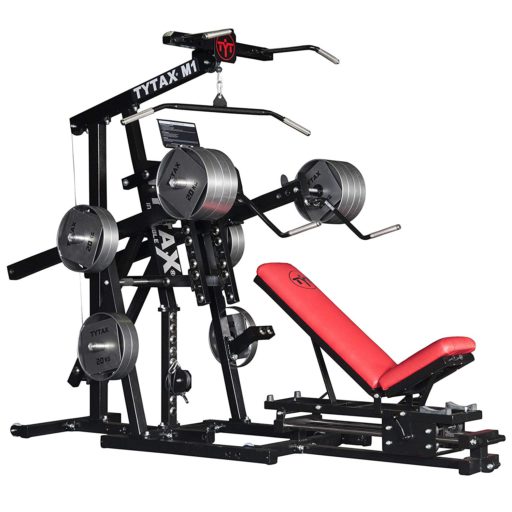 Product: Tytax M1 Home Gym
Price: For a great deal on this gym, merely go here on Amazon
Warranty: Frame Lifetime / Structural Moving Parts 5-years / Bearings, Bushings, Pulleys 3-years / Coating, Cables, Exterior Upholstery, and Accessories 1 year
My rating: 10/10
Affiliate Disclosure: As an Amazon Affiliate Program participant, I earn commissions on purchases made through links in this post. Full disclosure
Details and Specifications
Training stations: 1
Machine weight: 665lbs
Minimal room needed:  79″ W X 81″ H X 150″ L
Exercises: 400+
Leverage arms: 2
Additional options: 10
Bench with adjustable position (bearing wheels) relative to the machine: Yes
Bench with adjustable backrest and seating: Yes
Leg press: Yes
Smith Machine: No
Butterfly arms: No
Lower gate cable butterfly: Yes
Upper gate cable butterfly: Yes
Free weight preacher bench: Yes
Lever preacher bench: Yes
Cable preacher bench: Yes
Pull-up handles: Yes.
Assisted pull-ups with counter-balance system: Yes
Cardio training with additional option RM (rowing machine): Yes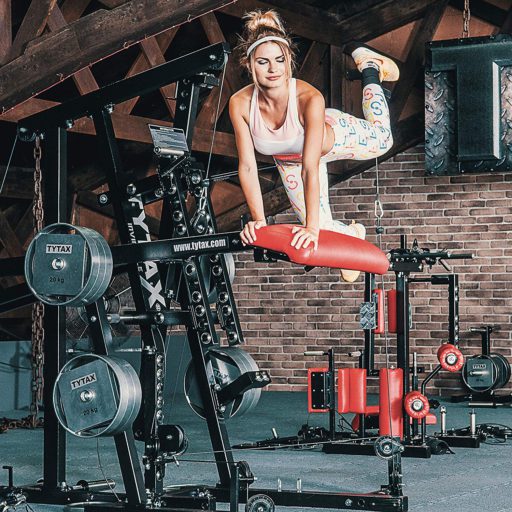 M1 Frame, Cables, Pulleys, and Bearings
The M1 features a baked-on, electrostatic powder coating, chip, scratch-resistant, heavy-commercial strength, hand-welded, 11 gauge carbon-steel frame with a lifetime warranty. (Note: smaller the gauge, thicker the steel – 12 gauge is standard in this class).
The weight plate posts are machine-milled from stainless steel pillars, contrasting with the softer chrome-plated posts found on most other home gyms that use Olympic-sized plates (big holes).
The weaker chromed posts become very banged-up over time, leading to difficulty adding and removing weight plates from the machine — not an issue with milled stainless steel.
The frame arrives about 30% assembled and is efficiently completed (this was a design consideration). Moreover, complete instruction is available on the TYTAX website  https://www.tytax.com/shop/tytax-m1-gym/?step=description.
The cables are nylon coated, 2000lb tested, high-tensile Air Craft cables (standard for home gym equipment in this class).
The heavy-duty nylon pulleys are sealed 'maintenance-free' and have dust-proof industrial-grade bearings. All other bearing housings are the same (including the bench guide rod rollers).
M1 Bench
The laminated wood-backed adjustable bench, padded with high-density foam on a heavy-duty 1-1/2″ steel frame along all four edges (many home gyms have exceptional support running up the back of the bench, which eventually leads to wobbling and thread shear).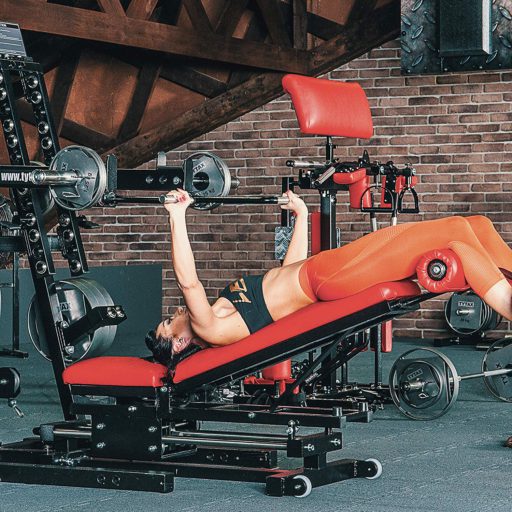 The seat and backrest are adjustable (including height adjustable). Cleverly, the bench is adaptable to the extent that the user faces the opposite direction when doing leg-press. Thus, by lowering the backrest to a flat position and raising the seat to an upright position.
The decline position is lying back on the bench when inclined, and the padded leg-lock supports you.
The bench also has a unique slide feature, allowing it to be easily moved forward or backward along steel guide rails and hardened bearings rollers, permitting optimal body positioning as per your body dimensions. Aligning a free-standing bench can sometimes involve getting off and back on the bench several times, but the slide system is always exactly centered and can be moved in or out without getting off the bench (walk it with your feet while sitting).
Like flat and incline press, some bench exercises put your lower back into a dangerous hyper-extended position because there is nowhere to put your feet.
The Tytax M1 has taken this into account by making the leg-lock pads angle adjustable and adding footrests on the sides. So now you can elevate your legs without compromising stability. It is a small detail but very good (the absence of this feature has long been a silent gripe of mine because I've had lower back injuries from training).
"Quick Change" locking system, Power racks, & Gun Racks.
The "Quick Change" locking system is a pending patent system for safe and secure transition and resting between exercises.
The M1 has two power racks for work with free-weight barbells. No area of this home gym equipment has been left under-utilized. Power racks are for shoulder press, military press (shoulders), deadlift (back of the thigh, butt, and lower back), squat (legs, butt), upright row (shoulders), lunge (legs), flat, incline, and decline bench press (chest) and so on.
The gun racks are huge height-adjustable racks that mount on the front or rear power racks, much larger than other home gyms seen in this class.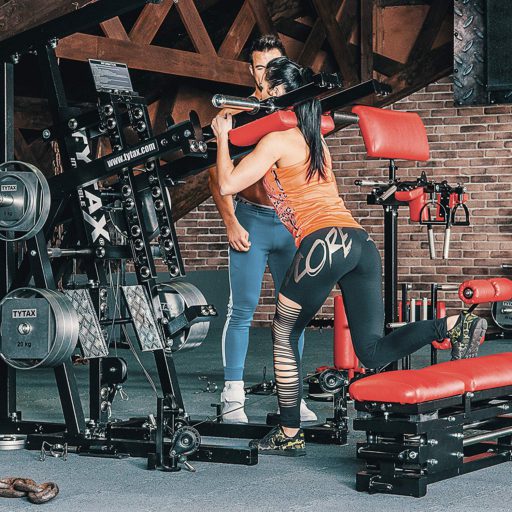 When heavy barbell lifting, gun racks safeguard against getting 'stuck' at the bottom of an exercise, they also make the starting position for exercises like upright row and standing military press easier to achieve.
M1 Leg press
Again the innovation of Titan M1 home gyms impresses, this time with their intelligent leg press engineering. As a rule, the leg press is usually an optional extra on home gym equipment. However, it requires the added expense and more room because it is nearly always an independent system that sometimes even needs its weight stack.
The M1 has solved this problem by eliminating the levers usually needed for leg press and incorporating the bench's slide feature. As a result, your feet remain stationary as you push against Diamond-steel footplates ('Diamond' describes the high-grip surface pattern), and the bench slides in and out.
The footplates are interchangeable between high and low positions. The top spot will hit more the hamstrings and glutes (back of thigh and butt), while the bottom position will place more load on the quadriceps (front of thigh). The lower position is also safer if pregnant or with lower back problems.
M1 Vertical leg press
As testimony to the Titan M1 home gym's remarkable versatility, it also comes standard with a vertical leg press. Separately, these usually retail for about $400 on the lower end. Again, you are lying on your back and pressing straight up; they are an excellent power exercise and an excellent alternative to squats—an additional set of footplates (are included) for this feature.
M1 High cable & Low cable
The upper cable is also known as the lat pulldown, is used to work the back. Also, the top cable is for triceps pushdowns, which work the back of the arms. Finally, the single low cable is for many exercises, for example, upright row, cable curls (front of arm), one arm concentration curls (front of arm), and triceps kickbacks (back of arm).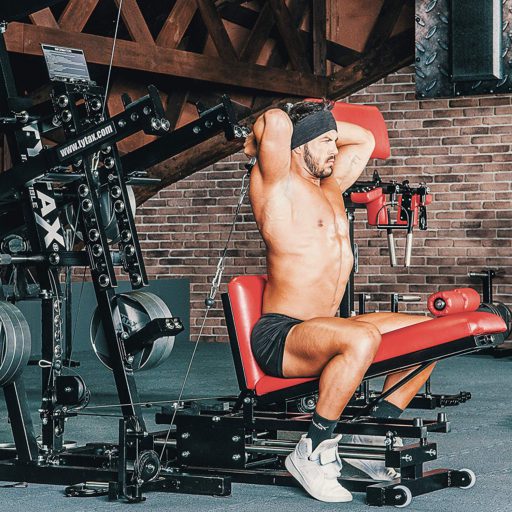 Low row station
There are footplates on the gym's rear side, especially for a low row using the low cable. Rowing (on a gym) is essential for building thickness in your back, particularly in rhomboids, middle fibers of the trapezius (central region of the upper back), and rear deltoids (shoulders).
Pull-up handles
Accordingly, pull-up handles are for close and full grip pull-ups (also known as chin-ups). In addition, the handles have two branches instead of a straight bar, which adducts the wrists and overloads the radiocarpal joints. Small touches like these may go unnoticed by a novice, but to the experienced trainer.
If you prefer chins with a straight bar, there is a bracket for placing an Olympic bar (bar with large bore stabilizers on each end – hence, Olympic plates have large holes). Furthermore, the pull-up handles are also for hanging leg raises (lower abdominals and hip flexors).
M1 Assisted pull-up & dip stations.
Most people can't do pull-ups, or only a few of them at best, which is unfortunate because they are the number of exercises for building width across your back; essential if you want to be "V" shaped. Amazingly, the Tytax M1 home gyms come standard with an assisted pull-up station.
You kneel on a particular padded platform, which is counter-balanced to push up, effectively reducing how much weight you lift. Assisted pull-ups are a commercial gym exercise not seen on other home gym equipment in this class.
The assisted dip station works the shoulders, triceps (back of arms), chest, and outer back. Dips are in the top 3 mass-building exercises for the chest after barbell bench and dumbbell bench. Leaning forward hits the chest and shoulders, and an upright position places more load on the triceps.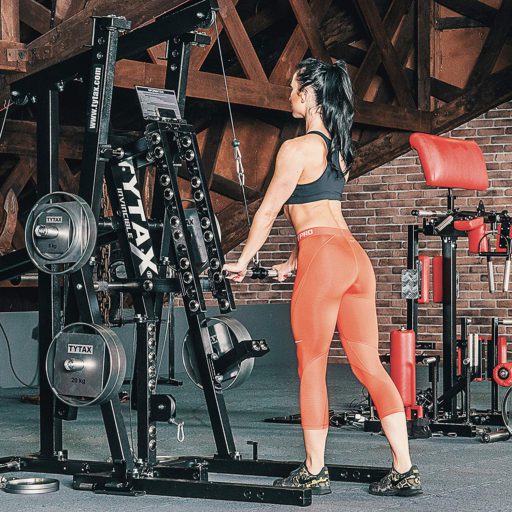 Unfortunately, many people can't do dips because you need at least enough strength to support your body weight. In addition, it is difficult to squeeze out three sets even when you can because your body is the minimum load.
But using the same counter-balance system mentioned earlier to reverse the weight and specially adapted handles, you can make a dipping motion while your body remains stationary. On the Titan M1, anyone can do dips.
Olympic bar and weight plate package
I've included links to Amazon.com for your convenience for a Tytax Olympic Bar Orginal Premium and Olympic weights 5 through 45 pounds.
Tytax Olympic Bar Orginal Premium
5lbs Olympic Weight Plate Original Silver Steel Premium
10lbs Olympic Weight Plate Original Silver Steel Premium
25lbs Olympic Weight Plate Original Silver Steel Premium
35lbs Olympic Weight Plate Original Silver Steel Premium
45lbs Olympic Weight Plate Original Silver Steel Premium
Note: Barbells, weights, dumbbells, and additional options (see other options below) are not included in the standard accessory of TYTAX machines – unless otherwise specified in the offer.
M1 Optional add-ons (purchased directly from Tytax)
400+ exercises;
11 gauge steel, Diamond-steel footplates, substantial stainless steel weight posts, etc.;
The leg press is standard and has two different foot positions;
The vertical leg press is conventional;
Assisted Exercise Technology-assisted dips, assisted pull-ups;
Variable positions on ergonomic pull-up bars;
Plenty of cable handles;
Width adjustable squat shoulder pads;
Push/pull handles instead of a bar so you can go dumbbell deep on your exercises;
The bench slides for easy positioning;
Detailed and extensive instruction is available on the main website (see address above)
It comes 30% assembled;
Ten optional add-ons.
Cons
Nothing for soleus. Soleus makes up the volume in the lower portion of your calf. However, no other home gym has a soleus exercise either.
Tytax M1 Home Gym Summary
Once you have made the call to work out at home rather than join a public gym, you still have to decide what type of exercise you will do. If you are looking for the ultimate home gym for high-caliber workouts in the comfort and privacy of your own home, look no further than Tytax Home Gyms.
Indeed, you'll find a load of standard features on the Tytax M1 system. These include an adjustable sliding bench, a counter-balance system, multiple safe spotting methods, and an accessory rack. Additionally, there are ten optional add-ons available, making the Tytax M1 not your ordinary exercise system.
It is by far superior in design, innovation, and versatility to any other home gym I have ever reviewed. Anyone who has the room and the budget for this class should buy the Tytax M1, absolutely no doubt about it. They are the best.
I hope you found this article helpful and informative. Would you please speak up if you have anything you'd like to share on the topic or any opinions about my website? I look forward to your comments, questions, and the sharing of ideas.