The Inspire Fitness IC2 Indoor Cycle features a heavy-duty 53 lb balanced and polished chrome flywheel and utilizes a poly-v-belt drive system for smooth and quiet performance. It also has an impressive maximum user weight capacity of 400 lbs (181.4 kg). It's a heavy-duty exercise bike that supports all kinds of spin workouts.
Simulate an authentic road-bike feel with the Inspire Fitness IC2's friction-based resistance knob and direct pressure brake (durable leather brake pads). This puts you in total control of your ride – sit or stand as you cycle, adjust the tension, and use the brake to simulate riding on different terrains such as flats and hills.
The Inspire Fitness IC2 indoor cycle has an easy-to-use blue-backlit LCD fitness monitor. It displays feedback as you cycle, including speed, RPM, time, distance, calories, and heart rate with an optional Polar-compatible wireless heart-rate chest strap. Unfortunately, this accessory does not come with the bike.
The Inspire Fitness IC2 Indoor Cycle is fully adjustable to give different users the ideal riding position. Both the seat and handlebars are adjustable up and down as well as forwards and backward. In addition, the IC2's pedals are dual-sided for cage or SPD so you can use the bike with or without bike shoes.
Learn more in my complete review below!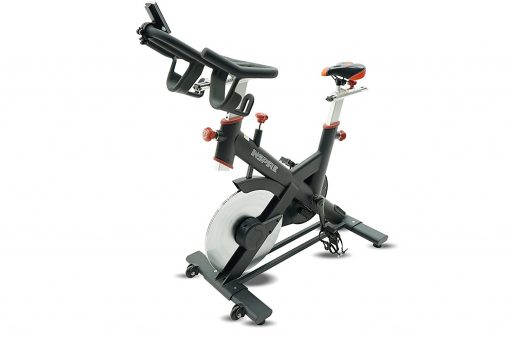 Product: Inspire Fitness IC2 Indoor Cycle
Price: For a great deal on this bike, merely go here on Amazon
Warranty: Frame 5 years / Pedals and parts three years / Wear items one year / Labor 1 year (see commercial warranty below)
My rating: is 8/10
Affiliate Disclosure: As an Amazon Affiliate Program participant, I earn commissions on purchases made through links in this post. Full disclosure
Details and Specifications
Assembled dimensions: 49L x 23W x 51H inches (124L x 58W x 129H cm)
Assembled weight: 186 lbs (84 kg)
Flywheel weight: 53 lbs (24 kg)
Supported user weight: 400 lbs (181.4 kg)
Handlebars: 4-way adjustable
Seat: 4-way adjustable
Drive mechanism: Belt
Resistance: Friction
Fitness Monitor: Time, speed, distance, RPM, calories, pulse
Bottle holders: Included
Warranty:
– Commercial: Frame 5 years / Parts 3 years / Wear items six months / Labor 1 year
– In-Home: Frame 5 years / Pedals and parts three years / Wear items one year / Labor 1 year
IC2 Frame Construction
The Inspire Fitness IC2 exercise bike features a frame made of steel tubing. It also has two longitudinal base bars rather than just one, significantly improving the frame's overall sturdiness.
The seat and handlebar posts are made of aluminum; they don't have any coating, and feature a natural aluminum color. The rest of the bike's frame is electro-plated with a black scratch-resistant and rust-resistant finish.
There are only several plastic parts in the bike's construction. These are the sleeves of the handlebar and seat posts, which are red for an artistic touch. The belt guard and the flywheel bolt guards are also durable plastic materials.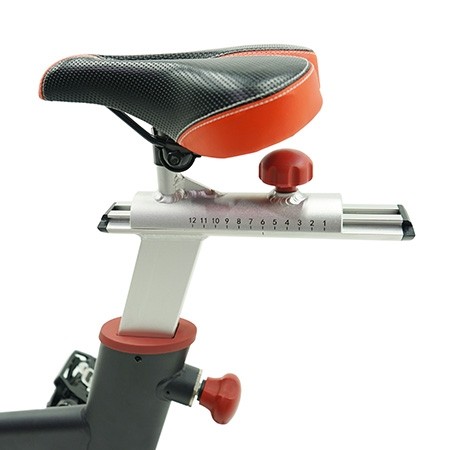 Although the bike is rather heavy, its relocation shouldn't be difficult once assembled. The front base stabilizer integrates two transport wheels, which facilitate its movement. Unfortunately, the frame is not foldable, so you will have to find a storage place that fits the bike's fully assembled dimensions.
The section above the rear base has a calf stretching pad. Even though it may seem to be an insignificant feature, it's still a plus over many other exercise bikes.
The middle frame bar above the crank assembly is slightly oblique. It doesn't have a conventional step-up pad attached to it but is highly durable.
Therefore, you can perform any spin workout that requires you to dismount from the bike and step up / step off the frame with no problem. Also, as I mentioned earlier, the paint finishes are highly durable, and it will take a lot of time to wear due to abrasion.
Seat and handlebars
The saddle included with the Inspire Fitness IC2 indoor cycle is slightly wider at the rear than other spin seats. In addition, it features a front groove to promote healthy airflow, while its rear part integrates a thick layer of cushioning.
It features a highly durable, sweat-proof upholstery made of double-stitched faux leather. Thus, it's not a seat made for comfort; however, it still delivers optimal comfort for all seated workouts.
Furthermore, the saddle has a standard design, though. Thus, you can easily find a compatible replacement seat if you want one with more cushioning.
The seat's vertical bar, as well as its horizontal slider, are incredibly durable. In addition, they support users up to 400 lbs (181.4 kg).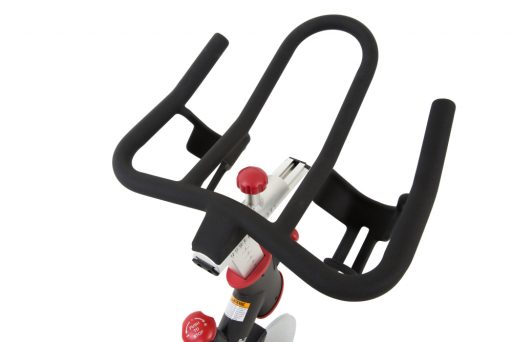 The bike offers superior adjustability. Both its seat and handlebars are 4-way adjustable (front, back, up, down). In addition, they provide multiple adjustment positions to accommodate users between 5'0″ and 6'7″ (153 – 201 cm).
Their adjustment knobs are large and easy to grip, pull, and turn, so bringing the seat and handlebars to your size shouldn't take more than a minute.
The bike's handlebar assembly features a multi-grip construction. It has a loop aero bar in the middle and standard lateral grips but doesn't offer the bull-horn grip. Instead, it's wholly dipped in polyurethane to deliver a secure grip and minimize abrasion. In addition, two drop-down bottle holders are integrated into the handlebar.
IC2 Resistance system
The Inspire Fitness IC2 features a standard friction resistance system that consists of a leather brake pad attached to the mainframe bar via a metallic sheet and concealed by a durable PVC cover. The brake pad connects to the dial on top of the mainframe bar, so by turning the dial, the pad will apply more or less friction to the flywheel.
The resistance dial also serves as an emergency brake. The wheel and pedals will continue to spin after you stop pedaling, so to avoid any injuries, it is necessary to use the emergency brake to stop the flywheel.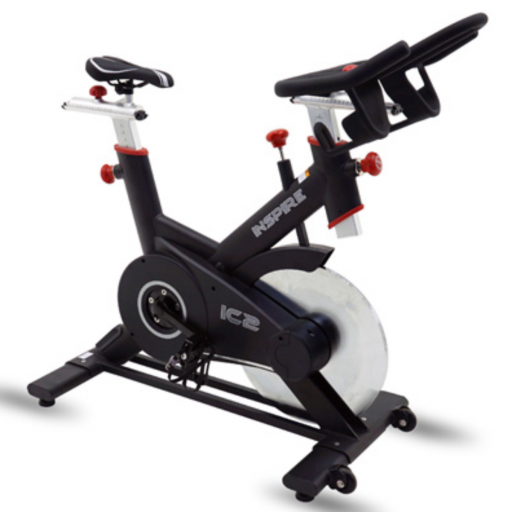 Like most exercise bikes with a friction resistance system, the IC2 has no "clicks" or pre-set resistance levels marked on the knob. Instead, you tighten the pad onto the flywheel until the resistance generated corresponds to your needs. You can tighten the padding on the wheel up to the point you can barely pedal.
Drive system
One of the main pluses of this indoor cycling bike is the extra heavy flywheel. It weighs 53 lbs (24 kg), delivers substantial momentum, and provides leg-strengthening workouts.
The flywheel is balanced and coated with an anti-corrosion chrome polish. In addition, it generates a smooth and steady motion. Furthermore, it's also bi-directional, allowing pedaling in reverse.
But note that the bike retains the resistance when pedaling in reverse as the resistance pad will continue to apply friction. Also, if you're wondering, you cannot coast on it.
The bike's crankset is exceptionally durable. The bike has a maximum user weight capacity of 400 lbs (181.4 kg), and the crank/pedal assembly doesn't make an exception. Even if you weigh this much, you should be able to pedal while standing up with no problem.
The pedals are made of a durable metallic alloy. They're dual-sided, equipped with SPD clips on one side and toe cages with straps on the other. The bike's Q-Factor (spacing between the pedals) is not specified but is notably narrow. This results in a pedaling motion without lateral stress on the joints, leading to longer, pain-free workouts.
Finally, this Inspire Fitness exercise bike uses a belt drive system powered by a poly-v-belt, generating almost no noise during pedaling. Also, as opposed to a chain drive, it doesn't require periodic lubrication. None of the internal parts need any maintenance.
The belt and crankset are enclosed, preventing any damage or external interference. The belt drive also has an inner tensioning assembly, which can be extremely useful if the belt becomes loose.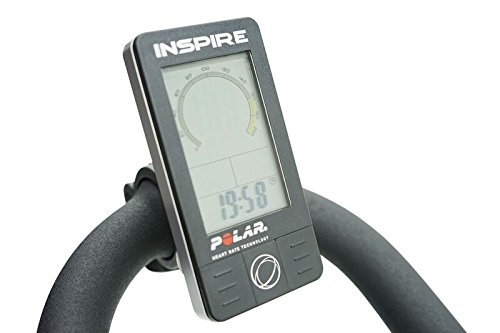 IC2 Console
The included fitness monitor offers several extra features over the simple models. It has a multi-panel LCD tracks time, distance, speed, RPM, calories burned, and pulse. In addition, the screen is a blue LED backlight, which improves its reading in a dimly lit area.
RPMs are in the top area of the monitor, similar to a car's tachometer. The mid panels are for calories and pulse, while the bottom panel indicates time.
The bike's handlebar doesn't integrate HR pulse sensors, but the monitor is telemetric. Therefore, it is compatible with Polar HR chest strap transmitters and can read your pulse wirelessly if you wear one. Unfortunately, the Polar strap does not come with the bike.
IC2 Assembly and Maintenance
There is a minimal amount of assembly to be carried out regarding this exercise bike. Most of it comes pre-assembled. You only have to attach the two base stabilizers to the mainframe, the handlebar post, the handlebar, the fitness monitor, and the pedals.
Consequently, this shouldn't take more than 20 minutes. The manual provides step-by-step instructions for the assembly task — also, all the tools required for the assembly come with the bike.
Maintenance requires keeping the bike clean, especially the sliders and posts of the seat and handlebars. These may also need a bit of lubrication. And from time to time, it is recommended to check the bike for loose parts and bolts and re-tighten them if it's the case.
Pros
Extremely sturdy construction, able to support users up to 400 lbs;
Aesthetic design;
Bases have adjustable rubber levelers;
Transport wheels;
Calf stretching pad;
Superior micro-adjustability – 4-way adjustable seat and handlebars;
Optimally cushioned spin seat with a longitudinal groove for breathability and durable upholstery;
Multi-grip handlebar, polyurethane dipped for a secure and non-abrasive grip;
Standard friction resistance;
Extra-heavy, 53 lbs flywheel for consistent momentum and a smooth pedaling motion;
Heavy-duty crank, able to support any user up to the maximum listed weight in an upright pedaling position;
Narrow Q-Factor to eliminate lateral stress on the knees and ankles;
Dual-sided pedals with clips for spin shoes on one side, and toe cages on the other;
Silent, maintenance-free belt drive;
Fitness monitor included – can track time, speed, RPM, distance, calories, and pulse;
The monitor is compatible with the Polar HR chest strap;
Bottle holders included;
Minor assembly is required;
Little maintenance is needed;
Excellent warranty.
Cons
The polar HR chest strap does not come with the bike.
Inspire Fitness IC2 Indoor Cycle Summary
The Inspire Fitness IC2 is a heavy-duty, commercial-grade indoor cycling bike featuring a friction resistance system, an extra-heavy 53 lbs flywheel, and a weight capacity of 400 lbs. In addition, it excels in micro-adjustability, comes with dual-sided pedals, and includes a Polar-compatible fitness monitor.
It's a bike that supports any spin workout, perfect for medium to intense cardio workouts, interval training, stamina, leg strength development, and weight loss. In all, it's a solid piece of equipment, offering outstanding value for the price.
I hope you found this article helpful and informative. Please speak up if you have anything you'd like to share on the topic or opinions about my website.? I look forward to your comments, questions, and the sharing of ideas.
Please remember that you should consult your physician to determine if you have any medical or physical conditions that could risk your health and safety or prevent you from using the equipment properly. In addition, your physician's advice is essential if you are taking medication that affects your heart rate, blood pressure, or cholesterol level.