The Sole F80 folding treadmill has always competed with commercial machines, and thanks to recent upgrades, the new edition is more impressive than ever. This foldable cardio trainer has a spacious 22″ x 60″ running area, a thick belt, a commercial-grade 3.5 CHP motor, and an automated ramp with a maximum 15% grade.
The Sole F80 is a compact treadmill with ten different workout programs (hill, fat burn, cardio, etc.) displayed on the 9″ LCD screen. It's Bluetooth compatible so that you can sync to your device with the Sole fitness app. In addition, you can control programs and download workout information (no audio controls available).
The F80 supports multiple users and stores numerous results. There are two options for monitoring your heart rate on the F80: touch sensors in the handlebars and a wireless chest strap. The chest strap connects to the display wirelessly and will get more accurate results than the handlebars.
It also comes with a 2-ply Cushion Flex suspension system. This new technology has changed how people run indoors, reducing the impact on joints by 40%. This is a fantastic feature for those who suffer from joint pain, previous injuries, or generally uncomfortable running.
Learn more in my complete review below!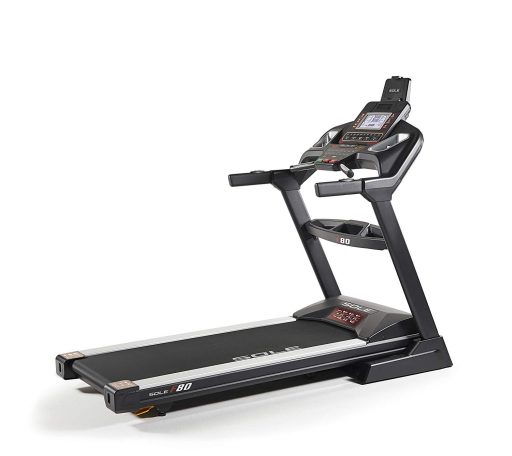 Product: Sole F80 Folding Treadmill
Price: For a great deal on this treadmill, merely go here on Sole Fitness.com
Warranty: Frame lifetime / Motor lifetime / Deck lifetime / Electronics 5 years / Labor 2 years
My rating: is 9/10
Affiliate Disclosure: As a Sole Fitness Affiliate Program participant, I earn commissions on purchases made through links in the post. Full disclosure
Details and Specifications
Assembled dimensions: 83L x 37W x 58H inches (211L x 94W x 147H cm)
Tread belt dimensions: 60L x 22W inches (152L x 56W cm)
Product weight: 265 lbs (120 kg)
Supported weight: 375 lbs (170 kg)
Motor: 3.5 CHP, DC type
Incline: Automatic, 0%-15%
Deck cushioning: Yes
Speed levels: 0.5-12 MPH.
Console: 10 training programs
Amenities: HR chest strap, sound system, cooling fan, tablet holder, bottle/accessory holders
Warranty: Frame lifetime / Motor lifetime / Deck lifetime / Electronics 5 years / Labor 2 years
F80 Frame
As its name suggests, the Sole Fitness F80 folding treadmill has a folding design. The deck can fold up and features an "easy assist" mechanism, which prevents it from dropping when unfolded. It also features a lever that locks it in place when folded up.
When in the folded position, the machine's dimensions are 48″L x 37″W x 72″H (122 x 94.5 x 183 cm), while when unfolded, it's 83″L x 37″W x 58″H (211 x 94.5 x 147 cm). The front base rests on caster wheels, which facilitate the moving of the assembled machine.
However, moving even with these wheels is challenging because the machine weighs 265 lbs (120 kg). Thus, unfolding and assembling it also requires two people.
The frame is made out of steel and comes with anti-corrosive paint. It has a horseshoe design, which considerably enhances the machine's stability. Most joints in the frame are welded, not bolted, an aspect reflected in the machine's overall sturdiness.
There are only a few acrylic parts in the frame constructions, such as the joint covers of the console masts, which only have a cosmetic role.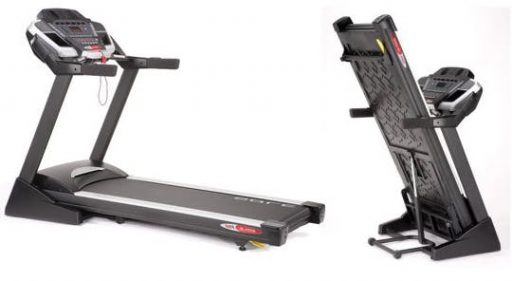 Deck and running surface
The deck of the Sole F80 features solid construction, incorporating elements of the highest quality. First, it uses 2.75″ high-grade, crowned rollers with sealed ball bearings for maximum durability and motion smoothness. These are similar to the ones used for commercial-grade treadmills.
They're also grounded to minimize the static effect. Of course, since the rollers are large, they offer more contact surfaces with the belt, which adds to the run's smoothness and prolongs the belt and rollers' life.
The deck integrates the Sole Cushion Flex suspension system, which absorbs up to 40% of the shock on your joints when running. However, it's still a pretty firm deck. As a result, it won't over-flex or wobble when running, even if the user is close to the maximum supported weight. The machine's deck is also wax lubricated, reducing the motor's strain during use.
The treadmill uses a commercial-grade belt with several layers of different materials. It features two rubber layers over a PVC layer and a nylon backing. The PVC supplies the stretch resistance, the rubber layers provide the belt's durability, and the nylon reduces the static effect.
The belt's dimensions are 60″L x 22″W (152 x 56 cm). It offers quite a large running surface, accommodating users up to 6'5″ (196 cm) or even taller depending on their inseam length, without causing the "cramming" feeling generated by treadmills with smaller decks.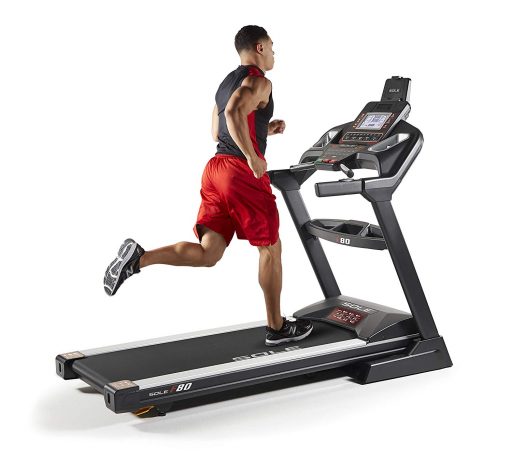 F80 Motor
The Sole Fitness F80 folding treadmill features a 3.5 CHP industrial quality motor with a large-diameter, zinc-coated, balanced flywheel. This flywheel reduces vibration, offering a more stable running surface.
It's quite a powerful motor for a home-use treadmill, supporting users up to 375 lbs (170 kg), at full running speed, for prolonged workouts, without overheating or choking.
The motor starts at 0.5 MPH speed and can adjust speed in 0.1 MPH increments. This is quite a plus, as you can find your workout's pace that feels the most comfortable. In addition, the transition between speed settings is smooth, taking several seconds and giving you plenty of time to prepare and accommodate.
Since it's a motorized treadmill, speed is controlled entirely by the console unit. You can adjust speed as you run via the Manual mode, or, in case you're using one of the preset workouts, the machine will automatically adjust its speed. There are also speed adjustment keys incorporated in the right grip of the treadmill.
One last aspect regards power requirements. Since it's a motorized treadmill, it requires a minimum 15 Amp, 110V circuit connection. It comes with a U.S. standard three-prong plug, not an adapter, and six feet (1,80 m) of cable. The cable connects to the motor casing at the front. The treadmill also features an On/Off power switch.
Incline
This treadmill also features a motorized incline. The slope is adjusted from the console or via the keys incorporated in the left grip with speed. You can change the incline as you run, or if you use one of the preset programs that involve incline, the machine will adapt the incline automatically.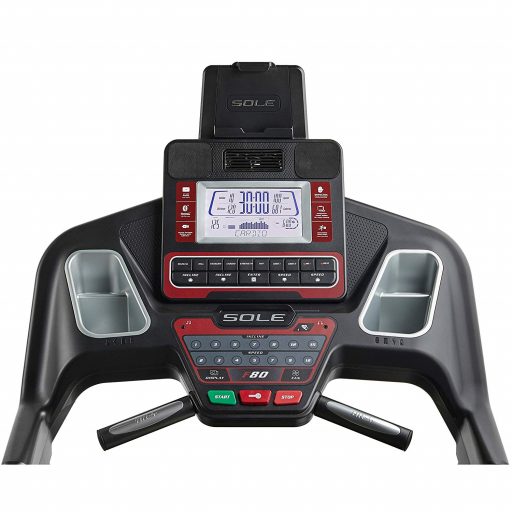 The maximum slope provided is 15%. It's not as much as commercial treadmills, which can offer up to a 40% incline or more. However, this particular feature considerably increases the workout possibilities on this machine.
Also, keep in mind that running at full speed is quite challenging with the incline set at maximum. Even a professional runner won't be able to keep up for long with these settings.
The incline adjusts in increments of 1%. For example, at 0% incline, the running surface is approximate — 8″ (20 cm) above the floor levels. At a 15% incline, the deck's front part will stand about 12″ (30.5 cm) higher from the floor. Therefore, to determine if the machine's room will be (used) has the right ceiling height, add at least 12″ (30.5 cm) to your size.
F80 Console
The F80 treadmill features a smaller display than the Sole F85. However, the integrated 9″ LCD is wide enough to supply excellent readability and LED blue backlight. The display indicates distance, speed, pace, pulse, calories, the selected program, and incline level.
The console offers ten workout programs and settings, including one manual mode, five preset programs, two custom user programs, and 2 HR programs. The Manual mode is the "free run" mode, which allows you to change speed and incline as you wish during your workout.
The preset programs include Hill, Fat Burn, Cardio, Strength, and Interval. The Custom User profiles allow you to create your programs and save them for re-use. And when creating a Custom Program, you will be required to input your age, weight, and desired time for your workout.
The HR programs focus on helping you keep a specific heart rate interval. And finally, this treadmill allows you to train via a 1/4 mile track function, which is excellent for training on a professional level.
The console will track your pulse via the sensor incorporated in the machine's front, small grips. However, it's telemetry enabled and can read the pulse via a wireless HR chest strap, which comes with the treadmill. And it also works with the Polar class transmitters.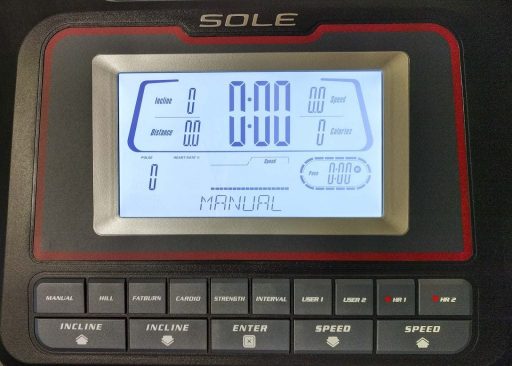 The console features keys for the gradual adjustment of speed and incline but keys for quick incline and speed adjustment. Each preset workout program has a separate key. Pause and Start keys (included), but the machine is only pausable for 5 minutes. After that, it will shut down automatically, and current values will reset.
Enhance your Workout with STUDIO
Sole Fitness workouts are done for all levels and range from 10 minutes to 60 minutes. In addition, Sole utilizes heart rate metrics and data from your equipment across all of your workouts to help you exercise smarter.
Connect your Bluetooth-enabled Sole Treadmill, Elliptical, and Spin Bike to get real-time metrics such as Speed, Incline, RPM, and Power. Also, connect any Bluetooth Heart Rate Monitor to see real-time metrics of how your heart rate responds to workouts.
Train with the world's best instructors from the country's top fitness studios. Our instructors will motivate and push you to your next personal best in running, cycling, boxing, rowing, and more.
Give it your best and go toe-to-toe with other beginners or pros on STUDIO's community-powered leaderboard. Your position is determined by your heart rate, evening the playing field while pushing you to your next record.
Over 3,000+ boutique fitness classes led by leading fitness instructors, with more added daily. Pick up the pace with treadmill or outdoor runs, then switch it up for cycling, rowing, strength, boxing, and more.
You'll earn FITCOIN during every workout. The harder you push, the more you'll make. Redeem prizes, offers, and rewards with your hard-earned FITCOIN. You don't have to do it alone. Sweat with the community, connect, follow, and invite your friends to work out together.
Accessories
Regarding amenities and accessories, the Sole F80 includes quite a few. First, it features a sound system consisting of two speakers on the monitor's sides.
This sound system is compatible with most smartphones, tablets, and MP3 devices, which can be connected to the console via a standard cable with a 3.5 jack. The sound rendered is not the best, but it's still better than the audio supplied by your phone or tablet-integrated speaker(s).
The top part of the console integrates a set of fans, while the area under the display features a media tray that can host a book, magazine, or tablet.
Last but not least, the console's dashboard has two built-in accessory compartments. However, there is also an accessory tray to connect to the console masts under the console to keep your water bottle, towel, etc.
F80 Assembly and Maintenance
The Sole F80 is not difficult to assemble, but this task does require two people, as the machine is heavy. The deck comes fully built, with the motor and lift motor in their place. The F80 comes with tools and an owner's manual.
Thus, to construct, you need to connect the console masts to the deck, connect the wires, and finally mount the console and the tablet tray. The whole process shouldn't take more than 45 minutes.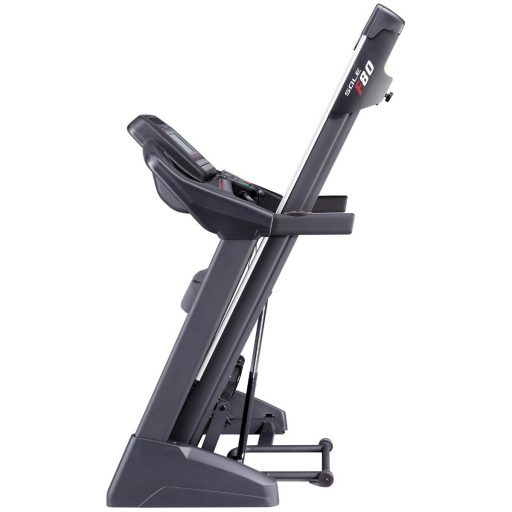 As on any treadmill, the running surface requires cleaning, so you'll have to vacuum it periodically and wipe it with a clean damp cloth. It's also necessary to lubricate the belt after every 50 hours of use. A tube of lubricant comes with the machine.
Pros
Sturdy, heavy frame assembly;
Elegant design;
Folding deck;
Solid deck construction, similar to commercial treadmills;
Deck cushioning elements;
Rollers and belts designed to minimize the static effect;
Industrial quality, 3.5 CHP motor;
Offers speeds up to 12 MPH, the required speed for professional training;
Quiet drive;
Speed adjustments in 0.1 increments, offering the possibility to select the perfect pace;
Motorized incline, with a slope of up to 15%;
Speed and incline adjustment keys incorporated in lateral grips;
Front grips with integrated HR pulse sensors;
Bluetooth connectivity;
The console is telemetry enabled, and the HR chest strap transmitter comes with the machine;
Ten workout programs, including one manual, five preset, two user profiles, and two heart rates;
30-day risk-free trial of Sole's STUDIO fitness app;
Various amenities, including cooling fans, sound system, media tray, and accessory tray;
Easy to assemble;
Little maintenance is required;
Great warranty plan.
Cons
A tablet or book may partially cover the console LCD when placed in the media tray;
It is a heavy machine, difficult to move and handle when fully assembled.
Sole F80 Folding Treadmill Summary
The Sole F80 is one of the best treadmills for under $2,000. This machine offers impressive features and challenging workout programs and won't take up too much space in your home.
It's a heavy-duty treadmill with solid deck construction, similar to the commercial models. Its deck is also foldable, which makes it perfect for home use. It uses an industrial-quality motor that performs flawlessly at high speeds, even close to the maximum weight capacity.
Its fitness-oriented capabilities are perfect for cardio training, weight loss, stamina, and strength building, offering the training set required by long-distance runners. Moreover, this machine provides excellent value for the price. It's not the most affordable model, but its overall construction and range of features exceed its cost.
I hope you found this article helpful and informative. Would you please speak up if you have anything you'd like to share on the topic or any opinions about my website? I look forward to your comments, questions, and the sharing of ideas.
Please remember that you should consult your physician to determine if you have any medical or physical conditions that could risk your health and safety or prevent you from using the equipment properly. In addition, your physician's advice is essential if you are taking medication that affects your heart rate, blood pressure, or cholesterol level.