The JOROTO X3  Indoor Cycle features a silent car-grade belt drive mechanism. It's non-skidding, wear and tear-resistant, and up to 10 times more durable than a regular belt you find on cheap spin bikes. In addition, the belt doesn't stretch, so you won't have to adjust the tension every day.
The JOROTO X3 comes with a 45-pound flywheel, which offers a smooth and consistent spin bike workout for all fitness levels. In addition, it has adjustable felt pad resistance that you can also use as an emergency brake.
The original seat has a narrow racing style. But if you want a full seat, you can send JOROTO a message on Amazon and ask them to send a full seat instead. They are cushioned and breathable; I recommend the racing saddle as they don't create friction and chafing. Also, the pedals are toe cage only, which means you can't clip in your spinning shoes.
This compact exercise bike by JOROTO Fitness features an LCD monitor that tracks time, speed, distance, and calories. Other valuable features of the JOROTO X3 spin bike for the home include transport wheels, adjustable foot levelers, and durable crank arms. Last but not least, the JOROTO X3 spin bike shipping is free within the United States.
Learn more in my complete review below!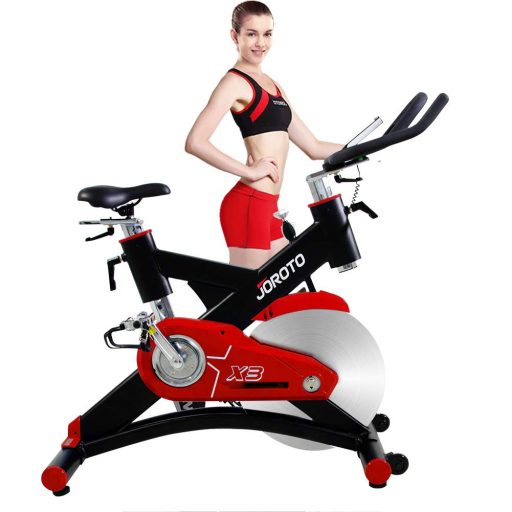 Product: JOROTO X3 Indoor Cycle
Price: For a great deal on this bike, merely go here on Amazon
Warranty: 1 year limited
My rating: 8.6/10
Affiliate Disclosure: As an Amazon Affiliate Program participant, I earn commissions on purchases made through links in this post. Full disclosure
Details and Specifications
Assembled dimensions: 50.4L x 20.9W x 46.8H inches (128L x 53W x 119H cm)
Assembled weight: 112.4 lbs (51 kg)
Flywheel weight: 45 lbs (22 kg)
Supported weight: 280 lbs (127 kg)
Handlebars: 4-way adjustable
Seat: 4-way adjustable
Drive mechanism: Belt
Resistance: Friction
Console: Time, speed, distance, calories
Warranty: 1 year limited
X3 Frame construction
The JOROTO X3 indoor cycle features a heavy-duty frame rated for a user weight capacity of 280 lbs (127 kg). Most of the structure is ovalized steel tubing for improved sturdiness and aesthetics. In addition, all its joints are precision-welded and highly durable—the two bases connected by two parallel bars add to the unit's overall durability.
Most steel parts within the bike's frame construction are double-coated with a corrosion-resistant and chip-resistant powder finish. The color used is black, with the JOROTO logo painted white/red. In addition, the seat and handlebar posts feature a chrome finish.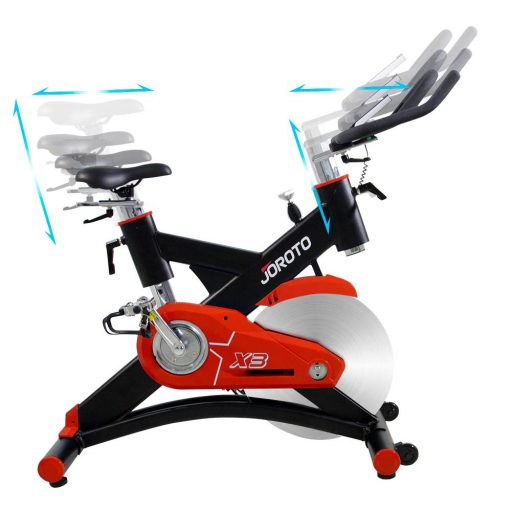 Like most other trainers with this type of frame, the JOROTO X3 doesn't have a stepping pad. The frame is durable, though, to support workouts that require stepping on its mid-section.
However, this type of exercise is not advisable as none of the middle frame bars are horizontal and do not provide perfect stability. Plus, the "v" section of the frame is slightly higher than for other trainers.
The bike's bases come with adjustable metallic stabilizers. Therefore, you can perfectly level it on any floor. Also, the front bar features two large transport wheels, which facilitate its relocation.
This indoor cycle is considerably heavy in comparison to a road bike or mountain bike. It weighs approx. 112 lbs (51 kg), but all this weight is a plus because it adds to the unit's overall stability and sturdiness.
With the frame fully assembled, it measures approx. 50.4″L x 20.9″W (128 x 53 cm). It doesn't require a lot of space to fit even into a smaller apartment. However, it's necessary to leave at least two feet of clearance all around it for ease of access and safe usage.
Seat and handlebars
The JOROTO X3 features a 4-way adjustable seat. In addition, its upright post offers several adjustment positions, while its horizontal slider also allows several inches of front-to-back travel. Thus, the bike can accommodate users between 5'2″ and 6'4″ (157 – 193 cm).
The included saddle features a thick layer of padding, especially at the rear part. In addition, it has a longitudinal groove for improved airflow during training.
But on the other hand, it has a standard design, so you can easily find a replacement for it if you would like to use a different type. In addition, its common connection point to the slider gives you the possibility to slightly tilt it forward or backward.
The bike's handlebar features a multi-grip design. It doesn't have the drop-down grips like the BodyCraft SPR but has a long loop aero bar in the middle, along with the lateral grips, which considerably improve your posture options during training.
Just like the seat, the bike's handlebar is 4-way adjustable. In addition, a layer of rubber foam material fully covers it to deliver an enhanced and comfortable grip.
X3 Resistance system
This JOROTO indoor cycle features a standard friction resistance system. It consists of a felt pad attached to the tension dial on top of the frame's main bar. A plastic cover guards the friction pad, but this part is removable to allow access to the pad for lubrication or replacement if needed.
To adjust resistance, you have to rotate the tension dial. There aren't any clicks or tension settings specified on it, so you can tighten it until the resistance pad delivers the amount of friction that you feel adequate for your training. As a general idea, you can tighten the pad up to the point where you can barely pedal.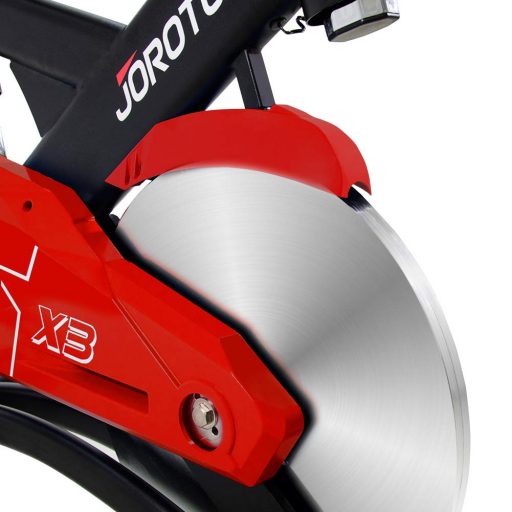 The tension knob also acts as an emergency brake. You can press it down to instantly stop the flywheel if necessary.
Drive system and elements
The main element of the bike's drive system that I'm going to cover here is the flywheel. The JOROTO X3 comes with a 45 lbs (18 kg) flywheel. Although it's not perimeter-weighted like other trainers, such as the Schwinn IC3, it still is a balanced flywheel and delivers pretty consistent inertia.
It's also bi-directional, which means the bike gives you the possibility to pedal in reverse if you want. However, you cannot coast on the bike, as it has a simple drive mechanism without any derailleurs like road bikes.
The bike comes with a belt transmission system. It uses a heavy-duty poly-v belt, which has an aesthetic shroud. The main pluses of a belt drivetrain are that it doesn't need any lubrication or periodic maintenance. It delivers exceptionally smooth and quiet motion. There is less vibration than in the case of a chain drive.
The crankset is a heavy-duty piece featuring solid steel crank arms. It supports loads up to 280 lbs (127 kg). In other words, as long as you don't exceed this weight, you can pedal while standing up on the pedals without any problem.
The bike's pedals are also a durable metallic alloy. They do not have SPD elements for spin shoes but do have toe clips for extra thrust. They also have standard threads, so you can replace them with SPD pedals if you want.
X3 Console
Not all spin bikes come with a console, so the fact that the JOROTO X3 includes one is quite a plus, even though it's a basic unit. The meter features a standard LCD (with no backlight). It can track time, distance, speed, and calories.
It doesn't have a pulse tracking function, so if you need to maintain your heart rate within a specific interval during training, you will have to use a separate device. Also, the speed and distance are displayed only in metric units.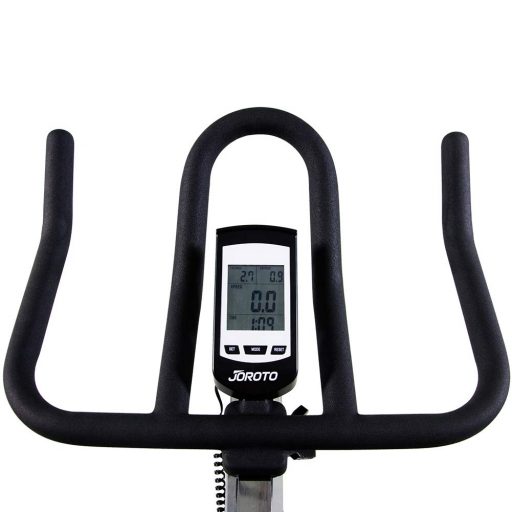 The console unit is straightforward to operate. It has only one button, which allows you to toggle ON/OFF its SCAN function. The SCAN function rotates all the workout metrics showing each one for several seconds on display. By toggling OFF the SCAN function, you can select any of the parameters shown on the screen all the time.
The button also covers the unit's RESET function. You can press and hold it down for a few seconds to clear all the values to zero.
The console is battery-powered. It also has a sleep mode to which will enter after several seconds of inactivity on the bike. To power it on, either press the button or begin pedaling.
X3 Assembly and Maintenance
The JOROTO X3 indoor cycle comes partially assembled. The flywheel, the drive system, and the resistance system are already pre-assembled. You only have to attach the base bars, the pedals, the seat, the handlebars, and the console.
This shouldn't take more than 30 minutes. An essential toolkit for assembly (is included), and the manual provides precise assembly instructions.
For maintenance, wipe off the sweat from the frame at the end of your training sessions and periodically check the unit for loose bolts and parts and retighten if necessary.
Pros
Frame construction – it can support users up to 280 lbs;
Aesthetic design;
Bases feature adjustable stabilizers;
Transport wheels on the front base;
Superior micro-adjustability – 4-way adjustable seat and handlebars;
Optimally cushioned spin seat, with a longitudinal groove for breathability and durable upholstery;
Multi-grip handlebar covered by rubber foam for optimal comfort;
Standard friction resistance;
Balanced, 45 lbs flywheel for consistent inertia;
Heavy-duty crank, able to support any user up to the maximum listed weight, in upright pedaling position;
Durable, metallic alloy pedals with toe cages;
Smooth and quiet belt drive;
The console included – it can track time, speed, distance, and calories;
Little assembly required;
Little maintenance is needed.
Cons
The LCD doesn't have a backlight;
There are only metric units setting for distance and speed;
No bottle holder;
The pedals do not have SPD clips.
JOROTO X3 Indoor Cycle Summary
The JOROTO X3 is a heavy-duty indoor cycling bike featuring a standard friction resistance system, a bi-directional 45 lbs flywheel, and a weight capacity of 280 lbs. In addition, it excels in micro-adjustability and includes a fitness console.
It's perfect for medium to intense cardio workouts, interval training, stamina, leg strength development, and weight loss. It's not one of the most affordable bikes, but it's still a few $100s cheaper than other similar models. In all, it's a reliable exercise bike, offering an excellent value for the price.
I hope you found this article helpful and informative. If you have anything you'd like to share or opinions about the content on my website, please speak up. I look forward to your comments, questions, and the sharing of ideas.