The Schwinn 270 Recumbent Bike is an excellent low-priced bike for home use and is Schwinn's top recumbent model. This model should fit most needs as its maximum user weight is 300 lbs. Overall, the Schwinn 270 Recumbent Bike represents excellent value for money and is hard to overlook.
There are several great recumbent bikes on the market, and the Schwinn 270 is one of the top options. It possesses the features you would expect in a quality exercise bike and a wide selection of useful options to customize your workout experience.
What I like the most about the blue backlit dual-monitors is the number of programmed workouts it provides, 29 in total, which is fantastic for this price range. In addition, there are nine heart rate control programs, four custom programs, two fitness tests, and one quick start.
I should also mention this monitor is Bluetooth enabled – Syncs with the Schwinn Trainer App and other fitness-tracking apps. Plus, you can even have some fun with Virtual Reality if that's your thing and have a ton of fun taking virtual rides with the free downloadable RideSocial App (real-time).
Learn more in my complete review below!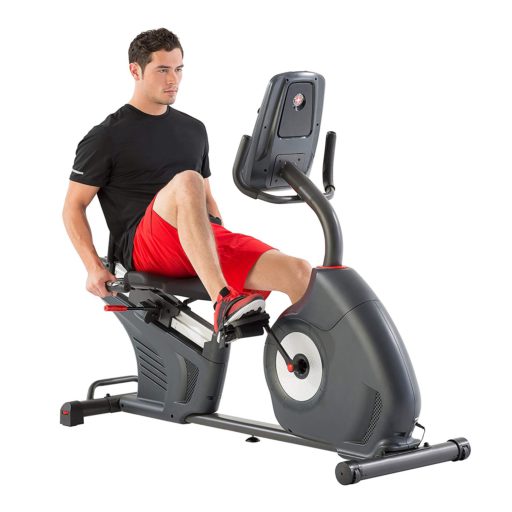 Product: Schwinn 270 Recumbent Bike
Price: For a great deal on this gym, merely go here to Amazon.com
Warranty: Frame 10 years / Mechanical 2 years / Electrical 1 year / Labor 90 days
My rating: is 9/10
Affiliate Disclosure: As an Amazon Affiliate Program participant, I earn commissions on purchases made through links in this post. Full disclosure
Details and Specifications
Assembled dimensions: 64L x 27.7W x 50H inches (162L x 70W x 127H cm);
Product weight: 86.6 lbs (39.3 kg);
Supported weight: 300 lbs (136 kg);
Handlebars: Fixed, with HR pulse sensors;
Seat: Adjustable;
Pedals: With Straps;
Brakes: Eddy current;
Resistance: Adjustable, 25 levels;
Fitness Monitor: 29 programs, four user profiles, goal tracking;
Bottle/Cupholder: Yes;
Speakers: Incorporated in the monitor;
Fan: 3-speed, incorporated in the monitor;
Warranty: Frame 10 years / Mechanical 2 years / Electrical 1 year / Labor 90 days.
270 Frame Construction
The Schwinn 270 features a one-piece, steel-made mainframe. Its overall design enhances this bike with superior stability and sturdiness. So even if you're a heavier user and engage in a high-speed exercising routine, you can be sure the bike won't wobble.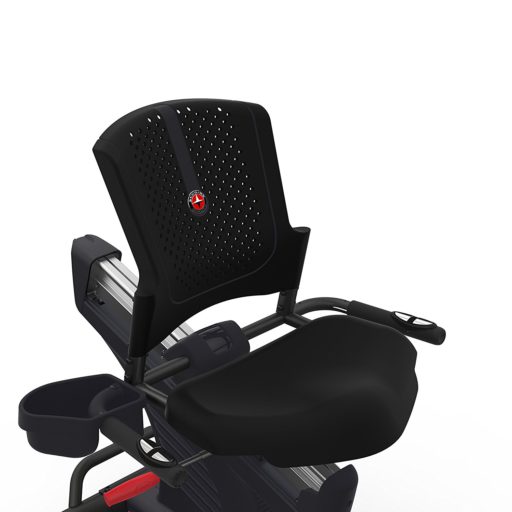 Even though this Schwinn exercise bike has a maximum of 300 lbs (136 kg) user weight, it can support even heavier users, maybe over 350 lbs (159 kg). The only problem with a heavier user may be the seat and back support being too small to offer maximum comfort and the recumbent handlebars too close to the seat.
The frame of the bike has two solid bases. The back base features adjustable levelers to ensure maximum stability even on uneven flooring. Also, the back base has a handle to grab the bike for transport, while the front base has wheels for easier relocation of the machine.
Seat and Handlebars
The seat comes with a significant comfort improvement over the 230 models from Schwinn. Rather than hard plastic, it is cushioned with a contoured leg area and an overall ergonomic design to eliminate any lower back pain or bottom soreness during workouts. However, the back support is still made of plastic, with a vented design to prevent any discomfort caused by its overheating.
The seat comes with an adjustable rail mechanism. It's horizontally adjustable, and it can accommodate users as short as 4'6″ (137 cm) and as tall as 6'4″ (193 cm). This exercise bike can still work for you even if you're 6'6″ (198 cm), but you won't have enough room for a full leg stretch.
Both front and recumbent handlebars are non-adjustable, welded to the frame and, respectively, to the frontal post. In addition, both feature rubber foam padding for extra comfort and a superior grip.
The recumbent handlebars incorporate HR pulse sensors. Therefore, if you must remain within a specific rate during your cardio activity, you'll be able to monitor it while working out.
270 Drive and Resistance
Since this bike features a rather big pulley, many may mistake it for the flywheel. The flywheel is smaller than the pulley but considerably more massive (over 17 lbs) and is perimeter weighted for high inertia. It's at the front of the bike with a belt connecting the crank to the flywheel.
Thus, this Schwinn bike is belt-driven, resulting in a smooth and quiet ride. Crank arms are steel-made, solid, and finished with wide, standard pedals. Each pedal has a toe strap, which can be helpful in post-surgery training to keep feet in place.
The resistance system is electromagnetic (eddy brake). Consequently, the bike needs a connection to a power source for the resistance system to become operational. Nonetheless, the bike is useable if it's not plugged in, but you will use it on its minimum resistance level.
Since the brake pad does not directly contact the flywheel, it sustains no wear and tear. Therefore, you don't have to worry about replacing it.
The bike comes with a 120V 60Hz AC Input, 9VDC, 1.5A output AC power adapter, and plugs into any American standard electrical wall outlet. Unfortunately, it's not battery-powered, and there are no battery slots, just the adapter and power cable. The bike's connector for the adapter power cable is above the front base of the cycle. The power cord has a length of 6′ (183 cm).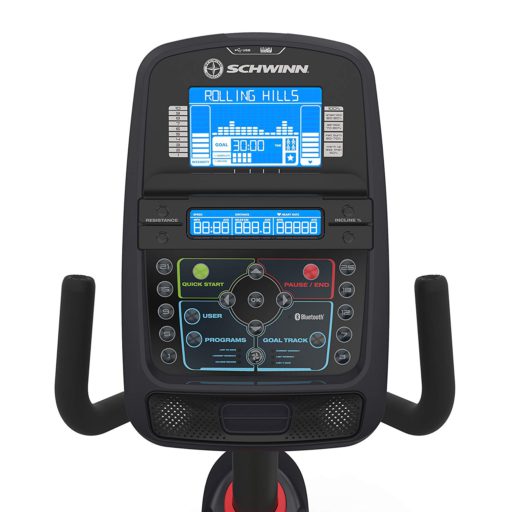 Fitness monitor
The Schwinn 270 recumbent bike fitness monitor is the same as the one with the Schwinn 170 upright bike. Furthermore, it's a highly advanced monitor with many functions, fitness and non-fitness related. In addition, the monitor features 2 LCDs, both blue backlit, which improves their readability even in a room with lesser lighting.
First, the progress tracking unit of this bike can indicate up to 13 pieces of feedback. It shows distance, time, RPM, heart rate zone and pulse, calories burned, resistance level, the user profile enabled, intensity meter, goal, and goal percent completed.
It makes 29 workout programs available, among which you can have 12 profile programs, 9 for heart rate, two fitness, four custom, one quick start, and one recovery test.
The monitor features four user profiles, a great feature if multiple persons use the machine or if you want to quickly alternate between workout programs with different settings. It also controls the bike's resistance levels via four big keys to gradually adjust ten keys for direct, quick resistance selection.
With enhanced Bluetooth connectivity, users can set, track and monitor progress with popular app-based tracking tools like Explore the World, MyFitnessPal, and more.
Amenities
The bike's fitness monitor also offers several other functions, non-fitness related. For example, it incorporates a sound system consisting of two speakers, allowing you to listen to your music directly through the monitor, eliminating the inconvenience of earphones. In addition, you can connect your phone, iPod, or MP3 player to the monitor to listen to music.
The upper part of the monitor has a media tray that tightly holds your tablet, so you can watch your favorite online streams or surf the web while you work out.
The monitor also incorporates a 3-speed fan, a great feature, especially for higher-intensity workouts. It's also telemetry enabled, which means you can use a heart rate chest strap compatible with the monitor to track your heart rate and pulse. Unfortunately, the chest strap does not come with the bike. However, Polar T31 straps, for example, work with this bike.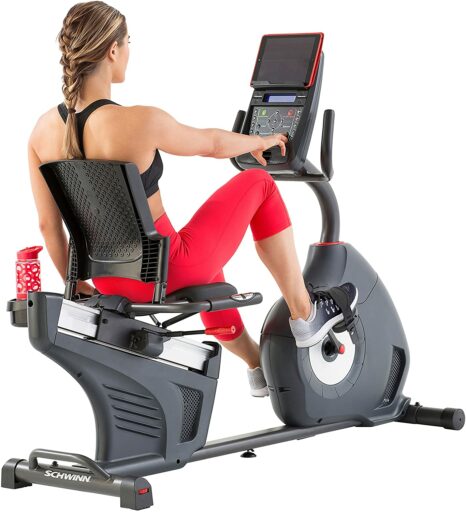 Finally, this monitor features a USB port to download your exercise data and progress and upload it into Schwinn Connect or MyFitnessPal. On these sites, you can better analyze your development and get a lot of information on adjusting your training for quicker progress and superior results.
270 Assembly and Maintenance
The bike is not difficult to put together; everything is pretty straightforward. It comes partially assembled. The drive and brake mechanisms are attached to the frame and sealed in their case. The same goes for the rail system of the seat.
You must connect the bike's bases, handlebar, seat frame and seat, bottle holder, and console. The console wires pass through the front handlebar post, and you need to ensure they're (connected) before installing the console.
The box includes the tools for the assembly task and the user's manual, which guides you step-by-step through the process. It shouldn't take more than 45 minutes.
Since the bike isn't chain-driven, there's no maintenance required. The transmission belt is pretty robust and made to last a very long time. All the parts are pre-lubricated and don't require any additional greasing.
And since the brake pad consists of magnets and does not contact the flywheel, they don't need replacement.
In terms of maintenance, you should keep the machine clean of debris and dust and the fitness monitor dry. In addition, you should periodically check for loose nuts and parts and retighten them as needed.
Please note that the tablet shown in the image sells separately.
Pros
Low sale price;
Compact machine size;
Transport wheels;
Smooth pedaling;
Digitally controlled magnetic resistance;
25 resistance levels;
Ventilated seat back;
Cushioned seat bottom;
Adjustable seat position;
Easy-to-use fitness monitor;
29 preset workout programs and fitness tests;
Four user profiles;
Wireless heart rate receiver;
Bluetooth data export;
RideSocial compatibility;
Mobile device shelf and USB charging port;
MP3 player port and sound system;
Three-speed cooling fan;
Water bottle holder;
Accessory tray.
Cons
According to some users, the calorie burn estimate seems inaccurate;
A wireless HR chest strap does not come with the bike.
Schwinn 270 Recumbent Bike Summary
The Schwinn 270 meets all the requirements for a superior, gym-quality recumbent bike. It's an excellent machine for users undergoing a physiotherapy program to keep their leg muscles toned, put their cardiovascular system to the test, and even lose weight if they follow a diet program. It can help you burn up to 450 calories per workout session or even more if you use the highest-tension settings and programs.
It's a very comfortable, extremely sturdy, and stable bike, with a drive and brake mechanism built to last. In addition, it comes with an excellent price/quality/capability ratio and a piece of home gym equipment worth every penny.
I hope you found this article helpful and informative. Would you please speak up if you have anything you'd like to share on the topic or any opinions about my website? I look forward to your comments, questions, and the sharing of ideas.
Please remember that you should consult your physician to determine if you have any medical or physical conditions that could risk your health and safety or prevent you from using the equipment properly. In addition, your physician's advice is essential if you are taking medication that affects your heart rate, blood pressure, or cholesterol level.