The XTERRA Fitness MBX2500 Indoor Cycle is perfect; whether you're looking to shed a few pounds or prepare for the bicycling adventure of a lifetime, bring home the training power you need. It doesn't just look amazing with its sleek styling – the innovative rear drive frame design combines the quality and high performance that XTERRA Fitness has become known for with features that riders of all fitness levels can appreciate.
The main attraction, besides the price, is the XTERRA's heavy-duty resistance system. A hefty 48.5 lbs precision-balanced flywheel is chrome plated to prevent corrosion and has a protective shield around the outer edge to help avoid touching the moving flywheel during workouts. You can manually shift among eight resistance settings.
Another selling point is the bike's small size; the machine is under five feet long. Still, the MBX2500 is more massive than most spin bikes (weighs about 105 pounds) and can support a 300-pound rider. In addition, both the saddle and handlebars are adjustable for excellent ergonomics.
For tracking performance, the MBX2500 has an LCD fitness monitor. It has an RPM graphic and simultaneously shows the elapsed time, calorie estimate, distance, speed, and pulse. I also like how the bike is compatible with a wireless heart rate transmitter and provides other exercise feedback.
Learn more in my complete review below!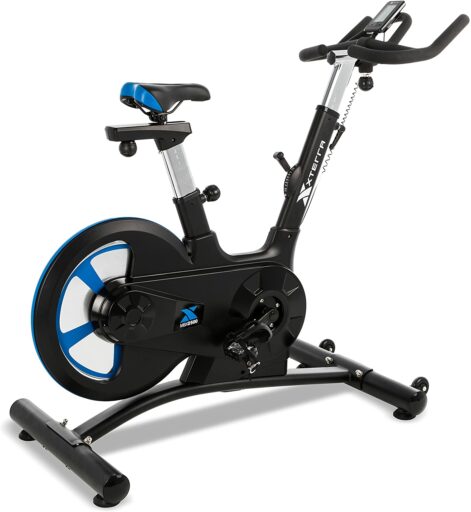 Product: XTERRA Fitness MBX2500 Indoor Cycle
Price: For a great deal on this bike, merely go here to XTERRA Fitness.com
Warranty: Frame lifetime / Parts 1 year / Labor 1 year
My rating: is 8/10
Affiliate Disclosure: As an XTERRA Fitness Affiliate Program participant, I earn commissions on purchases made through links in this post. Full disclosure
Details and Specifications
Assembled dimensions: 56.3L x 20.5W x 53.2H inches (143L x 52W x 135H cm)
Assembled weight: 103.6 lbs (47 kg)
Flywheel weight: 48.5 lbs (22 kg)
Weight capacity: 300 lbs (136 kg)
Handlebars: 4-way adjustable
Seat: 4-way adjustable
Pedals: With toe cages
Drive: Belt
Resistance: Manual magnetic, eight levels
Fitness Monitor: Time, distance, speed, RPM, calories, and pulse
Warranty: Frame lifetime / Parts 1 year / Labor 1 year
MBX2500 Frame Construction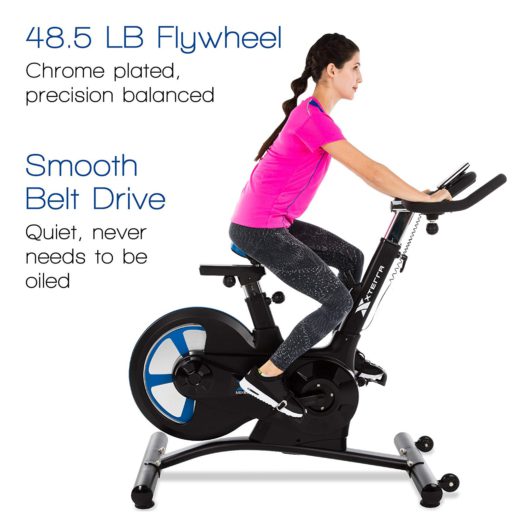 The XTERRA Fitness MBX2500 features a steel frame that combines ovalized with round and hexagonal bars. As a result, it has a low center of gravity, which considerably improves its stability. On the other hand, it's a pretty heavy trainer; it weighs 103.6 lbs (47 kg), which is twice the average mountain bike's weight, an influence that plays an essential role in its total stability.
Plus, its base bars have adjustable stabilizers. So although it's a rather heavy exercise bike, its relocation shouldn't be a problem. The front base also features a set of transport wheels, and by using these wheels when moving the unit, you will handle only approx — 40 % of its total weight.
The bike's main base bar curves at the rear, improving the unit's overall sturdiness. It also inclines the user a few degrees forward, which results in a better racing posture with a slightly higher impact on the core muscles.
The belt, crank, and flywheel covers have a durable ABS material. In addition, the middle section between the handlebars tube and the seat tube is highly durable and can be (used) as a stepping pad. Thus, the trainer can support just about any spin workout.
The XTERRA MBX2500 is a bit larger than other spin bikes. With the frame fully assembled, it is 56.3″ (143 cm) long and 20.5″ (52 cm) wide, while its highest point is the top of the console, which reaches approx. 53.2″ (135 cm) above floor level.
The bike's frame is a corrosion-resistant and abrasion-resistant paint finish. The primary color used is black, with the XTERRA logo painted white. The flywheel, the seat post, and the handlebar post have a chrome finish, though.
Seat and handlebars
The XTERRA Fitness MBX2500 indoor cycle has a spin seat, which is slightly larger and more cushioned than the average slim spin seat. In addition, it features double-stitched, highly durable vinyl upholstery. It also has a longitudinal groove for improved comfort and airflow under the user.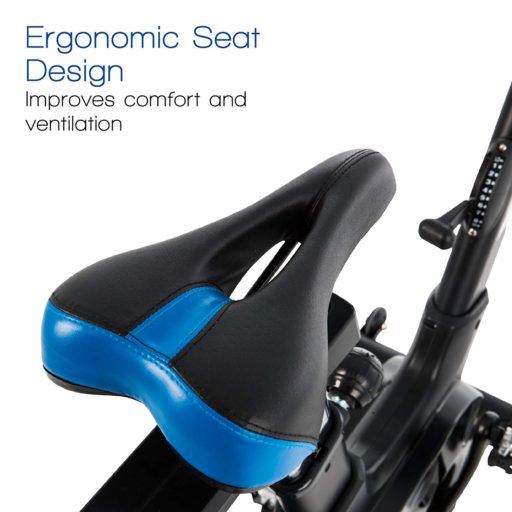 The seat has a standard connection system to its post. Thus, it is quite a plus if you want to replace it, as there are many compatible saddle models in any bike store.
The seat offers 4-way adjustability (up, down, forward, backward). In addition, the upright bar offers ten adjustment positions, while the horizontal slider also provides several inches of front-back adjustment. Therefore, the bike can accommodate users with an inseam up to 38″ (96.5 cm), or differently put, users between 5'0″ and 6'5″ (153 – 196 cm).
Also, in terms of weight capacity, the seat assembly and the whole frame, in general, can support users up to 300 lbs (136 kg).
The bike's handlebar features a multi-grip design with a loop aero bar in the middle. It offers the possibility to adopt five types of grips and postures. In addition, it's urethane-dipped for a secure grip and extra comfort.
Just like the seat, the bike's handlebar assembly offers 4-way adjustability. In addition, its vertical post offers five adjustment positions, while its horizontal slider makes three other fore-to-aft parts available.
MBX2500 Resistance
This XTERRA fitness exercise bike has a manual magnetic resistance system. Therefore, you don't have to connect it to a power source to adjust resistance. The console is also merely a fitness meter and (is not required) for the bike's resistance control.
The resistance system consists of a magnetic brake connecting the tension lever on the frame's top tube through a steel wire. As you press the bar down, the brake increases the internal magnetic field, which results in an increased pedal resistance.
The bike offers eight resistance levels. The flywheel is heavy, so the first resistance level isn't light. But conversely, the top level of resistance produces quite an extreme pedal tension, which offers the possibility of obtaining a higher muscle burn.
Drive System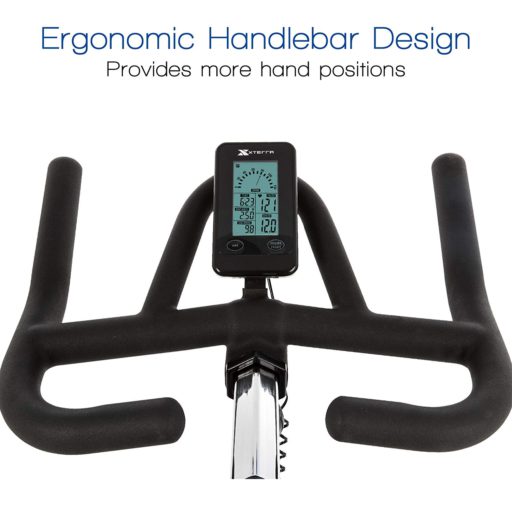 There are three main elements to cover here, the flywheel, the crankset with its pedals, and the transmission regarding the bike's drive system.
The XTERRA Fitness MBX2500 has one of the most massive flywheels available. It weighs 48.5 lbs (22 kg). However, it doesn't have a perimeter-weighted design, which means it doesn't deliver highly aggressive inertia, but its weight offers a pretty consistent momentum due to its weight.
It's also bi-directional so that you can pedal in reverse. This way, you can put plenty of diversity into your workouts.
Just like other spin bikes, the XTERRA MBX2500 features a 3-piece crankset. Its arms are substantial, supporting all users up to 300 lbs (136 kg) in standing-up pedaling routines.
The pedals are metallic alloys. They have standard 9/16 threads, so you can easily find compatible replacements for them if it's the case. Unfortunately, they do not have SPD clips for spin shoes but have toe cages and straps.
Finally, this trainer features a belt transmission like most other bikes with a magnetic resistance system, and it integrates a heavy-duty v-belt resistant to stretching. As a result, the belt doesn't need periodic lubrication; instead, a chain drive. It also delivers a smooth pedaling motion with less vibration than a chain.
MBX2500 Fitness monitor
Since the bike's resistance system is manual, the included fitness monitor doesn't affect the resistance adjustment. In addition, it doesn't have any pre-set programs, does not connect online, and is not compatible with any online fitness apps.
The monitor features a 6-window LCD. The top, larger window indicates RPM. The three smaller windows on the left show time, distance, and calories burned, while the right bottom windows indicate pulse and speed.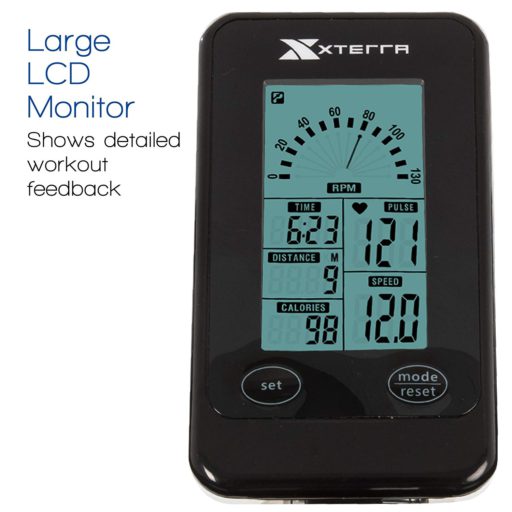 Countdown settings are available for time, distance, calories, and pulse. You can select a target value for any of these metrics, and the console will count down from the chosen values until it reaches zero. This function lets you set your workout goals and track your progress better.
The bike's handlebars do not have pulse sensors, but the monitor can track your pulse via an HR chest strap transmitter. This accessory is not included with the bike, though.
The fitness monitor is straightforward to use. It has only two buttons, SET and MODE/RESET. The SET button allows you to set workout goals, while the MODE/RESET button confirms all the settings. For example, you can press and hold the MODE/RESET button for several seconds to clear all the values to zero.
The monitor uses a CR2032 (3V) battery. To start it up, you can press any of the two buttons. It also has a standby mode, starting if the console detects any bike activity for 4 minutes.
MBX2500 Assembly and Maintenance
The core of the bike comes pre-assembled. Next, you'll have to attach the seat and the handlebar with its post. And lastly, the fitness monitor and the pedals. Therefore, it shouldn't take more than 30 minutes of your time—the required tools for assembly come with the bike. Also, the manual provides precise assembly instructions.
Since it's a magnetic resistance bike, its brake doesn't require any lubrication, nor does the belt. So you only have to keep the unit dust-free and periodically check for loose parts and bolts.
Pros
Solid V-frame – can hold users up to 300 lbs;
Aesthetic design;
Bases with adjustable, rubberized levelers;
Transport wheels on the front base;
4-way adjustable seat;
4-way adjustable handlebar with a multi-grip design;
48.5 lbs balanced flywheel for a smooth pedaling motion and solid momentum;
Heavy-duty crank made for standing-up spin workouts;
Durable, metallic alloy pedals with toe cages and straps;
Frictionless, wear-free, magnetic resistance with 8-level settings;
Smooth and quiet belt drive, great for apartment use;
A fitness monitor that tracks time, speed, RPM, distance, calories, and pulse;
Easy to assemble;
Little maintenance is required.
Cons
The fitness monitor LCD is not backlit;
An HR chest strap does not come with the bike.
XTERRA Fitness MBX2500 Indoor Cycle Summary
The XTERRA Fitness MBX2500 is an indoor cycling bike featuring an 8-level magnetic resistance system, an extra-heavy flywheel, and a heavy-duty crank. In addition, it offers superior micro-adjustability, both its seat and handlebars being 4-way adjustable. It also includes a fitness monitor that tracks all the required workout metrics.
It's a sturdy and good-looking exercise bike, perfect for mid-range to high-intensity cardio workouts, great for muscle toning, stamina and strength development, interval training, and weight loss. And finally, it's one of the most affordable trainers in this category; it's still a few $100 cheaper than most light-commercial models.
I hope you found this article helpful and informative. Would you please speak up if you have anything you'd like to share on the topic or any opinions about my website? I look forward to your comments, questions, and the sharing of ideas.
Please remember that you should consult your physician to determine if you have any medical or physical conditions that could risk your health and safety or prevent you from using the equipment properly. In addition, your physician's advice is essential if you are taking medication that affects your heart rate, blood pressure, or cholesterol level.