The new L NOW LD-501 Spin Bike (pooboo) was released in 2019 and is a fully commercial indoor cycling bike with an LCD monitor. The LD-501 was (designed) for health clubs and cycling studios alike. However, if you can afford it, it will make an excellent spin bike for home.
The 35-pound perimeter weighted flywheel and magnetic resistance, on the LD-501, provides a road like feeling for the user. The commercial quality steel frame is designed to support users up to 440 lb maximum weight capacity, which points to an extremely durable and reliable drive system.
The LD-501 magnetic resistance is silent and smooth. It is capable of providing a challenging workout via the manually adjustable resistance knob located on the frame for easy and efficient changes. And unlike most other spin bikes, the L NOW LD-501 features a spring to absorb the shock and create a smoother ride for you.
The LCD console displays Speed, Time, Distance, Calories, Heart Rate, and Cadence (RPM). Target goals for time, distance, and calories can be created to countdown. The Quickstart button resets all values to count up from zero. Since the LD-501 console isn't Bluetooth or ANT/+ connectivity enabled, for entertainment or wireless HR tracking, you'll need a separate device.
Learn more in my complete review below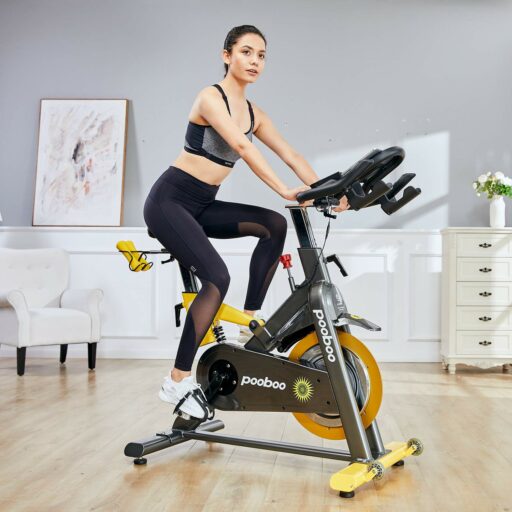 Product: L NOW LD-501 Spin Bike (pooboo)
Price: For a great deal on this bike, merely go here on Amazon
Warranty: 1-year limited
My rating: 9.8/10
Amazon Affiliate Disclosure: I may earn commissions on purchases made through links in this post.
Details and Specifications
Assembled dimensions: 50L x 21W x 48H inches (127L x 53W x 122H cm)
Assembled weight: 136 lbs (62 kg)
Flywheel weight: 35 lbs (16 kg)
Weight capacity: 440 lbs (200 kg)
Handlebars: 4-way adjustable
Seat: 4-way adjustable
Drive: Belt
Resistance: Manual magnetic
Console: Time, speed, distance, calories, pulse, recovery test, RPM
Accessories: Dual bottle holder, dumbbell set
Warranty: 1 year limited
LD-501 Frame construction
The L NOW LD-501 has the same double triangular frame construction as the older version. The main triangle offers sturdiness and stability, while the second refers to the seat construction, which integrates a suspension spring to improve shock absorption. We'll cover this element with more details in the section below.
The bike's frame is durable steel tubing. Most of the bars in its construction are oval for superior sturdiness and improved aesthetics. Of course, the bike also has a few ABS parts, but these do not influence its overall sturdiness. The most notable one is the belt guard.
The bike's frame comes with a corrosion-resistant paint finish. The colors used are gray for the central part of the structure and yellow for the front base bar and the seat tube. The seat post and the handlebar post have a chrome paint finish.
The fully assembled unit is considerably heavy compared to other indoor cycling bikes. It weighs approx. 136 lbs (~62 kg). All this weight reflects in its overall stability. You can be sure the bike won't rock or move even if you perform the most demanding spin workouts.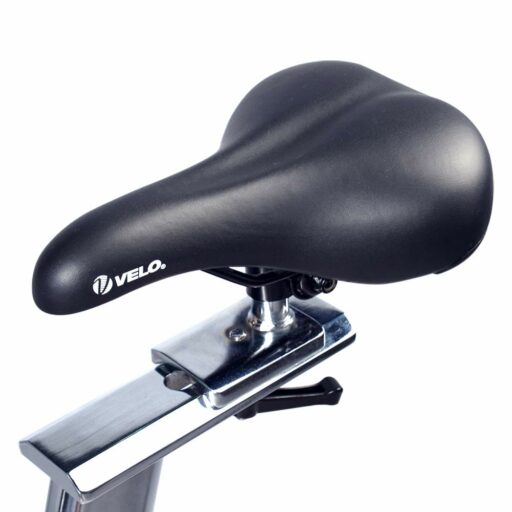 The L NOW LD-501 is a bit larger than other spin bikes. With all the parts assembled, it is approx — 50″ (127 cm) long, and 21″ (53 cm) wide. Also, with the handlebar adjusted to its maximum height, its highest point is approx. 48″ (122 cm) above floor level.
Of course, it is recommended to leave at least two feet of clearance all around it, to be able to perform all spin workouts without any hindrance.
Although the bike is relatively heavy, once assembled, it is not too difficult to move. Its front base integrates a set of large silicone wheels which facilitate its relocation. By using these wheels, you won't be handling more than 30% of the bike's total weight.
Last but not least, both base bars of the bike comes with adjustable stabilizers. All four stabilizers feature rubber pads to protect your floor and prevent the bike from sliding from its location. However, it still is recommended to place it and use it on a rubberized mat.
Seat and handlebars
The LD-501 includes a medium-range saddle in terms of comfort. It is slightly wider than the slim seats offered by other spin bikes. It also integrates a layer of foam padding and has a contoured surface to improve breathability.
The seat tube doesn't connect directly to the mainframe. It integrates a suspension spring, which is designed to improve the overall shock absorption. Therefore, the bike provides a bit of extra comfort during seated workouts. Also, the seat assembly is durable enough to support users up to 440 lbs (200 kg).
It's also important to mention that the saddle has a standard attachment system. It connects to the slider via a collar system, which makes it easy to replace; also, compatible options should be available in any bike shop.
The seat offers 4-way adjustability (up, down, front, back). Its horizontal slider provides a few inches of adjustment, while the upright bar has several adjustment notches. Therefore, in terms of seat-to-pedal distance, the bike should be able to accommodate users between 5'0″ and 6'5″ (153 – 196 cm) with no problem.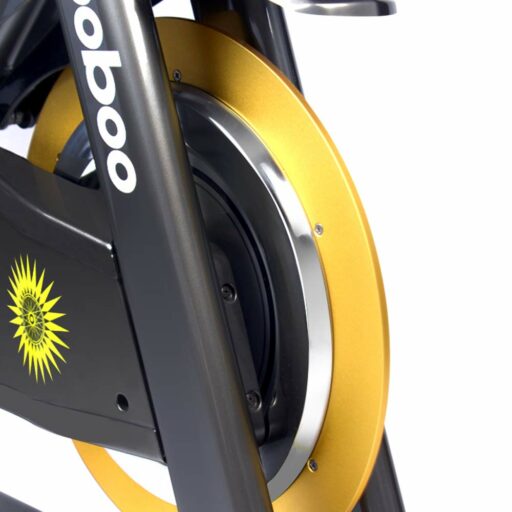 The L NOW LD-501 comes with a multi-grip handlebar. Although it does not have the drop-down grips like the Sunny SF-B1735 bike, it still makes available at least five different grips.
It has a long loop aero bar in the middle, two curved side grips, and two short parallel grips. It also integrates a dual bottle holder, while the top of the side grips integrates pulse sensors.
The handlebar provides 4-way adjustability, just like the seat. Thus, the bike excels in micro-adjustability. Both the seat and the handlebars feature easy to use knobs with long handles which offer the possibility to adjust the bike to your size in less than a minute.
LD-501 Drive and resistance
As I mentioned above, the LD-501 indoor cycling bike comes with a magnetic resistance system. The resistance is not motorized, though. Its adjustment is made manually from the knob placed on top of the main tube of the frame.
Thus, you don't have to connect the bike to a power outlet. Also, the included console does not play any role in the resistance adjustment.
The bike's resistance system consists of a dual-sided magnetic brake which "hugs" the flywheel. By turning the knob clockwise, the magnetic brake will cover a more substantial portion of the wheel, which results in more resistance. It's also important to mention that since the brake is magnetic, the bike's usage is very smooth and quiet.
There are no distinct tension settings marked on the adjustment knob. But as a general idea, the highest tension level offers quite an impressive level of difficulty, which can improve leg muscle strength, not just overall stamina.
Like most other exercise bikes equipped with a magnetic resistance system, the LD-501 has a belt drive system. It integrates a poly-v belt, which also adds to the smoothness of the ride. The pedaling motion is almost entirely silent, and you will never have to go through the hassle of lubricating it.
Compared to other spin bikes, the unit's flywheel is slightly lighter. It only weighs 35 lbs (~ 16 kg). However, it's still pretty heavy for a magnetic exercise bike. For example, the Keiser M3i bike only has an 8 lbs (3.6 kg) flywheel. Therefore, the wheel provides a pretty consistent momentum.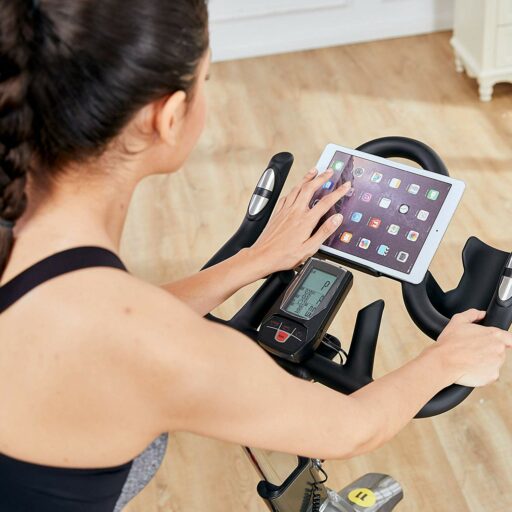 The bike's overall weight capacity is 440 lbs (200 kg). This also stands for the durability of the crankset. The unit features a heavy-duty crankset with solid steel crank arms that can support the user during standing up pedaling routines with no problem.
The included pedals are a metallic alloy. They feature adjustable toe cages, but also integrate SPD clips for cycling shoes. Their threads are standard 9/16″ so you can easily find replacements for them if needed.
Console
The LCD console included with the L NOW LD-501 offers quite a few more features than the average basic unit. To begin with, it has a 6-panel display. Thus you can view all your workouts stats on screen simultaneously. It tracks speed, time, distance, RPMs, calories, and pulse. It also has an ODO function, which indicates the total distance traveled on the bike.
The console unit is not telemetric. In other words, it cannot read your pulse through a wireless HR chest strap. So, to benefit from a pulse reading, you will have to use the integrated pulse sensors.
The console unit has four buttons on it, which are Mode, Set, Reset, and Recovery. The Mode button allows you to enter the unit's setup mode. The Set button gives you the possibility to select goals for time, distance, and calories burned.
The Reset button clears all the values on the unit to zero. The Recover button gives you allows checking your level of fitness at the end of your workout. To do so, it measures the amount of time it takes your pulse to reach normal parameters.
The bike's console unit is battery powered. It requires two AAA batteries, which (are included). It starts up when you begin pedaling, and also shuts down automatically if it doesn't detect any activity on the bike for several minutes.
In terms of other accessories, it has a dual bottle holder that attaches to the handlebar. Furthermore, this exercise bike also includes a set of small dumbbells, similar to the ones included with the Pooboo D770 Pro Spin Bike. The dumbbells weigh 2.5 lbs (1 kg) each and have a layer of urethane material covering them. They store on the rear part of the seat.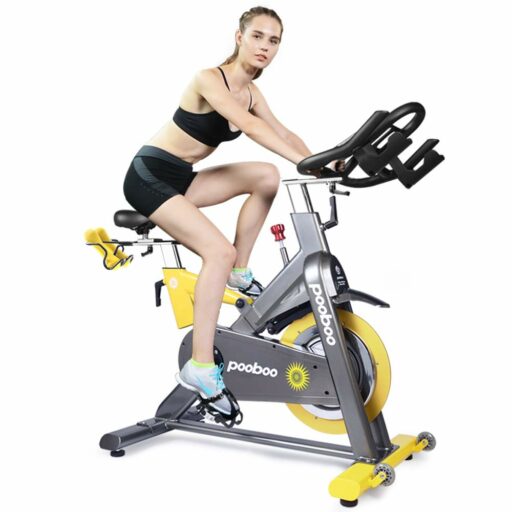 LD-501 Assembly and Maintenance
The bike does require some assembly, but the main drive and resistance parts are already attached to the mainframe. You only have to add the two base bars, the seat post, the saddle, the handlebar post, the handlebar, the console, and the pedals.
This shouldn't take more than 20-30 minutes — all the necessary tools for the task (are included). Also, the manual provides excellent assembly instructions.
Since the bike has a belt drive and a magnetic resistance system, its drive and resistance elements don't require any lubrication. Therefore, you only have to periodically remove the dust from it, keep liquids away from the console, and check for loose bolts and parts from time to time.
Pros
Commercial-grade construction and sturdiness – can support users up to 440 lbs (200 kg);
It comes with adjustable stabilizers with rubber pads on both base bars;
Transport wheels on the front base bar;
Suspension design for the seat, which alleviates an important part of the impact on your lower back;
Standard saddle, easy to replace if needed;
4-way adjustability for the seat;
Multi-grip handlebar;
4-way adjustability for the handlebar;
Pulse sensors integrated into the front grips of the handlebars;
Frictionless magnetic resistance;
Quiet belt drive, great for apartment use.
Balanced flywheel for a consistent momentum and strength training;
Heavy-duty crank, able to support any user up to the maximum listed weight, in upright pedaling position;
Durable aluminum pedals;
2x 2.5 lbs (1 kg) dumbbells with support;
Toe cages and SPD clips on the pedals;
6-window LCD console – it can track time, distance, total distance, speed, calories, RPM, and pulse;
Dual bottle holder included;
Easy to assemble;
Little maintenance required.
Cons
The console isn't backlit;
Short warranty.
L NOW LD-501 Spin Bike (pooboo) Summary
The L NOW LD-501 Spin Bike (pooboo) is a gym-grade indoor cycling bike designed for spin workouts. It features a manual magnetic resistance system, a 35 lbs (~16 kg) flywheel, and a seat equipped with a shock absorption system. It offers superior micro-adjustability and an impressive 440 lbs (200 kg) weight capacity.
The included LCD console tracks all the essential workout metrics. In all, it's a pretty complete, commercial-grade indoor cycling bike. It's great for intense cardio training, interval training, weight loss, stamina, and leg strength development, and muscle toning.
I hope you found this article helpful and informative. If you have anything that you'd like to share or opinions about my website, please do speak up. I look forward to your comments, questions, and the sharing of ideas.
Recommended articles:
Please follow and like us: