The FDF Vortex VX3-FA Fluid Rower is one of the most popular commercial-grade indoor rowers by First Degree Fitness. To begin with, the Vortex VX3-FA boasts an industry-first wireless innovative handle for instant resistance level change. In addition, FDF's patented Variable Fluid Resistance innovation ensures a natural catch with consistent resistance throughout the entire stroke.
Furthermore, the Vortex VX3-FA Fluid Rower rivals industry-leading indoor rowers with a patented twin tank system to deliver a massive range of resistance to suit every level of fitness. As a result, the Vortex VX3-FA Fluid Rower keeps you engaged in one of the most active forms of exercise available. And its robust quality and excellent-looking craftsmanship ensure its popularity in any environment.
The Interactive Performance Monitor displays a helpful pacing tool. It also shows elapsed time, speed, distance, stroke rate, calories per hour, watts, and resistance level. The Vortex VX3-FA has a wireless heart rate receiver. Therefore, it can show heart rate if used with a compatible chest strap. Additionally, it has online connectivity through its USB port.
The console offers several onboard, interval-based workout programs and goal-setting functions for time and distance. It also has six previous workout memory to use as a quick start. There are also preset options for six workout routines, including 3 for interval training.
Learn more in my complete review below!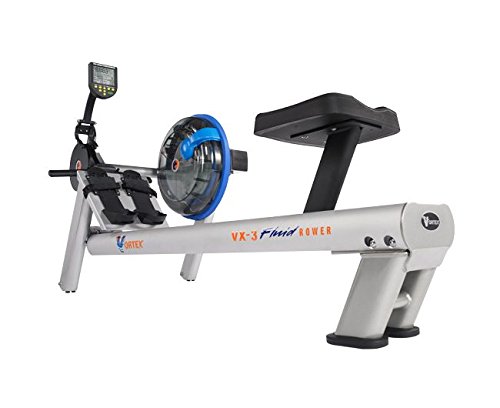 Product: FDF Vortex VX3-FA Fluid Rower
Price: For a great deal on this rower, merely go here on Amazon
Warranty: Frame 10 years / Tank and seals three years / Electronic & Mechanical 2 years / Wear parts two years
My rating: 9.7/10
Affiliate Disclosure: As an Amazon Affiliate Program participant, I earn commissions on purchases made through links in this post. Full disclosure
Details and Specifications
Assembled dimensions: 74.8L x 31.5W x 33.5H (190L x 80W x 85H cm)
Assembled weight: 148 lbs (67 kg)
Supported weight: 330 lbs (150 kg)
Frame: Aluminum / steel
Footrests: Adjustable, with straps
Resistance type: Water, adjustable (20 levels)
Wireless smart handle
Fitness computer: Time, distance, strokes per minute, watts, calories/hour, 500m split time, HR capable, USB port, online connectivity
Warranty: Frame 10 years / Tank and seals three years / Electronic & Mechanical 2 years / Wear parts two years
VX3-FA Frame construction
The First Degree Fitness Vortex VX3-FA rowing machine features a frame that combines aluminum and steel components. The dual seat rails are made of anodized aluminum, while the rear base and the front part of the framework, which sustains the water tank are steel tubing. The frame's metallic elements feature a non-corrosive coating finish, gray for the steel parts, and light silver for the aluminum rails.
This rowing machine features an extremely sturdy and stable construction. It's 74.8″ (190 cm) long and 31.5″ (80 cm) wide, and it can support users up to 330 lbs (150 kg). In addition, its rear and front bases feature rubberized caps, which provide an excellent grip on the floor, preventing the machine from sliding forward or backward when in use.
The frame does not fold as in some other models. However, the front part of the structure offers the possibility to store the machine vertically. When held vertically, its footprint is 31.5″ x 33.5″ (80 x 85 cm), so the storage area shouldn't take more than 2′ x 2′. However, it does require quite a bit of space when in the usage position, especially lengthwise.  If you're wondering, the water can remain in the tank when the unit is stored vertically.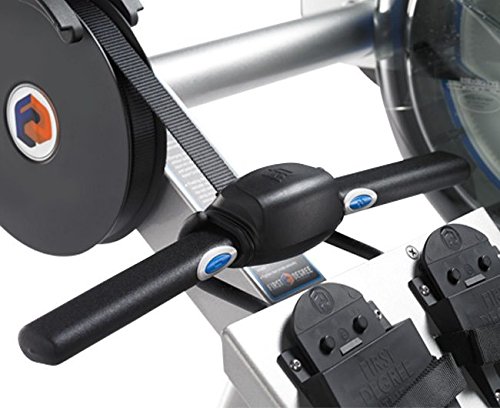 The FDF VX3-FA rower is also fairly substantial. With water in the tank, it weighs more than 150 lbs. However, the front base bars integrate transport wheels, so moving the unit shouldn't be too difficult.
Seat, Pulling Handle, and Footrests
The machine's seat features a contoured surface and incorporates a layer of padding to provide optimal comfort. It glides on a dual rail system. The seat's base comes with a set of 4 heavy-duty, low friction rollers, which offer a very smooth, almost silent glide. The rollers are concealed, moving on the inside parts of the rails, which increases the ride's safety.
The seat is at the average office seat height, offering the possibility of easy entry and exit. This feature can be handy for elderly users or users with specific disabilities. A backrest option is available for this seat; however, the backrest accessory (is sold) separately.
The smart handle has resistance control buttons for wireless resistance adjustment. In addition, it includes an ergonomic design, an easy-to-remove cover for a battery change, and a quick belt release mechanism for a smooth belt or handle replacement.
The machine's innovative handle also has a slight curvature to allow a more natural positioning of the hands and minimize the wrists' lateral stress. In addition, its grips are a high-density foam material, delivering excellent comfort.
The footrests come with adjustable straps and a unified heel guard to provide maximum foot stability during rowing. They're attached to a metallic plate that connects to the front part of the frame. Therefore, the angle of the footrests is stationary. However, their 45° degree angle placement provides optimal and natural foot positioning.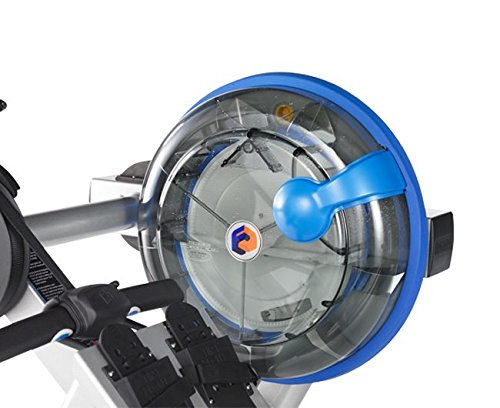 VX3-FA Water tank & resistance
The First Degree Fitness Vortex VX3-FA rowing machine comes with a water tank similar to the E-520 model. However, it's a highly durable polycarbonate tank featuring a storage chamber and an active chamber. In addition, the dial on top allows you to adjust the water volume in the dynamic section, thus changing the machine's overall resistance.
This rower provides 20 levels of resistance. The first levels offer feather-light resistance, perfect for elderly users, warm-ups, or users who require recovery training. Conversely, the highest settings offer Olympic resistance, delivering the training settings required by professional athletes.
Since it's a fluid rower, the rowing motion features a dynamic response. In other words, regardless of the selected resistance setting, the tension of each stroke varies with how fast and hard you pull the handle.
The flywheel/impeller inside the water tank is stainless steel. It delivers a perfect catch, a consistent resistance through the rowing motion, and a feel similar to rowing a real boat.
The active recoil system facilitates a rapid stroke rate via extended bungee length and precision (German INA) dual one-way bearings. The rower's drive system integrates a durable belt drive, smooth, clean, quiet, and maintenance-free.
However, the machine's operation does generate some noise; it is far less noisy than an air rower, such as Concept 2, for example.
Console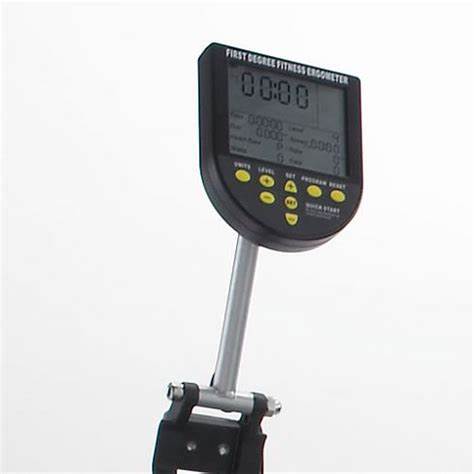 The console included with the FDF Vortex VX3-FA rowing machine is an advanced unit. First, it features a multi-panel LCD, which means it can simultaneously show all your workout statistics.
It displays all data required by a professional rower, including time, distance, speed, heart rate, watts, calories, revolutions per minute, strokes per minute, and 500/m units. The range can be displayed in miles or km, while speed in MPH or km/h.
The console monitors the user's heart rate via a chest strap; however, an HR chest strap does not come with the rowing machine.
The machine's tank features 20 exceptional resistance levels; the console unit also has 20 levels of intensity. Therefore, the console scale should correlate with the tank's selected water level to benefit from a correct reading of calories, watts, and other parameters.
The fitness computer offers several onboard, interval-based workout programs and goal-setting functions for time and distance. It also has six previous workout memory and a unique pacer system.
But the best part about this computer is its online connectivity. The unit has a USB port, which makes its connection to a network. Specifically, this allows you to use various compatible online apps, such as the NetAthlon 2 XF for Rowers.
You'll be able to compete with others or train solo in a virtual 3D environment, record your progress, and access web-based logging and ranking systems.
The console is battery-powered and requires 2 AA batteries.
VX3-FA Assembly and Maintenance
The front part of the VX3-FA Vortex fluid rower comes pre-assembled. Thus, you only need to assemble and attach the dual rail, the seat, and the rear base stabilizers. Therefore, it shouldn't take more than 30 minutes of your time. All of the tools needed come with the bike and a funnel and hose for filling up the tank. The supplied manual provides excellent assembly instructions.
Maintenance requires you to periodically add a chlorine pill into the water tank to prevent algae formation. In addition, it's advisable to check for loose or broken bolts and parts and re-tighten/replace them if necessary.
Pros
Sturdy construction, commercial-grade construction;
High user capacity, up to 330 lbs (150 kg);
Dual aluminum rails for extra stability;
Superior aesthetics;
Rubberized stabilizers that provide an excellent grip on the floor;
Transport wheels integrated into the front stabilizers;
It can store vertically, and the water doesn't require drainage for storage;
Water-resistance system, providing the most natural rowing feel that you can get;
Wireless smart handle;
Dual-chamber water tank, with 20 distinctive water resistance levels, from feather-light to Olympic level;
Contoured and padded, ergonomically designed seat;
An optional backrest for extra lumbar support is available;
Office seat placement for easy entry and exit;
Advanced, multi-panel fitness computer that tracks time, 500m time, pulse, distance, strokes per minute, watts, RPMs, and calories;
A USB connection for online workout data tracking or competing with other rowers;
It provides smooth and quiet operation;
Little maintenance required;
Easy to assemble;
Tools for assembly included;
Excellent warranty.
Cons
The HR chest strap does not come with the rower;
The console isn't backlit.
FDF Vortex VX3-FA Fluid Rower Summary
The First Degree Fitness Vortex VX3-FA is a commercial-grade fluid rower. It features durable construction, a twin-chamber tank with 20 levels of resistance, an advanced console covering all the necessary workout metrics, and online connectivity. Pick up the pace at the press of a button, and the innovative wireless handle will instantaneously emulate the exact resistance you'd feel on the water.
It's perfect for interval training, light to intense cardio, muscle toning, endurance and strength development, and of course, for weight loss. With this in mind, a workout on this rowing machine involves multiple muscle groups, including deltoids, rhomboids, biceps, paraspinal, hamstrings, quads, and glutes.
Regarding the price, the Vortex VX3-FA rower is not precisely one of the most affordable fitness machines. However, all in all, the VX3-FA offers outstanding value for the price.
I hope you found this article helpful and informative. Would you please speak up if you have anything you'd like to share on the topic or any opinions about my website? I look forward to your comments, questions, and the sharing of ideas.