Tone and strengthen your body with the Circuit Fitness AMZ-955BK Indoor Cycle. The AMZ-955BK allows you to experience an intense cardio workout in a stationary position. As you shed calories during cycling, there is a noticeable improvement in your cardiovascular health, stamina, and breathing.
The AMZ-955BK is easy and safe since it has a durable frame and construction. It is resistant to rust and corrosion, and its steel construction has strong welding points and a powder-coated finish.
It also uses a belt mechanism connected to the 40-lb flywheel to assure steadiness and maximum performance. The bike also features a quick-stop device that lets you quickly stop the wheel's motion and uses an adjustable resistance knob to adjust your ride's intensity.
The AMZ-955BK has an ergonomic design for optimum comfort and ease of use. It has a road bike-style saddle that you can adjust vertically and horizontally and flexible rubber foam padded handlebars that adjust vertically. So experience the excitement and the challenge of the Circuit Fitness revolution cycle without even having to leave your house.
Learn more in my complete review below!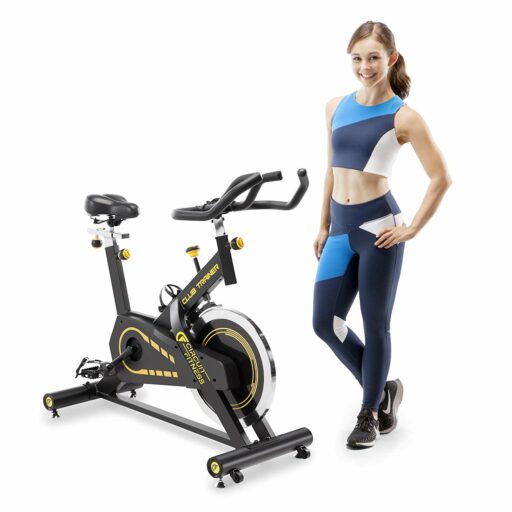 Product: Circuit Fitness AMZ-955BK Indoor Cycle
Price: For a great deal on this bike, merely go here on Amazon
Warranty: 2 years limited
My rating: is 7/10
Affiliate Disclosure: As an Amazon Affiliate Program participant, I earn commissions on purchases made through links in this post. Full disclosure
Details and Specifications
Assembled dimensions: 45L x 20W x 45.5H inches (114L x 51W x 115H cm)
Assembled weight: 101 lbs (46 kg)
Flywheel weight: 40 lbs (18 kg)
Supported weight: 300 lbs (136 kg)
Handlebars: 2-way adjustable
Seat: 4-way adjustable
Pedals: With Straps
Drive: Chain
Resistance: Friction, felt-pad
Fitness Monitor: No
Accessories: Bottle holder, phone holder
Warranty: 2 years limited
AMZ-955BK Frame Construction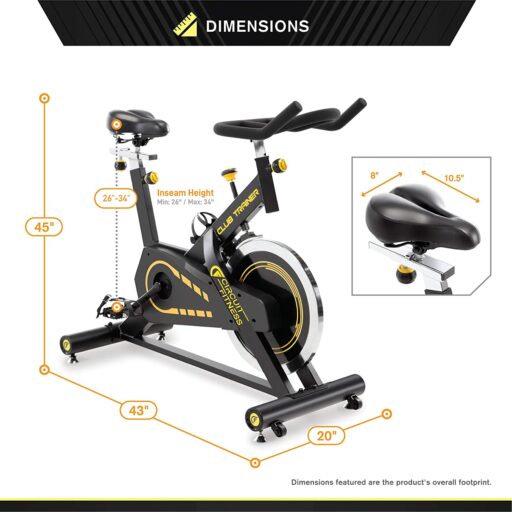 The Circuit Fitness AMZ-955BK is an indoor cycling trainer designed for spin workouts. It has a sturdy frame made of steel tubing. Most of the bars in its construction are rectangular, except for the base bars, which have a cylindrical layout for improved aesthetics.
Both base bars of the bike come with adjustable metallic stabilizers, which can perfectly level the unit on any floor. Plus, the front base has a set of small wheels that ease the bike's relocation.
The only non-metallic parts of the bike's construction are the chain cover and the flywheel's side panels. These durable ABS materials feature the same black/yellow colors as the rest of the bike.
The bike's frame features a corrosion-resistance powder coating. The color is black, with the "Circuit Fitness" logo painted yellow. The only exceptions are the seat and handlebar posts, which are chrome plated.
This Circuit Fitness indoor cycling bike isn't giant. Fully assembled, it is approximately 45″ (114 cm) long and 20″ (51 cm) wide. Therefore, it can fit pretty well, even in a smaller room. However, a clearance of at least two feet is advisable.
The fully assembled bike is considerably heavy compared to a road bike. It weighs approximately 101 lbs (46 kg). However, this weight, plus the user's weight, improves stability. Thus, you can be sure that the bike won't rock even if you engage in a more intense spin workout.
Seat
The Circuit Fitness AMZ-955BK Club Revolution Cycle offers great micro-adjustability for its seat. Its vertical post has multiple adjustment notches, while its horizontal slider also allows several inches of front-to-back adjustment.
Therefore, the bike can accommodate users between 5'0″ and 6'4″ (153 – 196 cm). Furthermore, the bike's weight capacity is 300 lbs (136 kg), so as long as you don't exceed this weight, it should hold you with no problem.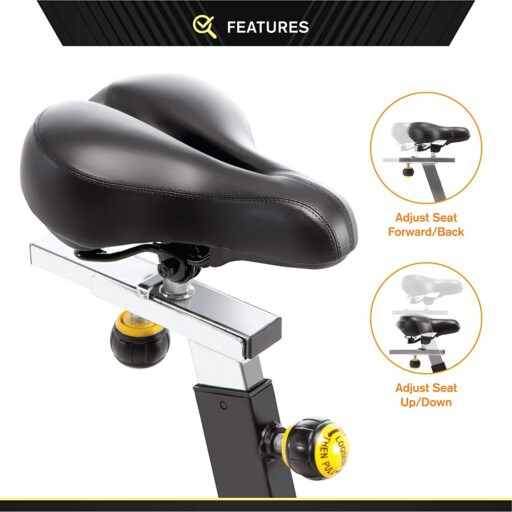 The included saddle is (built) for extra comfort. Many other spin bikes have very slim seats without too much cushioning. Most spin workouts require standing up on the pedals for at least 1/3 of the exercise duration.
But the saddle included with the AMZ-955BK integrates a thick layer of cushioning and has two large springs at the rear, allowing it to change slightly along with your pedaling motion. It also has a central cutout, which improves its overall breathability.
AMZ-955BK Handlebars
The bike's handlebar only offers upward adjustment as opposed to the seat. It does not have a horizontal slider. Instead, it features a multi-grip design, with two long aero bars in the middle, while the side grips are curved inward close to the top. The handlebar assembly is rubberized to provide a more secure grip and optimal comfort.
The handlebar doesn't have pulse sensors, nor does the bike have a pulse reading function. Therefore, if you want to track your pulse, you need a separate device. However, it does have a small device holder that can serve as support for your smartphone.
Both the seat and the handlebars are easily adjusted. They have large knobs that are easy to grip and pull. Therefore, you can adjust the bike to your size in less than a minute, which can be convenient if multiple persons use it.
Resistance system
The Circuit Fitness AMZ-955BK features a standard friction resistance system with manual action. Therefore, it does not require an external power source, nor does it have an internal motor. Instead, its resistance system consists of a felt brake pad attached to the tension dial on top of the oblique frame bar.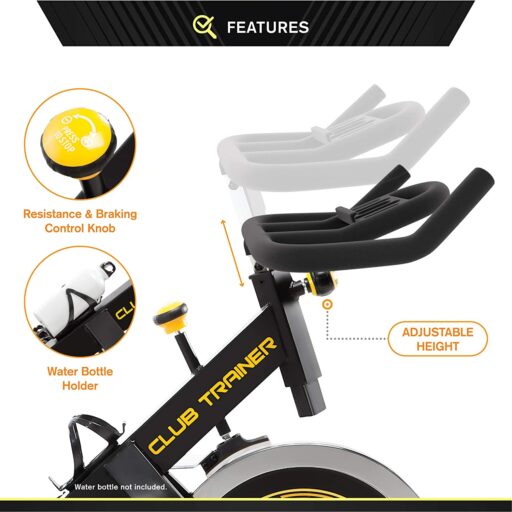 Turning this dial clockwise, the brake pad applies more friction to the flywheel, resulting in more drag and increased pedaling difficulty.
The tension dial does not have pre-determined levels or "clicks," as for many bikes with a magnetic resistance system. Instead, you tighten it until you get a satisfying pedaling difficulty.
The tension dial can also act as an emergency brake. You can press it down to stop the flywheel, which may be necessary, especially if pedaling at high speed.
An important aspect to mention here is that the brake pad will wear out over time, and after a while, it should (be replaced).
It may also emit a burning scent due to friction and a squeaking noise when in contact with the flywheel. However, these issues can be taken care of by applying a few drops of silicone lubricant on the edge of the wheel.
AMZ-955BK Drive system
The most crucial element that we must mention here is the flywheel. The AMZ-955BK bike comes with a 40 lb (18 kg) flywheel, an adequate weight for spin workouts. It is chrome-plated with ABS side panels. In addition, it features a perimeter-weighted design to provide high inertia and a consistent pedaling feel.
The unit's flywheel allows reverse pedaling, as well. However, coasting is not possible on this bike.
The transmission involves a standard bicycle chain concealed by the two ABS covers. Thus, the bike's transmission requires lubrication at least once every few months. But on the other hand, a chain transmission comes with several advantages.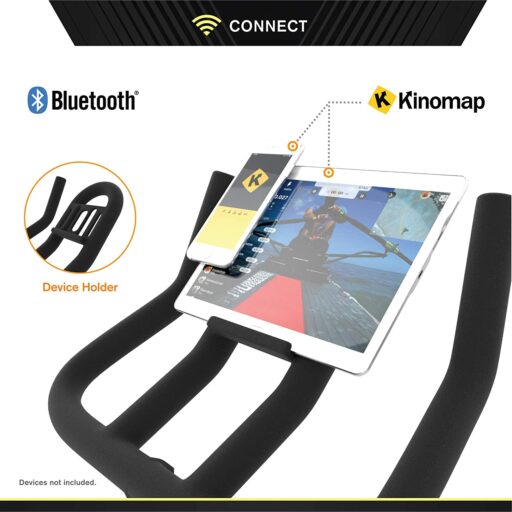 First of all, it can last a lifetime. And second of all, if for some reason it breaks or sustains severe rust, replacements for it are highly available in any bike store.
Since it's a bike designed for spinning, the Circuit Fitness AMZ-955BK Deluxe Revolution Cycle features a heavy-duty crankset. In addition, it has solid steel crank arms and metallic pedals, which can withstand the user's total weight (up to 300 lbs).
The pedals have a non-slip design and adjustable toe cages. However, they do not have SPD clips for spin shoes. Their threads are 9/16″, though, so their replacements are widely available.
AMZ-955BK Assembly and Maintenance
Most of the bike comes pre-assembled. The crankset, the chain and cover, the flywheel, and the brake system are already attached to the mainframe.
Therefore, you only have to add the two base bars, the seat post, the saddle, the handlebar post, the handlebar, and the pedals. Therefore, it shouldn't take more than 30 minutes of your time. An essential toolkit for assembly comes with the bike, and the manual offers clear assembly instructions.
It is advisable to lubricate the bike's chain every few months with an oil-based or silicone-based lubricant for maintenance. In addition, the brake pad may also require lubrication. Other than that, you only have to keep the bike clean and periodically re-tighten them if needed.
Pros
Heavy-duty steel frame – can support users up to 300 lbs;
Durable paint finish;
Aesthetic design;
Transport wheels on the front base;
Adjustable stabilizers on all bases;
Tough, metallic pedals with toe cages;
Multi-grip handlebar with long aero bars;
4-way adjustable seat;
Durable chain drive;
Stout, 40 lbs flywheel, with a perimeter-weighted design for enhanced inertia;
Limitless resistance settings;
Bottle holder included;
Device holder included;
Little maintenance is required;
Easy to assemble;
All the tools needed for the assembly come with the bike.
Cons
No pulse reading function;
No fitness monitor.
Circuit Fitness AMZ-955BK Indoor Cycle Summary
The Circuit Fitness AMZ-955BK Indoor Cycle is perfect for spin w workouts. It features a dense, inertia-enhanced flywheel and a friction resistance system, and it has a 4-way adjustable seat with a cushioned, comfortable saddle.
It's a sturdy trainer, pretty close to the constitution of a light-commercial grade bike, but it is considerably more affordable. It's an excellent indoor cycle for users of all levels for intense cardio training, weight loss, intervals, and building stamina.
I hope you found this article helpful and informative. Would you please speak up if you have anything you'd like to share on the topic or any opinions about my website? I look forward to your comments, questions, and the sharing of ideas.
Please remember that you should consult your physician to determine if you have any medical or physical conditions that could put your health and safety at risk or prevent you from using the equipment p properly. In addition, your physician's advice is essential if you are taking medication that affects your heart rate, blood pressure, or cholesterol level.