Train hard and finish strong when you cycle with the Efitment IC033 Indoor Cycling Bike. It's an indoor cycling bike designed for spin workouts. It is similar to the Efitment IC031 that I've previously reviewed here but has a heavier flywheel, a slightly different frame construction, and a multi-window fitness computer.
The flywheel is considered heavy, weighing 44 lbs, and offers a natural ride and consistent momentum. Overall the Efitment IC033 bike produces a smooth pedaling experience thanks to combining the magnetic system, belt, and heavy flywheel, resulting in extra stability and smoothness for the pedaling motion.
The fitness monitor included with the IC033 bike displays your time, speed, scan, RPM, distance, calories burned, and pulse using built-in pulse sensors on the handlebars. It enables you to see your results to stay motivated and on pace. However, it is not a high-tech computer, typical for the price point.
Considering all the features, including the 4-way handlebar design, high-quality seat, magnetic resistance, belt, and three-year frame warranty, the Efitment IC033 Indoor Cycling Bike is a good value.
Learn more in my complete review below!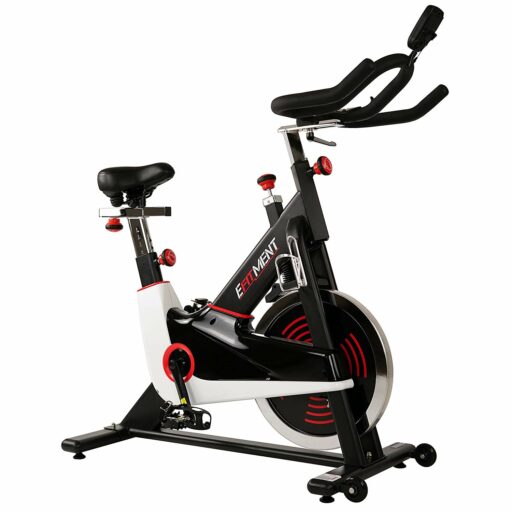 Product: Efitment IC033 Indoor Cycling Bike
Price: For a great deal on this bike, merely go here on Amazon
Warranty: 3 years
My rating: 7.5/10
Affiliate Disclosure: As an Amazon Affiliate Program participant, I earn commissions on purchases made through links in this post. Full disclosure
Details and Specifications
Assembled dimensions: 50.8L x 21.3W x 40.9H inches (129L x 54W x 104H cm)
Assembled weight: 108 lbs (49 kg)
Flywheel weight: 44 lbs (20 kg)
Supported weight: 275 lbs (125 kg)
Handlebars: 4-way adjustable
Seat: 4-way adjustable
Drive mechanism: Belt
Resistance: Magnetic
Fitness Monitor: Time, speed, distance, odometer, calories, pulse, goals
Warranty: 3 years
IC033 Frame Construction
The Efitment IC033 is an indoor cycling trainer made for spin workouts, which means it has a heavy-duty steel frame designed to withstand the most intense cardio workouts. It's a relatively large unit; with the frame fully set up, it weighs approximately 108 lbs (49 kg), more than twice most mountain bikes' weight. All this weight delivers superior stability and overall sturdiness. But on the other hand, the cycle isn't too difficult to move and handle after assembling. Its front base features transport wheels.
The bike has four adjustable levelers, two on each base bar, and stability. These large rubberized pads deliver a superior grip on the floor, preventing the cycle from sliding forward, backward, or sideways when you exercise.
The bike isn't huge compared to other fitness equipment. Its fully assembled footprint is approx. 51″L x 22″W (129 x 54 cm). It is advisable to leave a few feet of clearance all around it for ease of access and to be able to perform even the spin workouts that require you to mount and dismount repeatedly.
The bike is double-coated with corrosion-resistant and scratch-resistant paint. The primary color is black for most of the frame, while the Efitment logo is white/red. The seat and handlebar posts, adjustment sliders, and flywheel feature chrome plating.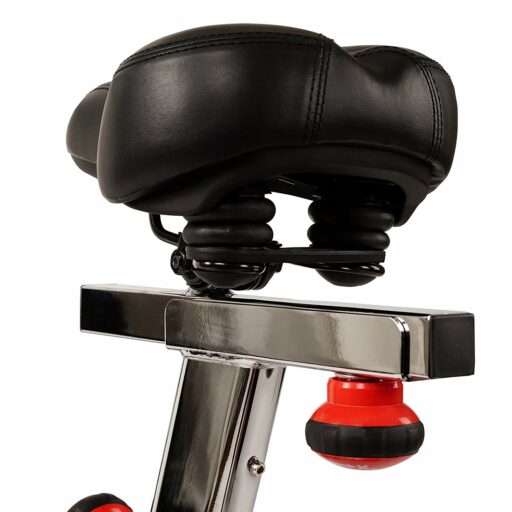 Seat & handlebars
The Efitment IC033 indoor cycling bike includes a cushioned saddle, similar to the Sunny SF-B1805. It's a reasonably large seat compared to many other spin bike seats, typically slimmer. In addition, it integrates a generous layer of padding and has two springs at the rear, which considerably improve its overall shock absorption.
The seat is 4-way adjustable. Its vertical post features nine adjustment positions; the spacing between the adjustment holes is approx — 1 inch.
The total adjustment span offered by the upright seat post is between 28″ and 36″ (71 – 92 cm). You can also adjust the seat horizontally; its horizontal slider provides a few inches. So, therefore, the bike can accommodate users between 5'0″ and 6'5″ (153 – 196 cm) with no problem.
The handlebar assembly is also 4-way adjustable (up, down, front, back). It doesn't offer as many adjustment positions as the seat, but this feature can help obtain the perfect fit for any user within the height range mentioned above.
The handlebar assembly offers a multi-grip design. It's urethane-dipped, so it delivers a secure and comfortable grip. In addition, it has a large loop aero bar, which adds several grip possibilities. Also, HR pulse sensors integrate at the base of the aero bars; therefore, the bike's fitness monitor can monitor your heart rate by holding on to them as you exercise.
IC033 Resistance system
The Efitment IC033 features a standard manual magnetic resistance system similar to the Sunny SF-B1714. It consists of a magnetic brake pad attached to the tension knob on top of the frame's main bar.
When turning the knob clockwise, the magnetic brake comes closer to the flywheel. Therefore, it increases the magnetic field's intensity between the brake and the wheel, which leads to more incredible pedaling difficulty.
Since the bike's resistance system is exclusively manual, it doesn't require a connection to a power source. Also, its console unit doesn't play any role in the bike's resistance adjustment. Instead, it's only a fitness meter that tracks your workout stats. We'll cover all of its functions in the section below.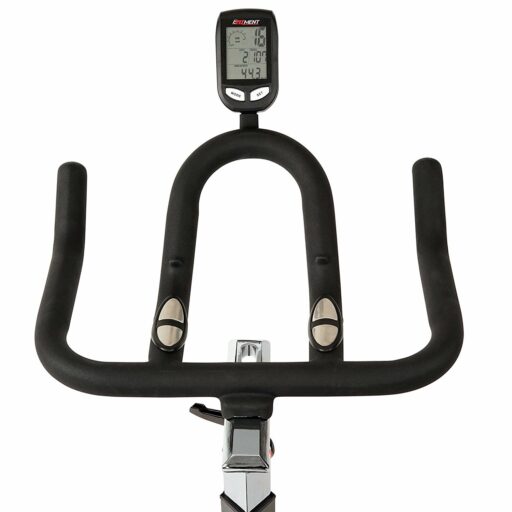 The bike's tension knob doesn't have any levels specified on it. Instead, you turn it until it generates a satisfying level of resistance. As a general idea, with the brake pad at the farthest point from the flywheel, the pedaling motion seems "free" without too much resistance.
Conversely, the pedaling difficulty is considerably increased with the brake pad closest to the wheel, generating the feeling of a steep climb or cycling through dunes.
The bike's tension knob also acts as an emergency brake. You can press it down to quickly stop the flywheel from spinning. You may need to use it with little resistance as the pedals continue to turn for as long as the wheel is spinning.
Drive system
Most exercise bikes with a magnetic resistance system feature a rubber belt transmission, and the Efitment IC033 doesn't make an exception. It comes with a heavy-duty rubber belt. The main advantages of a belt drive are that it doesn't require lubrication, it generates less vibration than a chain, and the pedaling is whisper-quiet.
The bike has an extra-heavy, 44 lb (20 kg) chrome-plated flywheel with a perimeter-weighted design — the perimeter-weighting results in more aggressive inertia, which is an essential aspect of any spin workout.
The flywheel generates a steady pedaling motion. It's also bi-directional; however, when pedaling in reverse, the resistance remains constant, given by the brake pad's position. Also, coasting is not possible on it.
Since the Efitment IC033 is a bike made for spin workouts, it comes with a heavy-duty crankset with solid steel crank arms, which can hold users up to 275 lbs (125 kg) in a full standing-up pedaling position. The pedals are also highly durable and made of metallic alloy.
The pedals are standard, though. Unfortunately, they only have toe cages and straps for keeping your feet fixed; they do not have SPD clips for spin shoes. However, their threads are 9/16, so you can easily find replacements for them.
The bike's Q-factor (spacing between the pedals) is one last aspect. The Efitment IC033 has a slightly wider Q-factor, 190 mm (7.5 inches), unlike other indoor cycling trainers. Therefore, it may add more lateral stress to your knees. So, in this case, you may want to look at other bikes with a smaller Q-factor, such as the Sunny ASUNA Sprinter 6100 (152.4 mm Q-factor).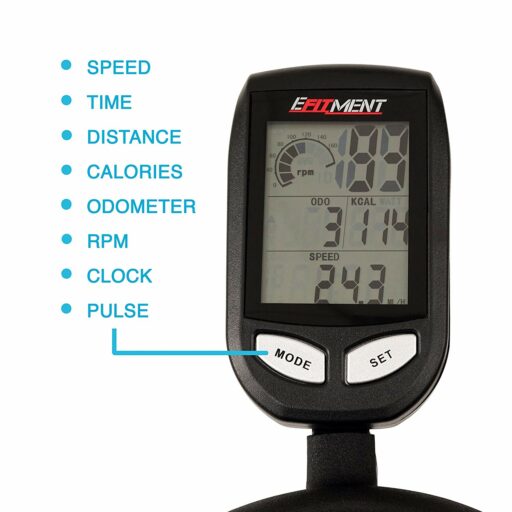 IC033 Fitness monitor
The fitness monitor included with the Efitment IC033 offers a few more features than a fundamental unit. First, it has a multi-window LCD showing up to five workout metrics simultaneously. It tracks time, distance, total distance, speed, RPM, calories, and pulse. It also has a clock function.
The monitor is not telemetric. Therefore, it cannot track your pulse through a wireless chest strap. Instead, you must hold on to the pulse sensors integrated into the handlebar to benefit from a pulse reading. Also, speed and distance are in MPH and miles only (there are no metric settings).
The monitor doesn't have any preset programs. However, you can select a workout goal for time, distance, and calories. After choosing a goal, the monitor will count from the set value to zero.
The fitness monitor is battery-powered and requires 2 AAA batteries, which come with the bike. It starts up when you begin pedaling or press one of the buttons. It also has a sleep mode to enter after four minutes of inactivity on the bike.
IC033 Assembly & Maintenance
The flywheel, the belt, the magnetic brake, and the crankset come pre-assembled, already attached to the bike's core frame.
Therefore, you only have to connect the base bars, the pedals, the seat post, the seat, the handlebar post, and the fitness monitor in terms of assembly.
Therefore, it shouldn't take more than an hour of your time. The manual provides excellent step-by-step assembly instructions and schematics, and all the tools required for it comes with the bike.
Maintenance requires lubricating the seat and handlebar posts so they can slide easier. In addition, a periodic check for loose bolts and parts is advisable. The transmission does not require lubrication as it's a belt, not a chain. It would also help to keep the bike clean and liquids away from the console unit.
Pros
Sturdy steel frame made to support any spin workout;
Can support users up to 275 lbs;
Adjustable stabilizers included;
Transport wheels included;
4-way adjustable seat;
4-way adjustable handlebar;
Thick cushioning and spring suspension on the seat;
Multi-grip handlebar;
Pulse sensors integrated into the handlebar;
Smooth, almost silent belt drive;
Extra-heavy, 44-lbs flywheel for aggressive inertia;
Manual magnetic resistance with zero friction;
The fitness monitor included – it can track time, distance, total distance, speed, rpm, calories, and pulse;
Goal settings for time, distance, and calories;
Clock function;
Tablet support (or reading rack);
Bottle holder included;
Easy to assemble;
Little maintenance is required.
Cons
No SPD elements on the pedals;
The fitness monitor LCD isn't backlit.
Efitment IC033 Indoor Cycling Bike Summary
The Efitment IC033 is an indoor cycling trainer designed for spin workouts. The IC033 has a manual magnetic resistance system, an extra-heavy (44 lbs) flywheel, and a fitness monitor. Furthermore, it has a thick, cushioned seat and provides superior micro-adjustability.
It's a perfect trainer for light to intense cardio workouts, stamina and leg strength training, interval training, and weight loss. And finally, it's a bike pretty close to the light-commercial quality but costs a few $100s less than a gym-grade cycling bike.
I hope you found this article helpful and informative. Would you please speak up if you have anything you'd like to share on the topic or any opinions about my website? I look forward to your comments, questions, and the sharing of ideas.
Please remember that you should consult your physician to determine if you have any medical or physical conditions that could risk your health and safety or prevent you from using the equipment properly. In addition, your physician's advice is essential if you are taking medication that affects your heart rate, blood pressure, or cholesterol level.